Adriano Piazzesi Furniture
The average cost of an antique Adriano Piazzesi Furniture is $7,279. The price can vary from $7,131 and $7,429 based on the condition, age, materials and aesthetic value for a specific Adriano Piazzesi Furniture.
Castorina and Co Pty Ltd
Midcentury Red Wool Blend Sofa by Adriano Piazzesi...
Adriano Piazzesi
Mid-20th Century Italian Mid-Century Modern Sofas
"Okay" three-seat sofa with chrome clamp detail at the front and back of the chair. Original wool upholstery is in very good condition. Designed by Adriano Piazzesi for TRE D, circa 197...
DESIGNGUT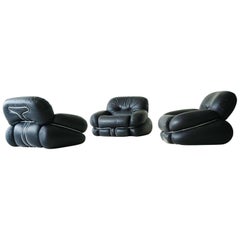 Set of Italian Leather Lounge Armchairs "Okay" by ...
Adriano Piazzesi
Vintage 1970s Italian Armchairs
Steel, Leather, Chrome, Foam
Trio set of Italian leather lounge armchairs "Okay" by Adriano Piazzesi Black leather.