STODEL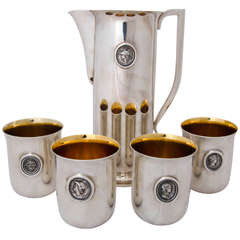 Dimensions:
H 9.84 in. Dm 4.33 in.
Dealer Location:
London, GB
Materials & Techniques:
Silver
Water Pitcher and Four Matching Beakers
Alex Brogden
Late 20th Century Neoclassical Revival Pitchers
Silver
An English sterling silver water pitcher and four beakers. Each piece is applied with a silver cast of antique wax seals made from neoclassical intaglios by the English gem engraver Nat...