Alfred Bucknell Furniture
Puritan Values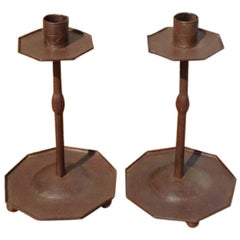 H 9 in. W 5.5 in. D 5.5 in.
Dimensions:
H 9 in. W 5.5 in. D 5.5 in.
Dealer Location:
London, GB
Materials & Techniques:
Steel
Ernest Gimson Rare Pair of Sheradised Steel Candle...
Ernest Gimson, Alfred Bucknell
20th Century English Arts and Crafts Candle Holders
Steel
Designed by Ernest Gimson. A rare pair of Sheradised steel candlesticks, made by Alfred Bucknell, punched and chased with geometric design to the top, and a beautiful detail underneath ...