Asch Grossbardt Necklaces
Stella Rubin Antiques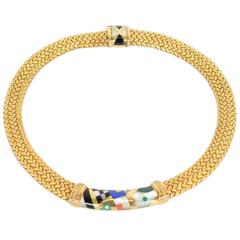 Dimensions:
Dealer Location:
Darnestown, MD
Asch Grossbardt Inlaid Stone Gold Choker Necklace
Asch Grossbardt
1990s Choker Necklaces
14k Gold, Diamond
This woven 14 karat gold choker necklace by Asch Grossbardt is embellished front and back with hardstone plaques of abstract designs. The front panel measures 2 3/8" wide. Onyx; mother...