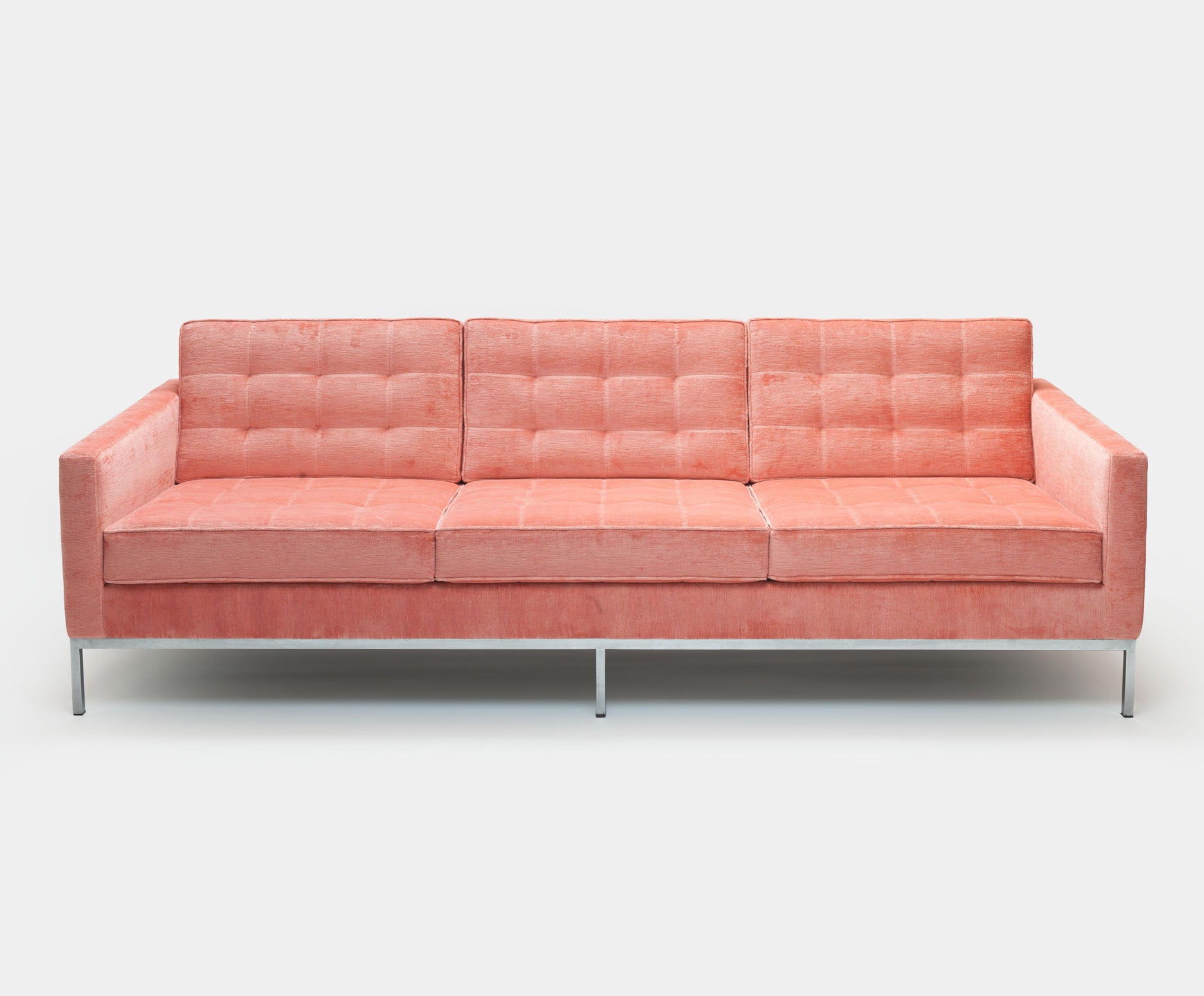 Iconic Designs
Florence Knoll Sofa
About the Design
Although Michigan native Florence Knoll (1917–2019) modestly described her furniture as "meat and potatoes" designs that were largely "fill-in pieces" for the Knoll Associates catalog, works like the Florence Knoll sofa demonstrate her artful expression of modern proportions. Introduced in 1954, the sofa was made during the American designer and entrepreneur's direction of the Knoll Planning Unit, the company's pioneering "design consultant service" that would define the look of the postwar workplace. The versatile Florence Knoll sofa, with its angular silhouette and tasteful mix of textures — from the colorful upholstery options to its exposed metal frame and legs — could as easily fit into the glass lobby of a skyscraper as the living room of a home.
Before she met her husband, Hans Knoll, with whom she built Knoll Associates into an international tastemaker of mid-century style, Florence studied under architect Ludwig Mies van der Rohe at the Illinois Institute of Technology and worked for architects Walter Gropius and Marcel Breuer. That mentorship — from the major figures of the Bauhaus — had a significant impact on her approach to "total design," in which each part of an interior was not just an object, it was a component of a comprehensive whole. Mies's influence in particular is evident in the simplicity of the Florence Knoll sofa, its modern materials and restrained design channeling his "less is more" ethos. Its polished chrome steel legs and cushions with their clean lines further provided an architectural contrast to more sculptural pieces being created for Knoll Associates by designers such as Harry Bertoia, Eero Saarinen and Isamu Noguchi.
The numerous pieces Florence Knoll designed for the Knoll Associates furniture line were envisioned as design solutions for the changing needs in residential and office spaces. The Florence Knoll Lounge chair, also released in 1954, was a scaled-down companion to the sofa, so together they could offer flexible seating for a meeting space or entertaining area in the home.
Knoll may have designed her sofa because she needed a minimal piece as an element in the diverse interiors being filled with her company's furnishings, but it's now among the most celebrated of the company's designs. Knoll, Inc. continues to produce the Florence Knoll sofa over half a century after it was introduced, and vintage models are still prized for their sturdy construction and timeless qualities.
Previously Available Items
More Florence Knoll Designs