Over the past several years, a wave of artisans and makers has brought time-honored craft to cutting-edge contemporary design. Keenly aware of this movement, 1stdibs launched its New & Custom category in November 2016, noting its "unique blend of traditional, modern and conceptual styles with truly original design and both historical and contemporary materials." This week, during the Salone del Mobile, Milan's influential annual furniture fair, 1stdibs presented "A New Breed," a two-day gallery-style exhibition featuring pieces by nearly 30 designers and makers whose work breaches the boundaries between design and sculpture. Cristina Miller, 1stdibs' chief commercial officer, says that exhibiting these items in Milan sends the message that "having long been known as a key source for vintage and antique furniture and decor, we're now also actively playing in the contemporary-design category."
"A New Breed" was installed in three gracious 19th-century rooms in a 16th-century building in Milan's historic Cinque Vie neighborhood — the city's oldest and a mecca for design shops and galleries. Forming a strong contrast with the space's traditional boiserie and parquet floors, the displays of the exhibited pieces featured pedestals of various sizes and shapes clad in a terracotta finish, referencing an ancient material that here becomes a foil for the new. The installation's vestibule doubled as a lounge featuring pieces from some of 1stdibs' dealers and manufacturer partners, including the iconic Italian lighting company Fontana Arte; the American textile maker Maharam, which was represented in the main exhibition with a silk and wool wall hanging by the Dutch designer Claudy Jongstra; and the Italian stone company Salvatori.
The Exhibition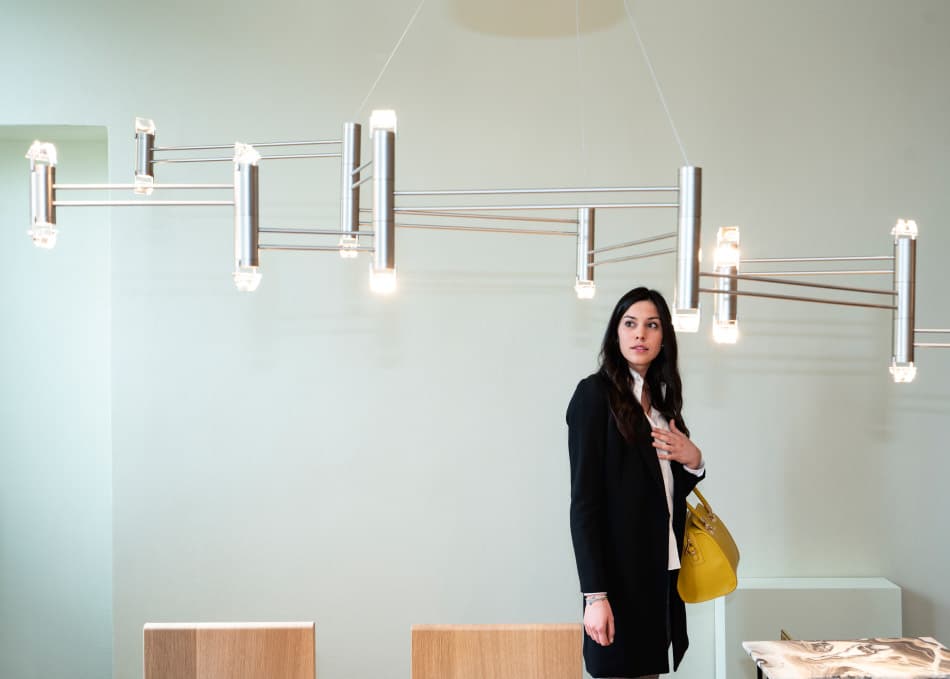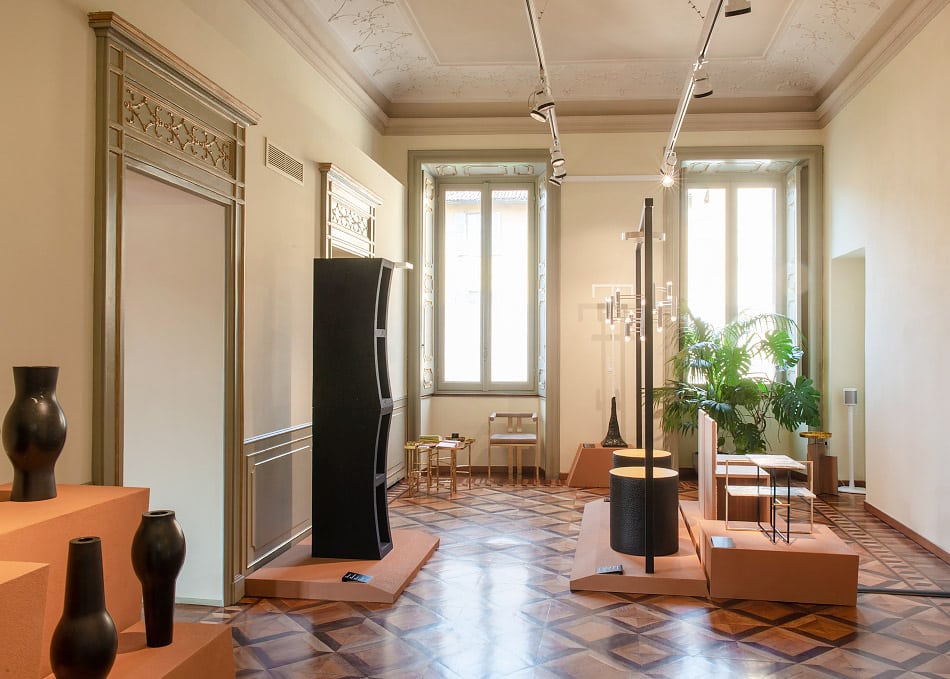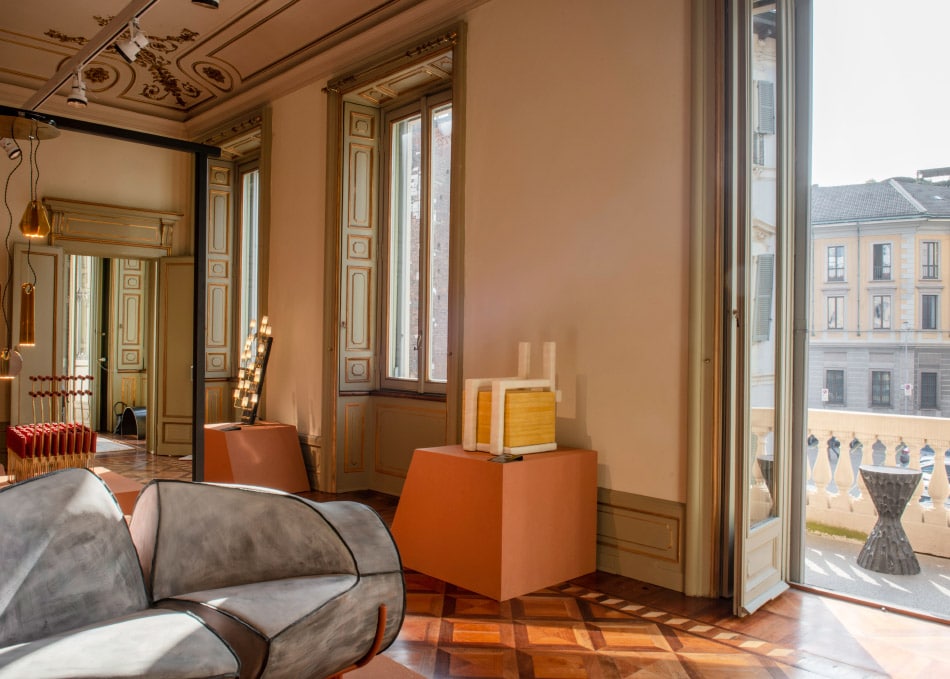 This conversation between old and new resonated with those attending the exhibition's opening, like the New York interior designer David Scott, who found parallels in the Italian tradition of "using historic architecture as a backdrop for contemporary life." Raffaele Fabrizio, the co-creative director of the fabric house Dedar Milano, emphasized the importance of investing in young designers, stating, "They are the interpreters of their time."
Objects were exhibited both singly and organized in abstract "room" groupings. Shown alone was the U-shaped room divider by Brooklyn-based May Furniture, made of the firm's proprietary compressed hardwood material finished to look like travertine (it's big enough to sit in, so May also created an accompanying stool). Arranged together were an aluminum and LED chandelier by the New York designer Bec Brittain; a bookcase of dyed sand and crushed smoked glass by Brooklyn-based Fernando Mastrangelo; an array of hand-carved black marble vessels by the Mexico City–based Ewe Studio; and an angular epoxy-resin and plated-steel coatrack from the New York studio Material Lust.
The talents represented in "A New Breed" occupy numerous points on the contemporary design spectrum. Chicago-based Christopher Gentner, an expert in designing with and fabricating metal (he re-created the missing bronze gates of Frank Lloyd Wright's Robie House in the Windy City in 2008), showed a chair with 100 slender, "slightly flexible" brass legs, each topped with silicone tubes that form its seat. Gentner says he "enjoys uncertainty" and ambiguity, although he emphasizes that you really can sit on the piece. Looking at design as abstract sculpture, he creates furniture that is also about materials and process — this chair is made of more than 700 individual pieces.
The 360-Degree View
[ggpkg id=870443]
Take a virtual tour of one of the exhibition spaces, which includes works by Jean and Oliver Pelle, Elyse Graham and Eddy Sykes.
Ambiguity factors as well into Mimi Jung's Neon Yellow and Taupe Live Edge Forms. The Los Angeles–based designer creates hand-woven, custom-dyed textile pieces that refer obliquely to the Southern California landscape, while their shifts in color, density and openness explore the nature of both internal and external experience. Although Jung's work looks ethereal, she says the process of weaving is "like laying bricks, building up from the bottom."
Another Angeleno — who now divides his time between L.A. and Mexico City — Eddy Sykes creates furniture and lighting from unlikely materials. Hs bronze and marble dining table, for instance, is a sumptuous take on mundane urban mainstays: metal scaffolding and its wooden planks. Sykes says that scaffolding was originally used to build cathedrals and multistory houses, "buildings most people couldn't afford." He turned that construct on its head, making the scaffolding itself a luxury object.
The Details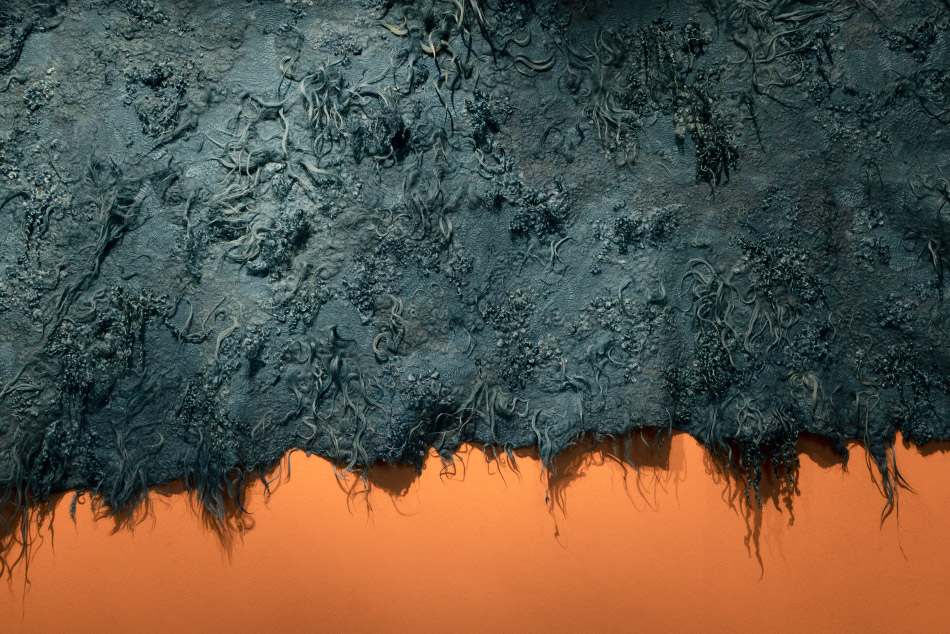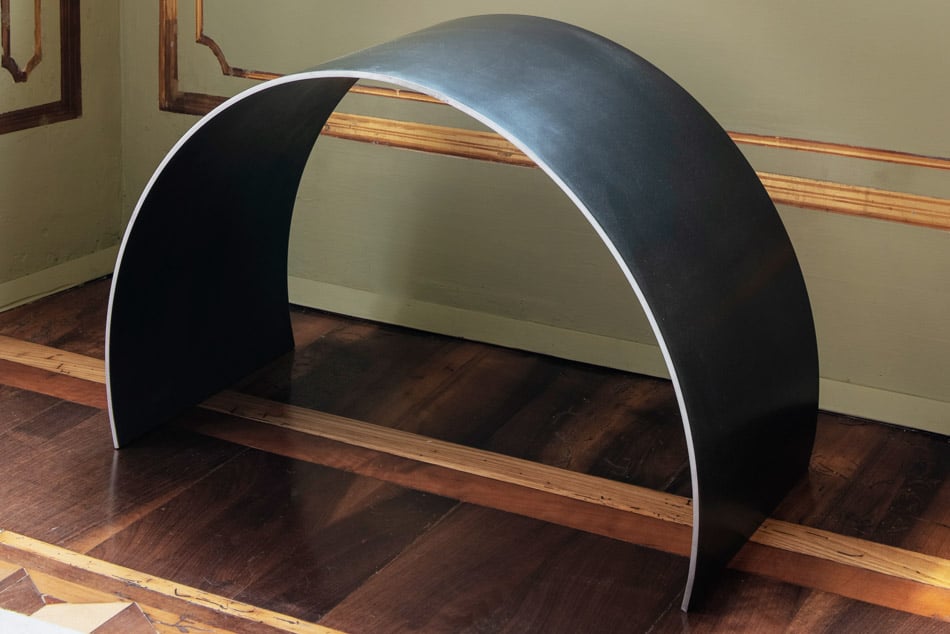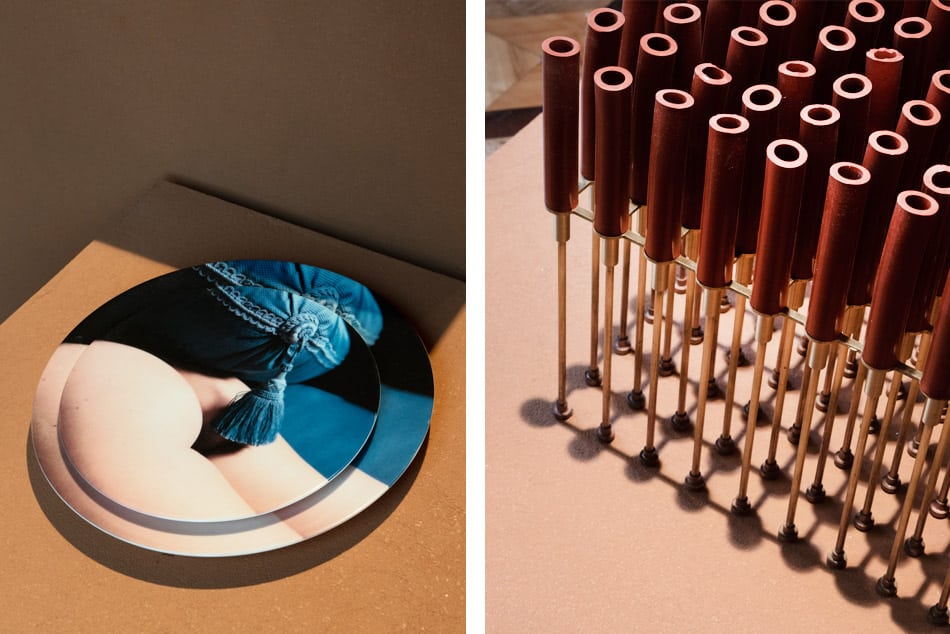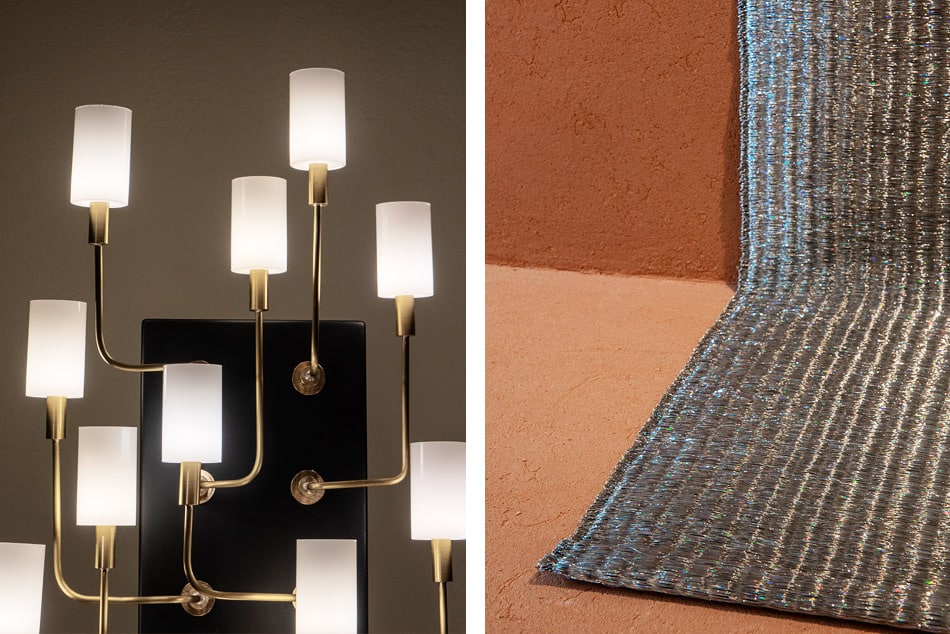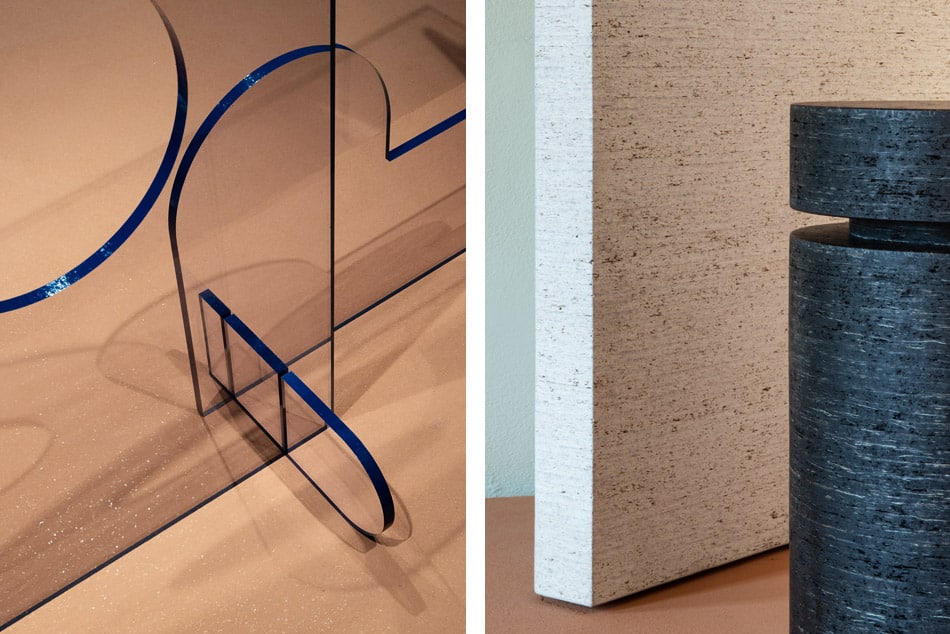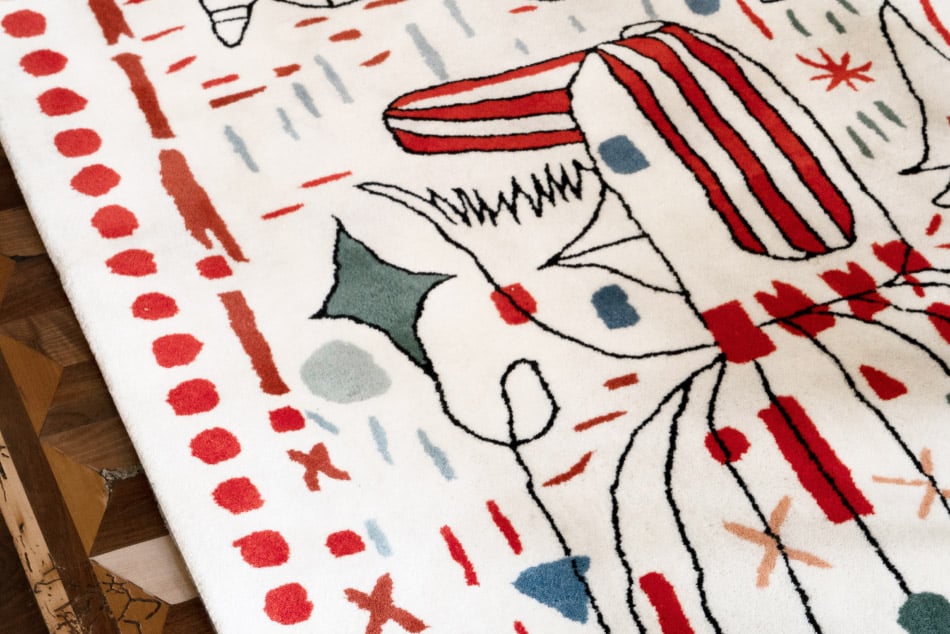 A more abstract approach is taken in the Lexan series console table by the designer and artist Morgan Spaulding's studio, Phaedo, which is based in New York's Hudson Valley. The table, with the edges of its transparent planes defined in blue oil paint, is meant to be "inspired by the space in which it resides" and embodies Spaulding's belief that an object retains some of the spirit of both its maker and the person who uses it. After all, Phaedo is the name of one of Plato's dialogues, which refers to the immortality of the soul.
Inspired by brutalist and modernist architecture and industrial objects, the Los Angeles–based ceramist Ben Medansky interprets tough mechanical objects in a fragile material. For his ceramic wall sconce, Medansky reimagined an LED bulb's heat sink — a radially symmetrical arrangement of extruded metal fins that pull heat away from the bulb to prolong its life —in a glazed ceramic version, creating twin forms, placed end to end, each holding a light bulb (incandescent rather than LED, in this case) and their fins creating shadows on the wall. Although many people would call the object that inspired the sconce ugly, Medansky says, "I think it's beautiful."
"A New Breed" reinforced the intentions of both 1stdibs and the designers it chose for the exhibition. "It's a chance to expand on our brand," Miller says, by "elevating the designers who our audience might not know" — designers who often face the challenge of getting their work out to broader audience. As Miller notes, "We can help them make a splash, as we make a splash."
---