June 7, 2020In her new book, The Perfect Kitchen (Rizzoli), Barbara Sallick — the senior vice president of design and cofounder, with her husband, Robert, of the luxury bath and kitchen company Waterworks — begins with a story about an architect who designed a large, lavish house for a client on Long Island. When asked which room the client liked best, the architect said, "Mostly the guy hangs out in the kitchen, like the rest of us."
In some ways, according to Sallick, we've come full circle from the Stone Age, when people gathered around a fire to cook their food. "Despite many millennia of progress," she writes, "like latter-day Flintstones, we've gravitated back to that essential space — and to the idea of kitchen as home." Long before the pandemic had us all deployed in our kitchens three meals a day seven days a week, this process had been gathering strength as our interest in food and cooking skyrocketed and our approach to dining became more informal, with guests gathered around the now-ubiquitous kitchen island as the host or hostess prepared dinner. She also points to the fact that technology has erased the functional distinctions between the rooms of a house. "If whatever you want to do can follow you wherever you want to go," she notes, "the last obstacle standing between you and the kitchen has been removed for good."
The book, written with Marc Kristal, was conceived immediately upon the completion of Sallick's earlier volume, The Perfect Bath, in 2016. "I had barely put down my pen," she recalls, when Peter Sallick, her son and Waterworks' CEO, "came into my office and said, 'OK, now how about a book on the perfect kitchen?' " The resulting pages offer tantalizing photographs of kitchens both vast and compact, ornate and spare. The text, meanwhile, conveys the importance of hiring design professionals and discusses the various tangible elements that go into a kitchen, like faucets, hardware, cabinets and countertop materials, as well as lighting, from pendants to sconces to chandeliers, and accessories like pot racks. Sallick even cites the occasional piece of furniture, like an antique table deployed for clothes folding in a laundry room designed by Thomas O'Brien, of Aero Studios. The book also covers ancillary spaces, like pantries, flower rooms and laundry areas, and includes brief texts by noted figures in the food and design worlds, among them the cookbook writer Julia Turshen, the New York Times food writer Melissa Clark, the renowned chef Alfred Portale and the designers Brian J. McCarthy and Ellie Cullman.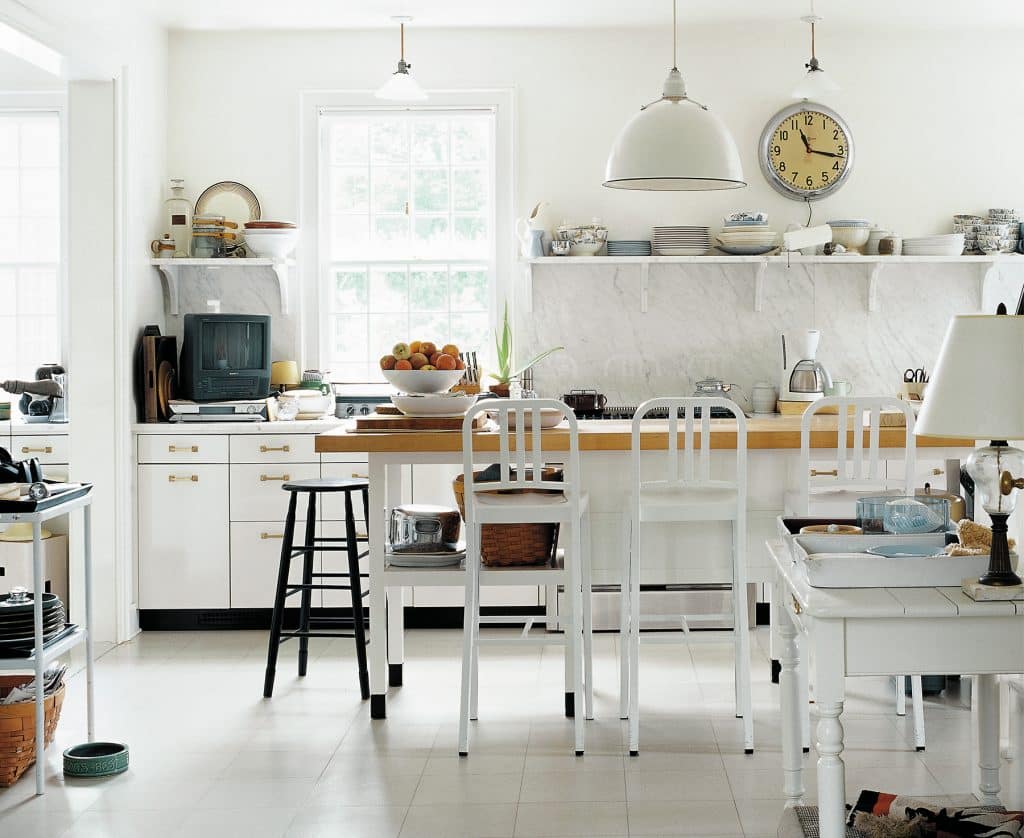 This, however, is "not a how-to book," Sallick insists. "It's about much more than the cabinets. I call this book 'informed inspiration' — you intensify the experiences you want to create through design. There are lots of different ideas, and you can draw from them and create your own statement." She is speaking with me from her home in Connecticut, where she is currently sheltering in place with Robert, now retired. In spite of being at home all day, she maintains a routine: After exercising first thing in the morning, she says, "I get dressed, and I put on lipstick," before heading to the kitchen to make a cup of tea.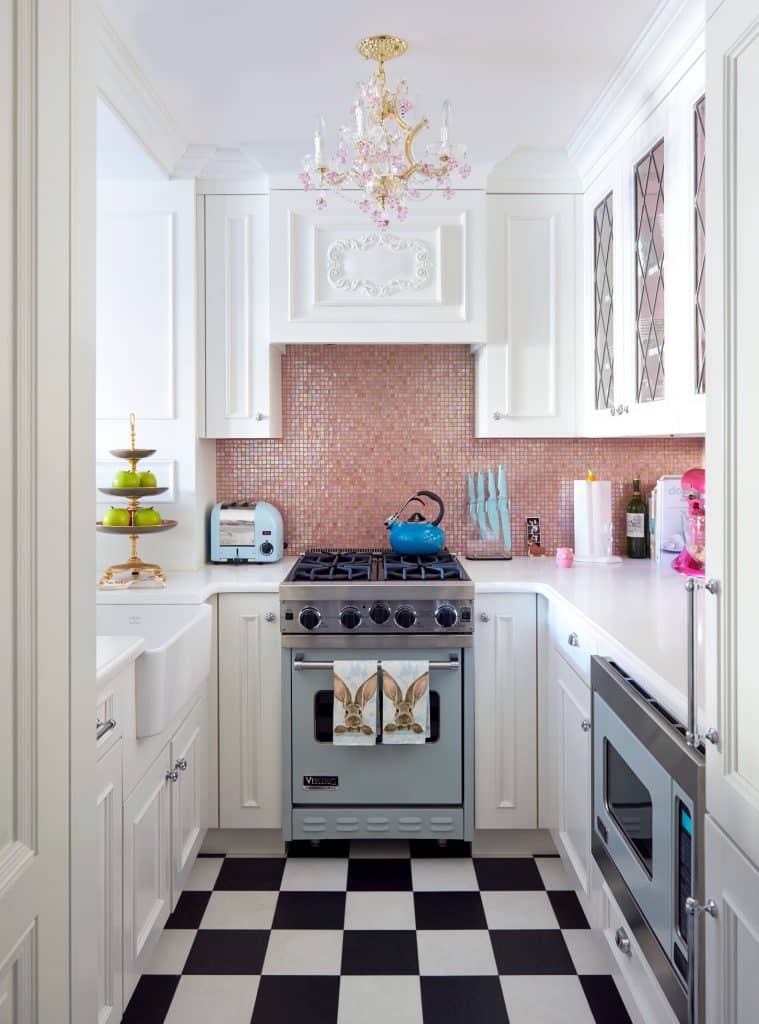 In her text, Sallick emphasizes the importance of balancing the functional aspects of the kitchen with the emotional ones, like feeling at home there and enjoying certain materials and colors on a daily basis. One of her favorite kitchens in the book is a small one, designed by Heidi James-Fisher, of the New York-based Studio LXIV, Ltd. Its white cabinets are offset by a checkerboard floor, a pink mosaic-tile backsplash, a pale blue oven, a crystal chandelier and dish towels printed with big-eared rabbits. "It's about layering materials," Sallick notes. But she also loves a sleek, white modern kitchen accented with glossy red cabinets that was designed, surprisingly, by Bunny Williams. "I absolutely love color in the kitchen," Sallick says. "It gives personality and energy to a space."
One of the most startling uses of color cited in the book is in a galley kitchen designed by Tom Scheerer with the architect John B. Murray. The cabinets are lacquered an intense green, and Sallick's caption reads: "This kitchen might make you feel as if you've been wrapped in a grape leaf. But to me, the bold color statement in a small galley space gives the room a jolt of urbane glamour." On a more neutral note, Sallick singles out a kitchen by the Seattle designer Katie Hackworth that has elegant hanging glass shelves above the sink and a combination of wood and gray-painted cabinets.
Aesthetics aside, Sallick is emphatic that careful planning is key to kitchen design. "Though most of us don't think it as such, the kitchen is by far the most complex room in the home," she writes. "Most people don't understand space all that well. Unless you're really skilled, if you don't hire a professional, you won't maximize your opportunities." A new kitchen, she points out, "is a very expensive proposition, even if you buy your kitchen from Ikea. In the end, a professional can save you money." And when budget is a consideration, she notes, color and good-quality hardware can go a long way toward transforming the space.
Sallick's own kitchen is in the book; it's a calm, welcoming space, with cabinets painted navy blue and pale gray, marble countertops, white tile walls, elegant brass hardware and walnut-lined drawers. It has a table and chairs, like so many of today's kitchens, which are geared to more casual dining and entertaining. "That's certainly where my husband and I are in our lives," she says. "We love this informal way of living."
---
Barbara Sallick's Quick Picks