June 16, 2019Like any interior designer who loves her work, Charlotte Barnes has definite opinions. "Good bones are super-important," says the Greenwich, Connecticut–based designer. "If you have good bones, you can wait for the accessories." Other musts: an excellent paint job, great hardware and — the key element — ease: "In every room, you should be able to walk in and sit on any piece of furniture and be comfortable." Barnes never buys reproduction furniture, preferring to create a mélange of antiques and contemporary pieces. "We'll mix a Conran vase with a seventeenth-century mirror," she notes, adding that, above all, "we try to be timeless." And she succeeds, designing understated but richly textured interiors in urban, suburban and rural settings for a roster of clients who prefer not to be named — and who keep coming back for more.
The designer grew up outside Philadelphia in a house filled with fine furniture and art collected by her parents; her aunt was an interior designer. Barnes herself started rearranging her bedroom when she was 10 and always loved furniture and design. But she also loved fashion. When she was a teenage lifeguard, all her earnings went for clothes.
In the early 1980s, while working in real estate in New York, Barnes met the president of Ralph Lauren's womens-wear division, who offered her a job. She became a merchandise coordinator and later an account executive, working with Bloomingdale's on its Ralph Lauren women's shops. In 1985, she was asked to go to London to build Ralph Lauren's womens-wear business in the UK and Europe. The experience she gained with the company, says Barnes — who did not attend college — was her education, teaching her about "precision and authenticity." It's a lesson that serves her well in her design career today. "I call it the School of Ralph," she quips.
During her eight years in London, Barnes, who had married by then, began learning more about furniture, visiting antiques shops and markets. "You're in England — it's all there," she recalls. One evening, Anne Hardy, who was an editor at British House & Garden at the time and now runs a creative consultancy in Connecticut, came to dinner at Barnes's house, a 1950s building in the city's Kensington area that she'd done up in traditional style. Hardy asked if the magazine might photograph it. The resulting story, Barnes says, started her on her eventual career path.
She moved to Greenwich in 1993. In 2001 — after raising a family while working for Italian jeweler Pomellato to establish its U.S. operation — she got her first major decorating project when a friend asked her to design an 1820 house in Greenwich. The project drew the attention of the U.S. version of House & Garden. The magazine photographed the house but was shuttered before the article could be published. Nevertheless, Barnes began devoting herself full-time to design.
Today, Barnes — who recently joined the board of the prestigious Decorators Club — works from a light-filled studio in downtown Greenwich, where she and her staff of four are currently overseeing eight projects. Her portfolio includes houses and apartments in England; a finca outside Madrid; and a new house in Istanbul, for which several pieces were sourced from 1stdibs. In addition, she has done work in New York City; Lake Placid, in Upstate New York; Palmetto Bluff, South Carolina; and Palm Beach, Florida. Whatever the location or style of the architectural envelope, these interiors share "an understated elegance that looks and feels really good," Barnes says.
In a modern house overlooking  Lake Champlain in Vermont, for example, Barnes filled the interiors, which have light-wood-paneled walls and ceilings, with contemporary furniture and lighting, adding accents like modern art and images by art photographer Dede Johnston, a vintage Eames lounge chair and ottoman, a glass-topped coffee table with a base made of antlers and custom outdoor furniture.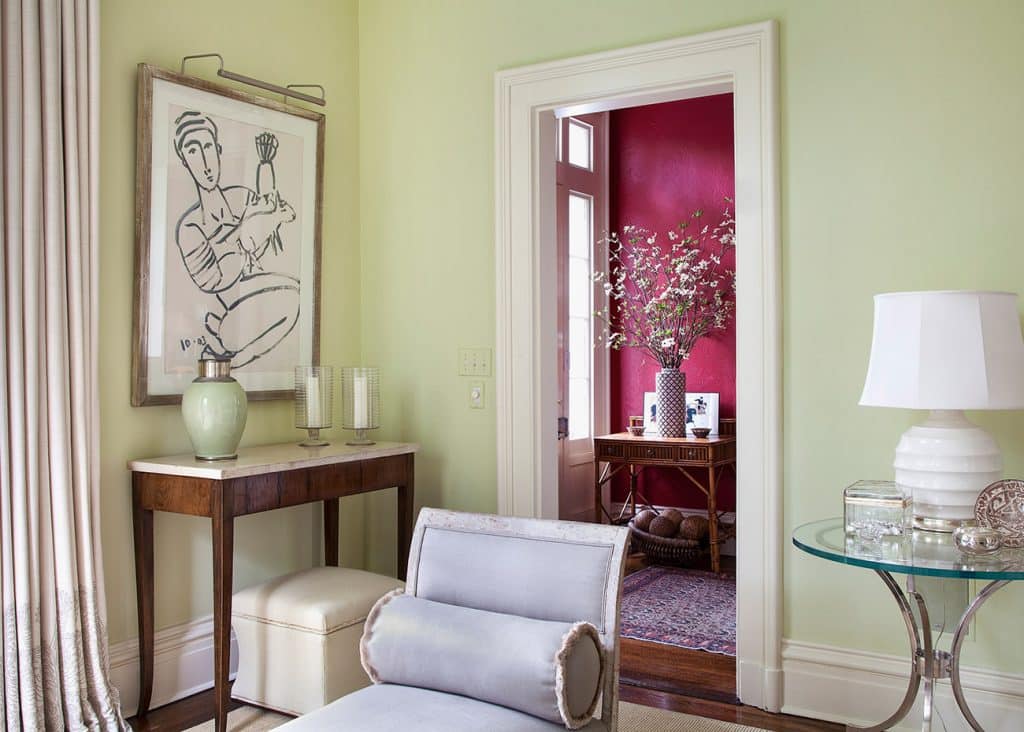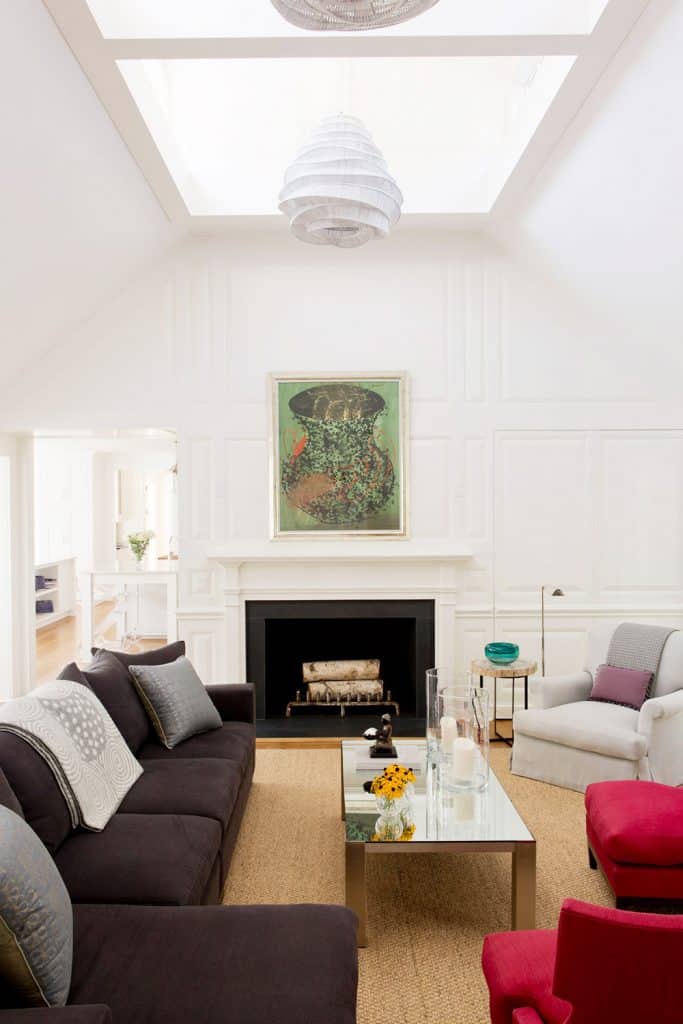 At the other end of the style spectrum is a turn-of-the-century Federal-style house in New England, where Barnes had the luxury of working with generously proportioned rooms that have abundant natural light. Here, she strove for a peaceful, more traditional feeling. In the living room, a pair of elegantly restrained Biedermeier console tables complement a duo of Swedish chairs that flank a fireplace and a Swedish daybed. The nickel and glass side table and pair of white ceramic lamps by Christopher Spitzmiller are contemporary, as is the sofa, which was designed by Barnes for her own furniture collection, started in 2014. She had the legs of a pair of custom tufted chairs painted to look "old and crusty," she says. "That small detail can make or break a room."
Overall, Barnes notes, "the house looks collected." That's thanks, at least in part, to the mix of old and new. In the morning room, the oak chairs around a vintage table came from Ann Morris. In the master bedroom, a pair of low antique English chairs sits in front of a fireplace with a Barnes-designed bronze and glass firescreen. Next to these, she placed a two-tiered silver-plate tray with a bamboo handle, for an unorthodox side table — "It was just the right height for the chairs," Barnes explains. Another of her rules to decorate by: "If you buy what you love, you will always find a place for it."
In Greenwich, for a Colonial-style house — a 1960s model that had been renovated to be lighter and brighter — Barnes followed the client's wish for mostly-white rooms but filled them with a rich mix of subtly colored and textured furniture and fabrics. She installed large-scale wicker hanging lights in the high-ceilinged family room and a desk from her own collection in the upper hallway. The living room's traditional sofa and slipper chair, both from Barnes's collection, contrast nicely with a minimalist plexiglass coffee table. In the dining room, one of Barnes's sinuous Carey chairs, with a walnut frame, leather upholstery and unlacquered brass casters, stands next to an antique Italian painted-wood table under a brightly colored abstract portrait.
In this as in all her projects, Barnes's eye and experience are evident in interiors that are as elegant as they are eclectic. No matter what the blend of styles and eras, the designer's rooms embody her ideal: A successful room, she says, "looks as if it's been there forever."
Shop Charlotte Barnes's Quick Picks on 1stdibs