April 3, 2022Dylan Farrell spent his first 30 years in New York City, where his father taught interior design at the Pratt Institute and his mother was a psychologist. When it was time for college, Pratt was the obvious choice, since professors' children pay reduced tuition. After overcoming a freshman-year preference for partying, he graduated with honors and soon joined his father on the Pratt faculty. It was while teaching architectural drawing that he met Nicolette Rasmussen, who later became his girlfriend and then wife. For years, Farrell was part of the gig economy — performing with several avant-industrial bands in Brooklyn, restoring antiques in a Soho loft and producing set designs and street art. He also worked with designers Richard Mishaan and Dakota Jackson.
In 2009, the Sydney-based American designer Thomas Hamel invited Dylan to fly to Australia for a job interview. He and Nicolette fell in love with the country, and they both took jobs with Hamel. Seven years later, in 2016, they left the firm to found Dylan Farrell Design, turning it into one of the most successful interiors practices in Australia. And they didn't do that by playing it safe.
"When we started, someone important said our work might be 'a bit much' for Australia," says the 47-year-old Farrell. "But we believed people wanted homes that expressed their personalities." They were right. Now, in a full-circle moment, the Farrells are planning to open an office in New York.
"We've had to turn down too many projects outside Australia because doing them wasn't yet practical," Farrell says. But "now that the firm has matured, and our children have grown, it's time." 
By phone from Sydney, he described some of his favorite rooms.
---
European-Inspired Sydney Home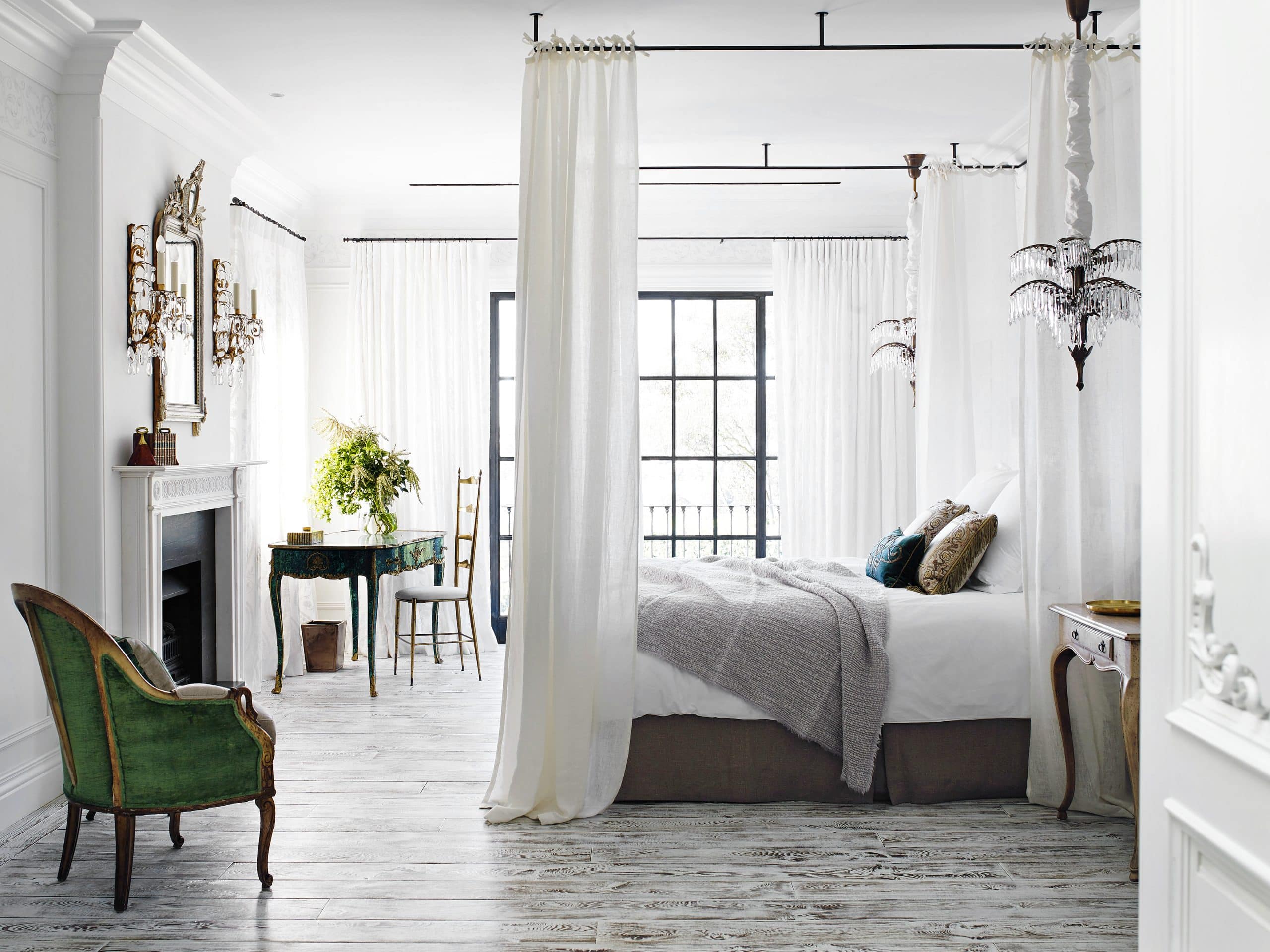 The overused word eclectic fits this Sydney home, which is one part French château and one part Soho loft. The clients, a couple with a strong curatorial vision, wanted a European feel, but Farrell opted for Europe seen through a New World lens. The main bedroom's otherwise serene palette, which includes wire-brushed and whitewashed French oak floors, is offset by pops of green (including a spectacular French regence-style writing table made mostly of malachite, from David Duncan Studio), and a late-regence French chair with swan necks and gilt. "Any day that sees malachite-cladding and gilded fowl is a good one," jokes Farrell. The casement window and the spare curtain hardware remind us that the house is nonetheless contemporary.
The owners of the house, fans of the photographer Candida Hofer, bought a Hofer with soft colors that go with the upholstered furniture Farrell had already chosen for this space. More importantly, Farrell says, "the offset curve of the interior captured in the Hofer interacts with the room in a dynamic fashion, leading the eye out of the corner where it is hung and into the center of the space." Some of the furniture in the rooms sounds heavy: Behind the sofa, there's an Art Deco silver-gilt console table by designer Armand-Albert Rateau with a green marble inset top, from Newel; an 18th-century Rococo blue-painted and parcel-gilt bracket console, from H.M. Luther; French 1940s antiqued eglomise mirrors from Alan Moss; and a chandelier by Baguès. Yet thanks to Farrell, most of the pieces are svelte, almost streamlined, giving the rugless room a spare feeling. He designed the sofa as a nod to Jules Leleu.
It looks traditional, but look again. Among the surprises in this sitting room are the stainless-steel and red-resin side table by Adam Thomas Hebb, and the coffee table in gold leaf by Yves Klein. The eglomisé wall mirror is by Maison Jansen, from Alan Moss.
---
Melbourne Estate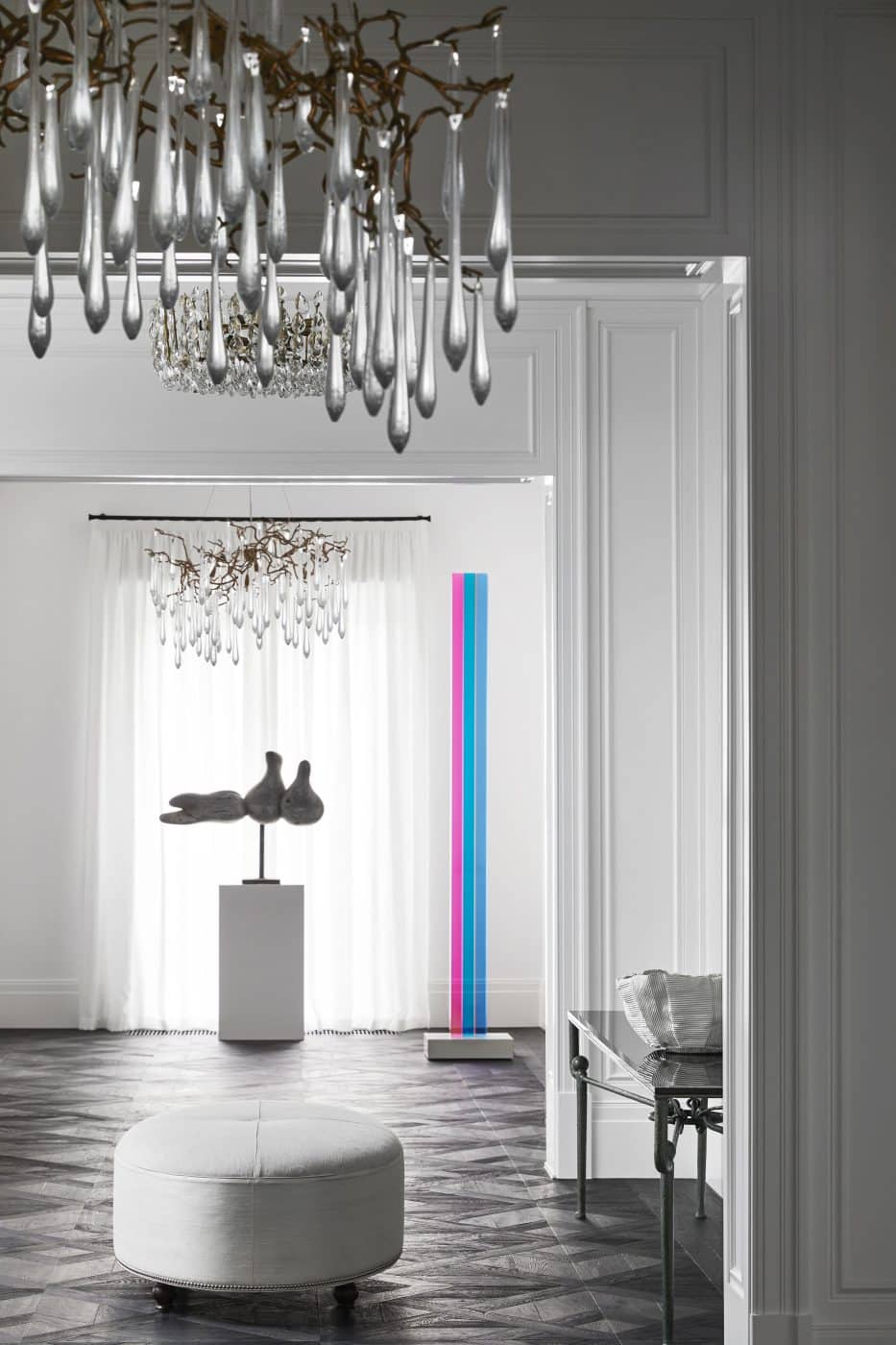 Farrell turned the foyer of this Melbourne manse into a showcase for two very different kinds of art: an acrylic sculpture by Los Angeles octogenarian Vasa Mihich (from Fat Chance) and a vintage wood object that is as material as the Mihich is ethereal. A 1970s console from The Renner Project displays a vase by Paola Paronetto. Chandeliers by Serip are made redundant by the natural light pouring in, but they sparkle even when turned off. "Contradictions are critical in our work," says Farrell, admitting that some might use the softer word "juxtapositions, but there are times where differences need to be blunt."
The painting over the sitting room sofa, by Dale Frank, couldn't be more eye-catching, but the rest of the room is hardly neutral. "We wanted the colors and shapes of the furniture and art to blend and bleed into each other," says Farrell. Most compelling is the green onyx fireplace surround, a painting in its own right. Farrell's Arp coffee table in burnished bronze looks indestructible. Table lamps by Juan Luca Fontana, from L'Original Gallery, are pleasantly anthropomorphic. The chandelier and nesting tables are both by Farrell for Jean de Merry. The 1970s emerald green Murano floor lamp with brass lampshade is from Pandora Decor. Thanks in part to the pair of curved sofas, the rectangular room imparts the feeling of circularity.
Farrell calls the home Alchemy House, which may explain why the pipes in the principal bathroom are gold. In other respects, he says, the room is "an exercise in restrained maximalism," with theatrical and monumental pieces punctuating an otherwise spare space. A Gaetano Sciolari chandelier, from Again & Again, hangs over a custom carved-marble tub. Its plinth — a slab of onyx — and a stool by India Mahdavi bring swirls of blue to the primarily white scene. And if once isn't enough, it's all there again in the mirrors. 
---
Contemporary Sydney Harbour Home
After designing a spectacular spiral staircase in this Sydney home, the closest thing in architecture to a vine, Farrell decided to stick with that theme in the foyer. The satin-brass light fixture, from 1stDibs itself resembles a delicate vine. "Everything is deliberately spiraling upward, including the curated botanicals," says Farrell. His own wood-and-brass table (which he named Rachis, the Latin word for spine) also embodies growth. In what he calls "a light nod to formality," he placed the sconce on a side wall the way someone might have hung a spear or an oar in a traditional British "campaign themed" home.
Farrell couldn't compete with the spectacular scenery — a northern Sydney Harbor inlet — and didn't try. Rather than imposing a strict order on the living room, he unrolled a sea of blue, then floated a handful of understated pieces on it. They include a 1970s Italian aquamarine glass coffee table in the style of Fontana Arte, from Italo 900, and a floor lamp and side chair of his own design in blackened steel. The smooth white ceiling draws the eye straight across to the great outdoors.
Farrell figured strong graphics would help him overcome what he calls the "gun barrel" proportions of the powder room. The patterned floor draws attention to the vanity, designed by Farrell "to abstractly mimic flower petals," he says, describing it as "an effort to escape the boredom of another box-and-sink." Farrell also designed the mid-century-inspired mirror to fit the narrow back wall; the diminutive sconces are from Rewire.
---
Modern Melbourne House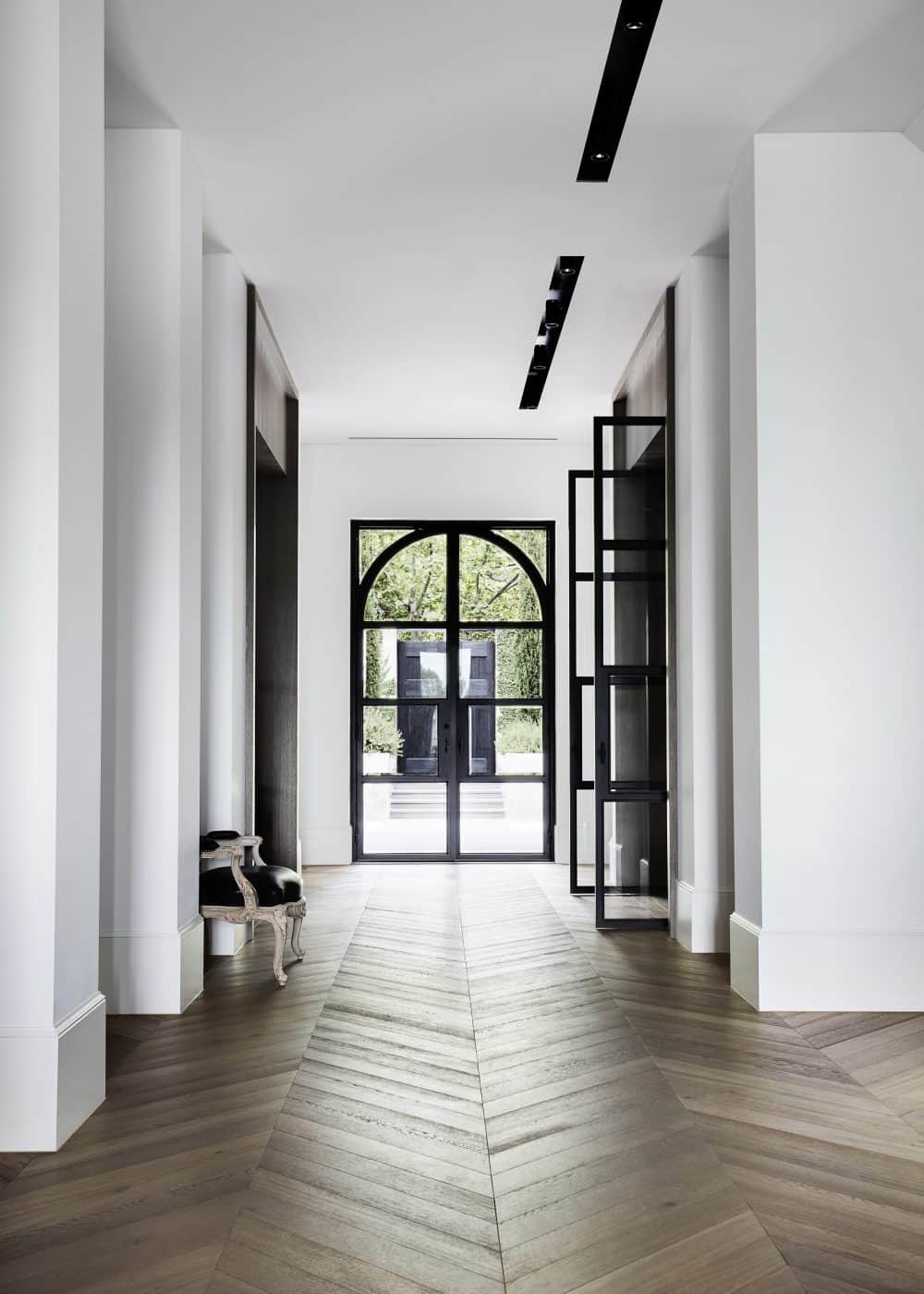 The entry hall of a Melbourne home is contrasty and crisp, but stops far short of clinical. That's because Farrell made sure the floors are rough and the walls are interrupted — the doors to a sitting room protrude into the hallway on one side; the baroque armchair protrudes on the other. Farrell knew the ceiling's trough lighting would produce a strong black line, so he put it off-center, avoiding pat symmetry. He calls his approach "high craftsmanship and low showmanship."
---
Sydney Family Home
"For young, newly married clients, we were going for an 'urban carnival' feel: fun, bright, approachable but still maintaining a level of sophistication," Farrell says of this Sydney home. That led to a largely neutral room with shocks of saturated color. Two key pieces — the metal sideboard and the nesting tables — are by Farrell. But balance required bringing in works that embody other sensibilities: the club chair and ottoman by Pierre Augustin Rose, the totem by Stephen Ormandy and the painting by Dale Frank.
This extension of the owners' bedroom had to be restful, but that didn't mean it had to be dull. In the "intentional absence of color," Farrell says, every piece in the room features curved or bent lines, starting with his Arp coffee table and Lady Leveller side chair for Jean de Merry. "We wanted to blend the imagined aesthetics of a retro Parisian flat and a circa 2050 penthouse," Farrell says with a chuckle. The acrylic-on-canvas paintings are Inversion and Nonagon by Olivier Vrancken.
In this guest bath, space was tight. Farrell took that as a cue, choosing a soup bowl of a tub that almost touches the marble walls and glass partition and using a Gervasoni pendant lamp to cover it like a hat. (The light also gives Brigitte Bardot, in Terry O'Neill's black-and-white photo, a topper.)
---
Georgian Modern House in Sydney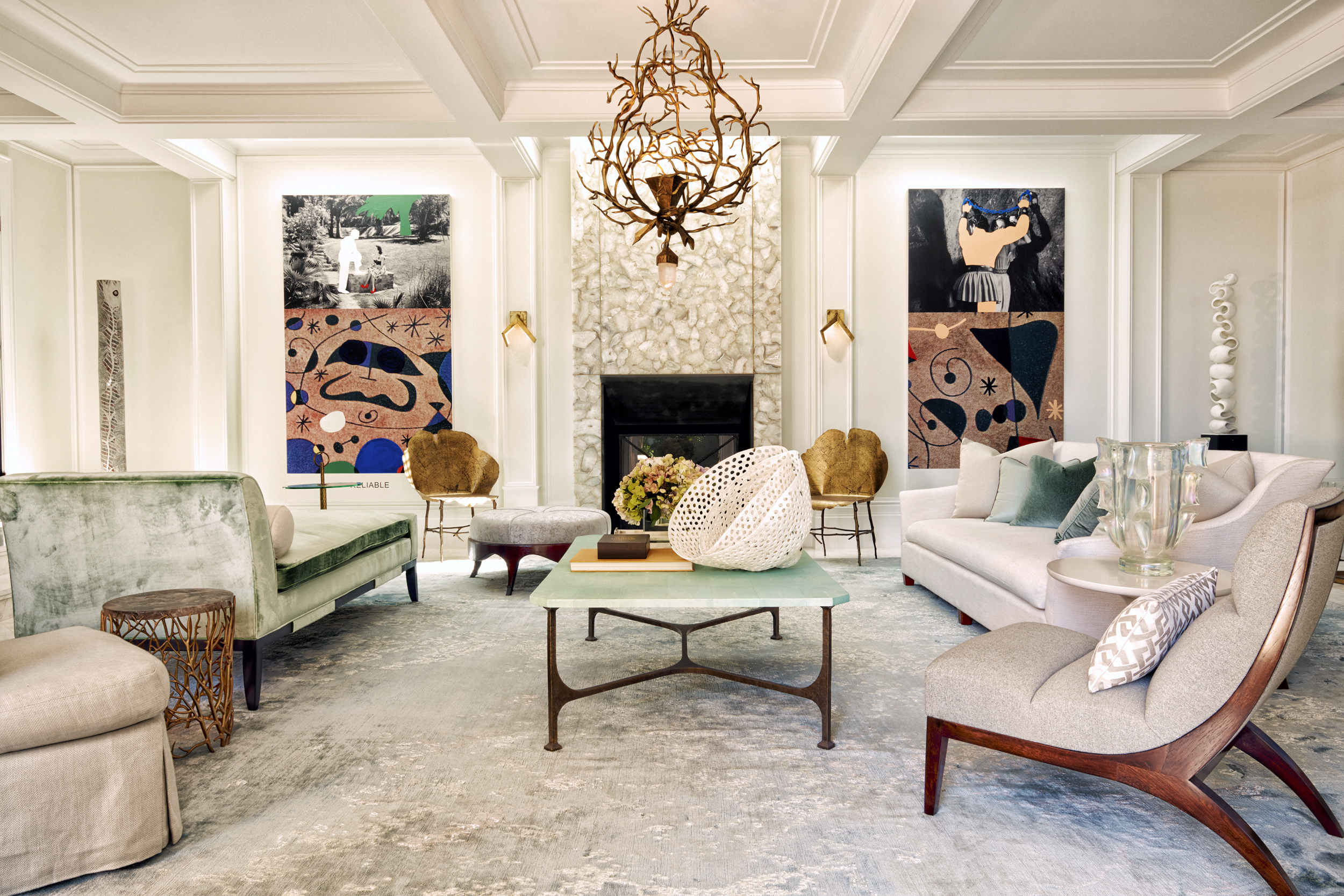 The late artist John Baldessari, Farrell says, "has been important in my life. He taught me that too much earnest commentary can be boring and self-indulgent, so it is important to approach the creative process with a certain amount of whimsy and playfulness." For the living room of this Sydney house, Farrell and the client chose two Baldessaris as focal points. The coffered ceilings and the moldings give the room gravitas, but nothing here feels heavy-handed. The chandelier, by Hervé Van der Straeten, is modeled on nature, something that could also be said of Elizabeth Turk's marble sculpture, in the far right corner; the twiggy drum-shaped table, in the foreground; and the ceramic sculpture by Kristina Riska on the coffee table. The Tommi Parzinger chaise in new upholstery is from Parzinger Originals.
Part of a heritage-listed family home, this playroom is mostly for kids, "but we didn't want it to be juvenile," Farrell says. The mix he and his team came up with — sophisticated with a bit of a wink — includes a pair of leather-wrapped chairs by OCHRE; a custom brass base for a game table topped in ebonized oak ("We wanted a Saarinen but not a Saarinen," he explains); and a bronze-footed end table by Garouste & Bonetti, from Galerie Edouard de la Marque. Marta Minujín's series of self-portraits with Andy Warhol are bold enough to intrigue children of all ages.
Farrell channeled a generous New York City bathroom in this space, with its arrangements of white marble tiles and classically detailed wood vanity. But he made its focus Australian artist Danie Mellor's painting of an aboriginal landscape —chosen, the designer says, by his "deft-eyed client." The artwork's colors resemble those of Spode porcelain, which helped make English pottery a global success in the 19th century. "The indigenous landscape viewed through this Spode lens creates a dialogue on the influence of colonialism," Farrell explains.