May 23, 2021While spending a good part of my 30s as the copy director at Tiffany & Co., I learned a lot about Elsa Peretti, who designed jewelry for the company from 1974 until her death, on March 18 at the age of 80. Of course, I knew her name long before that. Like many high-school girls, I'd lusted after — and managed to acquire (thanks, Mom!) — a silver Teardrop pendant. But it wasn't until I began writing for Tiffany that I came to know Peretti's work in a deeper way and appreciate the phenomenal impact she has had on the world of design.
In 1964, Peretti left her conservative, wealthy Italian family (and their money — her parents cut the purse strings) to model in Barcelona. Four years later, she moved to New York, where she joined an artistically influential set that included Andy Warhol, Helmut Newton, Liza Minelli and, most notably, Halston. Peretti garnered immediate attention when she designed an unusual vase pendant — in sterling silver, on a leather cord, holding a single blossom — for the Giorgio di Sant' Angelo fashion show. She went on to collaborate with Halston, designing jewelry for his collections as well as the curvy, organic bottle for his fragrance. In 1971, Peretti won the Coty American Fashion Critics Award for jewelry, and in 1974, she signed an exclusive contract with Tiffany & Co.
Her simple, sculptural jewelry spoke to the newly independent women of the 1970s. Rather than hoping for a man to buy them something from Tiffany, they treated themselves. "I design for the working girl," Peretti told People magazine after her pieces sold out at the launch. She had single-handedly stripped fine jewelry of its formality and elevated sterling silver to luxury status. A 1977 Newsweek cover story declared it the biggest jewelry revolution since the Renaissance. To this day, it's a revolution that happens every time someone discovers Peretti for herself. When you connect with one of her designs, it's a visceral experience. You feel modern, smart, strong. You feel cool.
---
PERSONAL & POWERFUL
At Tiffany, I loved writing about — and collecting — Peretti's designs. The Diamonds by the Yard pendant, delicate and innocent-yet-sexy, nestles and glints in the clavicle. The sensual, powerful Bone cuff makes everyone who wears it feel like a superhero (long before it made an appearance on Gal Gadot's wrist in 2020's Wonder Woman 1984). The smooth, tapered discs of the Round collection are simple and sophisticated — I still laugh remembering the time I got home at 2 a.m., a tiny bit tipsy, and realized as soon as I opened the door that I'd misplaced one of my onyx Round earrings. I ran through the East Village in the snow, coatless, and back to the bar, where I crawled among patrons' feet until I found the earring, luckily unscathed. And of all the things I lost in my 2013 apartment fire, the dangerously chic gold Scorpion necklace is the only one I still miss.
Peretti fans have similarly emotional attachments to her designs. "Anytime I wear something by her I feel strong," says Stellene Volandes, editor in chief of Town and Country, jewelry expert and author of Jeweler: Masters and Mavericks of Modern Design (Rizzoli). "Everything she designed has a quiet strength about it and is one hundred percent now, no matter what year it is. That is her special magic."
Karen Silveira, creative director at 1stDibs and formerly chief creative officer at Tiffany & Co., agrees. "For every important meeting or interview, I've worn either my Bone cuffs or my Snake necklace," she says. "They serve as a kind of armor and give me a sense of power."
---
SINGULAR FORMS, BROAD APPEAL
"Elsa wasn't about expensive — she was about great design," says Volandes. "The forms are so sensuous and in line with the contours of the body. They are bold but almost fabric-like, very disciplined and consistent in their point of view."
That point of view was usually rooted in the natural world — a bean, a starfish, a flower, a bone. Peretti absorbed her surroundings and distilled objects to their essential forms.
In Fifteen of My Fifty With Tiffany, the catalogue for Peretti's 1990 exhibition at the Fashion Institute of Technology, she explains, "As a child, I kept on visiting the cemetery of a 17th-century Capuchin church with my nanny. All the rooms were decorated with human bones. My mother had to send me back, time and again, with a stolen bone in my little purse. Things that are forbidden remain with you forever."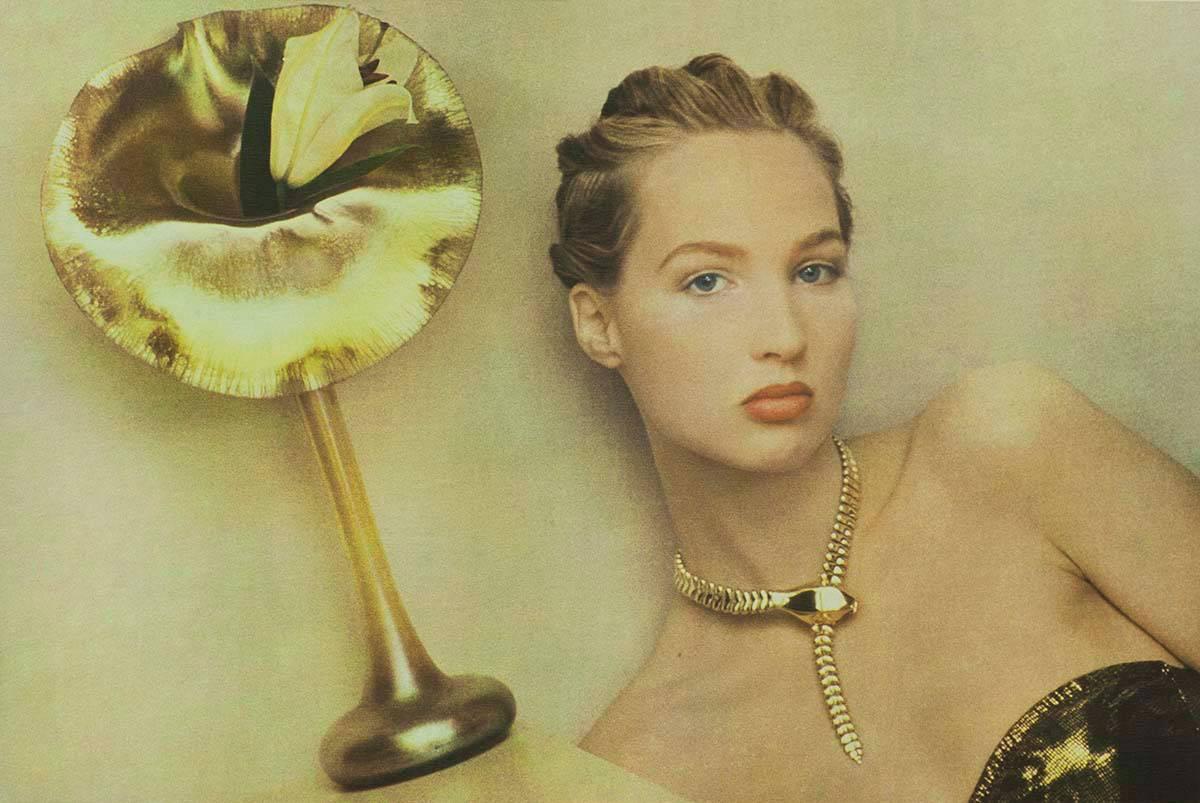 The idea for her Snake designs came to her from a rattlesnake tail given to her by a Texan as a good luck charm. "I thought Americans had to be brave, having these kinds of snakes in their backyards," she writes in the catalogue. Her Aegean links, artfully misshapen as if weathered by ages of exposure to seawater and sand, were inspired by a bit of chain she found while diving in Greece.
"An Elsa piece becomes a part of you as soon as you put it on," notes Marion Fasel, jewelry historian, author, frequent Introspective contributor and founder of the website the Adventurine. "It's remarkable how her designs have a universality that appeals to all types of people, even though each piece is inspired by her personal story.
A LASTING IMPRESSION
Peretti bought a house in 1968 in Sant Martí Vell, outside Barcelona, which became her preferred residence. Over the years, she renovated her home and, bit by bit, other buildings in the tiny 16th-century village, until she owned most of it.
"I spent more than a week there with her working on her archives and a catalogue," remembers Silveira. "The mark of her style was everywhere. Every single thing was simple and amazingly beautiful in the most casual way, from the houses to a perfect pitcher of tarnished silver filled with gorgeous overblown flowers."
"She was intensely involved in every element of her work, with a deep passion for the craft and the vision," Silveira continues. "We sat at her table by a big fireplace, going through her things as she reminisced about her life. She talked about her friends who had passed away during the AIDS crisis and how painful that was, plus joyful moments, too. Her niece and distant relatives would come for dinner, and we'd have many bottles of wine late into the night. She was older than the rest of us but had endless energy."
Fasel's meetings with Peretti also left an indelible impression. "I remember everything she said to me because she was so captivating," Fasel says. "It was a powerful, emotional experience to speak with her. Everything was very dramatic and direct. I don't know if she self-identified as a feminist, but she had every interior passion that feminism represents. The most astonishing thing is that she was at a giant firm [Tiffany] and managed to protect her vision and make it feel so personal."
---
JEWELRY MUST-HAVES
"Peretti jewelry is a really wise investment. If you compare the prices to those of other jewelry, it's a great value," says Volandes. "Any time someone asks me to recommend a jewelry gift, I always tell them to start with the classic Bone cuff. If she already has one, I recommend the Snake earrings."
"If you analyze Peretti's collection from top to bottom, everything is iconic," notes Fasel. "She was determined to make every piece perfect, so you can't go wrong. If I had to choose a starter piece, I'd say Diamonds by the Yard. It's so easy to wear and is something that will go with you through life. Even royalty wear it."
"I love older and discontinued Peretti designs. They are very unusual to find, and it's only getting more difficult, so when I see one, I buy it," says antique jewelry dealer Nadine Krakov, who especially likes the supple Mesh necklaces and smooth, voluminous Doughnut bracelets.
Jewelry dealer Peter Suchy notes that Peretti pieces, such as her Open Heart pendants, have received even more interest since her death. "Her designs will go on forever and ever," he says. "When you buy a Peretti piece, you know you are getting something of quality. Plus, it's Tiffany — the two are inseparable."
---
A MEANINGFUL LEGACY
The everlasting impact of Elsa Peretti's creations extends beyond jewelry cognoscenti to the permanent design collections of the world's most important institutions, including the British Museum, in London; the Metropolitan Museum of Art, in New York City; and Boston's and Houston's Museum of Fine Art.
She continues to influence generations of designers. "Elsa appreciated the beauty of natural materials and created simple, beautiful pieces you can wear with jeans or dressed up," says Faye Kim, a contemporary jewelry designer who worked at Tiffany & Co. before launching her business. "She was able to strike that balance, and that inspires me."
Peretti's deep humanitarian calling lives on as well. Her enormous success, coupled with a family inheritance, enabled her to establish the Nando and Elsa Peretti Foundation in 2000 in her late father's honor. The charitable organization supports causes in more than 80 countries, with an emphasis on children's and women's rights, wildlife conservation and environmental protection. As of 2020, it had contributed nearly $68 million to these efforts.
Her Instagram account, @elsaperettiofficial, remains a testament to the most important things in Peretti's life. She posted tributes to friends, impressions of nature's beauty and, more and more frequently over the past year, serious missives on global crises. On May 1, 2020, her 80th birthday, Peretti wrote, "Still in quarantine, to be remembered in such a nice way by all of you, made me happy. Feeling old and tired, my only wish in this special day is to hope for a better Future for this planet. ELSA."
It's not surprising, then, that on the platform where the octogenarian had so sincerely expressed herself, her death prompted an outpouring of emotion. Tributes flooded in from designers, stylists, editors and countless women who had been touched by her work.
"Elsa completely transformed jewelry," says Volandes. "She took jewelry out of the vitrine and into parties and onto the street. She made jewelry feel current — not worn only by people who had safes and vaults."
"For me, she is a pioneer, a trailblazer and a goddess on the Mount Olympus of jewelry," Fasel says, her voice cracking with emotion. "When you wear Elsa, you know you have a treasure. It's not normal jewelry. It's the work of a genius."