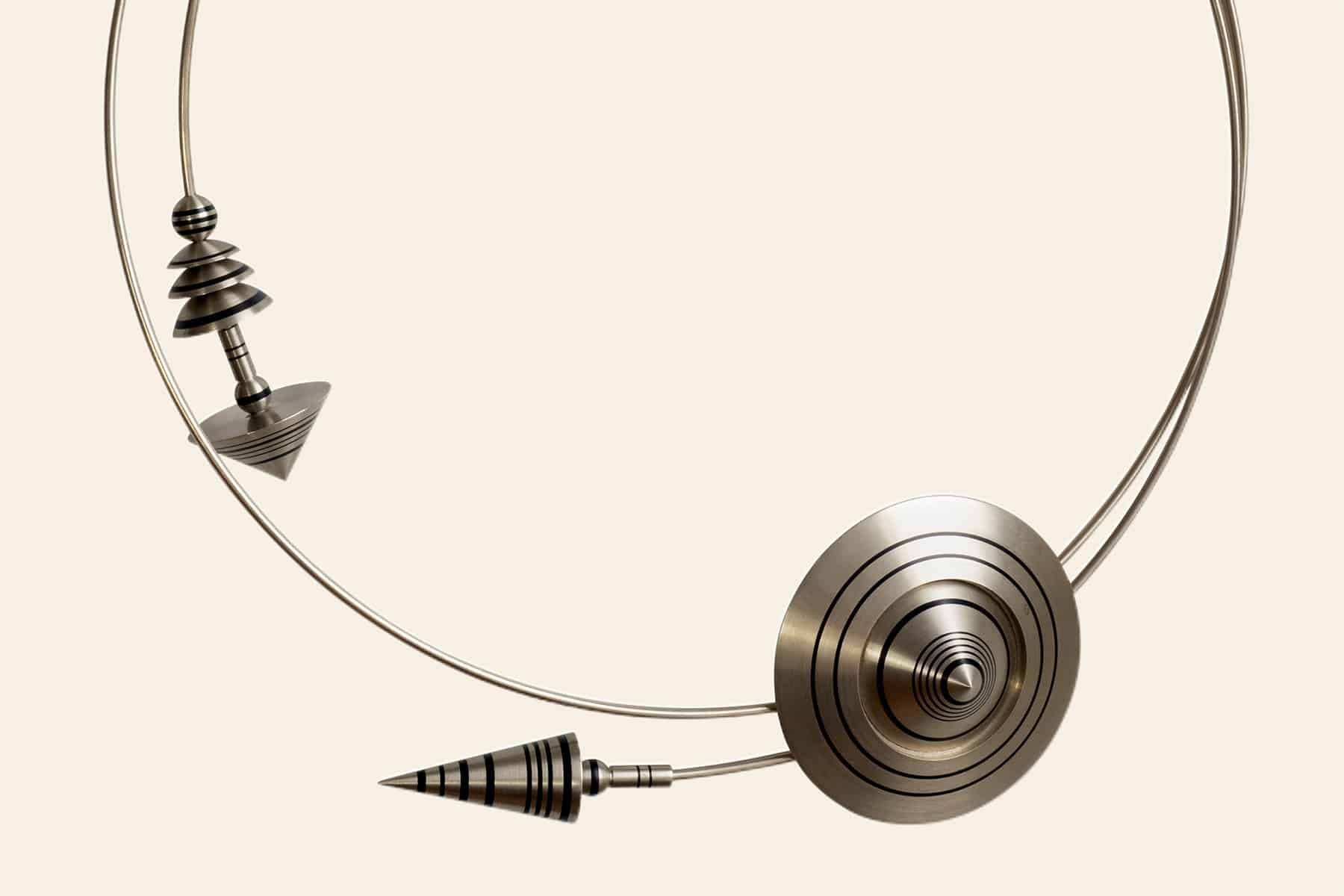 If you're in New York this week, perhaps to attend TEFAF, make time to stop by Mahnaz Collection's gallery, which is hosting its first major exhibition of female jewelers. Titled "Women of Vision: 70 Years of Shaping the Jewelry World, 1950–Present," it encompasses more than 250 items by 25 jewelers, including Solange Azagury-Partridge, Alice Cicolini, Melanie Eddy, Cora Sheibani, Tess Sholom, Van Gelder Jewellery and more.
Curated by noted dealer Mahnaz Ispahani Bartos, the exhibition highlights the featured jewelers' explorations of new directions — minimalist, modernist, organic, sculptural, brutalist, feminist — through the use of material, form, color, scale and technique, bolstered by an innate understanding of how jewelry connects with the female body.
For those who can't get to New York before the show ends on May 12, we asked Bartos to identify 10 names every jewelry collector should know and explain why each is a "woman of vision." She also points to jewels in the exhibition that exemplify each designer's unique aesthetic — and happily, they're all available on 1stDibs.
Naturally, Elsa Peretti makes the list, as do two well-known names from Georg Jensen's exceptionally talented corps. But there are many more leading ladies of jewelry's recent history to discover — and this is a great place to start.
---
Nanna Ditzel
"Nanna Ditzel was the first woman to design for Georg Jensen, starting in 1954 with her husband, Jørgen, who died a few years later.
"She is considered the most successful Danish designer across fields — furniture design and jewelry — in the 20th century, creating jewelry while her children slept! And she went on to win numerous major national and international awards for her simple yet finely shaped works in silver and gold, advancing the 'Scandinavian style' in jewelry and furniture."
---
Vivianna Torun Bülow-Hübe
"The superstar in Georg Jensen's pantheon of gifted designers, Torun — as she was often simply called — pushed design boundaries with a distinctively feminine touch. Working in silver for its fluidity, she preferred pebbles, wood and quartz to precious stones and was one of the first female designers to achieve international fame.
"For her, jewelry was to be worn consistently, whatever the occasion or lack thereof. Frustrated with women wearing glamorous gems to appear glamorous, she once said, 'Adornment has lost its true innocence.'
"She insisted that jewelry must marry itself to the contours of a woman's body, noting, 'It should enhance and move with the body to blend with you. . . . it must be timeless. It shouldn't matter if you are 17 or 87 years old.' "
---
Gerda Flöckinger
"Gerda Flöckinger was pioneering, influential and one of the earliest independent jewelry designers and goldsmiths. She was the first living female jeweler to have a solo show at the Victoria and Albert Museum, in 1971. The museum also commissioned its first piece of modern/contemporary jewelry — a necklet — from her. And Queen Elizabeth II awarded her a CBE [Commander of the Order of the British Empire]."
---
Sonwai
"In the 1960s, Sonwai was an apprentice to her uncle, the master jeweler Charles Loloma, the most transformative Hopi artist and jeweler of the 20th century.
"Though her birth name was Verma Nequatewa, she worked under the artistic name Sonwai, which means 'beautiful,' the feminine counterpart to Loloma in the Hopi language. How right that seems.
"She eventually became a master goldsmith and lapidary in her own right, an extraordinary achievement in communities where mainly men make jewelry."
---
Eveli Sabatie
"A French artist jeweler with a doctorate who was raised in Morocco, Eveli Sabatie found herself learning from, and then influencing the work of, Loloma. From 1968 to 1972, she lived in Hopi land and apprenticed with Loloma alongside Sonwai. She went on to have an independent career as a jeweler creating highly sculptural jewels in the American Southwest."
---
Zaha Hadid

"This Iraqi-born designer is recognized as the most prominent woman architect of the late 20th and early 21st centuries and was once described by the Guardian newspaper as the 'Queen of the curve,' who 'liberated architectural geometry, giving it a whole new expressive identity.'
"In 2016, Zaha Hadid brought this free architectural geometry to an important jewelry collaboration with Georg Jensen, which launched just after her untimely death that same year."
---
Wendy Ramshaw
"Wendy Ramshaw was an innovator who worked across mediums — ceramics, jewelry, sculpture. And she invented stacking rings — she even won an award for them in 1972. She began making paper jewelry in the 1960s for fashion designer Mary Quant, long before 'contemporary' jewelry took hold of our imaginations.
"Breaking down the barriers between jewelry and sculpture with her famed ring sets, she also designed the Gates to Hyde Park in London, among other famous ventures. She was honored by the Queen twice, the recipient of both a CBE and an OCE [Officer of the Order of the British Empire]."
---
Sophia Vari
"Sophia Vari achieved international acclaim first as a sculptor. Such artists do not necessarily make good jewelers. Yet Vari's jewels, created by hand in gold, silver, ebony and other materials, have an archaic quality, simultaneously geometric and abstract, and tell mythic tales.
"Just as her monumental sculptures change the conversation in public spaces where they are installed, her jewelry — its form, composition, material, color and cultural influences — wholly engages the wearer."
---
Elsa Peretti
"One of Tiffany's most successful design partners, Elsa Peretti began her career not as a designer but as a model in New York (her best friend was Halston). Wealthy herself, she designed for the 1970s working woman, who had a new kind of day-to-night lifestyle that demanded modern jewelry designs, not only in gold but also in silver.
"Among her most iconic designs for the American jewelry house is her Bone cuff, famously donned by Hollywood stars such as Liza Minnelli and Sophia Loren; the Diamonds by the Yard series; and her Scorpion and Snake collections."
---
Barbara Cartlidge
"Arguably the most influential gallerist of 1960s and 1970s London, Barbara Cartlidge was an artist jeweler who also helped start and guide the careers of countless artists and jewelers, including David Watkins, Ramshaw and Flöckinge.
"In 1971, she cofounded Electrum Gallery as a space for budding contemporary art jewelers to show their work. Electrum placed Cartlidge and the artist jewelers she represented on the map, making London a key destination in the art-jewelry world."