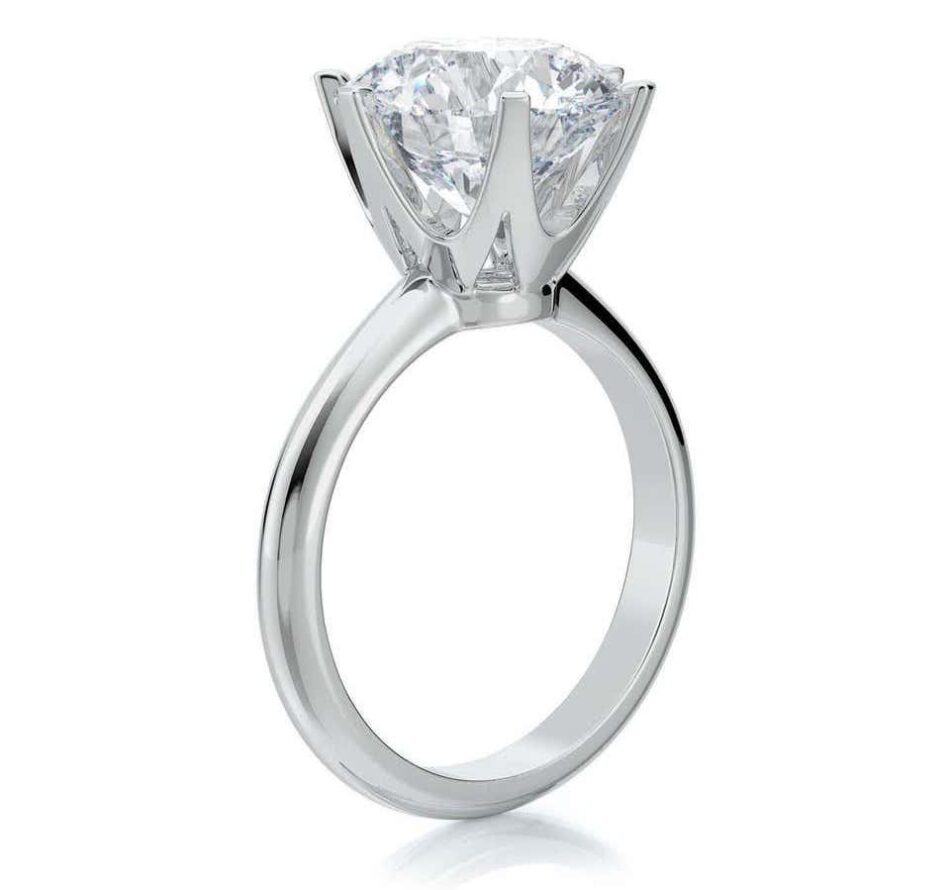 Picture an engagement ring. Now take out the center stone. What's left is the metal part of the overall design, including the elements that secure the stone in place. This is the setting, sometimes also called the "mounting" or "mount." Choosing the right setting is a critical step in getting exactly the engagement ring you desire.
You can narrow your search by establishing your budget. Then, if you're creating a custom ring, you should settle on a stone shape and cut. Once you've done that, you can work with your jeweler to determine which setting styles will best accommodate the stone's size and shape while maximizing its brilliance.
Whether you're crafting your own ring or shopping for a master designer's creation, there are other factors to consider. One is your lifestyle: Are you a landscape architect, for example, whose hands are often in dirt? Another is your personal aesthetic: Are you a clean and modern devotee, or do you want lots of diamonds and intricate details?
---
Choosing a Metal

Most couples find themselves deciding between platinum and 14- or 18-karat white, yellow or rose gold for their engagement ring settings. Platinum is the sturdiest option and thus lends itself to the most intricate designs.
That is why the engagement rings of the Edwardian, Art Nouveau and Art Deco periods, when it was the go-to metal, were able to incorporate so much millegraining, lacy openwork, filigree and floral motifs.
Quite a few luxury jewelers prefer platinum, with its naturally lustrous white hue, to white gold, whose color is often achieved with rhodium plating, which can wear off, producing an undesirable yellowish color.
"Platinum is the way to go if you like a heavier feel to your ring," says Mark Broumand, a Los Angeles–based jeweler specializing in engagement rings. "And you won't notice the color fading over time."
With its hefty weight, platinum is more expensive than gold. Couples who opt for the latter, however, are often motivated not by cost but by the warm, rich tones of yellow or rose gold.
"I've been selling a lot of yellow- and rose-gold engagement ring settings lately," says Margot Lowe, of M. Lowe & Co., in Berkeley, California. She advises these clients, however, to have the stone set in prongs of white gold or platinum, metals that tend to make a diamond look whiter and brighter.
---
Thick or Thin?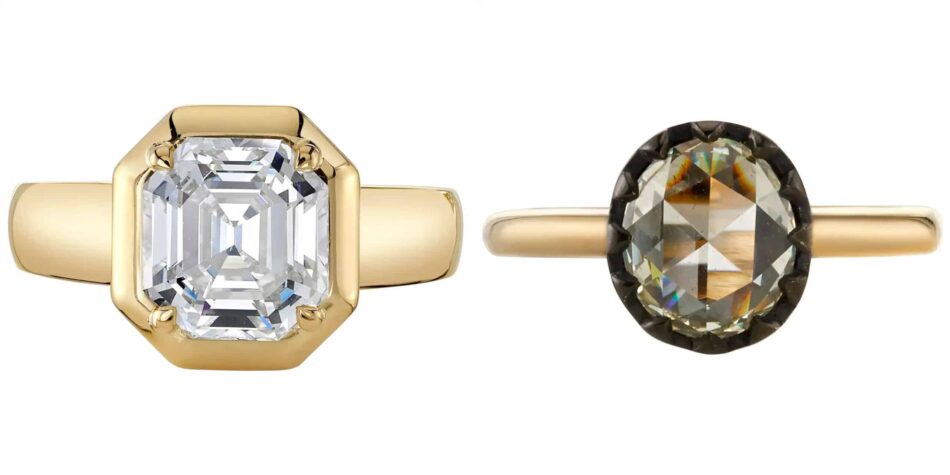 Right now, the preference among modern brides is for very slender, blade-thin engagement ring bands (also referred to as shanks), because chunkier, more metal-forward designs can feel a bit old-fashioned (as in 1990s, early 2000s). A large center stone, however, say three carats or more, may require a sturdier band.
Lowe has a solution. "If you have a shank that is narrow in width, you can have the setting be a little bit taller in height, and that makes it strong," says Lowe. "And if you really want it to look skinny, you can do a knife-edge band, which comes to a ridge in the middle and pulls the eye so that all you see is that edge, making the shank look thinner overall."
---
Antique or Contemporary?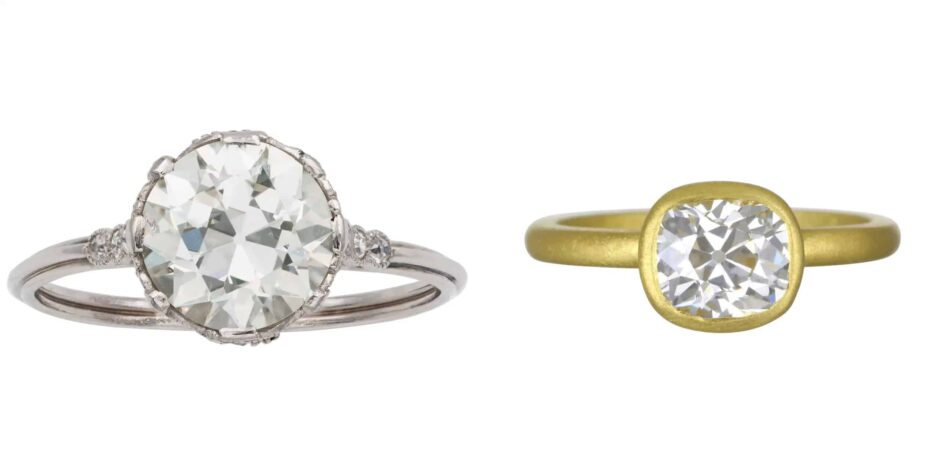 For custom contemporary engagement rings, the setting and the diamond are often sold separately, so that a stone meeting your four-C criteria can be sourced for you. Others engagement rings, especially antique and vintage ones, are sold ready-to-ship, with the center stone's value factored in to the quoted price.
With a vintage ring, pay close attention to the condition. Even if it is described as "excellent," the ring may not be pristine. "There may be some small examples of wear," says Boston-based vintage and antique jewelry dealer Tiina Smith. "But damage to settings or [evidence of] earlier repairs can be corrected by an expert jeweler and is to be expected with jewelry of a certain age."
---
Style Guide
Below is a visual glossary of the engagement ring setting options and styles you're most likely to encounter when working with a jeweler. It will also provide some guidance as you read product descriptions while shopping online.
Prong Setting
This is the most traditional option. The prongs can be claw-, V-, talon- or square-shaped. Minimal metal is required, so the diamond's brilliance is on full display. A Tiffany setting is technically a prong setting, classically employing six prongs but sometimes only four.
---
Bezel Setting
A bezel is a metal rim that surrounds the diamond completely, holding it firmly in place while protecting it from damage. It's a great option for people who work extensively with their hands or worry about exposing the diamond to nicks and scratches over the course of the day.
---
Cathedral Setting
Here, two metal arches, or "arms," extend from the shank to form a basket for the diamond, which is further secured by prongs or a bezel. A cathedral setting lifts the stone high above the finger and creates a distinctive profile, to which many designers add decorative flourishes and diamond accents.
---
Flush Setting
No prongs, no bezel. The diamond is set directly into the metal, resulting in a smooth, level surface. This setting is perfect for bombe rings, which are wider and have a domed shape, or any design that involves a number of stones, such as a cluster (see below).
---
Tension Setting
A marvel of engineering that creates the illusion of the diamond floating in space, this style offer an edgy, modern look. Instead of prongs or bezel, the diamond is held in place by the pressure of the band pushing against its sides.
---
Channel Setting
The diamonds are snugly nestled between two metal rails running along the ring's shank, producing a neat, tailored look.
---
Pavé Setting
Here, rows of small diamonds (known in the jewelry trade as melee) are set in a single or multiple rows with no visible prongs, for a seamless "paved" look. Pavé diamonds are part of all-over design treatment, cladding the shank or even decorating the setting's basket and gallery.
---
Solitaire Setting
The most popular engagement ring style, a solitaire features a single stone of any shape. A round brilliant diamond in a six-prong Tiffany setting is the classic example and enduringly popular, because the stone sits high above the band, allowing for maximum light to pass through and reflect out from the stone.
---
Halo Setting
Here, a solitaire is surrounded by a single or multiple rows of diamonds. This "halo" adds extra sparkle and makes the center stone look much larger.
---
Three-Stone Setting
Comprising a "hero" diamond flanked by two smaller ones, this design is intended to symbolize a couple's past, present and future.
---
Two-Stone Setting
Also known as a toi et moi ring, this style has become quite popular, with recent examples featuring asymmetrical alignments or colored-stone accents for a distinctive look.
---
Cluster Setting
In this setting, a mass of small diamonds is arranged in a floral shape or in a pattern suggesting the look of a single round, or other shape, diamond.
---
The Final Consideration
One you've decided on the metal, setting style and design details you want for your engagement ring, there's one final piece of the puzzle to consider: your wedding band.
Whether you go with a simple metal band or a sparkling diamond eternity ring, it will need to nest well with your engagement ring — ideally, no gaps between the two.
If you're shopping with your partner, it's good to give this matter some thought as you try on styles, as it can affect how low to the finger the diamond can sit (this is usually not an issue with high-perched cathedral or prong settings).
A bezel-set center stone, especially one with an elongated shape — like an oval, emerald-cut, or marquise — will also affect your wedding band options if you want to wear them together on the same finger.
A slightly curved or V-shaped wedding band that is customized to accommodate your engagement ring design is a popular — and effective — solution.