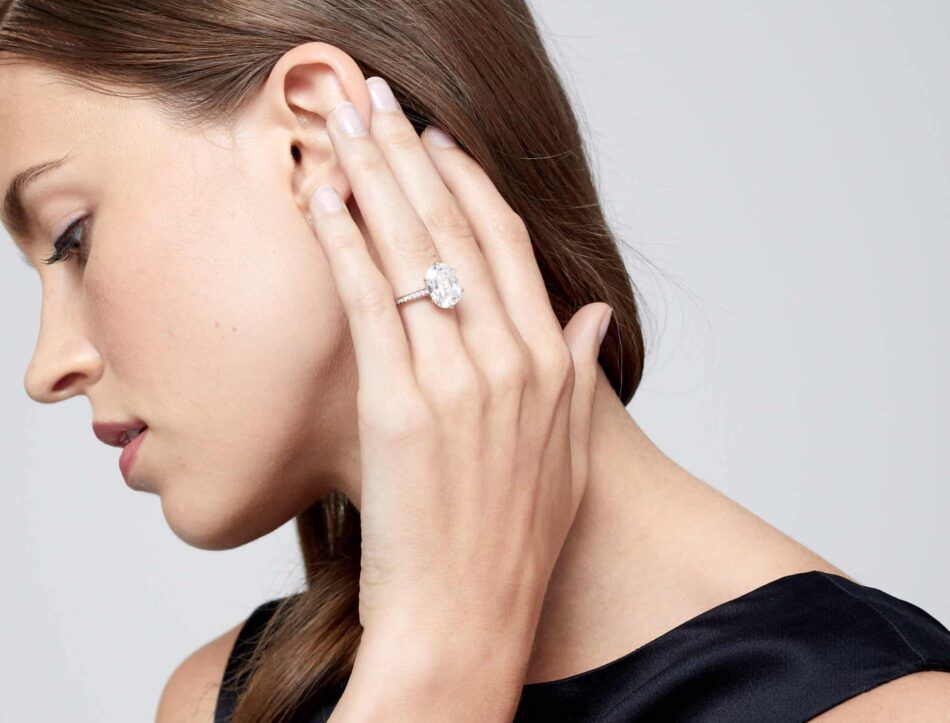 Do you speak engagement ring? From stone to carat weight to cut to setting, jewelry lingo can feel like a foreign language, making the task of choosing a diamond feel even more daunting.
That's why we enlisted the help of some of our top jewelry dealers in the United States and Britain to help translate ring-speak, share their insights on trends and give their expert advice for finding (or designing) just the right piece.

---
Consider today's top cuts

"Oval and pear cuts have been insanely popular recently," says Liz Clancy, creative director of Beverly Hills-based Trumpet & Horn. "Both have been a fave with celebs: Ariana Grande — if only for a brief moment — Hailey Baldwin, Cardi B, Rachel Lindsay from The Bachelorette, etcetera."

Celebrity following aside, these types of cuts have practical appeal. "My advice to people getting engaged now is to embrace the fancy cuts like Asschers and emeralds and ovals and cushions because you have a real range of diversity in creating a mounting," says Brian Walker, executive vice president of Boston gallery Shreve, Crump & Low.

"Modern brilliant cut diamonds remain the traditional cut of choice," says Margaret Elaine Smith of Yorkshire-based Millane's. "However, we have seen a revival of the older diamond cut styles, particularly the cushion and old European. Typically, these cuts, as we say, 'sparkle more discreetly than their contemporary cousins' and appeal to those whose tastes are less about bling."
---
Do the right kind of research
Today, diamond cutting is a technologically advanced process that involves computer modeling and lasers. This results in more brilliant stones than you get with vintage and antique hand-cut diamonds, which is something to keep in mind if you're considering an older piece.

"A lot of people do their research when it comes to diamonds but not with vintage diamonds," Clancy says. "The majority of rules that apply to modern stones do not apply to vintage. It's like comparing apples to oranges," she says. "The craftsmanship and technology used on these rings and stones are so different from anything we have today, so you kind of have to put yourself in their shoes and pretend you're in the 1800s."

According to Single Stone founders Ari and Corina Madilian, who specialize in gems that were cut in the late 1800s and early 1900s, "these diamonds were mined and cut by artisans with great skill and vision. The most popular tend to have a hint of warmth, in the J to M color range. We love their soft and subtle brilliance compared to their modern counterparts."

So, while a vintage-cut stone won't shine as brightly as a modern cut, the wearer will have the satisfaction of knowing they have something that no one else has. Just don't wait too long to make a decision. As Clancy notes, "You have to be quick on the draw because these one-of-a-kind pieces fly outta here!"
---
Reimagine an heirloom stone
If you have a piece of family jewelry that isn't quite your style, there are plenty of designers who will work with you to create a new piece with your heirloom stones. "A lot of people who have inherited jewelry love the sentiment of the piece but not the design, so it ends up just sitting in a safe gathering dust," jewelry designer Rachel Boston says. "Breathing new life in to a piece and making it into something you love and will wear every day is the best way to honor it, and using the same stones keeps that sentimental bond."
Not only does an inherited gem have a backstory, but it's also a more sustainable choice. Says Clancy: "We occasionally set customers' heirloom stones in a reimagined vintage setting if not something more modern. We are all about repurposing and recycling to go easy on Mama Earth."

---
Remember that perfection is overrated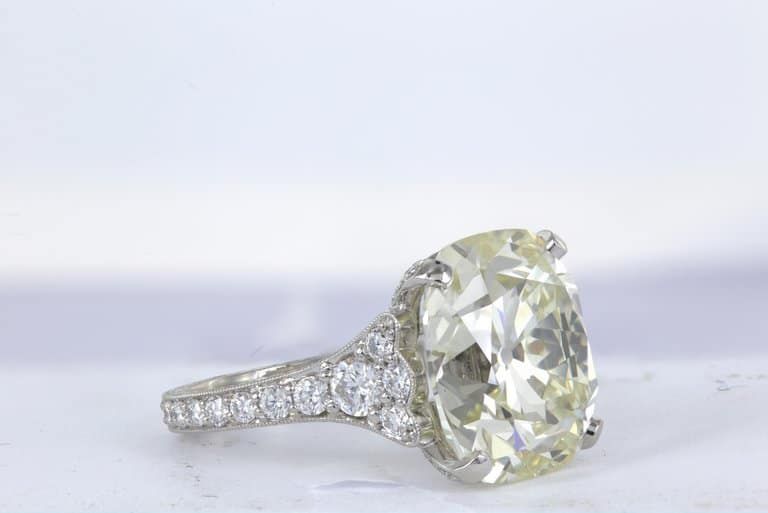 Choosing a ring can be a confusing, high-pressure process, so it's tempting to get caught up in the idea of having a flawless diamond. "People obsess over color and clarity, but buying a diamond that is right for you might mean dialing down the things that aren't as important to you," Walker says. "I suggest to people that you begin by sacrificing clarity. You don't need a flawless stone."

Smith from Millane's agrees. "Often the idea of flawlessness is appealing, but perhaps with a smaller budget, it's best to go for something a little bigger with a few not-so-visible 'flaws' and a good color," she says, noting that the word "flaw" is a bit of a misnomer, anyway. "Temper the technical with a little of the emotion."

You can also opt for a less traditional look altogether. "For my engagement rings, I specialize in using imperfect gray diamonds and white high-clarity diamonds, or — my personal favorite — combining the two," Boston says. "Imperfect gray or 'salt and pepper' diamonds are stones with natural markings and inclusions inside, which give them an unusual coloring or pattern. I love the uniqueness of the stones and the fact that no two will ever have the same markings. They're also less expensive than high-clarity white diamonds, so people tend to be more adventurous with design and you can get a larger carat for your budget."
---
Know what you like, but keep an open mind

Before you go ring shopping, spend some time researching different styles, gems and cuts to get an idea of what you gravitate towards, even if it's not what you ultimately end up choosing. "Just like a dress on a hanger, a ring looks different in the box than on the hand," notes Smith of Millane's.
The Madilians of Single Stone concur. "Our advice would be to go in with an open mind. Try on things you never thought you would like and you might be surprised," they say. "It is not important to have what society says is an 'engagement ring' but more important for you to choose something that represents you. Engagement rings symbolize the love and union of two individuals, and they should never be seen as anything other than that."
When you're finally to select an engagement ring, trust your instincts. "After all the advice you receive, buy the one you like!" says Smith. "It doesn't matter if it's a smaller diamond than your friend's, or not the style you thought you'd have. If you love it, that's the one for you."