If you're looking to buy a vintage or antique engagement ring, you've come to the right place. No really, you have. Most articles on the subject will tell you that the first step is finding a reputable dealer. Here at 1stdibs, where we fully vet all of our dealers, we couldn't agree more.
Now, on to the fun part: figuring out what style suits you. There is probably a reason why you have decided to forgo a contemporary design in favor of an antique or vintage engagement ring. Among brides who prefer older engagement rings, it's often because they want something truly unique. Or, as Gus Davis of the Madison Avenue boutique Camilla Dietz Bergeron, Ltd. says, "you will not see yourself coming and going."
But, first, let's define the terms that will help you identify what you're looking for. By definition, "antique" applies to anything that is 100 years or older. "Vintage," another popular term, generally means anything 20 to 80 years old. Recently, the word "period" has come into vogue. Period, according to Jane Mangeri, also of Camilla Dietz Bergeron, is being used to define 19th-century, Edwardian and Art Deco jewelry.
Here's a cheat sheet to help you determine your desired style and spot the Deco sparkler in a sea of Edwardian stunners.
---
Georgian (1811–37)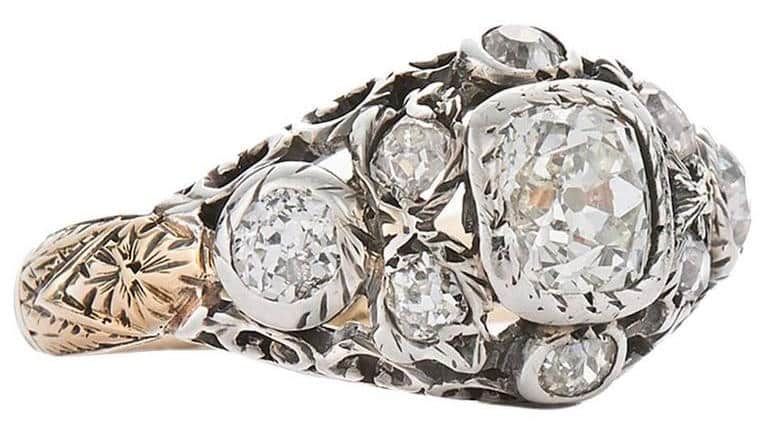 Georgian engagement rings are often set in silver over gold with rose-cut diamonds. The gems are backed with reflective foil in a closed-back setting, which gives them some sparkle. Most dealers will suggest that you are careful with rings from this period as their age makes them particularly fragile. Consider a Georgian engagement ring to be a truly special occasion piece, and not for everyday wear.
Above: Georgian old-mine diamond, silver and gold cluster ring, 1809
---
Victorian (1837–1901)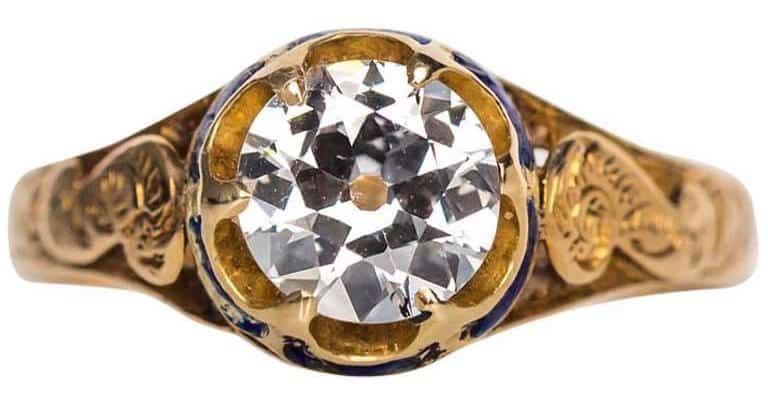 Victorian engagement rings are on the simpler side. They are often set in yellow or rose gold and sometimes silver over gold. Diamonds were either solitaire or five-set in a band. It is not uncommon to see delicate enamel work as part of the design. Charles Lewis Tiffany introduced the six-prong diamond solitaire engagement ring in 1886.
Above: Victorian 0.75-carat old-European-cut diamond, enamel and gold ring, 1870s
---
Edwardian (1901–15)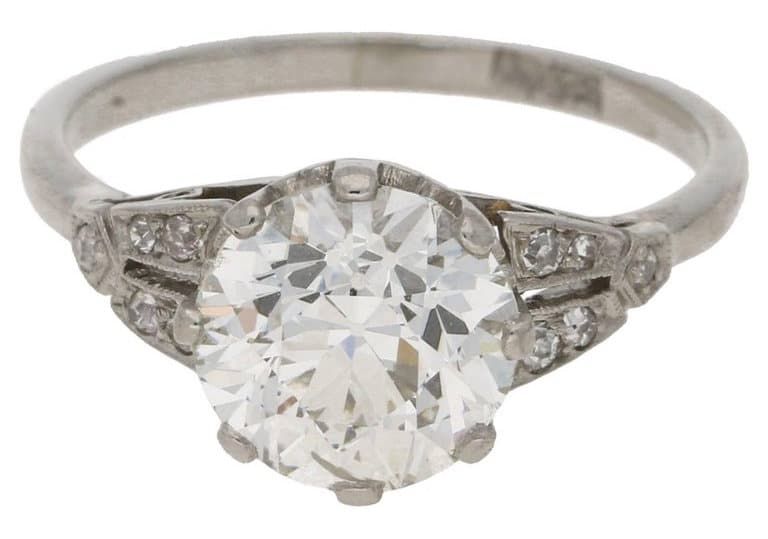 If you're looking for an antique platinum engagement ring, the Edwardian period is for you. Platinum jewelry, and a white-on-white look, were very popular during this time. Jewelry was quite ornate, with filigree or lace-like details around the bezel, in addition to floral and feminine motifs, like bows.
Above: Edwardian 2.47-carat diamond engagement ring, 1900
---
Art Deco (1920–35)
Art Deco was continuation of the white-on-white (platinum or white gold with diamonds) look, as well as a the introduction of some "supporting" colors, in the form of gemstones like rubies, emeralds and sapphires, for that extra oomph. Art Deco settings were inspired by geometry, so stepped settings, as well as unusual diamond cuts, like baguette or calibré cut were popular.
Diamonds were also used to pave areas around the shank and central diamond. When you're trying to tell Edwardian and Deco apart, consider that Edwardian engagement rings are more delicate and ornamental, while the Deco look is bolder and more geometric.
Above: Art Deco old European diamond, sapphire and platinum ring, ca. 1920
---
War Years (1940s)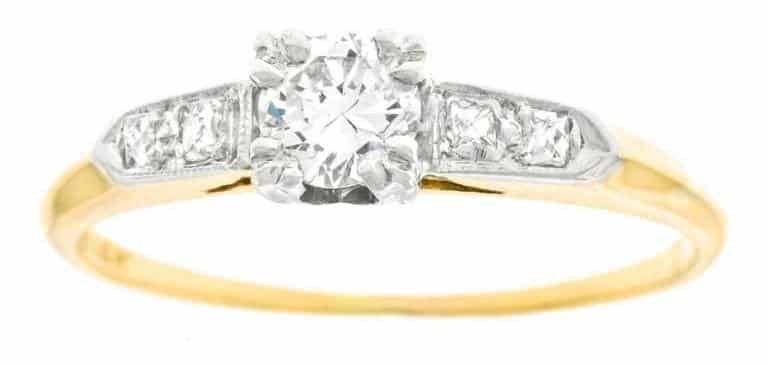 Because of World War II, the late 1930s and 1940s were a transitional time for jewelry. Often, rings from this time made from two-toned metals and smaller stones. Large stones were scarce, and platinum was reserved for the military. After the war, rings became much simpler and without the ornate filigree.
Above: Diamond and gold engagement ring, 1940s
---
A Diamond Is Forever (1950s)
With wartime restrictions lifted, jewelers were back in business. De Beers introduced its "A Diamond Is Forever" campaign, and diamonds became the de facto stone for engagement rings in the 1950s. Since platinum was available on the market again, the popularity of the white-on-white look resumed. Engagement rings with a solitaire in a prong setting were widely favored.
---
Tips from the Pros . . .
Consider the Ring's Quality and Condition
Keep in mind that the standards by which we appraise a ring today may not apply to a ring that is a hundred years old. Ask yourself if this ring will be worn daily or only on special occasions. Your answer may guide your search.
"When shopping for antique or vintage [engagement rings], let your eye be the judge in what has life, and do not worry about the 4 Cs," say Davis and Mangeri. "This is like buying an antique or period piece of furniture. You are not looking for perfection — you are looking for beauty." They add: "Do not get caught up in color and clarity. Since these rings are vintage or antique, you are not going to find a diamond that is D flawless if it is truly antique or vintage."
Have an open conversation with the dealer, and inquire about the ring's condition. "If a ring has a great deal of wear, you need to rethink wearing it on a daily basis," says Davis.
Know Your Diamond Cuts
The setting and diamond cuts that you will come across most often in antique and vintage rings is either old mine or old European round and cushion shapes. Carol Federer, a gemologist and the head of jewelry department at the legendary Macklowe Gallery, explains the differences: "Old mine is actually a cushion cut diamond with 58 facets. It is square shaped and the crown is high. They generally have very thin girdles and a large culet. The older cushions return light in a blocky pattern, whereas the new ones return light in a needle like pattern. Old European diamonds are round but not perfectly round. They have 57 or 58 facets. Like the old-mine-cut diamonds, they have a high crown, and they both were cut by hand. The shape and placement of the facets gives each stone a distinctive personality."
Federer adds: "Equally popular are Asscher cuts. They have a smaller table and larger steps than an emerald cut diamond. They are cut for brilliance. A well-cut Asscher delivers more brilliance and dispersion then most fine-cut modern stones."
Final Thoughts
"Buy the best you can in your budget," says Leslie Roskind, jewelry buyer at Fred Leighton. "Maybe choose a smaller diamond of higher quality than a larger stone."
All of the dealers agreed that Art Deco rings are the most sought after today, so if you want something truly unique, try another time period. Most important, do your homework. That way, when you find the one, you'll know it.