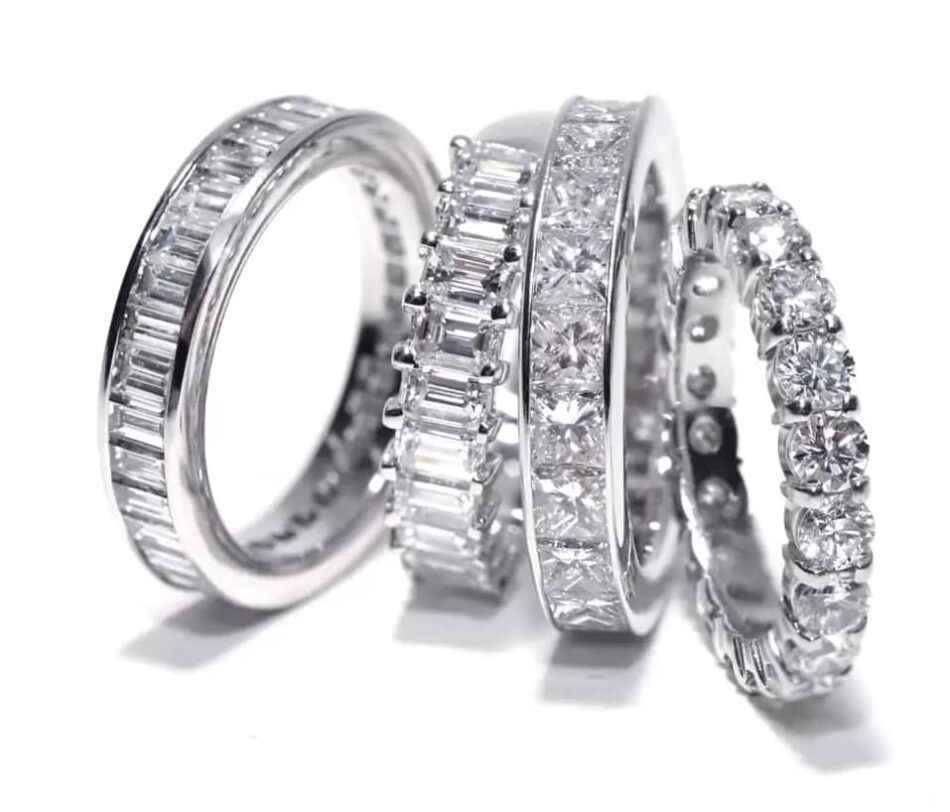 The design is simple and straightforward, yes, but eternity bands are not without nuance. Originating in the courts of 18th-century Europe, the style is distinguished by a single continuous row of diamonds. This endless circle of light symbolizes a love that's infinite and everlasting, making it ideal for a wedding or for marking a milestone anniversary.
An eternity band is also a popular way to commemorate the birth of a child or some other significant life event, such as a 30th birthday or college graduation. A recent high-profile example: Meghan Markle received a Lorraine Schwartz eternity band from Prince Harry on the birth of their son, Archie, in 2019.
A wedding eternity band, when stacked with an engagement ring, is typically worn on the left hand, at the base of the ring finger (and thus closer to the heart, as is traditional for wedding bands). Experts recommend going with a narrower band, to complement rather than overshadow the engagement ring. Many brides opt for two identical eternity bands, wearing one on either side of the engagement ring as guard rings. Curved, chevron or tiara-shaped diamond bands give this time-honored look a modern spin.
There are no rules for wearing diamond eternity bands when fashion is the primary consideration. But if you're concerned about people mistaking your band for a wedding ring, put it on your right hand — any finger's fine.
Resizing a diamond eternity band isn't impossible, but it's a labor-intensive, complex and therefore costly process that many jewelers shy away from. Half eternity bands, with diamonds extending partway around the circumference, leave enough metal to allow for adjustments. If the eternity band is a gift and you're not sure of the recipient's ring size, a half eternity band may be the best option. Another benefit: Because they're made with fewer diamonds, half eternity bands are less expensive than full ones, often costing as much as 50 percent less.
---
Ready, Set, Stack
Step aside, brides, just for a moment. Everyone loves diamond eternity bands, and one or a few can provide the perfect foundation for a well-curated ring stack.
If you've spent any time on Instagram lately, you know that stacking — piling several rings on one finger — is a burgeoning trend in which diamond eternity bands can, and very often do, play a vital role in pulling the combo together. If you're shopping for a diamond eternity band to use for this purpose, think slim — not more than 1 to 1.50 mm in width — so that you can fit as many rings on your finger as you want. Feel free to mix metals and settings for a look that pops with personality.
---
Classic Examples
Round-diamond eternity bands are the most common. The differences among them are defined by how the stones are set.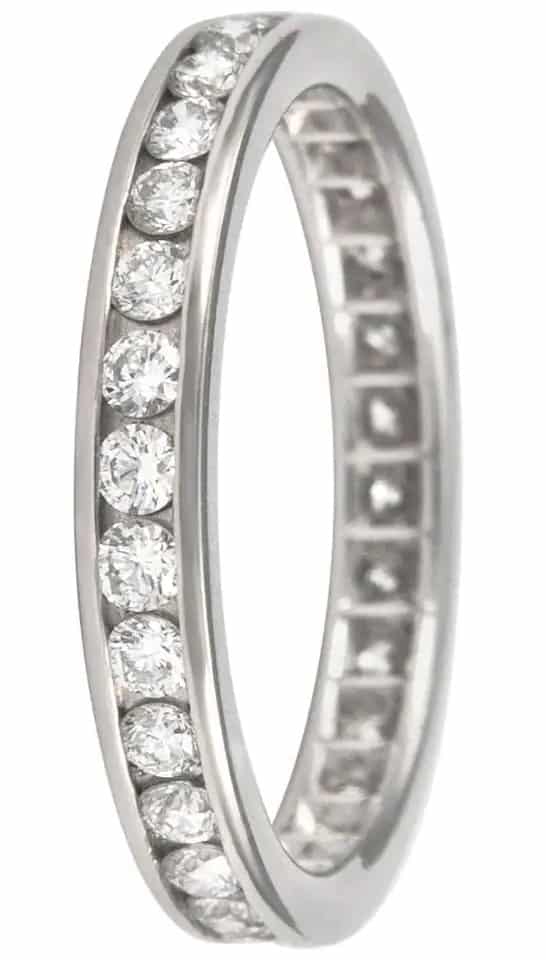 Channel setting
The diamonds are snugly nestled between two metal rails, producing a neat and tailored look.
Bead setting
Each diamond is surrounded by — and secured with — tiny metal beads, adding even more sparkle.
Shared-prong setting
Several prongs cup each diamond, providing extra security.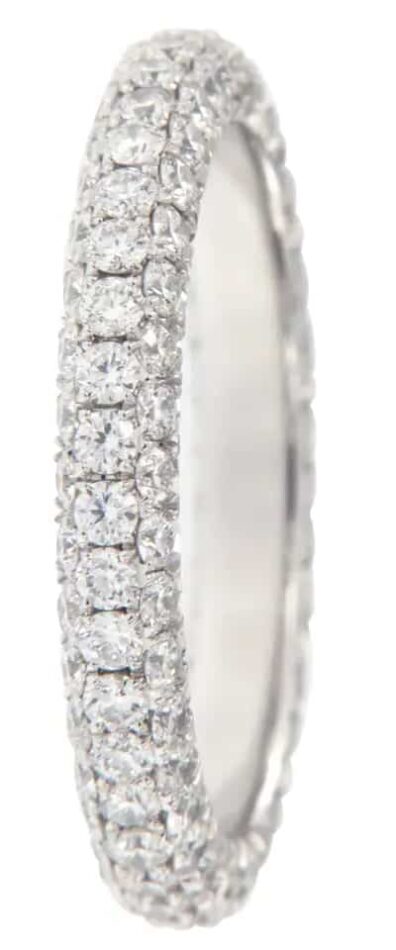 Pavé setting
Tiny diamonds are set close together, in a single or multiple rows, for a seamless "paved" look.
Bar setting
The diamonds are secured by vertical metal dividers. This is similar to a channel setting, except the diamonds are exposed on two sides, allowing more light to pass through.
Bezel setting
Each diamond is completely surrounded by a protective metal rim, for a clean and streamlined look. This setting requires more metal to produce, but it holds the stones firmly in place while protecting them from damage.
Flush setting
The diamonds, "scattered" across the band, are fitted into holes drilled into the metal, resulting in a level, smooth surface. No prongs means no snagging or catching when you wear the ring. It's also a great option for setting a handful of small heirloom diamonds in a custom design.
---
Variations to Explore
There are lots of ways to reimagine the basic eternity band if you want something other than the usual round-diamond affair. You could opt for different diamond shapes — all emerald or Asscher cuts, say, or baguettes, the height of glamour and sophistication. Or you could mix shapes, rounds and baguettes, for example, in a dot-dash pattern.
Rose-cut diamonds, with their antique vibe and muted sparkle, are new favorites among the young and chic. You can also play with the orientation of marquise and oval stones, aligning them horizontally along the band instead of vertically. Or you might intersperse colored gems among the diamonds.
---
Eternal Beauties
The larger the stones, the more of a statement the eternity band makes. Some couples opt for an impressive stand-alone eternity band as an engagement ring and then go with a very plain band for the ring exchanged during the wedding ceremony.
If using an eternity band as your engagement ring appeals to you, you're in good company. There are a few celebrity brides who have given this approach lots of style credibility. Marilyn Monroe, for example, got a band from Joe DiMaggio that was made entirely with diamond baguettes.
In 1956, when Prince Rainier of Monaco and Grace Kelly announced their engagement from her parents' home in Philadelphia, the actress was wearing a Cartier eternity band set with rubies and diamonds (the prince upgraded to a 12-carat emerald-cut diamond engagement ring when he saw the rocks worn by Kelly's Hollywood peers). And Audrey Hepburn, the poster child for understated gamine chic, received a Gübelin eternity band of baguette-cut diamonds upon her engagement to Mel Ferrer.
More-recent fans of the eternity band as an engagement ring include the late Carolyn Bessette-Kennedy and the filmmaker Sofia Coppola. But don't feel obliged to follow anyone else's lead. No matter how you style them — whether you wear one meaningful band or artfully curate stacks on both hands — these timeless pieces retain their allure.