When Prince Harry and Meghan Markle announced their engagement in 2017, after months of speculation, focus quickly shifted to an equally sparkling matter: the future Duchess of Sussex's ring. Its unveiling instantly piqued the interest of ring buyers and future fiancées.
"People are now referencing the ring, and the three-stone nature of it," says Brian Walker, executive vice president of Shreve, Crump & Low, the Boston-based jewelery house founded in 1796. "Her ring is yellow gold, and people have become more open to a warmer-colored metal."
Of course, engagement ring trends have long been set by the British royal family, who often opt for unconventional choices like colored gemstones. "The one stone that resonates the loudest is Princess Diana's sapphire [now Kate Middleton's ring]. We wouldn't even consider it nontraditional at this point," Walker notes.
Trends aside, Walker stresses the importance of choosing a ring that resonates with the wearer: "When it comes to engagement, it comes down to what the client loves."
---
Meghan Markle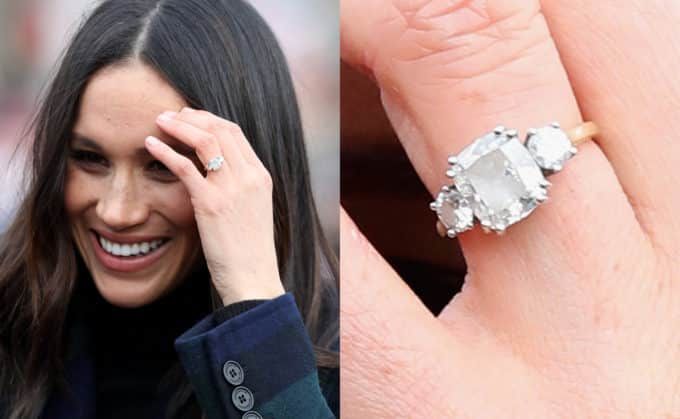 The engagement ring: A three-stone ring with an approximately 3.5-carat slightly elongated cushion-cut center stone flanked by two smaller diamonds, with a yellow gold band
The backstory: Prince Harry designed the ring with a center stone from Botswana, a country the couple visited early in their relationship. During Harry and Meghan's first sit-down interview with the BBC after announcing their engagement, in November 2017, Harry said, "The ring is obviously yellow gold because that's her favorite, and the main stone itself I sourced from Botswana and the little diamonds on either side are from my mother's jewelry collection to make sure that she's with us on this crazy journey together."
---
Kate Middleton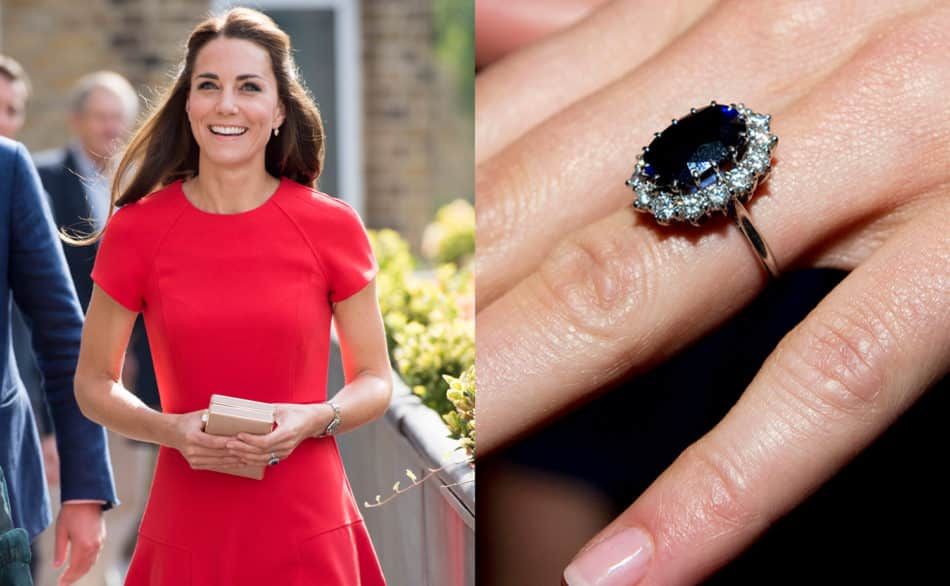 The engagement ring: A 12-carat blue sapphire surrounded by 14 diamonds, set in 18-karat white gold
The backstory: In 2010, Prince William proposed to the future Duchess of Cambridge with the sapphire ring, which had belonged to his mother, Princess Diana. After Diana's death, Princes William and Harry were each offered pieces of her jewelry, and William chose a Cartier watch while Harry chose the engagement ring. However, the brothers reportedly agreed that whomever got engaged first should have their mother's ring.
---
Princess Diana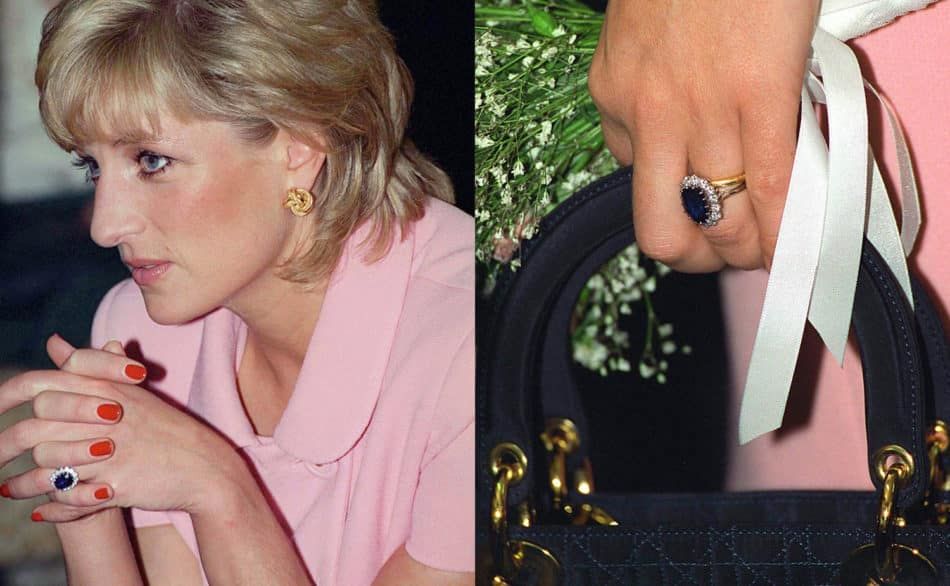 The engagement ring: A 12-carat blue sapphire surrounded by 14 diamonds, set in 18-karat white gold (now Kate Middleton's ring)
The backstory: When Prince Charles proposed to Diana in 1981, he offered her a selection of rings to choose from instead of having one custom made — a move that was criticized at the time. The ring was dubbed the "commoner's sapphire" in reference to Diana's non-royal birth.
---
Princess Eugenie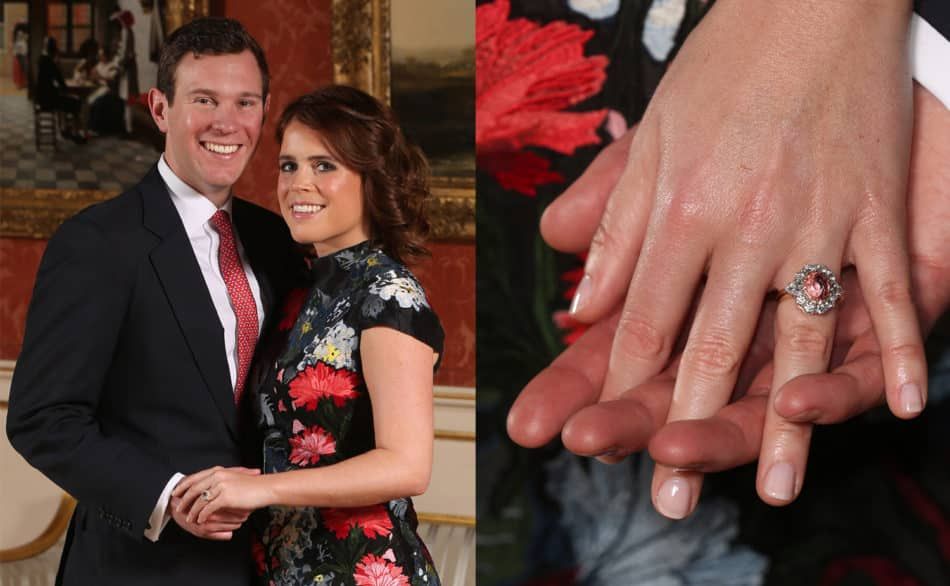 The engagement ring: A pink padparadscha sapphire ring surrounded by a halo of white diamonds, set in yellow gold
The backstory: Jack Brooksbank proposed to Princess Eugenie in Nicaragua without a ring, although he had found one prior to their engagement. Once they returned from the trip, they went to the jeweler and designed the diamond halo around the padparadscha sapphire together.
In an interview with the BBC, Brooksbank said, "What's amazing about it is that it changes color from every different angle that you look at it, which is what I think of Eugenie. That she changes color and is just so amazing."
---
Sarah Ferguson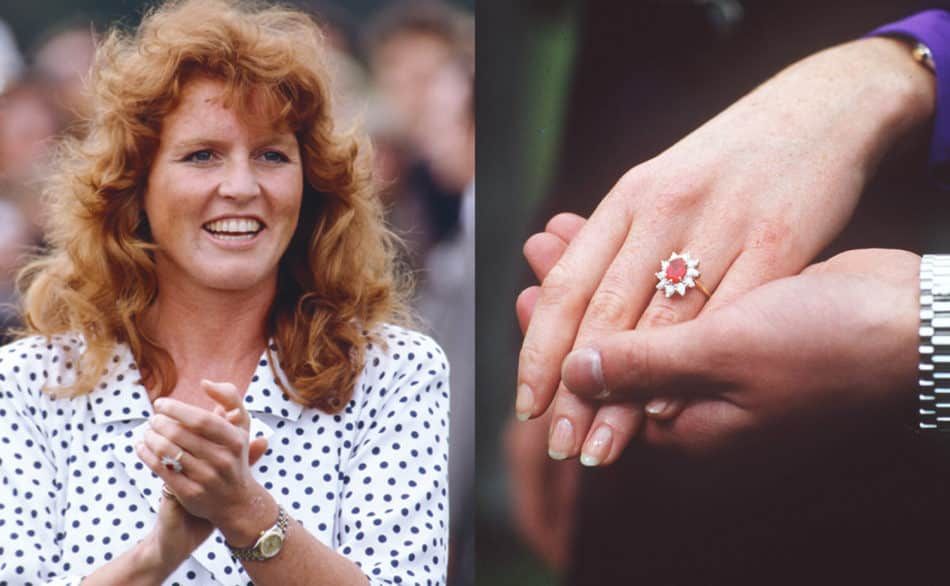 The engagement ring: A ruby with a halo of 10 pear-cut white diamonds, set in yellow gold
The backstory: Prince Andrew proposed to Sarah Ferguson, or Fergie, in 1986 with a ruby, which is said to be inspired by her red hair. There is a strong resemblance between Ferguson's ring and that of her daughter, the recently engaged Princess Eugenie.
---
Queen Elizabeth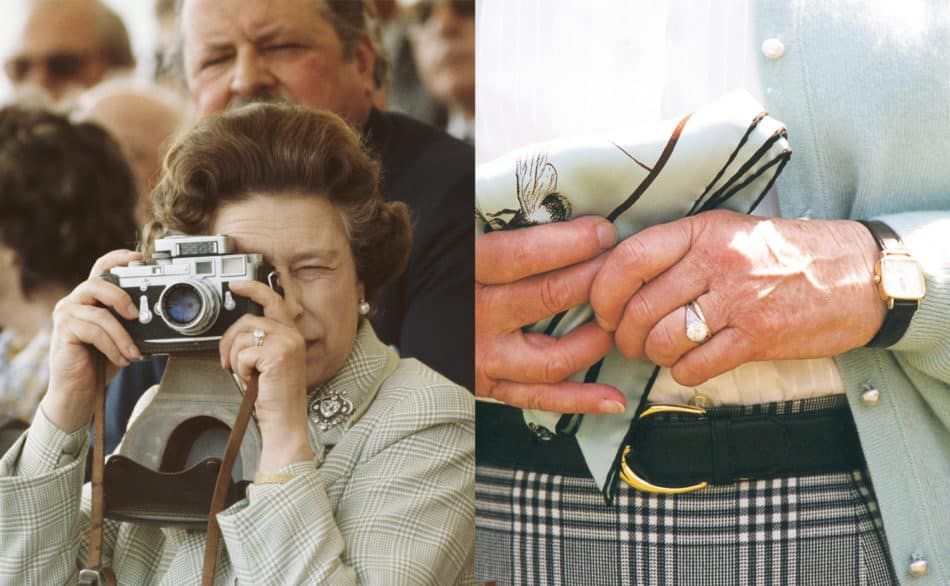 The engagement ring: A three-carat round diamond with five pavé diamonds on each side, set in platinum
The backstory: When Prince Philip was preparing to propose, his mother, Princess Alice of Battenberg, gave him a tiara she had been gifted on her wedding day from Tsar Nicholas II and Tsarina Alexandra of Russia, who were her distant relatives. Prince Philip worked with a jeweler at Philip Antrobus, which is owned by Pragnell, to design the ring with a diamond from the tiara.
The couple got engaged in 1946, but their betrothal wasn't officially announced until July of 1947, after the future queen turned 21. The pair married in November 1947 and celebrated their diamond anniversary in 2007, a first for British monarchs.
---
Camilla Parker Bowles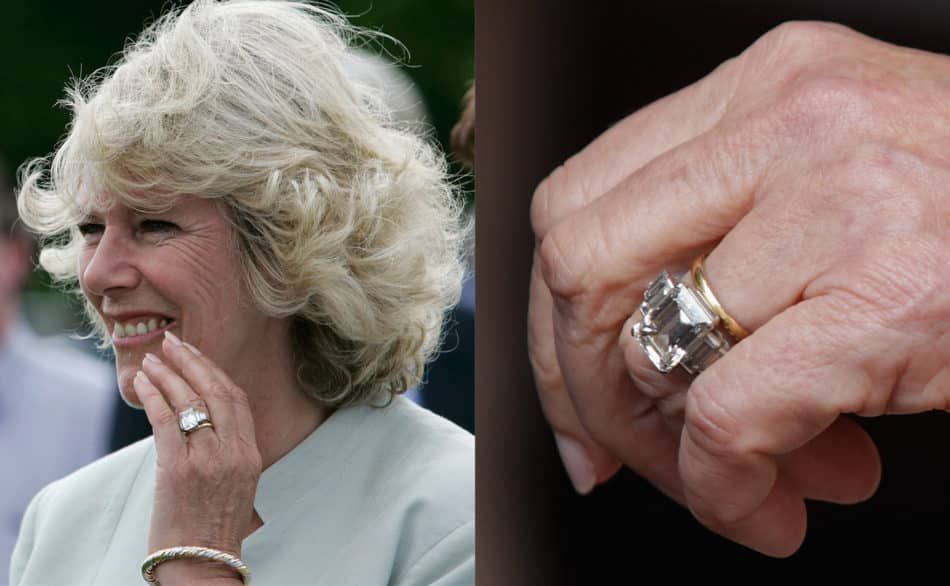 The engagement ring: An approximately five-carat emerald-cut white diamond ring flanked by six baguettes, set in platinum
The backstory: Prince Charles proposed to Camilla Parker Bowles in 2005 with a ring that had belonged by his grandmother, the Queen Mother. The Art Deco–style ring is said to be one of the most valuable in the royal family's collection.