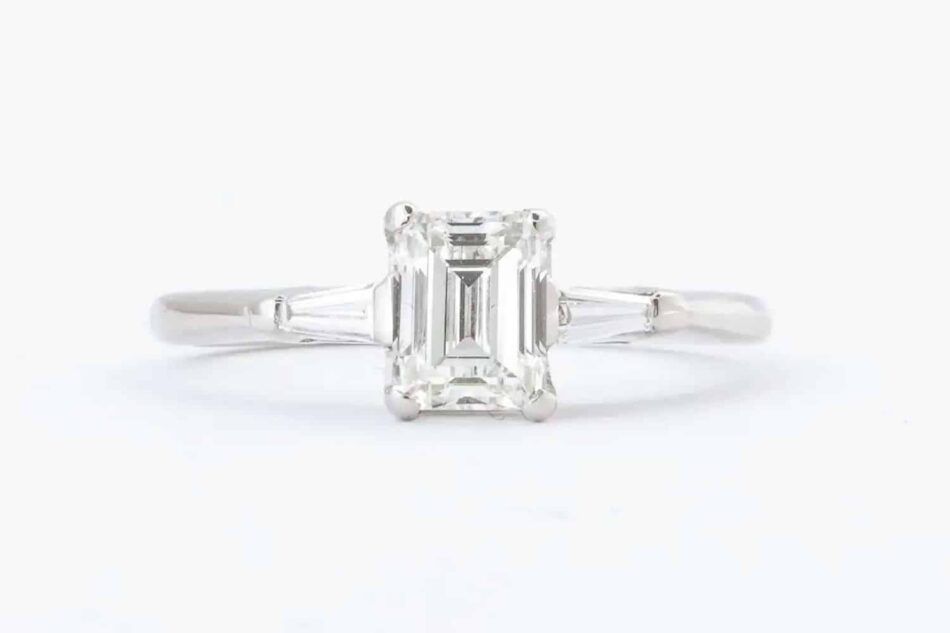 Romance is in the air, and popping the big question is on your mind. The perfect engagement ring is the cherry on top of every dream proposal. With 92 percent of shoppers spending more than $1,000 on their engagement ring purchase, making sure you're investing in the right piece is worth the effort.
We've identified 35 engagement-ring facts and trends to help you on your shopping journey. Before we dive into the fascinating statistics, here's a glimpse of the trends to watch out for: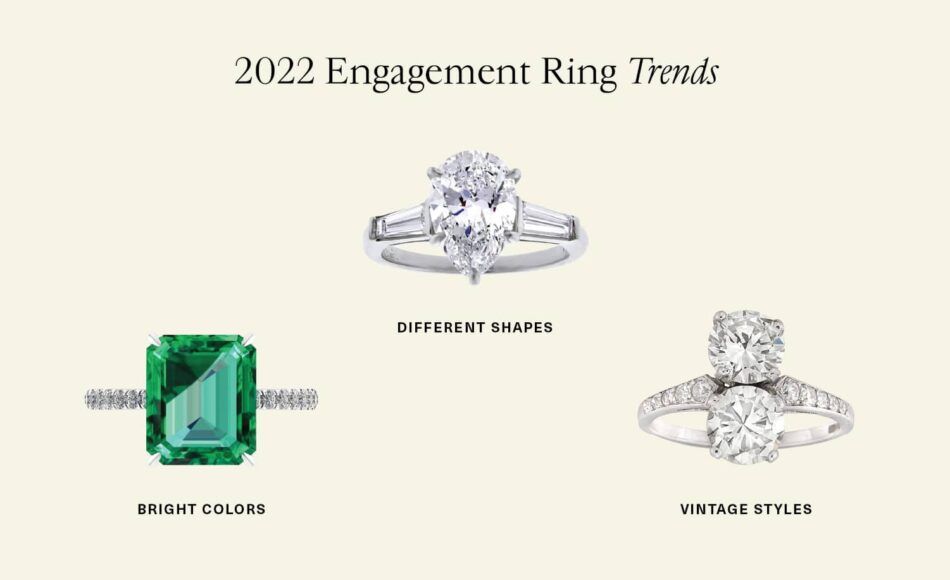 2022 engagement ring trends:
Bright Colors: Emeralds and yellow diamonds are adding boldness to unique rings.
Different Shapes: Pear and emerald-cut diamonds provide elegant alternatives to traditional round-cut stones.
Vintage Styles: Art Deco and Edwardian rings offer timeless forms for today's brides-to-be.
Creators: Five major jewelry creators remain at the top of their game, offering a mix of classic and contemporary designs.
Engagement Ring Statistics
Finding the perfect engagement ring involves striking the right balance between the artistry of the piece and your financial means, a process that requires patience. Let's take a look at stats from last two years.
Engagement Ring Prices and Average Cost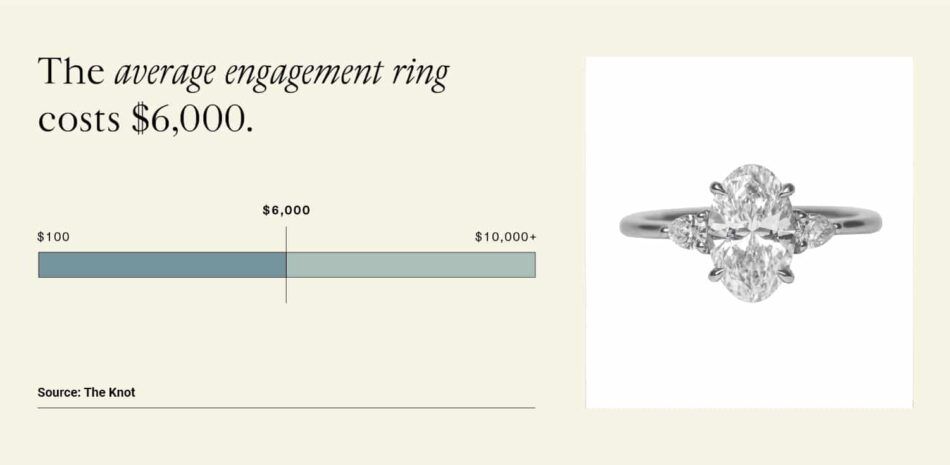 The average price of an engagement ring is $6,000.
Approximately one-third of shoppers spend between $1,000 and $4,000 on an engagement ring.
A study by The Knot found that the pandemic did not impact the dollar amount that 86 percent of engagement-ring shoppers planned to spend.
Approximately 50 percent of couples will spend less than $5,000 on their engagement rings, while 20 percent will spend more than $10,000.
Couples typically spend 16.7 percent of their wedding budget on jewelry, a larger portion than they spend on any other element of their big day. Event catering and bar service comes in a close second, at 16 percent.
Jewelry retailers say that 61 percent of customers who buy engagement rings from them come back to buy wedding rings.
Most Expensive Engagement Rings of All Time
In 2016, billionaire James Packer presented pop diva Mariah Carey with a 35-carat emerald-cut diamond in a solid platinum setting with an estimated price tag of $10 million.
The Elizabeth Taylor Diamond is a 33.19-carat Asscher-cut white diamond set in a platinum ring. Sold in 2011 by the Hollywood icon's estate for $8.8 million, the ring was given to her in 1968 by actor Richard Burton, who paid $307,000 for it at auction.
Reality star Kim Kardashian's 2013 engagement ring from Kanye West, a 15-carat cushion-cut diamond set on a thin platinum band, cost $8 million.
Engagement Ring Lifestyle Statistics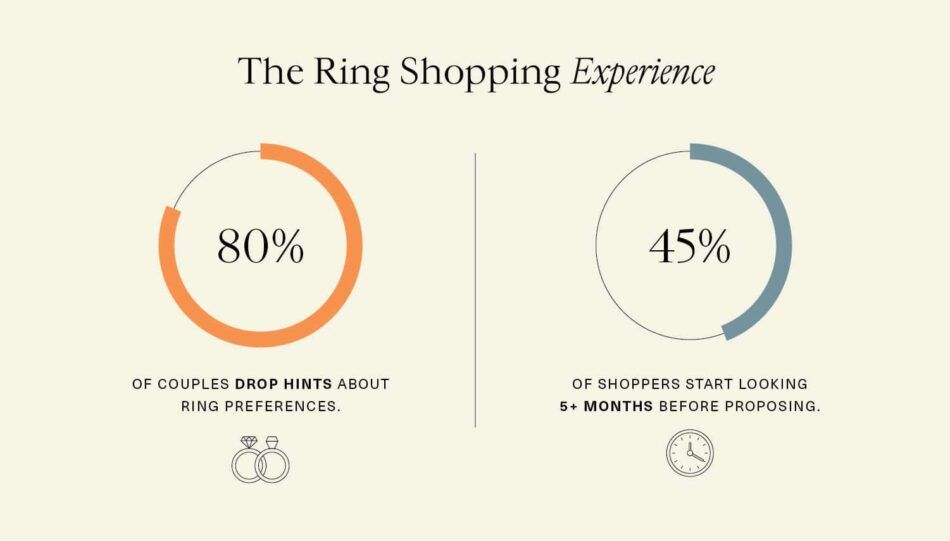 Nearly 80 percent of couples admit they dropped hints to their partners about their ring preferences.
The hunt for the perfect engagement ring begins more than five months before the proposal for 45 percent of people, according to a Wedding Wire survey; 71 percent said they purchased the ring less than two months before popping the question.
Sixty-six percent of jewelry gift recipients don't want to be surprised, so it's no shock to discover that 7 out of 10 proposees were involved in the engagement-ring selection process.
In 2020, 70 percent of fiancés said their ring-shopping experience had been impacted by COVID.
Despite the pandemic, 63 percent of shoppers in 2020 purchased their engagement rings in person, compared with nearly a third who bought theirs online.
Data show that, on average, proposers visit three retail stores in person and look at 15 rings before making an engagement ring purchase.
Popular Sizes, Shapes and Gemstones
Diamonds are the most common gemstones for engagement rings, preferred by 87 percent of people.
Certain shapes have a decided edge, with 43 percent of buyers wanting a round cut, 15 percent an oval cut and 13 percent a princess (aka square) cut.
Nationally, the average size of an engagement ring's center stone is 1.3 carats.
The most popular metals for engagement ring settings are white gold (48 percent), yellow gold (16 percent), platinum (13 percent) and rose gold (13 percent).
Buyers cite style and setting as the most important features when selecting a ring, followed by center stone type and shape.
Personalization of engagement rings is rising in popularity, with 48 percent of buyers choosing to customize design elements.
Other Surprising Ring Statistics
Although the correlation has not been proved, one academic study found that couples who spent between $2,000 and $4,000 on their engagement ring were 1.3 times more likely to divorce than those whose budget was between $500 and $2,000.
Researchers also found that spending $8,000 or more on a ring was associated with a decreased risk of divorce.
Not every proposal includes a ring, but the majority do: 89 percent of proposers report that they popped the question with an engagement ring in hand.
2022 Engagement Ring Trends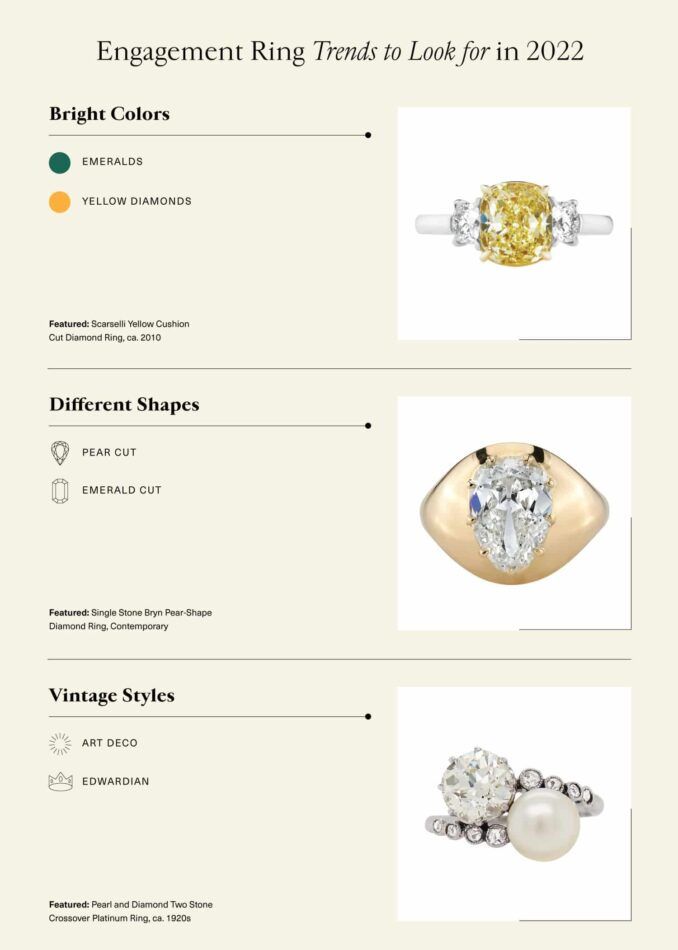 A new year brings opportunities to try new things — and that includes exploring new trends in engagement rings. While these symbolic pieces of jewelry are timeless, they can also represent the recipient's style and passion in unconventional ways.
1. Color Trends
Many future brides avoid classic diamonds for a more distinctive look. Incorporating a colorful gemstone into an engagement ring sets it — and the person wearing it — apart. Celebrities like Katy Perry, Zoe Saldana and Scarlett Johansson have helped promote this trend.

Emeralds

Vibrant emeralds have become a popular alternative to more traditional diamonds, offering the timeless elegance of a classic gemstone with a pop of color and a smaller price tag.

Yellow diamonds

For those wanting to indulge in a diamond but with a bit more flair, a fancy yellow stone is a great option. Less popular among prospective brides in the past decade, they are gaining favor as a distinctive choice.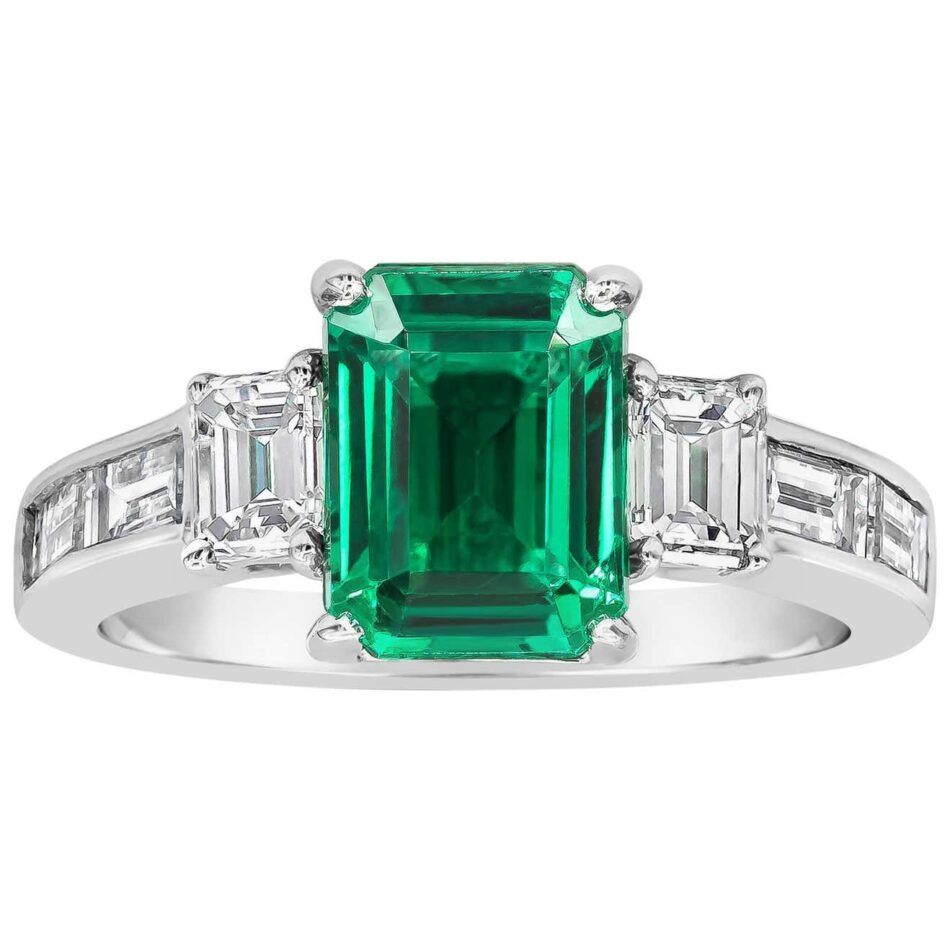 2. Shape Trends
Identifying the ideal gemstone shape for your engagement ring can be a challenge. Round and oval are the most popular cuts, but others can flatter wearers by making their fingers appear longer or more slender. They can also make the stone itself look bigger.
Pear cut

Elongated pear-cut stones exude elegance, even when mounted on a simple gold band. The proportions can vary, appealing to different personal preferences.
Emerald cut

If it's good enough for Beyoncé, an emerald-cut stone should certainly suit the rest of us! The 24-carat diamond in her engagement ring from Jay-Z is just one example of how this vintage-inspired structured cut has become a modern classic.
3. Style Trends
Vintage and antique styles endow engagement rings with charm, character and a sense of history. Whether actually vintage, inspired by historic designs or updates of family heirlooms, these rings represent a timeless bridge between the past and the present.
Art Deco

All the rage from 1915 into the 1930s, Art Deco jewels mix diamonds with colorful stones in geometric designs influenced by Cubism. The style's clean lines appeal to many modern brides-to-be — Pippa Middleton, for instance, who turned heads with her Art Deco engagement ring sporting an Asscher-cut diamond weighing an estimated three carats.
Edwardian

Associated with King Edward VII's short reign over the British Empire, from 1901 through 1910, Edwardian jewels are characterized by platinum settings, delicate filigree and nature motifs. With their feminine curves and sparkling diamonds, the rings are highly prized today.
4. Designers on Trend
The big names in jewelry remain go-to sources in 2022 for quality classic and contemporary engagement rings. Each designer offers a broad selection to choose from.
Whatever style you choose, your engagement ring symbolizes love and the promise to build a life together with your partner. Finding the piece that suits you perfectly can be a lengthy process, but the investment in time and money is more than worthwhile. Being informed will make the shopping experience more joyous and success better assured.
Sources:
"Here's How Much to Spend on an Engagement Ring," by Sarah Hanlon, The Knot
"The Knot 2020 Jewelry & Engagement Study Reveals COVID-19 Impacted Nearly Half of Proposals in 2020, Though Majority of Couples Are Optimistic About Upcoming Weddings With Already Set Wedding Dates, Mostly In 2021," Business Wire
"WeddingWire Newlywed Report 2020," WeddingWire
"Wedding Spend by Category 2020," The Wedding Report
"Selling," INSTORE Magazine
"Here's How COVID-19 Has Impacted Proposals This Year," by Esther Lee, The Knot
"The Relationship Between Wedding Expenses and Marriage Duration," by Robert W. McGee, Fayetteville State University