First, let's take a quick look at the history of diamond engagement rings.
The ancients wore rings as signifiers of marriage. But it wasn't until 1477, when Archduke Maximilian of Austria gave one to his bride, Mary of Burgundy, that diamond rings became a thing. Naturally, where royalty led, the elite followed.
By the mid-1800s, a marriage promise customarily came with a ring, sometimes set with diamonds, but often with other gems. A century would pass before diamond engagement rings became de rigueur for the masses. The 1947 DeBeers campaign, with its iconic "A diamond is forever" tagline, changed everything.
If you're shopping for an antique engagement ring, put the 4Cs aside — it's all about falling in love, not finding the "perfect" stone. An antique ring comes with a romantic history, as well as a hand-cut diamond that radiates character and charisma. Plus, you can feel confident you won't see anyone else with a ring like yours.
The most collectible rings are those from the Victorian, Edwardian and Art Deco eras. "These periods present a universe of options, from clean lines that highlight a single diamond to embellished styles with multiple stones," says Rebecca Selva, chief creative officer of Fred Leighton in New York City. In other words, there is something for every taste.
"An antique ring retains a lightness of design, often because of artisanal involvement, that is missing from a machine-made modern style," says Elaine Smith, co-owner of Millane's, in Yorkshire, England. "If the item is hallmarked with a date, that adds to its desirability. Often, pieces are inscribed with dedications inside the band, lending them an air of mystery and romance."
---
The Victorian Era, 1837–1901
Sentimental symbols in gold and the birth of the iconic prong-set solitaire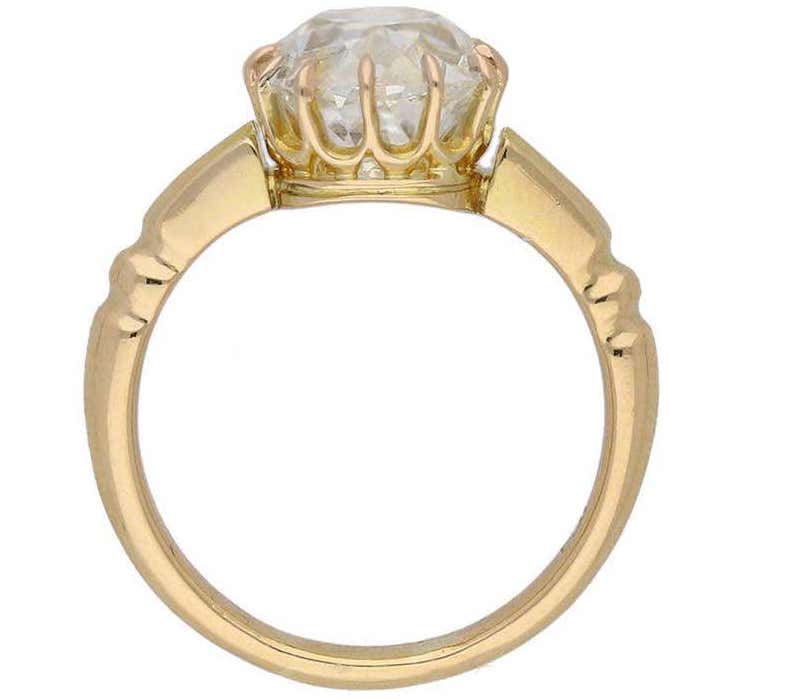 Named for Queen Victoria and bearing the mark of her long reign and storied marriage to Prince Albert, this was a time of strict social and courtship rules. At balls and dances, young women in crinolines, bustles and cameo jewelry elevated flirtation to a nuanced language of coded gestures (dropping your gloves meant "I love you," while tapping them against your chin conveyed "I love another").
When Victoria and Albert married, he gave her a gold ring in the shape of a serpent, which symbolized renewal and lasting love. This initiated a craze for snake jewelry, joined by gems with other sentimental and romantic motifs favored by the queen, such as flowers, hearts, stars, insects and Gothic symbols. The popular and fashionable young royal was the style influencer of her era.
At the beginning of the period, rings were made of gold and affordable only by the wealthy. Designs for Victorian-era engagement rings often featured repoussé work and chasing, in which patterns are hammered into the metal. Stones were secured by collets, settings similar to bezels, with prongs and a closed back. The collet was overlaid with silver to enhance the whiteness of the diamonds, which were likely to be small rose– or old-mine-cut (the ancestor of today's cushion-cut) stones, arranged in clusters or lines and often accompanied by colored gemstones.
With the California Gold Rush of 1849, gold became more accessible and less expensive, available in 9- to 22-karat alloys. Diamonds, in their turn, became more widely available after the 1866 discovery of a major lode in South Africa. Advances in diamond-cutting technology led to what we now call the old European cut, precursor of the round brilliant shape. In 1886, Tiffany & Co. introduced its now-iconic six-prong setting, which allowed more light to enter the diamond, amplifying its brilliance, and the craze for solitaire styles was ignited.
---
The Edwardian Era 1901–10
Platinum ascendant and delicate designs in vogue
After Queen Victoria died, in 1901, her son took the throne as King Edward VII, ushering in a period of refined luxury in Britain that was mirrored in America and Europe (in France, it was known as la Belle Époque, "the beautiful years"). His short reign served as a bridge between the mores of the past and the ideals of a modern era, as Victorian notions of propriety and femininity began to change. The suffrage movement went mainstream, and women started to make forays into the worlds of higher education and work.
Jewelry design evolved, too, but there was some overlap with late Victorian styles. Nature, for instance, continued to be a major theme, thanks to the influence of the Art Nouveau movement and the tastes of Queen Alexandra, King Edward's wife. In fact, flowing and floral garland motifs were so popular that the Edwardian period is sometimes called the "garland era."
The invention of the oxyacetylene torch enabled jewelers to use platinum, which had previously been too challenging to work with. As Fred Leighton's Selva notes, "Advances in metalsmithing liberated designers to create airy, delicate platinum rings." It also enabled the lacy filigree and exquisite millgrain work characteristic of the period.
Cutters used new diamond saws and jewelry lathes to refine the old European cut. The resulting stones, designed to sparkle in the light from candles and gas lamps, are beloved by connoisseurs for their inner fire and romantic glow. Antique diamonds are exceptionally rare these days because they were often recut over the years according to prevailing trends. When you find one that makes your heart skip a beat, consider yourself lucky.
---
The Art Deco Movement, 1915–30s
The modern culture and jewels of the Jazz Age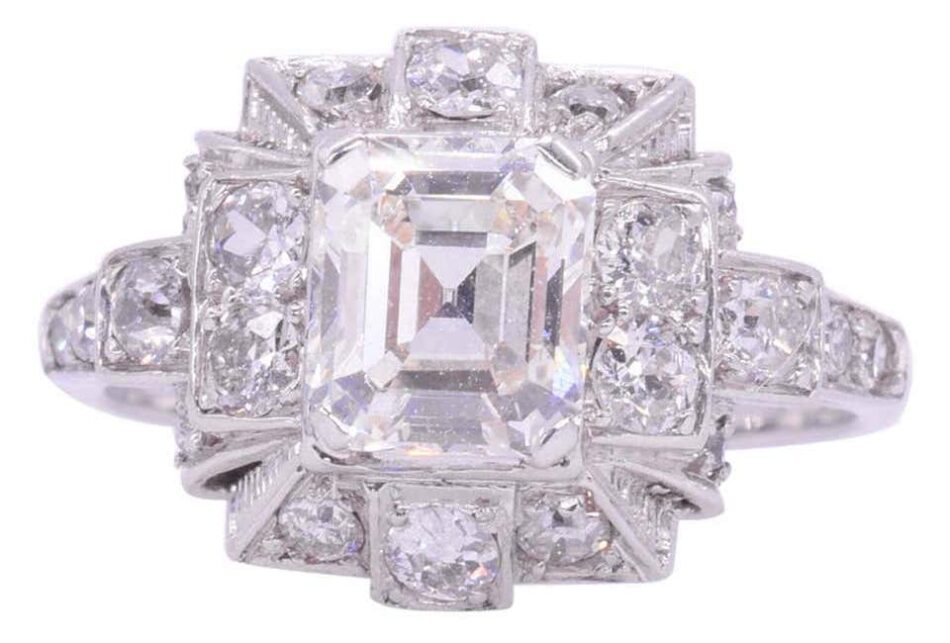 With the end of World War I, in 1918, and the dawn of women suffrage, in 1920, an era of cultural change commenced. New social freedoms were reflected in fashion, music, even language — sexy and blind date first appear in the mid-'20s. In fact, dating itself was new, replacing the courtship rituals followed since Victorian times. People began marrying for love rather than to fulfill family expectations. Along with these modern practices came revolutions in fashion and jewelry.
Young style setters rebelled against Prohibition by dancing and drinking the night away at speakeasies and jazz joints. They tossed aside the ornate floral jewelry of the previous decades in favor of geometric platinum designs inspired by the 1925 Exposition internationale des arts décoratifs et industriels modernes in Paris, which debuted the style that became known as Art Deco.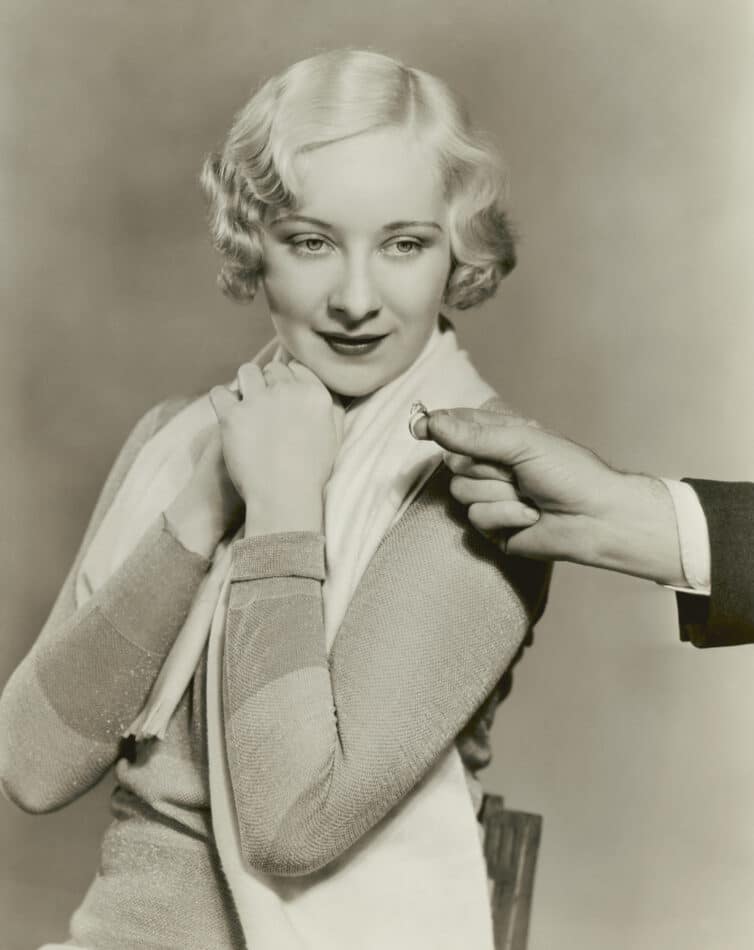 Art Deco diamond ring designs took inspiration from the contemporary Cubist movement, as well as from ancient Egypt — a revival sparked by the discovery of King Tut's tomb in 1922 — and Native American, African and Oriental motifs. Diamonds in square and rectangular shapes incorporating angular steps — like emerald cuts, Asscher cuts and baguettes — were set against black onyx, rubies, sapphires and emeralds to create color blocking effects. The old European cut of the late Victorian era continued to be used till the 1930s, but new standards were emerging that would lead to the modern round brilliant cut.
Among all the angles and lines of the Art Deco era, nature themes and more organic forms are still to be found, as in the swirling two-stone "toi et moi" rings influenced by the Art Nouveau movement. "Art Deco was the prevailing aesthetic," says Selva, "but not all design during the 1920s was necessarily Art Deco."
With almost a century of rings to consider, it's not easy to choose just one. But whichever you commit to, you can be sure that your ring will be a one-of-a-kind design of extraordinary craftsmanship and beauty. You can also feel good knowing that an antique ring is an ethical and sustainable choice. Best of all, it is endowed with an intrinsic romance that will be rekindled and live on as you celebrate your own love story.