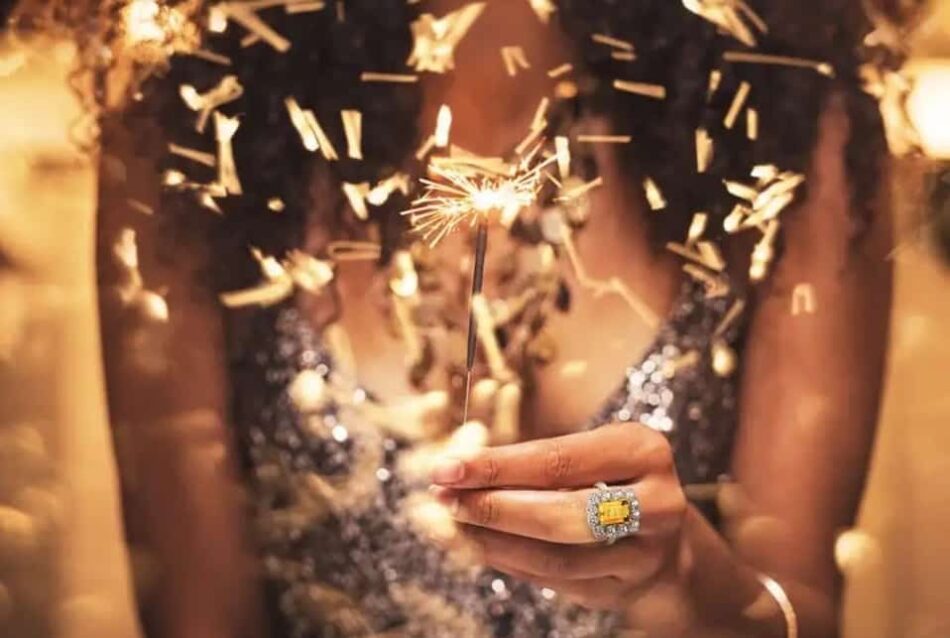 If you're contemplating an engagement ring with a center stone other than a diamond, it's probably because your sense of style leans toward the unexpected. Perhaps, too, you're someone who adores color. While a white diamond can feel cool and sophisticated, colored gemstones are vibrant — bursting with warmth and character — and imbued with symbolic significance, transforming the ring into an eloquent, multilayered expression of love and commitment.
A practical concern that all those shopping for non-diamond engagement rings should strongly consider is hardness — in other words, resistance to damage. One of the reasons that diamonds are the go-to engagement ring stone is that they're the hardest gem in existence, with a rating of 10 on the Mohs scale.
Keep that in mind as you peruse the alternative engagement ring stones presented in this guide. Once you decide which gem you want to focus on, the next step is to make a few apples-to-apples comparisons with regard to color, clarity, cut and carat weight (as you would for diamonds, which use the 4Cs grading system).
Work with a jeweler you trust, someone who is proficient in the nuances of the colored gemstone you seek, to ensure you land on a choice that's worthy of your investment — and an enduring token of your affection.
As with all important gemstone purchases, your colored stone of choice should be accompanied by a grading report from a reputable gemological laboratory that verifies its authenticity and indicates whether any enhancements were made to improve its appearance.
Below, you'll find a review of some of the most popular stones for engagement rings, as well as expert advice on choosing a great one. But beauty is subjective. Pay attention to a few key basics, and you can feel free to buy whatever makes your heart flutter.
---
Sapphire — Classic & Regal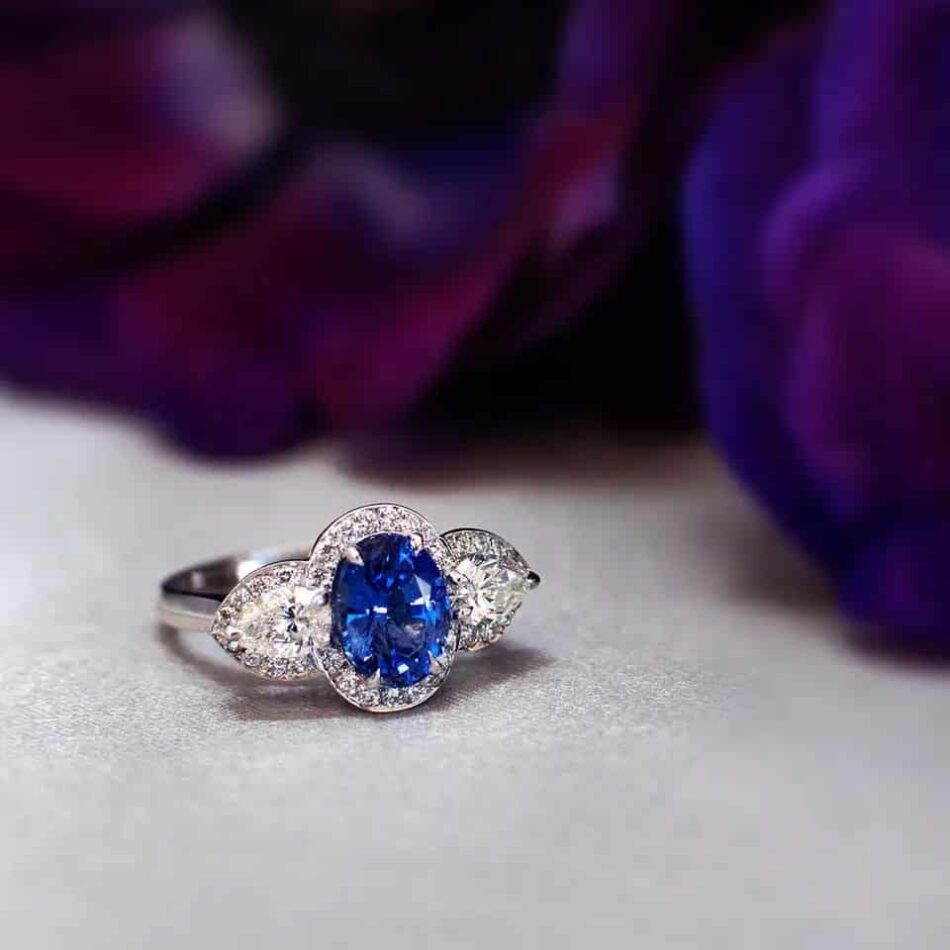 Sapphires are members of the corundum mineral family, with a Mohs scale number of 9. They come in every color of the rainbow, but blue ones are the most common. They're also engagement-ring favorites, symbolizing fidelity and truth, not to mention providing that requisite "something blue" for the bride's wedding day ensemble.
The most famous blue sapphire engagement ring has to be the Garrard stunner that the late Princess Diana picked out in 1981, with its halo of diamonds surrounding the center stone. It now graces the finger of the Duchess of Cambridge (the former Kate Middleton) and sparked renewed interest in sapphire rings when Prince William proposed to her with it in 2010. A full decade later, a younger generation is newly besotted with the famous jewel, thanks to the hit Netflix series The Crown, which includes a Princess Diana plot line in season four.
If you're seeking a stone fit for royalty, pay close attention to origin. "Kashmir sapphires sit atop the throne of the sapphire kingdom for their unique color and scintillation unlike any other," says Sumeet Chordia, of New York City–based RAF Jewels. The velvety-blue Kashmir variety is also extremely rare, especially since the mine is no longer producing.
Other premium sources are Burma (also called Myanmar), known for sapphires of a rich royal blue, and Sri Lanka (formerly Ceylon), which produces gems in the highly sought-after shade of cornflower blue, à la Princess Diana's ring. Good sapphires also come from Madagascar.
Sapphire prices, Chordia notes, vary greatly depending on the origin of the stone. So, if you're investing in one of significant size and quality that purportedly hails from a prestigious source, it's best to have that confirmed by more than one laboratory.
---
Ruby — Rare & Romantic
Magnificent red stones for the most passionate of lovers, rubies, like sapphires, belong to the corundum family. Large rubies with exceptional color and clarity also have the distinction of being rarer, and more costly, than comparable diamonds.
The majority of rubies come from Burma and Mozambique. Go with the former if your budget permits: "Their unique appearance, legacy and rarity, combined with global demand, have propelled them to the most expensive colored gemstones in the world," says Chordia.
A ruby billed as "no heat" is a natural wonder. Heat treatment of rubies, conducted to intensify their color, is a common — and widely accepted — practice, even at the highest end of the market. And it will not affect the value or durability of your stone, states Reshma Kothari, of Roshe Jewels, in San Dimas, California.
Choosing a ruby can be a little like choosing a red lipstick. The truest, most vivid reds are fiery, skewing slightly orange. Other shades are deeper, with blue undertones, for a pinker, raspberry color.
"For a more contemporary and modern look, opt for the ruby to be set in white gold, and for a more antique or vintage look, have the ruby set in yellow or rose gold," Kothari says. "The white gold will pull the coolness from the color, while the yellow and rose will bring out its warmth."
---
Emerald — Sophisticated & Glamorous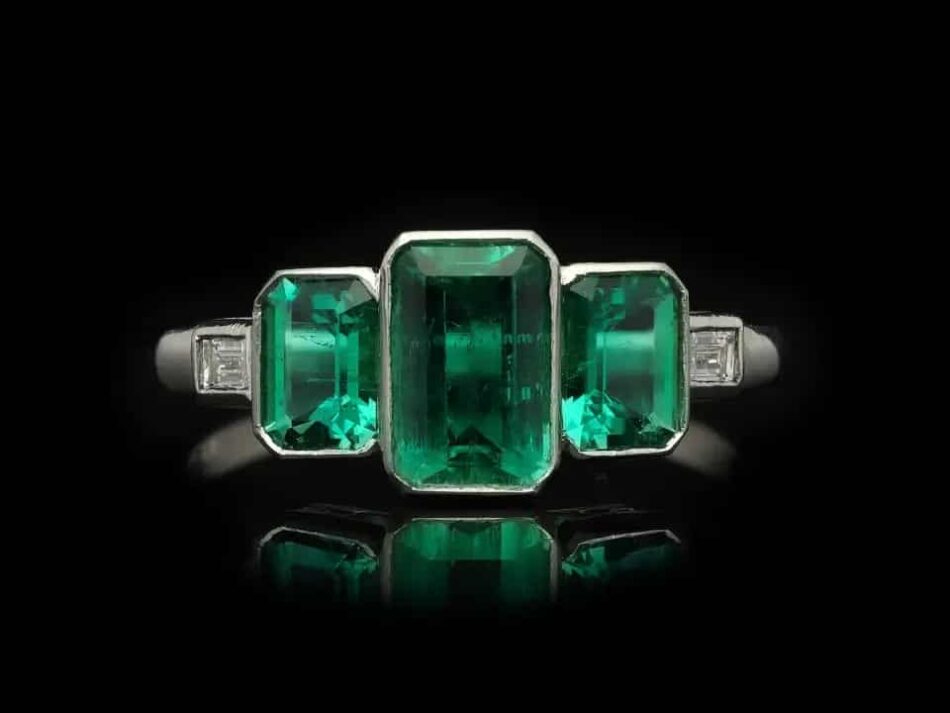 You've seen extravagant emerald jewelry on the red carpet, but why might you select this stone for your engagement ring? For starters, you'd be in good company: Emeralds graced the engagement rings of style icons Wallis Simpson and Jackie Kennedy.
New York–based jewelry designer Nina Runsdorf, whose mother and grandmother both had emerald engagement rings, adds that the stone's color might appeal to those with an affinity for nature. "My parents left the city when I was 14 and raised us on a farm in upstate New York, so my mother's love of nature was very strong," she says. "I think emeralds reminded her of the wild grass and trees."
Emeralds, which belong to the beryl family of minerals, have a Mohs scale rating of 7.5 to 8 — soft enough for many jewelers to caution against its use in a jewel designed for everyday wear. The stones most certainly can chip or crack, even while being set in a ring by a professional. Nevertheless, says Runsdorf, "my opinion is always, 'Nothing's too precious to wear.' Insure the stone, and enjoy it."
If you do have your heart set on an emerald, be prepared to accept standards of clarity and light refraction that differ from those for other stones: All emeralds have visible inclusions and imperfections. For that reason, clarity-enhancing fillers are often used to improve their appearance. Some top-drawer dealers accept only emeralds treated with natural fillers (oil, wax, Canada balsam or cedarwood oil), versus man-made polymer fillers.
Still, that verdant color, and the cachet of wielding a stone beloved and worn by so many queens and princesses (hello, Cleopatra!), might well seduce you, regardless of the caveats. Colombian emeralds are the finest, although plenty of good material comes from mines in Ethiopia, Zambia and Brazil. Go with an emerald cut — because of its long linear facets, experts say, this shape is best for displaying the gem's extraordinary color.
---
Aquamarine — Serene & Luminous
Like emeralds, aquamarines are members of the beryl family. Endowed with a dreamy blue hue that evokes the sea, the stone symbolizes courage, clarity and communication, making it ideal for marking the start of a harmonious union.
Look for an evenly distributed saturation of color and a cut that shows it off. "With aquamarine, the best shapes are emerald and oval cuts, which maximize an even amount of color throughout the stone," says Roshni Kothari, cofounder of Roshe Jewels alongside her sister Reshma. "The color of the aquamarine can also be boosted by a cut that has higher crowns and deeper pavilions."
Small stones tend to be paler in hue. The deepest colors (think of a swimming pool in one of those Slim Aarons photographs) are most gloriously displayed in gems of five or more carats.
The most prized aquamarine is the Santa Maria variety, named for the Santa Maria de Itabira mine, in Menas Gerais, Brazil, where stones of this deeply saturated blue were first discovered. Brazil, indeed, is the source of many of the world's finest aquas, but that should not discourage you from considering stones from other regions. In this case, the premium you pay for origin is not worth it, say experts. Quite a few dealers who sell aquas are impressed by the material coming out of Argentina, Pakistan and Afghanistan, in addition to Brazil.
---
Morganite — Pretty in Pink
Think of it as pink beryl — more blush or peachy than bubblegum in hue — with a fancy name. Morganite was discovered in 1910 by Tiffany & Co. gemologist Frederick Kunz (of kunzite fame), who named the stone after his friend J.P. Morgan, the famous New York financier and gem enthusiast.
Fast-forward 110 years, and morganite has become an attractive alternative stone for engagement rings. According to the Knot, which conducts a Jewelry & Engagement Study every two years, the gem popped up as a leading non-diamond choice in both 2017 and 2019. Its popularity owes to the public's fascination with pink diamonds — a devastatingly gorgeous but costly choice — over the past 20 years.
"Morganite is the pink option for women who otherwise would have considered [laboratory-created] moissanite instead of a white diamond," says Severine Ferrari, founder of Engagement 101. "Pink sapphires in the lighter hues similar to morganite are pretty rare, diamonds even more so, which makes neither easy to find in the desired price point and color."
So, although morganite is humbler than the other gemstones mentioned here, it's perfect for "thinking pink" on a modest budget.
Deeper orangey-pink colors manifest in larger stones, and if morganites are not as clear and sparkly as diamonds, they usually offer better clarity than emeralds. Trendy cuts like pear, oval and cushion are plentiful, and rose gold is a divine choice for the setting.