Poor Aldo. Although a sophisticated man-about-town in 1960s Manhattan, Aldo Cipullo had a heart — and somebody broke it. Late one night, alone with his sadness, imagination and tools, he created the prototype of what would become the Cartier Love bracelet. This unisex design (an idea that was completely new for the time) closed with a screw and could be removed only with a special screwdriver.
"Love symbols should suggest an everlasting quality," Cipullo once explained. (This particular love symbol also suggests handcuffs and Renaissance chastity belts, but that's another story.)
First released in 1969, the eternally chic design retails today for between $4,250 (for a small model) and $59,000 (for a pavé-diamond version). "Is the Cartier Love bracelet worth the cost?" has become a popular Google search.
Jewelry industry consultant Anna Rasche has an answer. "An iconic piece from a heritage brand is going to hold its value better over time than an unsigned piece," she says, adding as a cautionary note. "These are really hot on the secondary market right now — nobody needs to sell them for a low price. So, if you see one with a very low price, that should be a big red flag."
What else should you look for to tell a real Cartier Love bracelet from a fake? Details ahead.
---
Precious Metals
"With any piece of jewelry made by a heritage house, the first thing you want to look at is whether or not it's the correct materials," says Rasche. "That's the hardest thing to really counterfeit, because that's what costs money."
Cartier Love bracelets come in platinum and in 18-karat yellow, white or rose gold. The inside of an 18-karat gold bracelet will be stamped with the number 750 — meaning that the alloy is 75 percent gold. Platinum bracelets will be marked with 950, indicating that the bracelet is 95 percent platinum.
Have your eye on a version in sterling silver? Step away — it's not a real Cartier. Find one that's plated or tarnishing? It too is a fake.
---
Hallmarks
In a fake Love bracelet, the Cartier logo may mistakenly appear on both sides of the bracelet and be sloppily executed, smudged or just too deep, wide, big or small. If you are looking at a recent bracelet, compare the script and the stamp to a picture from the Cartier website.
Bear in mind, however, that "manufacturing standards at Cartier have changed over time," says Rausche. For example, when Love bracelets were introduced, they did not have serial numbers. These were added in response to a surge of counterfeits in the 1970s. (Some sources estimate that half the bracelets from that era are fakes.)
Every real bracelet made since then will have a Cartier serial number that is unique to that particular piece, although the format has changed over time.
The oval bracelet will also be stamped inside with its diameter, in inches: 16, 17, 18, 19 or 20.
---
Weight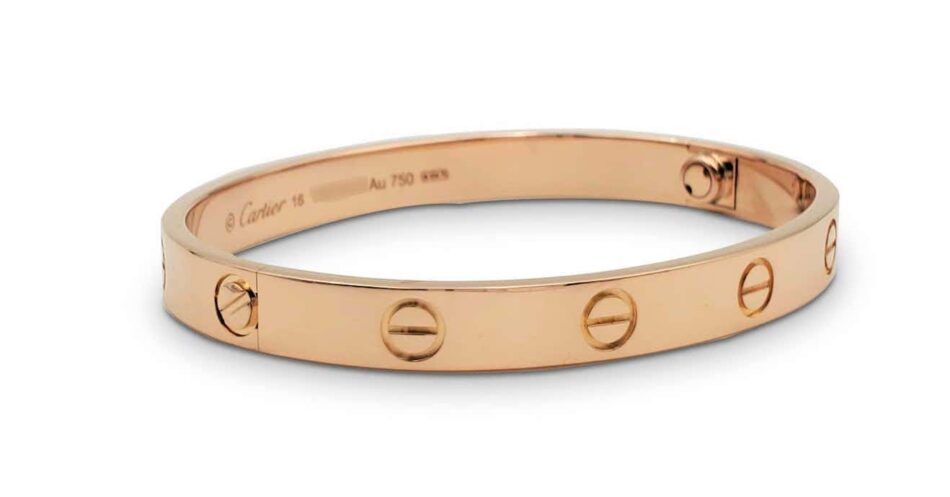 A genuine Cartier Love bracelet weighs 30 to 38 grams, depending on the design. As a point of comparison, a standard 60-watt lightbulb lands in the middle of that range, at about 34 grams.
---
Construction
Pay close attention to the quality of the screws. On newer designs, these should be stamped perfectly into the metal, horizontally aligned and evenly spaced. "Older versions had screws that were fully removable, but people lost them," says Rausch. So, Cartier incorporated screws as design elements directly in the bracelet. Their slots should all be sharp and uniform.
As with all heritage jewelry, consider the overall construction. The metal should be smooth and even, and the place where the two halves of the bracelet meet should be perfectly flush. Diamonds, or other stones, should be visible on the inner surface.
In 2011, Cartier switched to a new locking mechanism in which the screw remains attached to the bracelet. This modification was accompanied by other alterations in design. For example, the screw head now touches the bracelet seam, and on the inside, the closure has a U shape, to hold the screw in place. The bracelet still unlocks with a screwdriver, though. And the real ones open easily — if you have to struggle, it's probably a fake.
Although the design of the Love bracelet has remained essentially the same, details have evolved over the decades. Your best bet is to buy from a trusted vendor familiar with the nuances of the various models, since copies are so rampant that Cartier no longer authenticates the pieces.