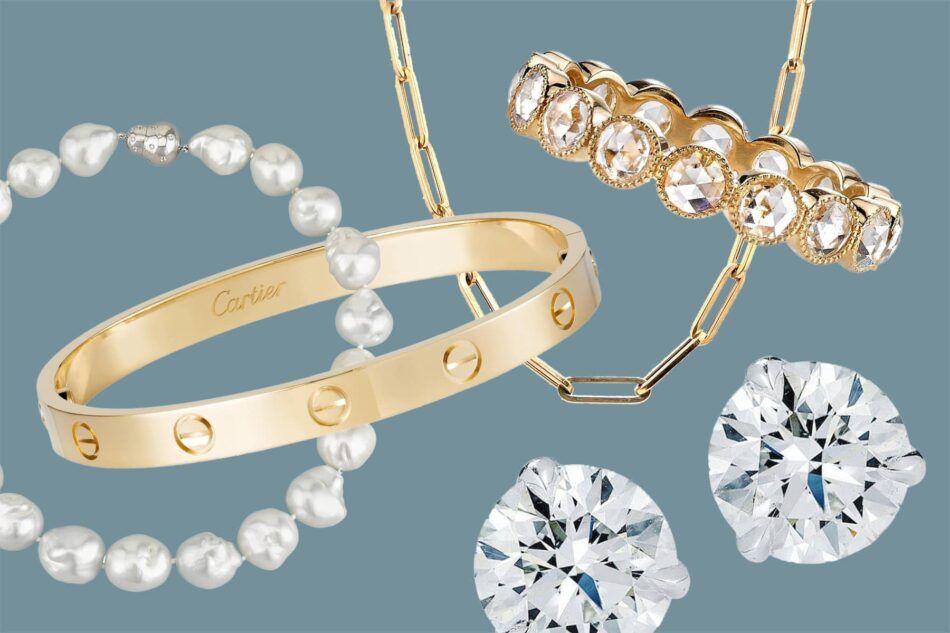 Are these two things true? One: You want to acquire more fine jewelry. Two: You're not sure what you should be buying beyond whatever strikes your fancy on a given day.
Fine jewelry is precious by nature and meant to be worn and enjoyed year after year, so no purchase should be taken lightly. As such, every thoughtfully curated jewelry wardrobe is formed by a bedrock of essential pieces that are timeless, versatile and very possibly imbued with personal significance. Once you have these staples accounted for, you can begin to add pieces with more novelty and wow factor. Because the thing about building a jewelry collection? There's always room for more. . . .
Below, we've identified 10 must-haves for modern jewelry collectors to guide your choices and spark ideas.
---
Diamond Studs
Whether you start out with a one-carat total weight pair for your Sweet 16 or treat yourself to five carats total weight later in life, diamond studs deliver the perfect amount of sparkle and joy every time you put them on. They are so timeless and indispensable that many people upgrade the size of their diamond studs every few years or to celebrate key milestones.
A tip: Butterfly backs, or spring clutch backs (aka la poussé), are the easiest to manage. Screw-back posts are cumbersome and fiddly, especially if you're dressing in a hurry.
And according to Grant Mobley, trade director and diamond expert for the Natural Diamond Council, you don't need to be fixated on the color and clarity grade of the diamonds. "People are rarely so close to your ear to be able to see the fine details," he explains. Start with low color (H to J) and clarity (SI or I1) and see if you can tell the difference between stones with higher grades. "If not, you can save some money or increase the size [carat weight] for your budget," he says.
---
Strand of Pearls
Pearl necklaces have been a jewelry-box essential since, well . . . let's call it forever. The 16- or 18-inch strand, made popular in the 1950s by Marilyn Monroe (whose Mikimoto akoyas were a gift from Joe DiMaggio), is exceptionally chic, beloved by ingenues and grande dames alike. Plus, the natural oils and warmth of your skin will enhance their luster over time.
"Pearls remain timeless because they are an organic matter that renews itself over the generations; as long as there is life there will be pearls," says Talila Gafter, president of Ella Gafter, a New York–based pearler specializing in classic necklaces and statement designs.
Adding a subtle glow to your face and skin, a string of pearls is appropriate for every occasion, whether you're interviewing for a job or sipping swanky cocktails. And if you already own a necklace? The next must-have, according to Gafter, is earrings or a longer style that incorporates colored gemstones.
---
Huggie Hoops
Hoops are always chic, but the small sizes are more versatile, making huggies the ideal jewel for a day that has you dashing between yoga class, business meetings and a much-needed night out. "Hugging" the earlobe so they won't get tangled in your hair or catch on clothing, they'll make any outfit you wear feel that much more put together.
There are myriad variations to choose from: A textured gold style is a great place to start; check out pairs with diamonds or colored gemstones when you're ready for a little extra sparkle. With some huggie-hoop styles, you can thread on collectible charms for even more mix-and-match versatility — and opportunities to treat yourself!
---
Diamond Stacking Bands
Slender in profile and ideal for wearing in mixed-not-matched multiples, stacking rings continue to be a big trend among jewelry collectors. As such, one or a suite of diamond eternity bands, worn as a set or paired with other rings, have become a new jewelry wardrobe staple.
They are meant to feel like a second skin, alternately providing the foundation of your jewelry look on any given day or the perfect finishing touch. Think slim — not more than 1 to 1.5 millimeters in width — so that you can fit as many rings on your finger as you like.
Start with something simple like a delicate pavé diamond band and then explore wider styles with bigger, bolder diamonds. Feel free to mix metals, settings and stone shapes for a stack that pops with personality.
---
Tennis Bracelet
They're back in a big way. Also known as a diamond line bracelet, tennis bracelets became popular thanks to Chris Evert wearing — and briefly losing — her diamond bracelet during play in 1978, sparking a trend that stuck around for at least a decade.
Why the revival now? The style is luxe, nostalgic, everyday wearable and delights the eye every time you look down at it on your wrist. Also, "It can be paired with other bracelets, and the more the merrier," says Marie Weber-Rupert, founder of Five Star Jewelry in Austin.
Styles that update, or borrow from the classic straight-line design, are the new must-haves. "A bezel-set diamond tennis bracelet has a cool vibe," she adds. "Or one with unique diamond shapes like marquise, cushion or emerald cut. You might also see round and baguette diamonds or even colored gemstones alternating in the mix."
---
Gold Bangle Bracelet
That little flash of gold on the wrist is understated but speaks volumes about your sense of style. The current trend is to wear several gold bangles at once, some with diamonds, others with colored stones, enamel, sayings or intricate engravings.
Often this "arm party" is anchored by the most coveted of gold bangles: the Cartier Love bracelet, famously designed in 1969 by Aldo Cipullo. Like pearls, it's another jewel that transcends time with its multigenerational appeal.
"While the Love bracelet makes an excellent gift, we often notice clients buying one for themselves," says Nicole Terramoccia, a jewelry specialist at MyGemma. "It's iconic, easily recognized, fashion-forward and versatile." But be careful when shopping the secondary market: "Make sure you are buying from a reputable seller that has experience authenticating Love bracelets," she says. "They are highly counterfeited due to their popularity."
---
Statement Earrings
As you grow your jewelry collection, there should be at least one pair of earrings that is the antithesis to your everyday studs and huggies. They are the special-occasion, full-makeup-and-high-heels accessory you reach for when you want to elevate whatever you're wearing.
Ideally, these earrings would extend to your jawline (or further) and work in a variety of time-of-day and lighting scenarios. There is a spectrum when it comes to making statements, so find your comfort zone and lean in to styles that feel like "you." For example, the pair of diamond showstoppers shown above would deliver the desired effect for someone who loves the limelight, and these silver belles would suit a more bohemian style.
---
Gold Chain for Layering
A glistening little flicker of gold around your neck makes an outfit feel more considered and polished, whether you're wearing a breezy white caftan or a black cashmere sweater. Ubiquitous, lightweight and perfect for layering, the paperclip gold chain has dominated for several seasons.
People love the casually elegant feel of this style, but you have lots of options: San Marco, snake, wheat and rope chains have a richer, weightier presence (especially in 18-karat gold), and you can curate a personalized look by mixing different textures and lusters.
Start with must-have lengths like 16, 18 and harder to find 20 inches, and then you can start acquiring longer lengths from there. The trend is to wear several lengths at once, with some dangling pendants and medallions.
---
Birthstone Jewel
Every person should have their birthstone represented in their jewelry collection. (Fair warning: Collecting birthstone jewelry is known to be addictive.) Beyond this, "Birthstones have been viewed as having protective qualities that enhance physical health and spiritual or mental well-being," says Mahnaz Ispahani, owner of Mahnaz Collection in New York. "They're a wardrobe essential because we need them for our sense of ease and security."
Don't feel limited to the usual birthstone jewels, like a gem-and-diamond pendant or ring, when there is an abundance of options for every aesthetic.
"The purchase of a birthstone jewel is an intimate, personal thing; it should be a piece you will cherish forever, one that is unique, exquisitely crafted and speaks to you," she says. "It will hold your memory and you can hand it down to the next generation. For example, we love amethysts, and many of our rings contain this serene purple stone. And this bold and stylish aquamarine ring from Italian artist jeweler Giorgio Facchini looks almost like a catamaran holding its precious mermaid's treasure."
---
Party Necklace
Introverts, extroverts — everyone should have at least one item in their jewelry wardrobe that instantly turns up the volume. That's where a party necklace comes in. Think fun and festive, something that stands out in a crowded room.
"I define a party necklace by its ability to spark a conversation," says JB Jones, cofounder of NYC Jewelry Week. "I always want to talk about jewelry, so I make a point of selecting jewelry that will be commented on by other party guests. Costume and fashion jewelry, specifically vintage and oversize in my book, are the perfect confidence boosters and party companions. Because, let's be honest, when you're at a party, the person wearing the YSL fish necklace probably has some interesting things to say. That's who I want to talk to."