February 21, 2021Whether you've heard his name or not, rest assured you know — and quite likely have coveted — Aldo Cipullo's work. In a jewelry-design career spanning just over two decades, he created a portfolio of iconic pieces. And nearly 40 years after his death, his most famous, the Cartier Love bracelet, remains a best seller.
While jewelry cognoscenti have capitalized on Aldo Cipullo's status as the ultimate insider's secret to snap up his quietly appreciated pieces with limited competition, a new book from Assouline by jewelry journalist Vivienne Becker and the designer's brother Renato Cipullo will expand the number of knowledgeable fans.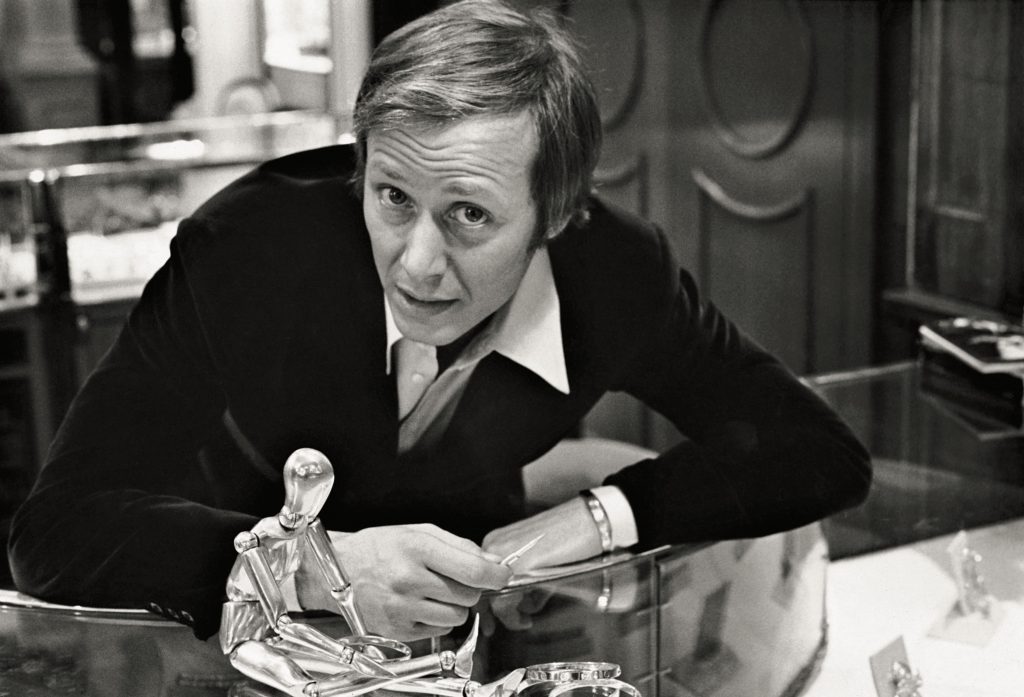 Cipullo: Making Jewelry Modern explores the full scope of his career and reveals the man behind the work through a trove of materials provided by his family — from childhood photos to sketches from his personal archive — and friends' remembrances. "I don't think Aldo has received the credit or recognition due to him, and I sincerely hope this book will change that and lead to a reassessment of his talent and his contribution to jewelry history," Becker says by email.
A life devoted to jewelry seemed preordained for Cipullo, who was born in Naples in 1935 and raised in Rome. His father, Giuseppe, manufactured costume jewelry, and Cipullo, the eldest of five siblings, began selling goods for the family business at age 15. For a time, other creative disciplines beckoned. He took a detour to study architecture in Florence and tried his hand at acting. Blond and blue-eyed, with movie-idol looks, he was cast in the 1957 film Guendalina, although his performance didn't make the final cut.
Cipullo frequently said that the Love bracelet was born of a sleepless night contemplating a love affair gone wrong.
Cipullo's cinematic career was short-lived, but he adopted a real-life role — that of "Americano." The nickname was given to him by friends as a teasing tribute to his affection for the United States and its cultural exports, from big cars to a carefree, forward-looking attitude that felt novel in postwar Italy. He was known to don a Stetson hat and cuffed blue jeans in the manner of James Dean. Providence intervened when the family of an American diplomat occupied an apartment on a floor below his and struck up a friendship with him. In 1959, they sponsored his move to the U.S.
According to Cipullo, he was born twice, "once in Italy and once again when I arrived in New York." He had found the right place at the right time to ply his prodigious talent and navigated between some of the most prestigious jewelers situated on the city's most glittering thoroughfares, 57th Street and Fifth Avenue. His first stop was the workshop of David Webb, a favorite among the mid-century beau monde. Webb became a mentor for the new arrival, advising him to call himself a designer despite his bench jeweler job description.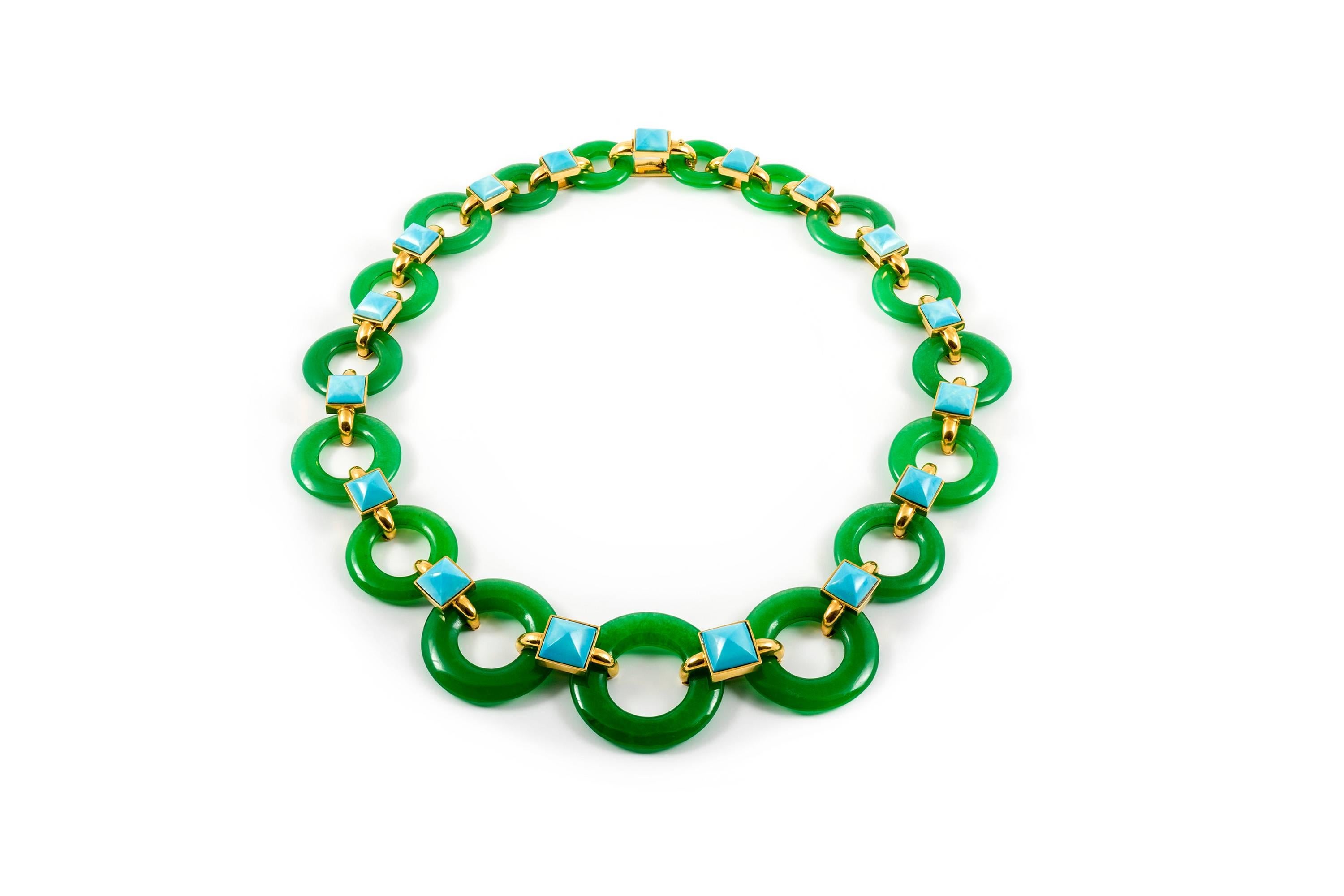 Tiffany & Co. came next. Cipullo alighted at the design studio in 1964, becoming — along with Sonia Younis, Don Berg and Donald Claflin — part of a youthquake that brought fresh ideas to the stately American brand.
Cipullo collaborated closely with Claflin, so closely that some of his work was incorrectly thought to be Claflin's — a mistake Becker uncovered in her research for Making Jewelry Modern. While reviewing gouaches from the archive maintained by Renato and his daughter Serena Cipullo, she explains, "we were able to identify some jewels [Aldo] made for Tiffany that had previously been attributed to Donald Claflin." One such design was an ornate gold bracelet featuring rose-hip motifs and set with carved and polished coral and diamonds.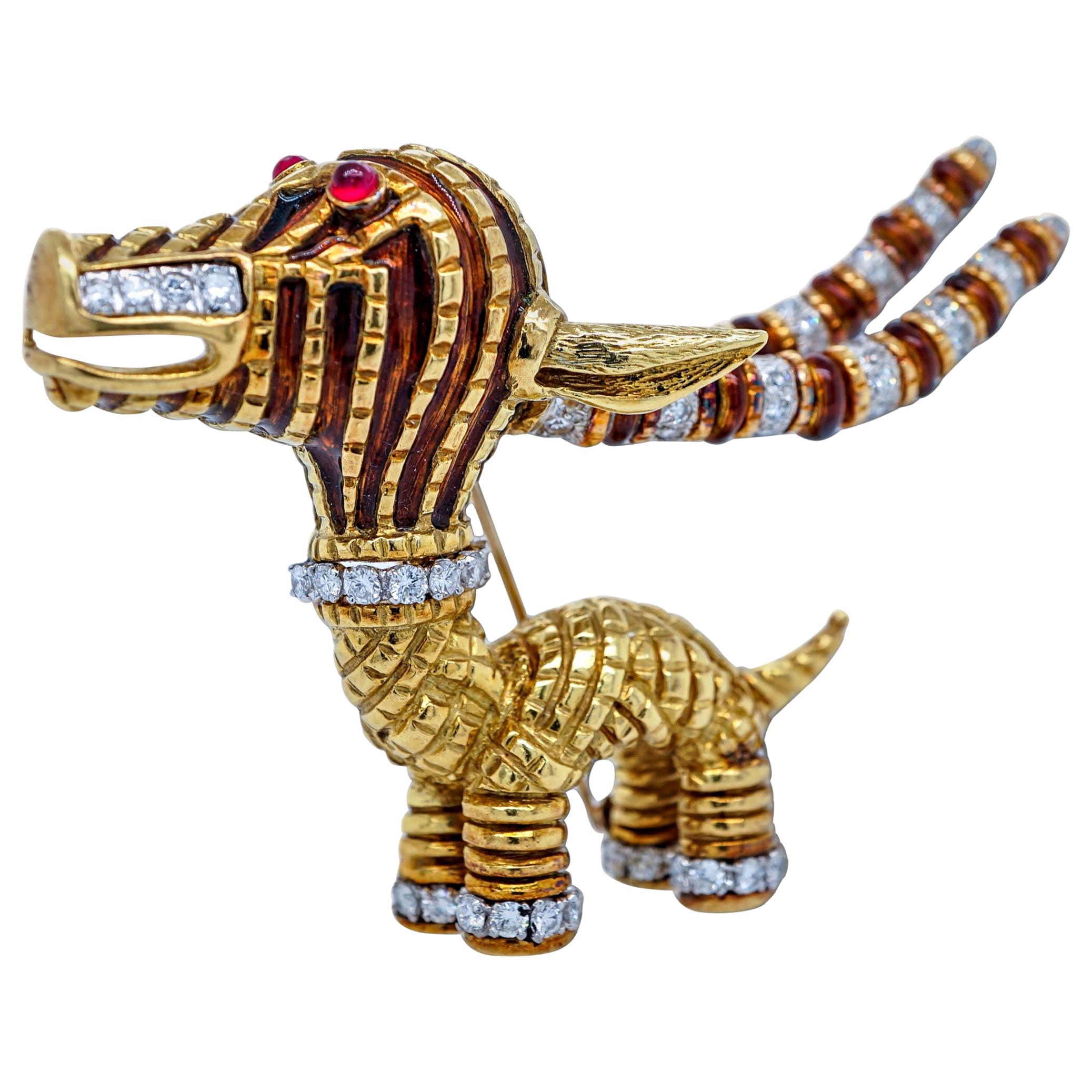 At Tiffany, Cipullo came into his own as a designer with an original point of view, developing a facility across a broad swathe of motifs and inspirations that included lifelike florals, stylized African animals and masks, modern geometries — and hardware, expressed in a series of key-shaped brooches that offer the first glimpse of a theme he would return to later. By the end of the 1960s, he was designing some of Tiffany's crown jewels, pieces in its Blue Book high-jewelry collection, often using lapis, coral or turquoise. These colorful opaque gems were among the materials that would become hallmarks of his work.
According to Renato, it was during this period that Cipullo began to seek recognition for his achievements. It was a time "when individual designer-jewelers around the world were making names for themselves," Becker writes. But, says Renato, when the term of a two-year contract with Tiffany neared its end in 1969, the brand passed on a gold bracelet design Aldo presented to the house. Though Tiffany wasn't ready to raise Cipullo's profile, another suitor would soon pick up the piece and give it, and in turn Cipullo, a major public platform.
Cipullo struck a deal with Michael Thomas, president of Cartier New York, to carry some of his designs — including the new bracelet — exclusively.
As Becker recounts in the book, Cipullo frequently said that the Love bracelet was born of a sleepless night contemplating a love affair gone wrong and his realization that "the only remnants he possessed of the romance were memories." He distilled the urge to keep a loved one close into a slim 18-karat gold bangle. The piece was composed of two halves of an ellipse, which were connected to each other and secured around the wrist by means of screws tightened with a mini screwdriver, a two-person process that represented, Becker writes, "the physical act of commitment, sealing love, pledging fidelity."
The Love bracelet combined hardware with elements of symbolic Victorian jewelry and the chastity belt, plus the ritual of meaningful adornment. It was "edgy, fun, serious, incredibly sentimental and also bold in concept but simple in design," says Michael Coan, professor of fashion and jewelry design at the Fashion Institute of Technology, who adds that it embraced a "unisexuality that many jewelry houses were not able to adopt or successfully market."
The bracelet, along with its designer, was just the tonic that Cartier needed at the start of the 1970s, a moment when the venerable brand was seeking an injection of youthful jet-set glamour. It would have been "looking enviously at Van Cleef & Arpels up the block, with its Alhambra line prominently displayed in the window, and Bulgari right across the way with large cabochon colored gems," says Coan. "Cartier needed something to bridge its age gap and found it in Aldo, who was young, talented and European-trained with an American sensibility — and a killer accent, too, by all accounts."
The enormous success of the Love bracelet sealed its creator's place in New York society. Making Jewelry Modern documents his status in the 1970s firmament with photographs in which he's seen dancing at Studio 54 and socializing with stars (as a bonus for gourmands, the book includes a recipe for the pasta with fresh-basil-tomato sauce he served on evenings he entertained at home).
His winning streak with Cartier continued, even as he designed for his own studio, Aldo Cipullo Ltd., which he established in the early 1970s. The Seventies Woman, his first full collection for Cartier, comprised weighty pieces — mostly in gold with a few hard-stone and diamond accents — designed with modern working women in mind. Like the Love bracelet, Crystal Stairs, a collection that capped blocky 18-karat gold links with square-cut gems, is iconic. The same can be said for his groovy zodiac pendants in etched rock crystal and hamsa-inspired Hand of the Heart necklaces — both designs reflecting the bohemian spirit of the disco decade.
In 1971, Cipullo returned to the toolbox for inspiration. For the Nail collection, he twisted the hardware essential around the wrist as a bangle, though variations on the theme included a jabot pin, brooches and earrings. The purported origins of the design were manifold. At various moments, Aldo said he had been influenced by images of Christ, by an appreciation for the nail's utter utility when he found himself without one as he sought to hang a frame and by the experience of stepping on a nail in his Gucci loafers.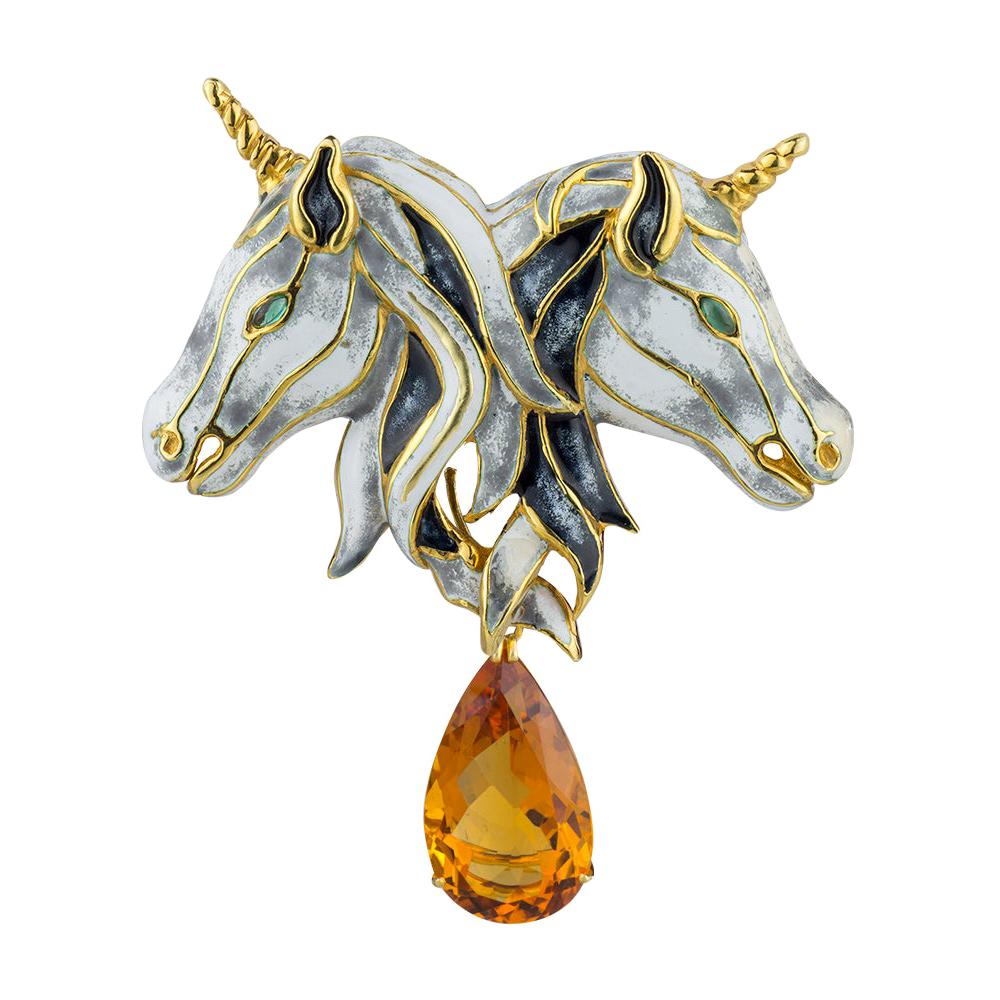 The collection was relaunched to much fanfare in 2012 as Juste un Clou, a French rendition of the original name, and has remained popular ever since.
By 1974, Cipullo had begun to focus on his namesake label even as he continued to blaze new trails. He expanded his portfolio of designs for men and created pieces with playful themes, like pasta — gnocchi, shells, farfalle — while also developing new pieces using the elements that had made his name, such as the screw head.
These jewels are as wearable today as they were generations ago. "His colorful jewelry is bold but still reads as neutral," says Carrie Imberman, of New York City vintage jewelry salon Kentshire. "The pieces have real heft and real presence. I'm looking for pieces that are thoughtfully designed and have intellect behind them, which is what you see with Cipullo."
When he died, at the age of 48, from a double heart attack, Cipullo was only getting started. Nevertheless, he left a profound legacy. "He is known as the creator of the Cartier Love bracelet and the Nail, but there is so much more to his story, and his repertoire was so much broader — his talent and culture so deep," says Becker. "He truly understood his moment in time and how to capture it and translate it through the medium of jewelry."
---
Discover Aldo Cipullo Jewelry on 1stDibs