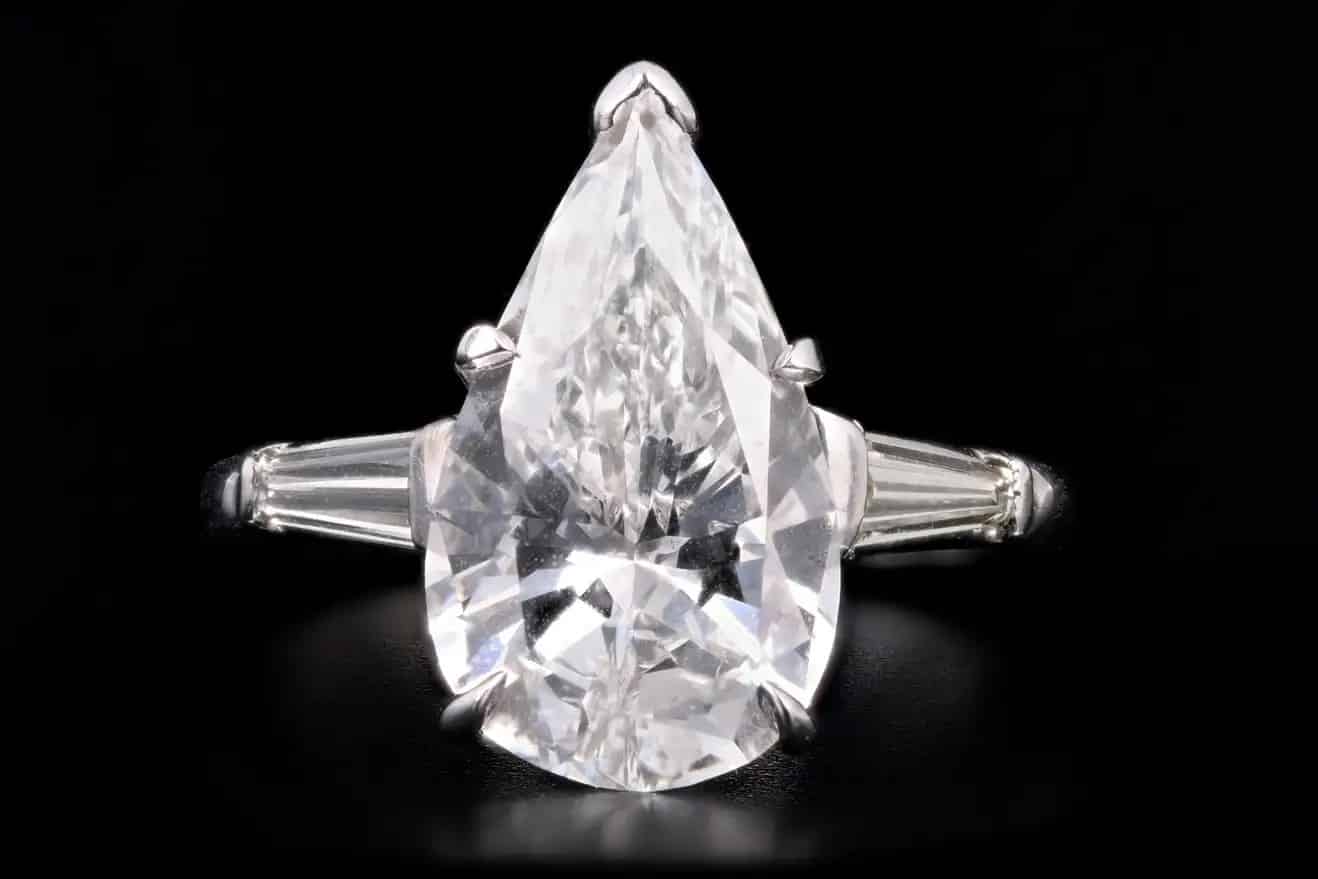 Not only popular among soon-to-be-engaged couples, rings with pear-cut stones are equally admired by jewelry fans looking for fresh alternatives to the myriad designs featuring round brilliant-cut gems. With their unusual shape and variable proportions, pear-cut stones can be used in all sorts of ring styles, catering to almost any preference. And the cut isn't limited to white diamonds; fancy-color diamonds and other vivid gems also look stunning as plump, juicy pears.
Here, we cover what you need to know about pear-shaped rings. In addition, two fine-jewelry experts — Virginia von Nessi, of J. Birnbach, and Mike Izzo, of Peter Suchy Jewelers — answer the most frequently asked questions about this eye-catching style.
---
So What Is a Pear Cut, Exactly?
The cut gets its name from the fact that its shape is similar to that of a pear: round on one end and pointed on the other. It's also referred to as a teardrop, for its resemblance to a shimmering tear.
It was developed in the 15th century by Flemish jeweler Lodewyk van Bercken, who transformed the jewelry industry by inventing a diamond-polishing wheel known as a skeif. Using this device, he was able to cut diamonds with completely symmetrical facets and soon introduced the first pear-cut diamond to the world.
The pear cut is a marriage between the round-brilliant and marquise cuts. The length-to-width ratio can vary, resulting in different shapes appealing to different personal preferences.
The beauty of the pear does come with a trade-off — the narrow, delicate point tends to be vulnerable to chipping. Be sure to choose a setting that surrounds the tip and protects it from damage.
---
Why Pear-Cut Stones Make Good Engagement Rings
Brides with an unconventional sense of style favor engagement rings with pear-cut stones because of their variety and the opportunity they offer for self-expression. Changing the length or width can dramatically change the look of the stone. With a pear-shaped engagement ring, you can rest assured that no other will be exactly the same. That may be one reason why A-listers from Elizabeth Taylor to Victoria Beckham have opted for the statement-making shape. Another reason: Its elongated form complements the finger and has a somewhat slimming effect.
---
Styles of Pear-Shaped Rings
Solitaire
Because pear-cut diamonds are inherently complex, even as a solitaire, they easily hold our attention. No other diamonds needed.
Three Stone
Pear-cut three-stone rings are a jewelry lover's dream. The pear's unique shape offers lots of creative options for pairing it with other cuts — or even more of the same.
Cluster
Cluster rings, composed of multiple stones, make especially great statement pieces when they include pear-cut diamonds of different sizes.
Band
A more subtle way to incorporate pear-cut stones, bands tend to have multiple stones encircling the finger. This style makes for a gorgeous wedding ring.
Cocktail
Gloriously oversize, a cocktail ring provides the perfect setting to highlight a large pear-cut stone, perhaps in a bombe design.
Fashion
Fashion rings are meant for more casual everyday wear. They present a good chance to explore different types of pear-cut stones: sapphires, emeralds, tourmalines and more.
---
A Few of Our Favorite Rings
These charmers demonstrate some of the ways designers have used the shape to maximum effect.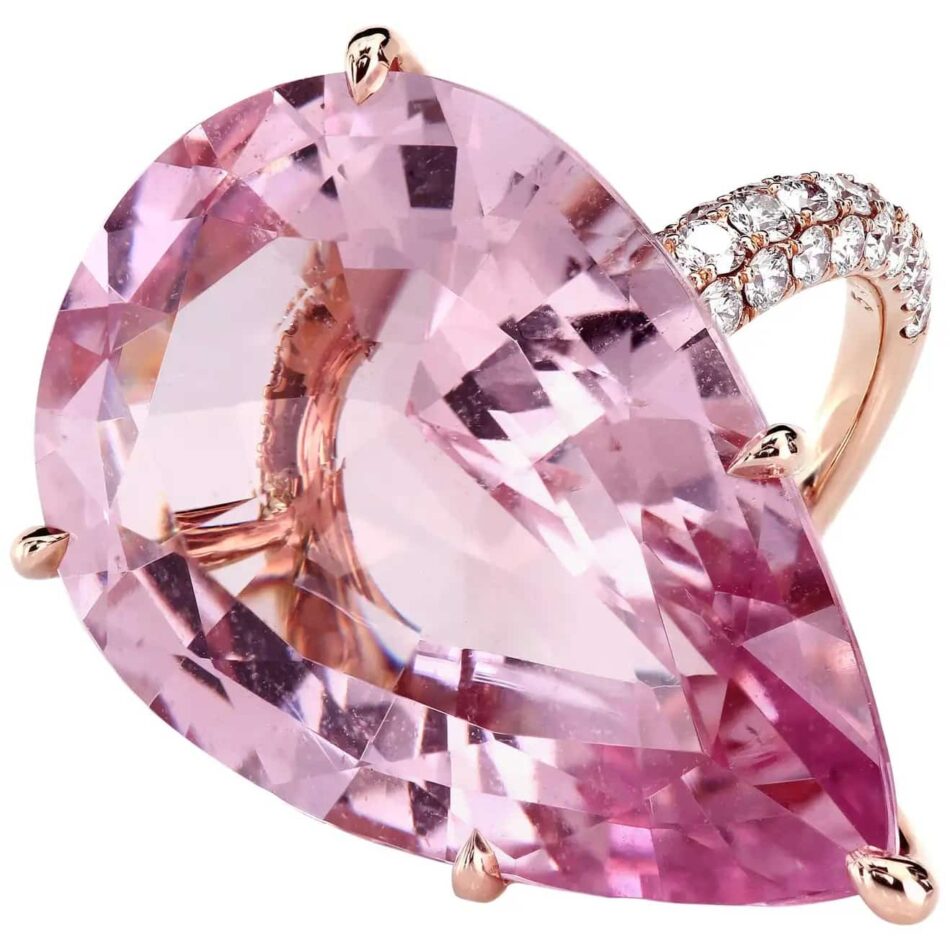 ---
FAQs about Pear-Shaped Rings
Below, our experts answer some of the most common questions about this scintillating style.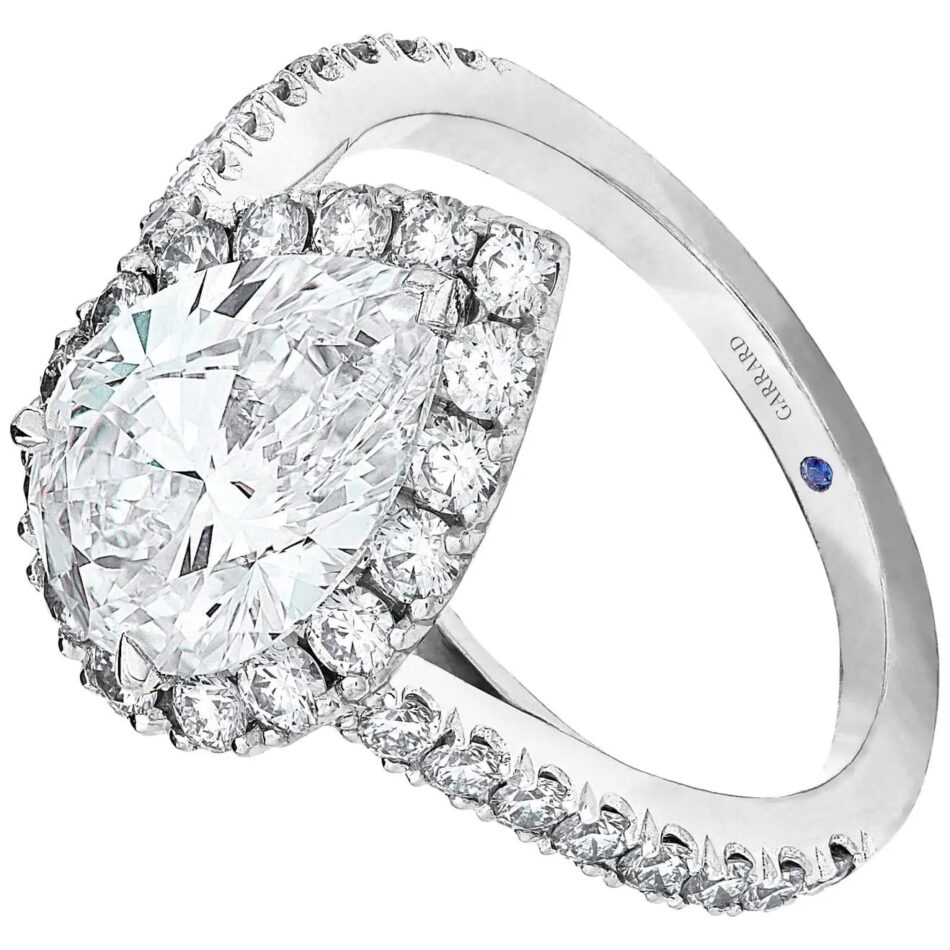 Which way do you wear a pear-shaped ring?
Traditionally, a ring with a pear-cut stone is worn with the tip pointing away from the wearer, to mimic the natural shape of a finger. "However, we have seen some alternative designs in which the pear shape is positioned from east to west [lengthwise], which makes for a great, unique setting," says Izzo, of Peter Suchy Jewelers.
Adds J. Birnbach's von Nessi, "With the rising popularity of the toi-et-moi-style rings, you will often see this shape slightly angled in its setting."
It's also worth noting that different rules apply for different types of jewelry. When a pear-cut gem is worn as a pendant, von Nessi explains, "it is recommended to have the point positioned upwards, so that the necklace lies properly and the pendant will not flip."
Are pear-shaped engagement rings popular?
While not as popular as rings with brilliant-cut stones, pear-shaped rings have become a go-to recently for brides looking for something a bit different. "It's a great alternative to the widely used round diamond," says Izzo.
"As with all diamond shapes, trends come and go," says von Nessi. Pear shapes, she observes, "are experiencing a resurgence in popularity due to big-name celebrities who have rocked this look — like Cardi B, Paris Hilton and Ariana Grande, to name a few."
Do pear-cut diamonds look bigger?
Yes! "Because of the shape and tip, they do tend to look bigger" than their square or round counterparts, says Izzo.
Thanks to its long but narrow profile, a pear-cut diamond creates the illusion of a larger stone, giving you more bang for your buck.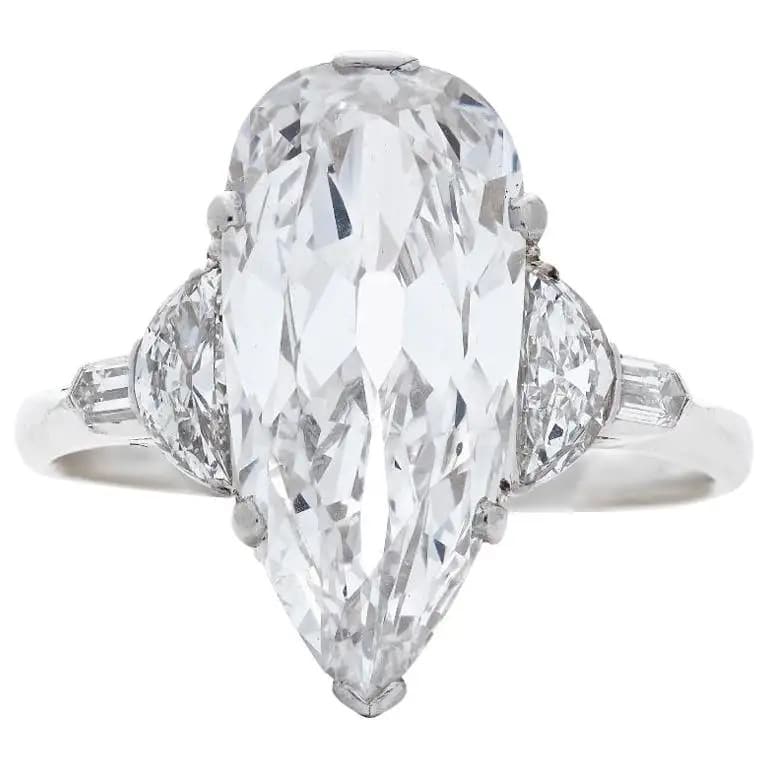 Do pear-cut diamonds sparkle?
"The pear is a modification of the round-brilliant-cut diamond and has a great deal of sparkle," says Izzo.
Are pear-shaped diamonds bad luck?
Although superstition has it that pear-shaped diamonds portend sadness because of their resemblance to teardrops, many people believe they represent tears of joy, like those shed on one's wedding day. According to Izzo, who's sold countless pear-cut stones, if you're considering one, there's nothing to worry about. "No, they're not bad luck," he asserts. "That was an old tale."
In fact, von Nessi argues, "anyone would be lucky to wear this elegant shape as a piece of jewelry!"