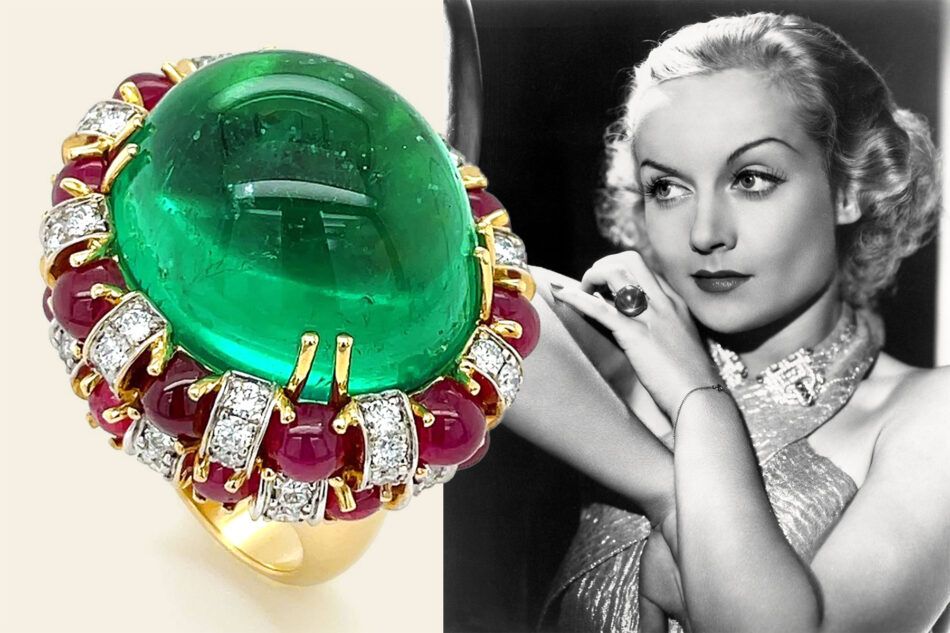 The ongoing popularity of statement jewelry and the desire among vintage enthusiasts for beautifully crafted 20th-century designs have contributed to the return of pieces showcasing bold, juicy cabochon-cut gemstones — on the red carpet, in contemporary design studios, in campaigns by renowned brands and in dealers' collections.
When we talk about cabochons, we can't help but think of the stunning jewels worn during Hollywood's Golden Age. Ladies of the silver screen often wore their own cabochon jewelry in films and worked with such legendary houses as Trabert & Hoeffer-Mauboussin, Cartier, Van Cleef & Arpels and Verdura to create their favorite pieces. The fact that the gems were the actresses' own made them even more coveted by women wanting to emulate their matinee idols.
---
What Is a Cabochon Cut, and Why Is It Desirable?
The word cabochon comes from the French caboche, which translates as "head" or "knob." A cabochon-cut gem is most often an oval or round stone with a flat bottom and a polished dome top. Another much-admired style of cabochon is the sugarloaf, which is shaped more like a high pyramid with a rounded tip.
Softer stones — those that score 7 or lower on the Mohs Hardness Scale — are traditionally cut into cabochons since scratches tend to be less noticeable on a cab's convex surface than on the flat planes of a faceted cut. Emeralds, which register around 7.5 or 8, are commonly cut as cabochons, although the highest-quality examples are often faceted.
Thanks to its depth, a cabochon cut can intensify the hue of a colored stone like an emerald, sapphire or ruby. And it enhances the optical effects seen in some gems, such as the iridescence, or rainbow-like play of color, in opals; the adularescence, or milky glow, of moonstones; the chatoyancy, or cat's-eye effect, of tigereyes; and the asterism, or star-shaped display, in star sapphires and rubies.
Star sapphires and rubies, both hard stones on the Mohs scale, would not display this compelling feature if not cut as cabochons. These rare gems have been treasured throughout history, and their crossed lines are said to represent faith, hope and destiny.
---
Sapphire Sirens
In the 1930s and '40s, cabochon-cut sapphires surged in popularity as icons of the day embraced them. Mary Pickford, America's Sweetheart, had a penchant for exceptional jewels. Her husband, Douglas Fairbanks Sr., gave her perhaps the world's most impressive star sapphire, the Star of Bombay, set in a platinum ring by Trabert & Hoeffer (which later became Trabert & Hoeffer-Mauboussin). When she died, Pickford left the Star of Bombay to the Smithsonian, where it remains today.
The taste for cabochon sapphires spread across Hollywood. Joan Crawford was known to love the gemstone, so much so that the press dubbed her Joan Blue. Crawford's second husband, Franchot Tone, commissioned her favorite jeweler, Raymond Yard, to create a ring with a 70-carat star sapphire for their engagement. However, the most publicized Crawford jewel, also designed by Yard, was a bracelet with three huge star sapphires in a wide platinum Art Deco setting along with diamonds.
Actor William Powell's most notable leading ladies, both on- and off-screen, also wore star sapphires. One woman in Powell's life was Myrna Loy, who acted with him in 14 films, including the Thin Man series. Loy owned an important star sapphire ring, now in the possession of Hollywood jeweler and collector Neil Lane.
Powell gave his second wife, Carole Lombard, a star sapphire ring when they married, in 1931. They divorced in 1933, remaining friends.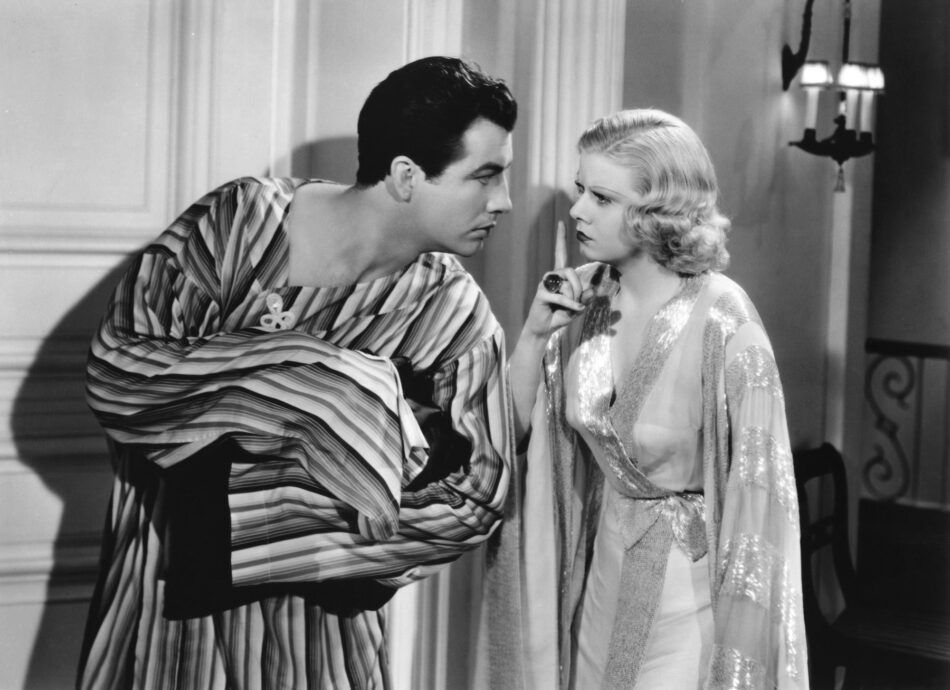 A couple of years later, Powell fell for Jean Harlow. It's rumored that when he first proposed to her, in 1936, with a traditional diamond ring, she accepted the proposal but refused the token, preferring a large star sapphire. Powell honored her wishes and purchased a ring with a 152-carat stone, which Harlow wore on the set of Personal Property and her final film, Saratoga. Tragically, Harlow died of kidney failure in 1937 at the age of 26, and the couple never married.
---
Emerald Enchantress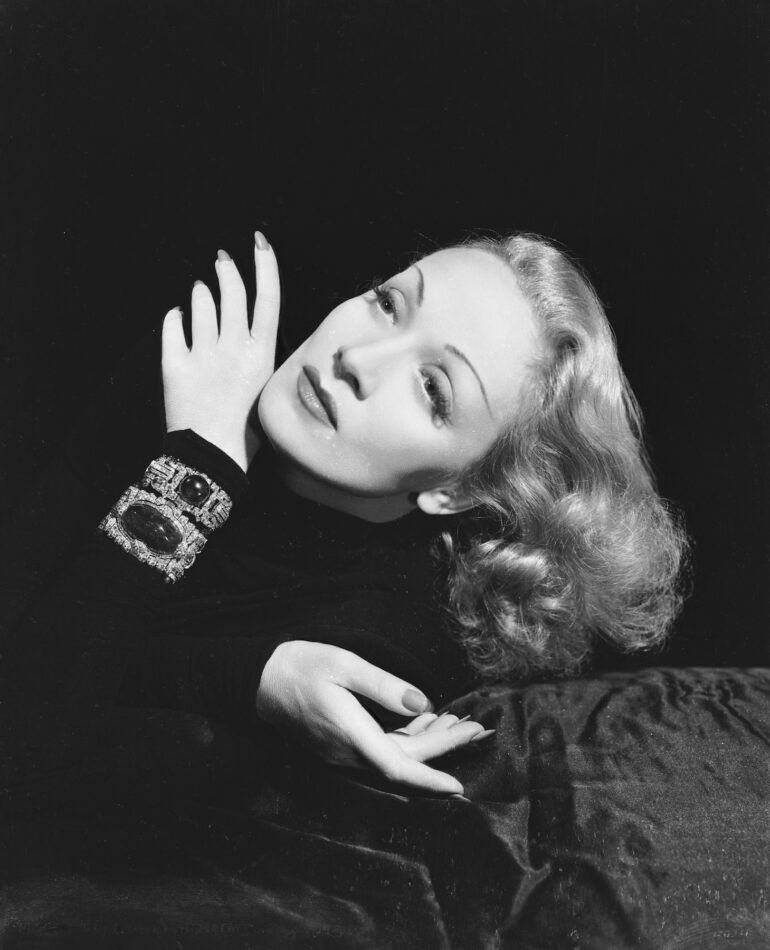 Marlene Dietrich favored cabochon emerald jewelry created by such houses as Paul Flato and Trabert & Hoeffer-Mauboussin. She wore the pieces in press photos, as well as in films like Desire.
One story that circulated around Tinseltown was that during a dinner party hosted by Katharine Cornell, Dietrich took off her 37-carat cabochon-emerald ring while helping to make a cake and later realized that it was missing. The ring was finally discovered during dessert — inside a slice of the cake.
---
Ruby Romantics
Trabert & Hoeffer cofounder William Howard Hoeffer had a large hand in stoking the cabochon craze. He had many actors and actresses as private customers, for whom he created cabochon jewels. In addition, he gained publicity for his firm by loaning jewelry to film productions.
Hoeffer's passion for rubies led him to purchase the Star of Burma, an 83-carat cabochon-cut star ruby, which soon had a film role of its own. The title sequence of the musical comedy Vogues of 1938 features a gloved arm wearing the Star of Burma set in a platinum and diamond bracelet. The movie was shot in Technicolor, making it the perfect vehicle to promote such a vividly colored gem.
Cabochons continued to be popular into the 1950s. Images from Grace Kelly's 1956 wedding to Prince Rainier of Monaco show her wearing a Cartier tiara with three detachable floral clips sporting ruby cabochons surrounded by diamonds and set in platinum. She wore the clips as brooches together and separately throughout her life.
---
Enduring Appeal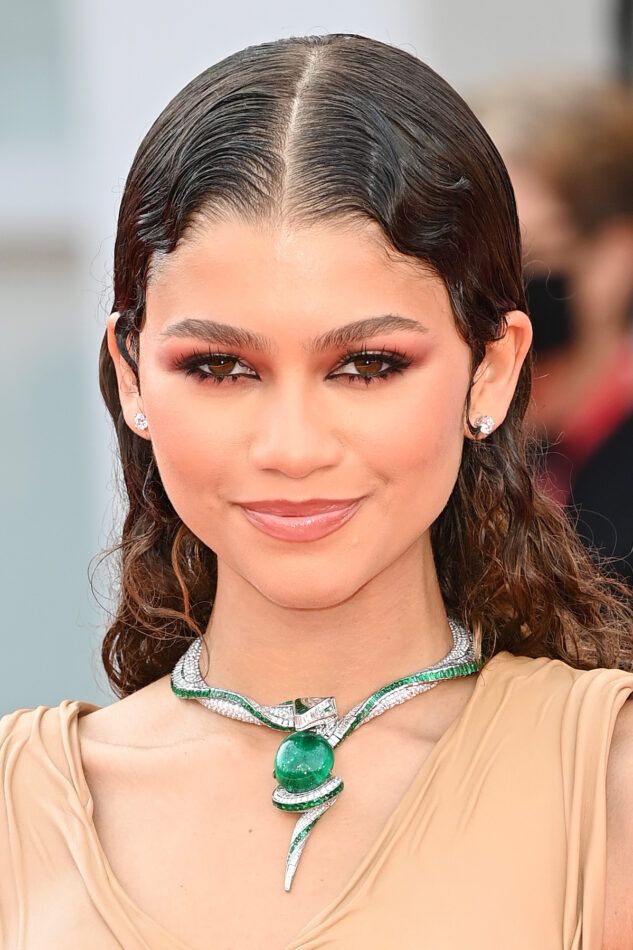 Fast-forward to today, and cabochons are back, conveying all the glamour of the past. One spectacular red-carpet example is the Bulgari necklace worn by Zendaya at the Venice Film Festival premiere of Dune in 2021. The mesmerizing piece features a 93-carat cabochon-cut emerald held by a serpent, a signature Bulgari motif. Like the rest of the star's look, it has a contemporary edge but nods to the allure of Old Hollywood, proving that the era's cinematic style and cabochon gems are every bit as captivating today as they were then.