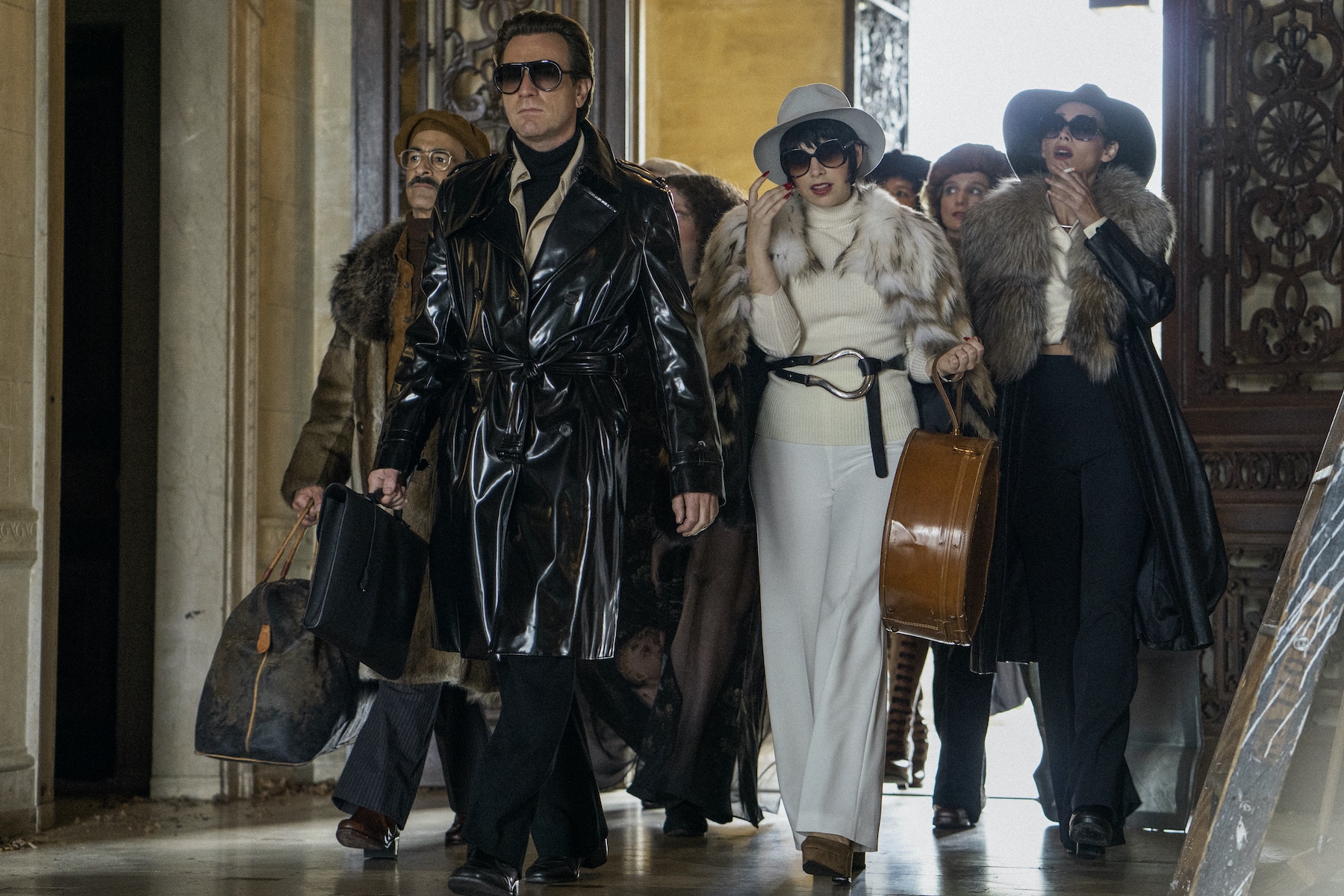 In the opening sequence of the new Netflix drama Halston, we see the titular character as a child, crafting a feathered hat for his mother. It's a reminder that this small-town boy from Indiana, whose full name was Roy Halston Frowick, first found fame as a milliner, dressing the heads of high-society ladies before venturing into ready-to-wear, whereupon he sealed his fate as America's first superstar designer.
Most notably, Halston created First Lady Jacqueline Kennedy's signature pillbox hat for her husband's inauguration, in 1961. As hairstyles became more experimental, hats fell out of favor, prompting the free-spirited innovator to turn his hand to dressmaking at the start of the '70s.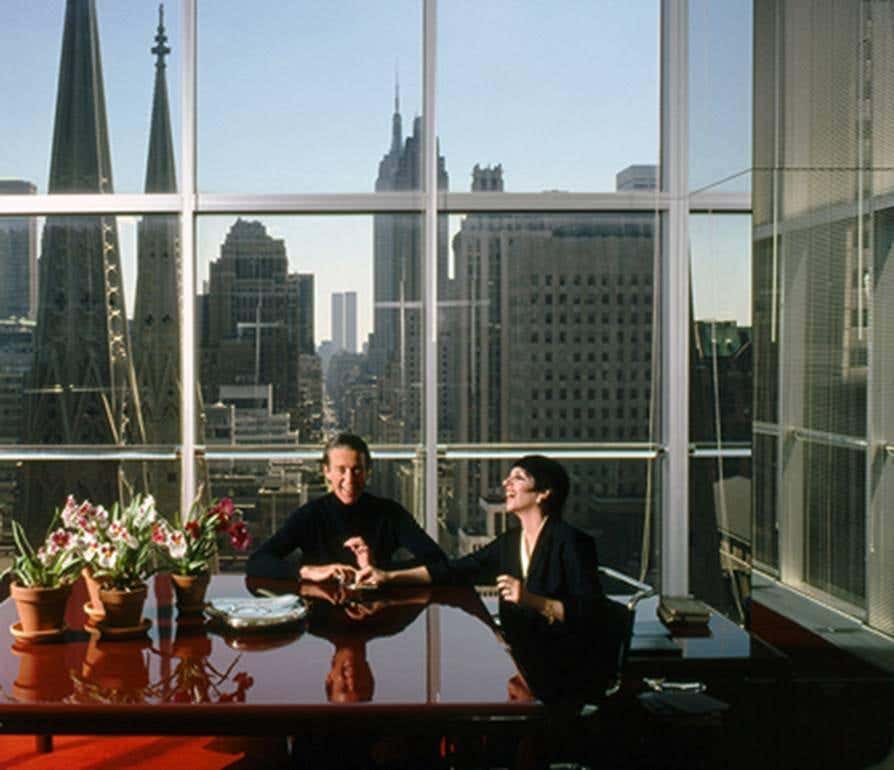 It's at this decisive turning point in his career that the narrative thread of the five-part biopic truly begins, with Ewan McGregor brilliantly cast as the sharp-witted, cigarette-puffing Halston, invariably dressed in a black turtleneck with signature dark shades and armed with a steadfast determination to revolutionize American style with his sleek sense of glamour.
As we discover, Halston pursues his dream with the fervor of a man way ahead of his time, creating fluid silhouettes and chic everyday staples crafted from luxury fabrics and noted for the subtlety of their lines. These are manifested in uncluttered, elegant and form-flattering gowns and slip-on separates made for the modern woman.
"The clothes reflect the mood of the era — the fashion galaxy that surrounded Halston, as well as the designer himself as a three-dimensional character with his own complex personality," says Jeriana San Juan, the show's costume designer, who brings to life the repertoire of a man widely recognized as the creator of luxury American fashion.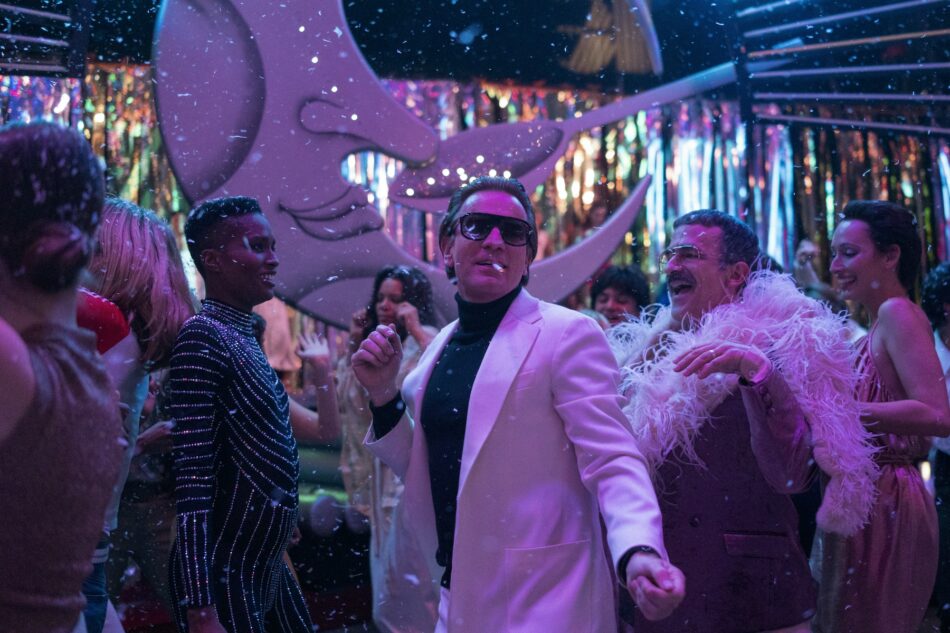 His legacy is star-spangled to say the least. Halston's name is intimately linked to the disco era of the 1970s and the heady excesses of Studio 54. He was a regular at the legendary Manhattan club, where he was often photographed surrounded by friends and faithful fans, including Andy Warhol, Bianca Jagger, Elizabeth Taylor, Cher and his family of Halstonettes, the affectionate sobriquet given his coterie of glamorous muses, among them Pat Cleveland, Anjelica Huston and Elsa Peretti.
The last (played by the actress Rebecca Dayan) has a pivotal role in the Netflix series, alongside Liza Minnelli, the designer's lifelong supporter and confidante (portrayed by Krysta Rodriguez).
"Elsa and Liza are his constant companions, and they are always dressed in his designs," explains San Juan. "So, I wanted their costumes to reflect Halston's many collections according to the script's time frame, which runs from the early '70s until his tragic death, in 1990."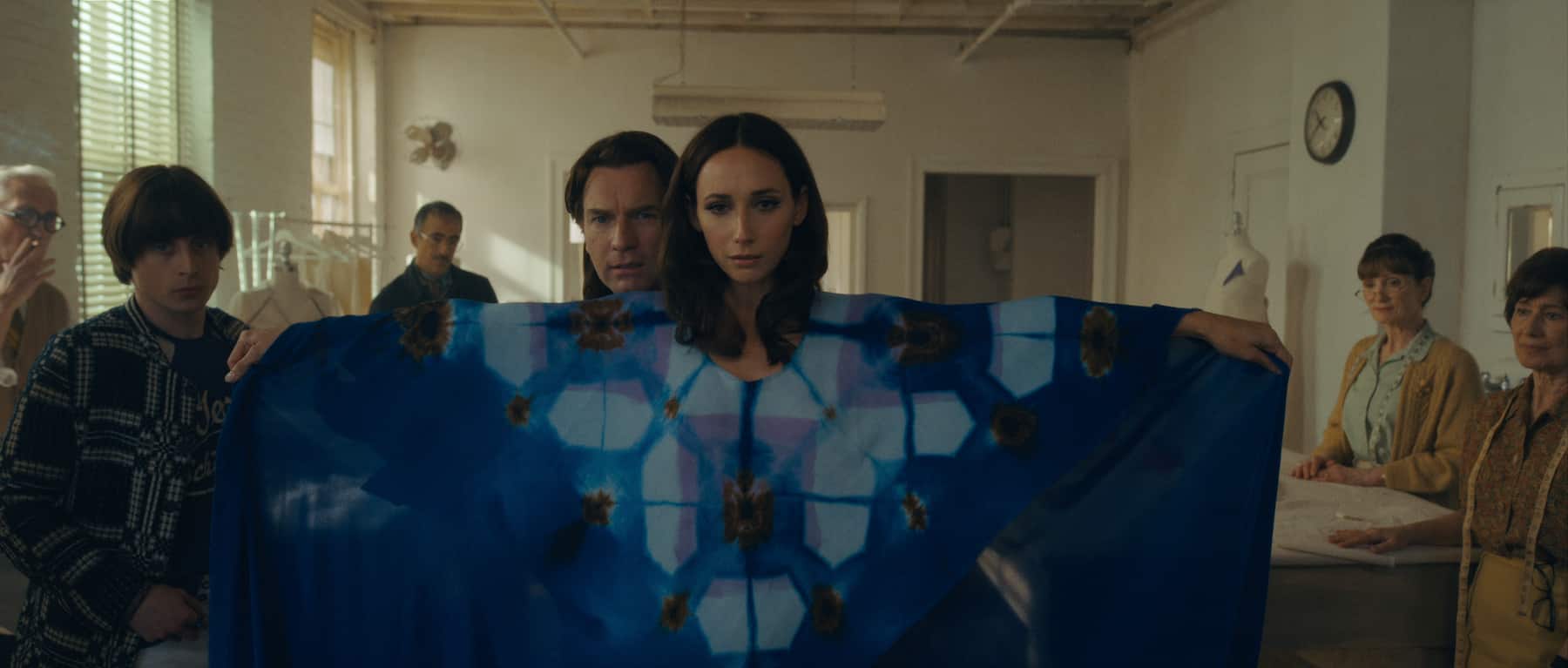 Her wardrobe selection is a tour de force, showcasing the icons of his oeuvre — among them, long chiffon dresses intricately cut on the bias, bright diaphanous caftans and his famous Ultrasuede shirtdresses, which ushered in versatile "day-to-night" outfits.
"He would often throw the fabric onto the floor, cut it along the bias and suddenly make a dress. Before you knew it, there you were, moving in it!" recalls original Halstonette Pat Cleveland. A trailblazer in her own right, providing a precedent for a generation of mixed-race models, Cleveland has cherished memories of the designer, whom she describes as "a true gentleman with a big heart."
Most of all, she remembers his mischievous side: "We had this game where he would tell me to pivot, now turn, and I would turn as many times as I could. That would make him laugh. 'That girl can turn on a dime!' Halston would say to his lunching clients."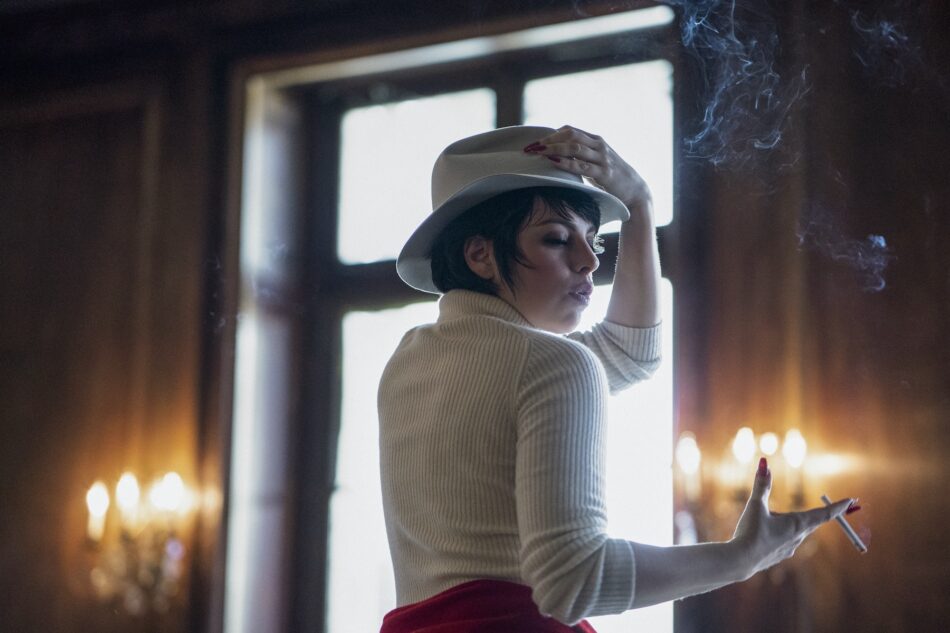 In the series, Minnelli's wardrobe is particularly telling of her close relationship with the designer. "It's hard not to get super-geeky when you are researching Liza Minnelli, because there is so much great fashion to explore!" the costumer says, laughing.
"What I wanted to highlight was the confidence Halston gave her," she continues. "In the '60s, her style skewed toward a youthful, babydoll look. But she is completely transformed when she meets the designer. Thanks to his styling, you really get the sense she was turned from a girl to a woman and allowed to blossom as an entertainer in her own right and not just as Judy Garland's daughter."
The clothes, explains San Juan, not only provide cultural context but have been carefully curated to match the narrative of the story as it explores the layered and often troubled side of Halston's personality along with his creative genius. A particular color or fabric cut reflects his creative mood and makes a scene resonate emotionally.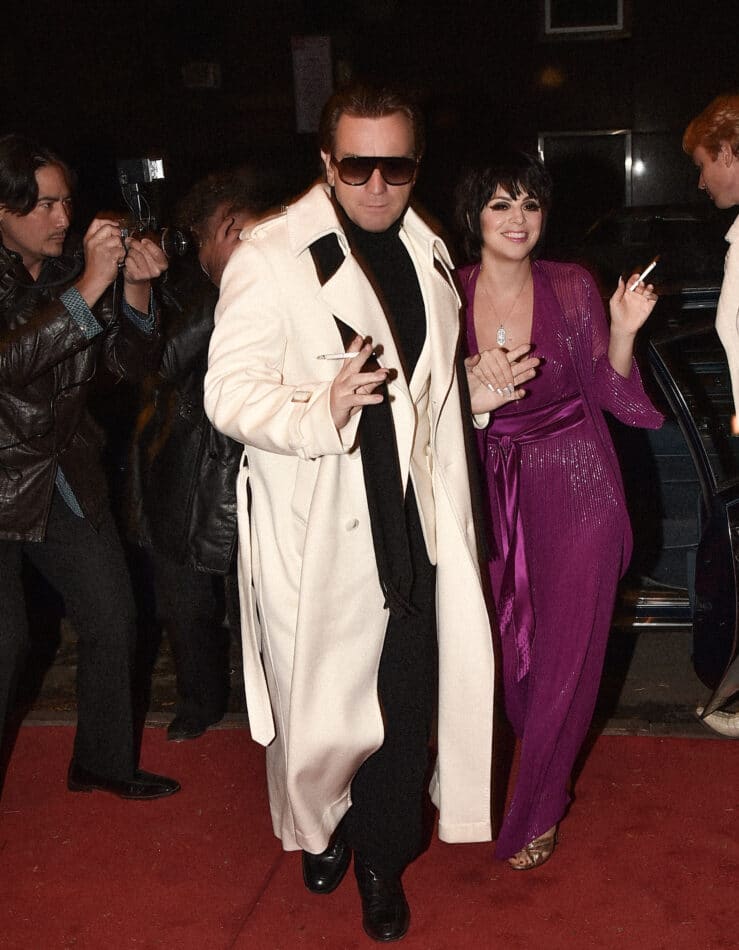 "I wanted to deliver all of the glitz and glamour that people will be looking for in those Studio 54 scenes while staying as authentic as possible," she says, "to show the nuances of his vision, to lay some diamonds in there for the devoted fans of his work."
San Juan calls one such diamond her "anchor" piece, an original Halston sourced from 1stDibs. This became the centerpiece of her looks for the show's cinematic re-creation of the Battle of Versailles, a fashion fundraiser held in 1973 that pitted the French designers Yves Saint Laurent, Hubert de Givenchy, Pierre Cardin, Emanuel Ungaro and Dior's Marc Bohan against the Americans Anne Klein, Stephen Burrows, Oscar de la Renta, Bill Blass and Halston.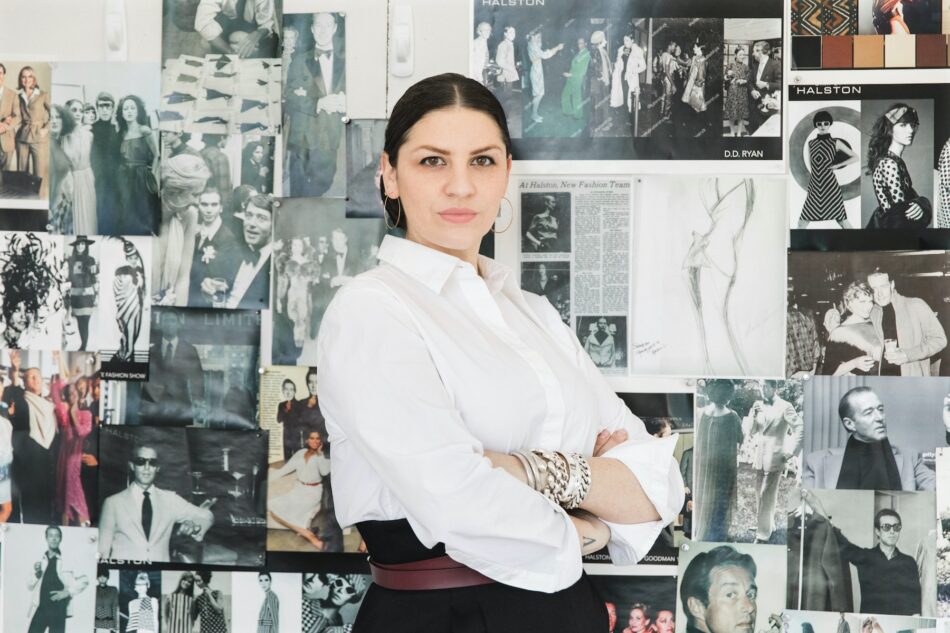 "Researching Halston's Versailles collection, I was instantly drawn to a beautiful one-shouldered silk stripe dress. When I found a similar version on 1stDibs, created around the same time, I decided it should be that scene's focal point. It is a caftan shape with painted silk stripes and clear sequins, cast in the most mesmerizing shades of aqua blue with shots of purple. I designed the Halston dresses that you see [during his slot of] the legendary Paris event based on the amazing color palette of this '70s find."
Vintage Chanel classics (also via 1stDibs) appear on the colorful character Eleanor Lambert, the tough-talking American fashion publicist who engineered the Versailles competition.
"There are very few pictures of her, but she helped shape the industry from behind the scenes," notes San Juan. "One image shows her in a dark bouclé suit and a little fur hat. That's the look I went for — effortlessly chic Chanel wool suits, which I sourced online, accessorized with vintage Chanel brooches and necklaces."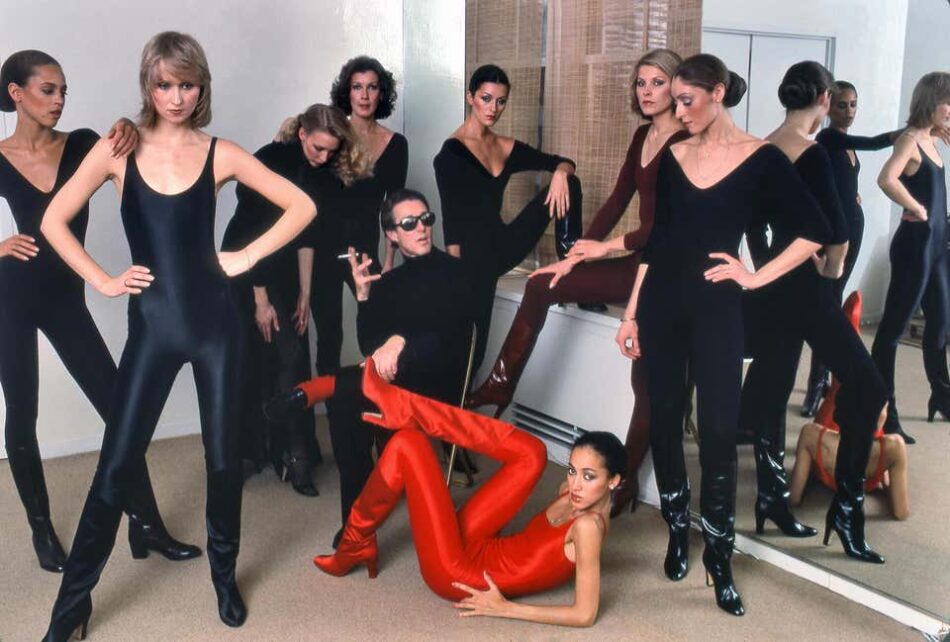 If she had to pick a favorite outfit from the series, San Juan says it would be one she designed for Dayan as Elsa Peretti, inspired by a photograph of Pat Cleveland taken in Halston's all-red office in Olympic Tower on New York's Fifth Avenue.
"Pat is wearing this red knit bodysuit with a pair of leather boots and a great poncho," she explains. "It's so gorgeous because it perfectly encapsulates an ease of dressing that goes hand in hand with Halston's style of the late '70s and early '80s."
Cleveland, too, shares her favorite look: "I loved the hundreds of delicate layers [that Halston crafted] for my Versailles chiffon dress. I told him I felt like a moth flying to the light, and he said, 'You are my moth, fly to the light.' He loved that, but really he was the one flying to the light. Halston brought a spark of the divine to everything he did."