February 13, 2022As architect-client relationships go, that of Fairfax & Sammons founders Anne Fairfax and Richard Sammons with homeowners Betsy and Paul Shiverick is an unqualified success. The architects have designed four houses for the Shivericks: three in Palm Beach and one in Connecticut, where the couple spends part of the year. And Betsy Shiverick, an interior designer, has created elegant, original interiors for each one.
The fourth house proved a bit of an anomaly in the collaboration's history — not because it was any less successful but because, in contrast to the entirely new houses the architects had previously built for the couple, this was a virtual ruin the Shivericks felt drawn to resurrect.
It seems unimaginable that a landmarked Spanish-style house in Palm Beach designed in 1924 by Marion Sims Wyeth — the architect of Marjorie Merriweather Post's Mar-a-Lago and Doris Duke's Shangri La — could have sat empty and deteriorating for four years, but it had, until the Shivericks bought it at auction in 2018.
As Betsy Shiverick recalls, "We kept driving by it. The house was in terrible shape, but it's such a noble, iconic treasure." And she had no doubt that Fairfax & Sammons — equally adept at classical-style new designs and sensitive updates to historic properties — was the right choice to undertake the project.
"Their level of detail is the highest of any architects I've seen," Shiverick says of the firm.
Sammons, in turn, praises Shiverick, who is the chairwoman of the Preservation Foundation of Palm Beach, for her devotion to the cause. "Betsy is making preservation cool," he says.
After demolishing a not-needed servants' wing that had been added in the 1980s and restoring the exterior and the interior of what remained of the original house — including the entry, stair hall, living room, two bedrooms and a tower that became Shiverick's office — the architects created a new family room, kitchen (with a breakfast terrace) and two more bedrooms, plus a bunk room. Throughout the house, they used original materials, both in restoring the old interiors and in crafting the new rooms. "Every material is a real material — plaster, tile, wood stone or metal," Sammons says.
They also created a pool and a tiled courtyard meant for entertaining. "Courtyard living is important in Palm Beach," Sammons explains. "You live outdoors."
In the courtyard, the architects designed a graceful wrought-iron dining pavilion, which Shiverick decorated with a wraparound pink banquette and oval mirrors that, she notes, "look like portholes."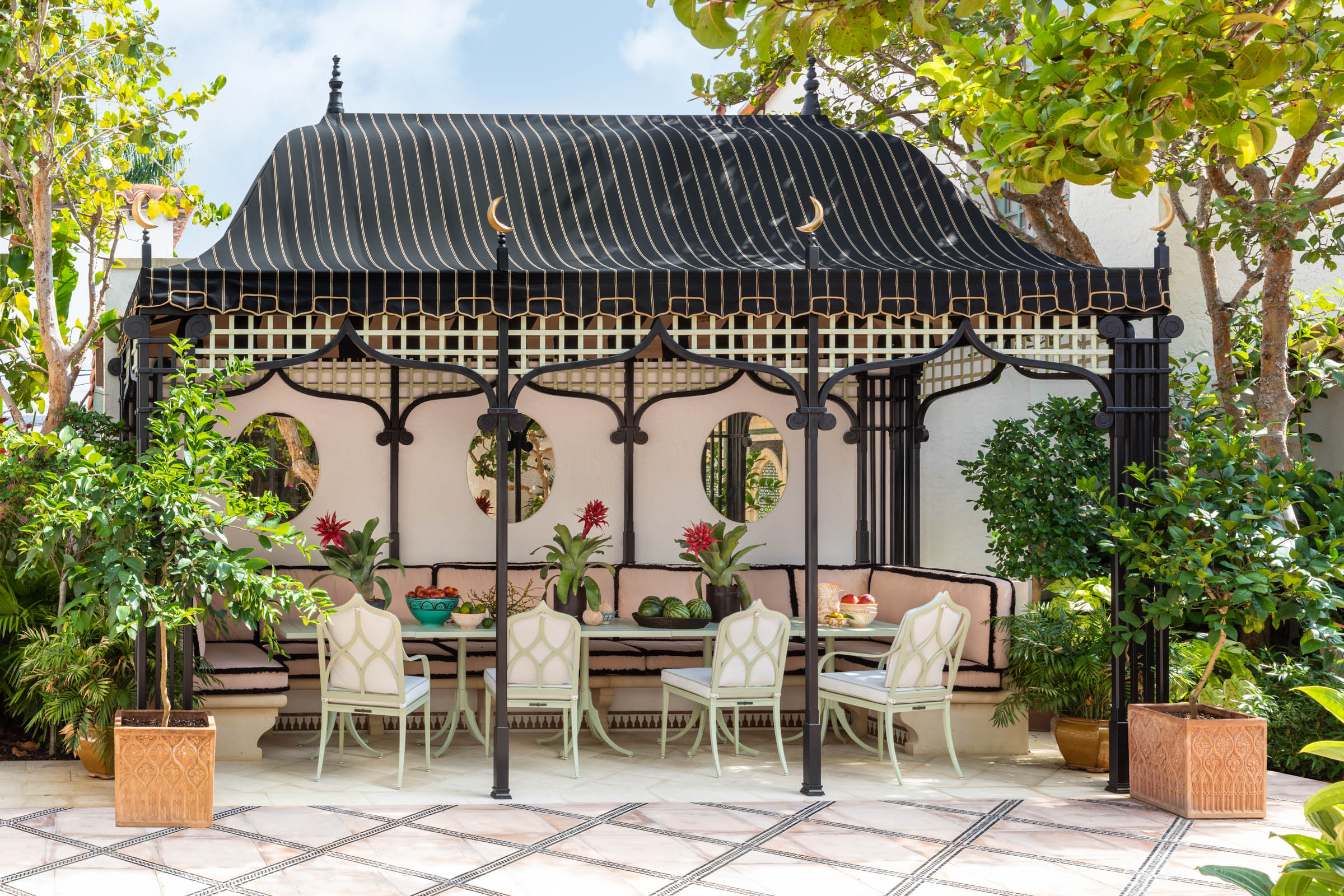 Shiverick's designs are warm and textured, both elegant and relaxed. They exemplify her mode of working, which she characterizes as "not so much decorating as collecting. I have a maximalist approach to rooms, with color, pattern, books and knickknacks — things that speak to you."
She also admires the work of legendary designer Tony Duquette, particularly his skillful use of layering to make a house "very personal, curated and comfortable."
The front door sports a whimsical doorbell featuring a male figure who pulls the bell's chain, which Fairfax found at a local auction. ("Palm Beach has all these fabulous curiosities," she says.) The door opens to a vaulted entry hall with its original brown hexagonal-tile floors and wrought-iron ceiling light.
Beyond is the stair hall, where the architects restored the original wooden beams and added three pairs of glass and stainless-steel doors set into an ivy-covered plaster wall. This space, as well as the family room and the library, which is paneled in pecky cypress, open onto the courtyard.
To the right, a mirrored wall reflects the stairwell and a mural of a Florida waterscape, complete with 10 different native birds, created by Eric Beare, a well-known muralist and decorative painter. The stairs lead to the second floor and then to the tower containing Shiverick's office.
In the living room, which retains its original fireplace and black Cuban tile floor, Shiverick painted the space a deep emerald green and added an antique Swedish chandelier, two Chinese ancestor paintings and two reproduction English tub chairs that she bought at auction and slipcovered in a colorful floral fabric.
A pair of small, armless sofas sit at right angles to each other, separated by a 19th-century oak barley-twist table from English Accent Antiques. Behind one of the sofas, two white chinoiserie mirrors from Berkshire Home & Antiques flank a door that opens out to the pool terrace.
For the family room, adorned with hand-painted fern murals by Beare, Shiverick found a large, vintage cabinet and had the inside finished with a Tiffany blue and the exterior painted black. She then turned it into a tropical-inflected Wunderkammer, filling it with sundry curiosities, including shells, fan coral, silver pieces, a ceramic parrot — even an alligator skull.
Off the family room, a spacious modern kitchen opens onto a breakfast terrace with a wrought-iron canopy frame made by Eric Velleca, a North Carolina ironworker. A lantern-style light fixture hangs from the canopy above a contemporary table and chairs by Brown Jordan. (Mario Nievera, of Nievera Williams, designed the lush landscape.)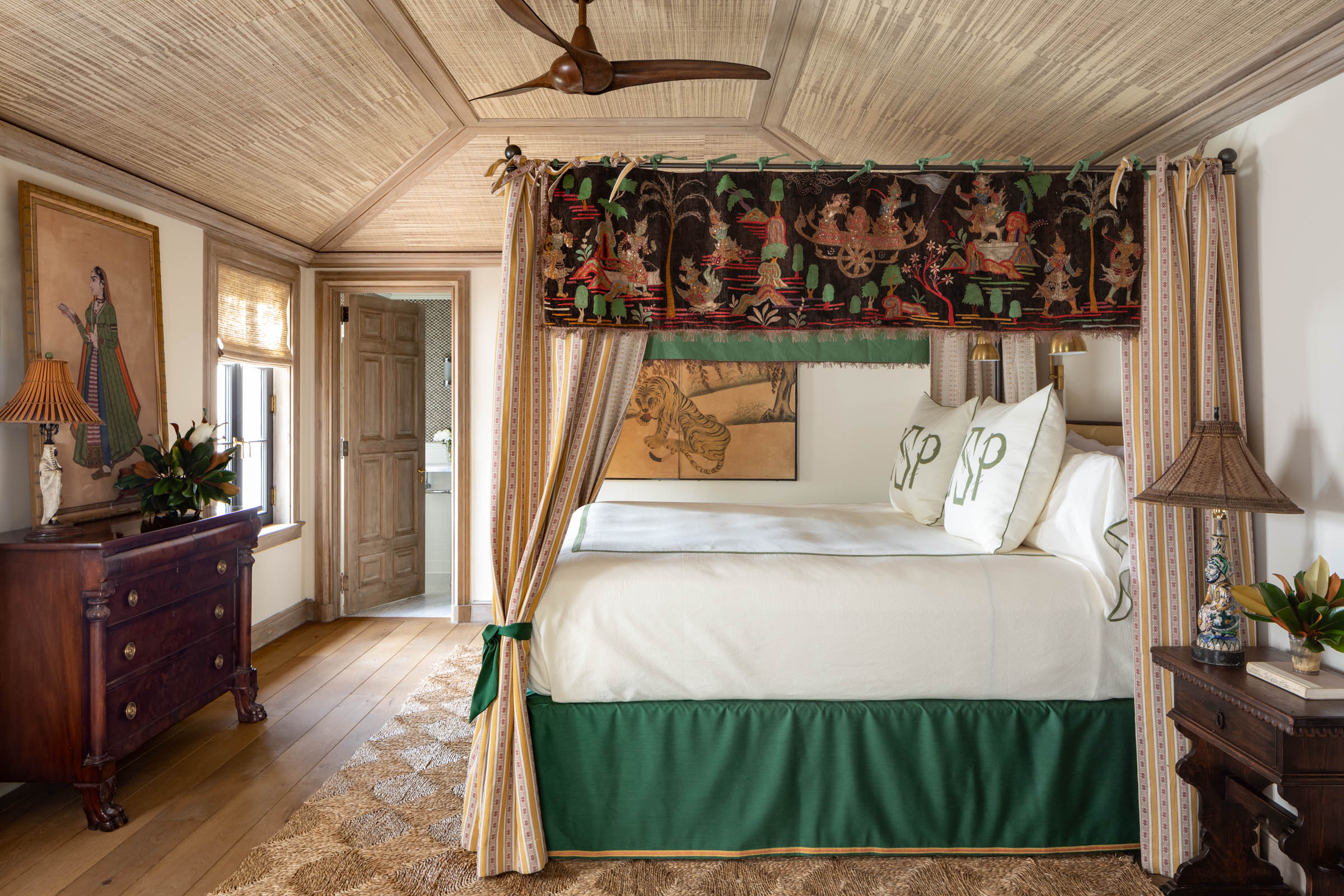 Upstairs, the three guest bedrooms feature grasscloth-covered ceilings and such atmospheric touches as an Indian portrait painting, a print of a large red bird and an antique Thai embroidered-silk banner used as a bed hanging. A fourth, awkwardly narrow space was turned into a bunk room for the Shivericks' four grandsons, the adjacent bathroom outfitted with framed photos of fish and birds hung on a patterned wallpaper.
In the colorfully tranquil main bedroom — whose balcony overlooks the courtyard — Shiverick collaborated on the design of the headboard with artist Charlene Beaudet, who also made a bamboo backgammon table with a colorful board for the library.
The two selected a fabric whose charming, stylized bouquets match those of the room's wallpaper by Lee Jofa. The blue Japanese bedside lamps are from Duo Decorative Arts & Antiques, and Shiverick herself designed the blue-and-white-striped cotton Turkish rug.
Sammons notes that homes like this embody their original residents' idea of Palm Beach as a place of escape and exoticism.
"These are houses that their owners would never have built in, say, Schenectady," he quips.
"Everyone who lives around here was very glad about what we did," Shiverick concludes. "We saved a house, and we revitalized it."