Interior designer Joe Nahem's own Hamptons home radiates warmth. Natural materials are used throughout the oceanfront cedar-shake-clad home, in the town of Amagansett: whitewashed knotty pine for the ceilings, mahogany for the windows and doors and reclaimed limestone and oak for the floors. And each of the relaxed, eclectic rooms — created with the help of Steve Chrostowski, of Alveary Architecture — is filled with "things we love," says Nahem. These include contemporary artworks by Walton Ford, Hernan Bas, George Condo, Massimo Vitali and Tal R, as well as such covetable mid-century modern pieces as a Frits Henningsen wingback chair, a George Nakashima coffee table and Milo Baughman tub chairs.
The Manhattan-based Nahem and his partner, Jeffrey Fields, often rent out this beach retreat for short periods to an A-list roster of tenants, some of whom have been inspired to later commission Nahem's interiors firm, Fox-Nahem Associates, for their own homes. Among these are Robert Downey Jr. and his wife, Susan, who vacationed there a few years ago and then hired the designer to do two of their abodes on opposite coasts.
For the couple's 1885 shingle-style Edward DeRose Windmill Cottage, in East Hampton, Nahem created a series of high-impact rooms filled with customized embellishments. These included of-the-moment graphic works by Pascó The Great, Stan Ynry and graffiti artists Osgemeos, as well as a ceramic fireplace surround created by craftsman Peter Lane. The finished project landed on the December cover of Architectural Digest (which has also named the firm to its prestigious AD100 list of top designers). For their domed, cast-concrete house in Malibu, meanwhile, he mined an organic vein of contemporary design, incorporating sculptural pieces like a hanging woven nest chair by South African creator Porky Hefer. According to Nahem, the lack of right angles in the house made it difficult to display two-dimensional artwork, so incorporating a piece like Hefer's was the way to go.
In his introduction to the new monograph Fox-Nahem: The Design Vision of Joe Nahem (Abrams), Downey describes Nahem's playful process as consisting of "Jedi mind tricks, smirks, frowns, eye-rolls, or impassioned pleas" and praises his unique ability to play "with new materials, shapes, colors, and textiles, while exhaustively cultivating relationships with emerging artisans." These are the tools Nahem uses to create homes as stylish as they are personal.
Nahem, who grew up in Brooklyn, began his working life in his family's ladies shoe business. At the age of 19, however, he met Tom Fox, who convinced the young Nahem to join him at Parsons School of Design, where he was studying. While taking classes in environmental design, Nahem discovered that he and Fox shared a talent for interiors, and the two developed a close rapport. They launched Fox-Nahem in 1980, before Nahem had even graduated. (The two were romantically involved for a brief time but decided their partnership was best suited to business.)
Their first project — the renovation of a two-family 1930s stucco house in Brooklyn that they turned into a single dwelling for some of Nahem's relatives — was published in 1980 in the New York Times. The author of that piece, the noted design writer and publisher Suzanne Slesin, says today: "I was most taken by the way problem solving was the priority in the company's approach to renovation, but also how Joey Nahem knew that a bit of glitz" would set the work apart. "Spectacular but not too way out" is how Nahem himself described the project in the Times.
After the story ran, clients came calling, including a couple who had purchased a 1962 one-story glass, concrete and brick residence that architect Richard Meier had built for his parents in Essex Fells, New Jersey. The new owners enlisted the young design duo to create contemporary interiors that wouldn't compete with the clean lines of their modernist house. Fox and Nahem designed a channel-quilted canvas cover for the sofa, for example, along with silk-velvet cushions, thus providing the home with comfort and soft textures without detracting from its architectural core.
Over the course of the next two decades, the studio evolved into a commercially viable practice, with several of its projects appearing on the covers of major shelter magazines. But in 2003, just as the pair were enjoying the fruits of their labor, Fox died in a plane crash. Although devastated, Nahem continued the practice, with Fields now in the role of creative director.
"Tom's influence still impacts our work and design sensibility," Nahem says, citing Fox's careful editing and impeccable restraint, two qualities in evidence in Fox-Nahem projects today.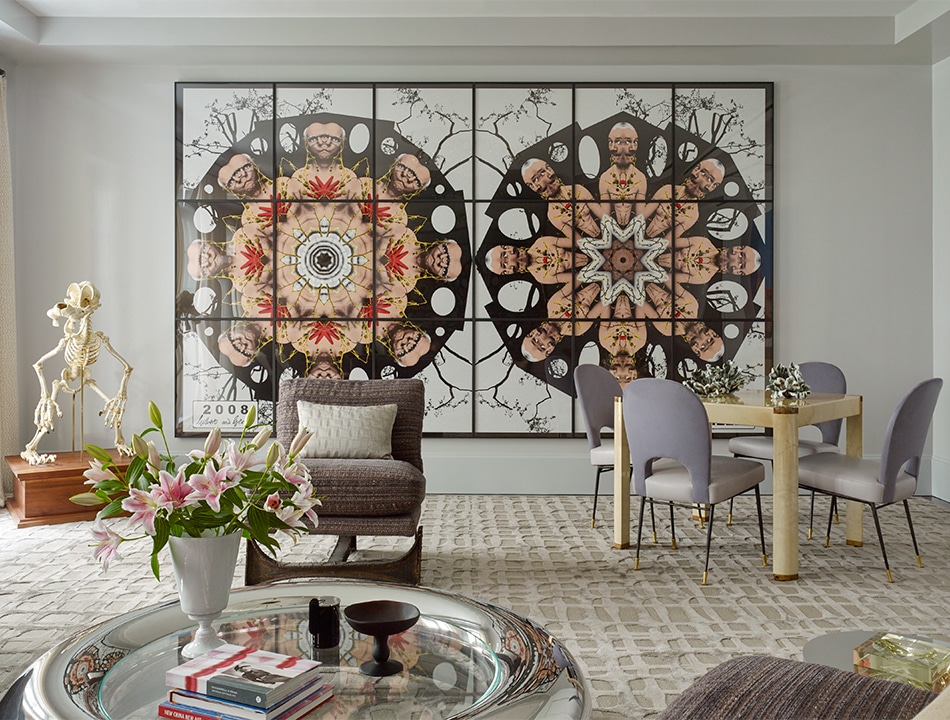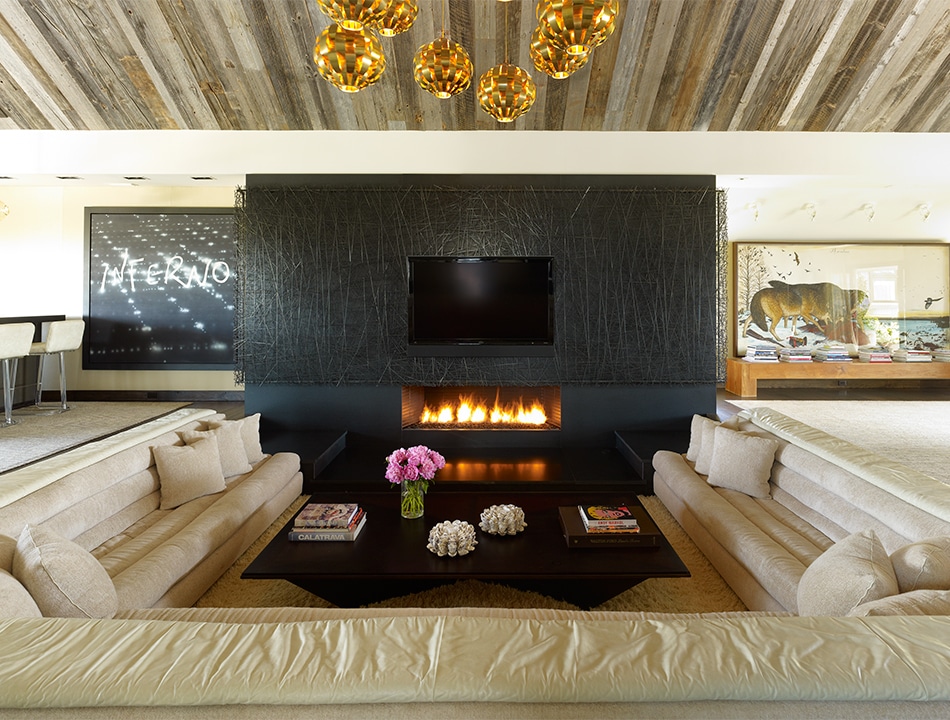 If the firm has a house style, it stems from Nahem's unique ability to seamlessly combine paintings, sculpture and objets d'art with furnishings from various historical periods and stylistic movements. The result is interiors that are neither neutral nor over the top. The new monograph shows this off to great effect, gathering together images of 15 projects from around the country and pairing them with text by design writer Anthony Iannacci.
Nahem claims a client base that encompasses blue-chip collectors, gallerists and art world stars, and the monograph features many of their homes. "Joe has had the amazing good fortune to work with people who are serious collectors of contemporary art — and I mean serious collectors," Iannacci said in a recent interview. (The art gene runs in the family: The designer's brother, Edward Tyler Nahem, operates an eponymous contemporary gallery on New York's 57th Street.) Nahem peppers his refined, one-of-a-kind interiors with key examples of 20th- and 21st-century art by such talents as Damien Hirst, Cindy Sherman, Marilyn Minter and Anish Kapoor.
For a Park Avenue duplex included in the book — the childhood home of Jacqueline Kennedy Onassis, built in 1929 by her grandfather — Nahem included two pieces by Jeff Koons. In the classical foyer, Nahem centered a pair of Koons's iconic polychrome-wood Yorkshire Terriers (1991) on an Italian entry table and installed the artist's New Hoover Deluxe Shampoo Polishers (1980/86) in an acrylic case nearby.
Nahem often commissions pieces from artists and artisans. For a Neo-Grec townhouse on Manhattan's Upper East Side, he tapped ceramic artist Matthew Solomon, whose work he first saw at the New York gallery Maison Gerard, to create a porcelain tracery-inspired ornamental motif for the dining room ceiling. Nahem also worked with gallerist Cristina Grajales to have Jorge Lizarazo, of Hechizoo, weave a custom metallic rug for the hallway and commissioned Los Angeles artist Jorge Pardo to craft a one-of-a-kind oval resin table for the breakfast room. In a West Village townhouse, Nahem paired Paul Evans chairs and a ring coffee table by Mattia Bonetti and Elizabeth Garouste with a custom sofa sporting a sheared-mink trim.
"We're very client-specific," says Nahem, explaining the firm's purposeful lack of a signature look. And despite collaborating with some of the most prominent architects of our time — including Charles Gwathmey, Annabelle Selldorf and Steven Harris — the designer is involved in every step of the process. He insists that — as Downey's foreword suggests — talking yields the best results and developing a relationship with the project architect and the client is key.
"The first thing I say when sitting down face-to-face with an architect is, 'How are we going to make this work?' " Nahem says. "The last thing you want to do is be a mediator between an egotistical architect, a client and a contractor."
Asked to describe how his business has changed over the years, he answers, "People used to come to us looking for specific things. Now our clients come with three thousand Pinterest images that need to be edited."
Not that he's opposed to this new way of working. "I sometimes see things I didn't know about. Some of the best sources of ideas are our clients." They still look to him, however, for inspiration and for decor that is truly unique.
As Iannacci notes, "The type of clients Joe has don't want you to be able to find their dining room table by googling it on the way home from a dinner party."
---
Joe Nahem's 1stdibs Quick Picks