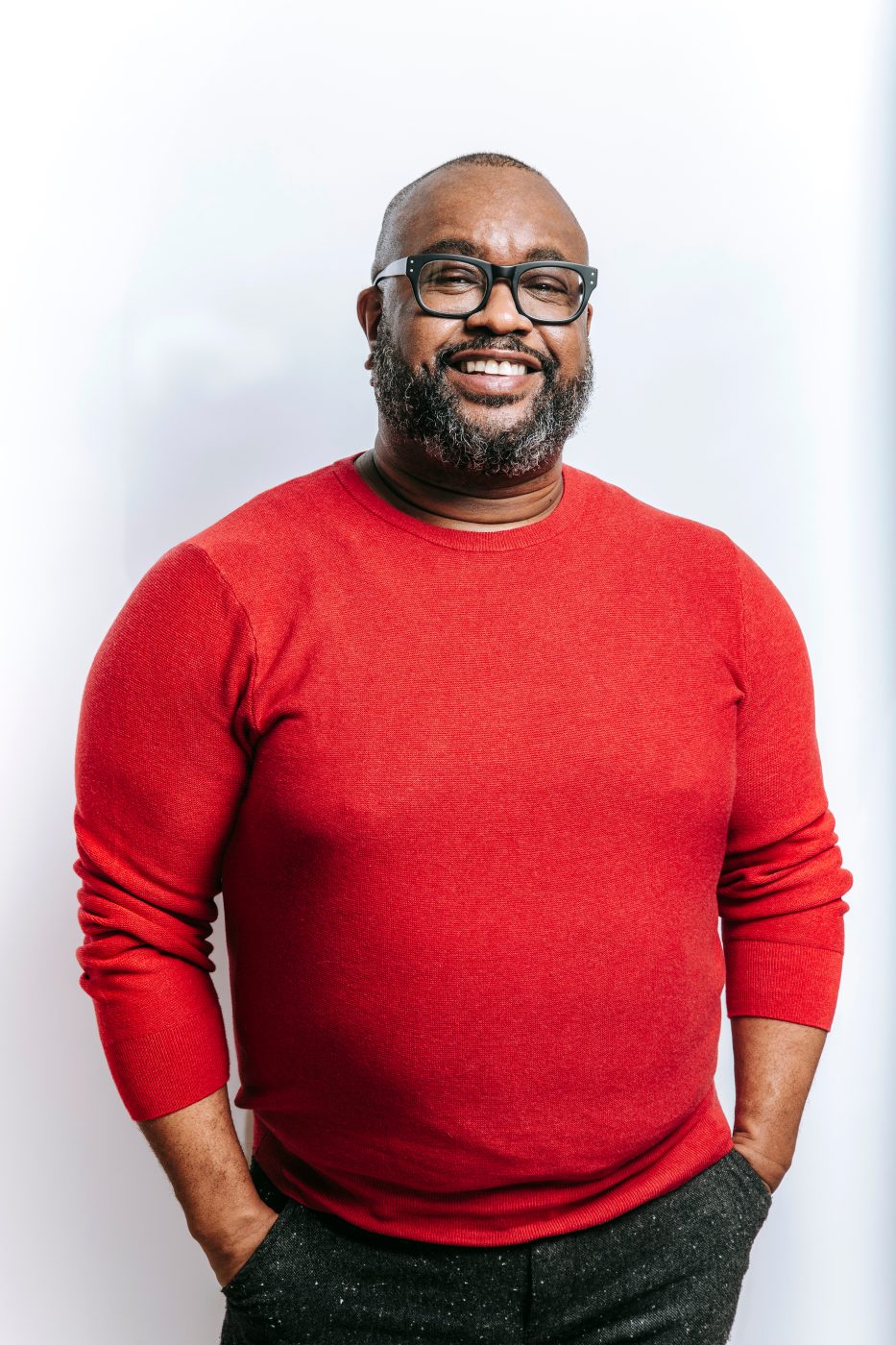 February 27, 2022For Leyden Lewis, art and design were predestined pursuits. The Brooklyn-based architect, interior designer and Parsons School of Design professor and alum didn't stumble into this space. Creating is in his DNA. He inherited the gene from his father, Lionel Joseph Lewis, a furniture refinisher and artist who exposed the young Leyden to musicians, graphic designers, models and dreamers — a passionate community that cultivated his shy and reserved son's calling.
Today, poised and articulate, Leyden Lewis sits at the helm of his own design studio. A multifaceted artist, the 1stDibs 50 honoree has long produced expressive and socially conscious spaces and objects.
In 2004, just a few years after Lewis established his eponymous firm, the Studio Museum in Harlem's Thelma Golden tapped him to participate in "Harlemworld: Metropolis and Metaphor," an architectural analysis of Harlem's complicated identity. For the exhibition, he produced a layered piece consisting of an illustration drawn right on a gallery wall along with a video clip of him creating it. Nuanced and minimal, his composite work popped, earning him recognition as an up-and-comer with a poetic voice.
Since then, he's more than fulfilled the promise seen in his younger self. Earlier this year, he wrapped up an interior design project for the highly anticipated Brooklyn Tower, designed by SHoP Architects. At 1,066 feet, the monumental skyscraper, formed of interlocking hexagons, is the tallest building in the borough.
"My interiors are very painterly," he says of his signature aesthetic. "I can't avoid my education in twentieth-century modernism, which deals with planes, lines and sequence and really considers geometries and surface."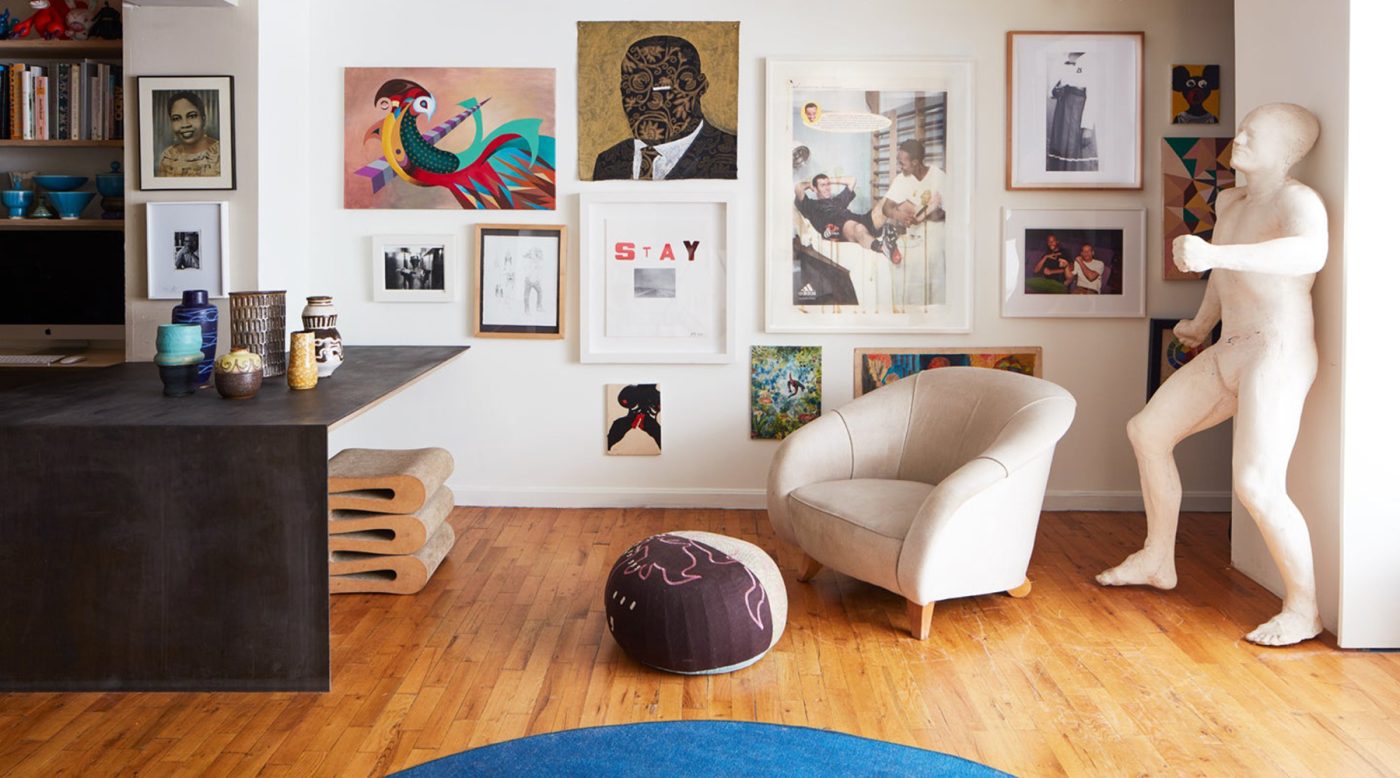 As a child, he recalls, he was always thinking about art. "My father lived an artist's life," says Lewis, who has three brothers and one sister. "I would split my time between his storefront in the East Village and our culturally rich Trinidadian home in Crown Heights, Brooklyn." The household was overseen by his mother, Shirley Angela Lewis, whom he affectionately remembers as a passionate, creative homemaker full of color and laughter.
"Painting, drawing and sketching were a part of my father's daily routine," he continues. "I had to play this thing out."
Illustrious and eventful, Lewis's journey is a testament to his mission. "So many of us are just in the background — like dust on the television," he says. "I've got to show up in a very particular way and let other people who look and sound like me know that we have a voice in this realm. I have to stay in the game. No one knows how much love we have to give and how much we've been able to keep the world this warm and laughing, dancing place because of our very DNA."
Here, Lewis curates a collection of furniture, artworks and objects made by Black and historically marginalized creators he admires.
---
Astral Variant No. 1, by Lisa Hunt
"This piece feels like jewelry, with its luminous materiality, contrasting black and gold, and undulating textural movement," Lewis says of Hunt's decorative wall art, an homage to African American quilt making and traditional West African textile techniques. Hunt, who hails from Rome, New York, now works from her home studio in Maplewood, New Jersey. "Lisa is methodical and curious," Lewis continues. "She plays with the same conceptual ideas that Malevich and Anni Albers were devoted to and does so in a celebratory manner."
---
Rich Mnisi Nwa-Mulamula's Chaise
"I just love this piece!" Lewis exclaims. "The corporeal nature brings what we're really designing for — the body — to the forefront." A tribute to the Capetown, South Africa–based Mnisi's great-great-grandmother and her matriarchal legacy, this sculptural leather chaise marks the designer's quantum leap from fashion to collectible furniture. "Rich's multidisciplinary approach reminds us that self-expression is important in all aspects of our lives," Lewis notes.
---
Marie Burgos Milo Armchair
"I enjoy how the Milo armchair is reminiscent of and refashions the past," Lewis says. "It could be a reimagined tailored smoking chair or a train cabin seat from the nineteen thirties." Burgos, born and raised in Paris, draws inspiration from her family's homeland, Martinique. "Marie loves design, and it comes through in her work. She is a real connoisseur, constantly absorbing and bringing her world experiences back into her pieces."
---
Atang Tshikare Le bone Lebone (Have You Seen the Light) Floor Lamp
"The humor of this piece brings joy to our inner child," Lewis says. The functional art of Capetown-based Tshikare incorporates a variety of materials, including ceramic, fiberglass, wood and bronze. "Sometimes, we think the charge of design is to be serious. This sculpture reminds us that even playfulness can be beautiful."
---
Adore Adorn Gigi Black-Enamel Banded Mother-of-Pearl Ring
"Yay for androgynous jewelry! I would gladly receive this ring as a birthday present," Lewis says of this bold mother-of-pearl design by Adore Adorn's Atlanta-based owner, Sasha Flynn. Like all of Flynn's jewelry, the piece was made in New York City. "Sasha is inspired by her memories. For designers, makers and creators, it's our experiences that make our vision and imagination unique."
---
Idladla (Grain Silo), by Andile Dyalvane
"I love everything Andile creates," Lewis says of the Capetown-based Dyalvane. "This work calls upon the land for its form — clay — and upon the community to come together as individuals to take care of one another and preserve history.
"Andile's pieces transgress history and time — that's part of their brilliance. He mixes the DNA of African craftsmanship with a beautiful modernist approach to create an object that feels like it's part of all of us. He brings us together through a unified ancient culture."
---
Babaza II, by Zanele Muholi
"There is a magnetism that this photograph has over its viewer. I can't look away, nor do I want to," Lewis says of this striking portrait by the South African visual activist and photographer Muholi, who gives visibility and hope to people who are traditionally viewed through the lens of tragedy. "I have so much respect for Zanele's artistry and activism within the LGBTQI+ community and the way that they blend the two into visual activism."
---
Mumbo Jumbo NYC#2, by Francks Deceus
"This work feels like a visual collage of memories, like stepping into the fourth dimension," Lewis says of this mixed-media piece by Brooklyn-based Deceus, who combines abstract and layered elements while centralizing the artistic strains of his birthplace, Haiti. "Francks's pared-down color palette only fuels and doesn't limit his creativity and visual impact."
---
Second born, by Wangechi Mutu
"I enjoy how the textures define shapes and lead the eye to explore different points of connection, as well as narratives, in an unknown but familiar world," Leyden says of this work by the Kenyan-born Mutu, which explores sexuality, femininity, ecology and world politics. "Wangechi has created a language, full of meaning, all her own."
---
Monique Péan Vessel Ring with Rough Gray Diamond
"This ring is a beautiful architectural vitrine — a little art gallery worn on the finger," Lewis says. "Monique often puts on a pedestal otherwise overlooked objects of beauty." The Washington, D.C., native, now based in New York City, includes fossilized dinosaur bone, conflict-and-devastation-free diamonds and other rare and ancient materials in her repertoire.