Melissa Morgan would likely agree with Honoré de Balzac's proclamation: "Whoever does not visit Paris regularly will never really be elegant." Like many designers around the world, she is a frequent visitor to the city's Marché aux Puces and the antique shops and museums of its seventh arrondissement. But her Francophilia extends beyond the French capital. She has lived and traveled in France during various periods of her life, and she still vacations each summer in the South of France with her political consultant husband, Kelton Morgan, and their Gallic-named teenage daughters, Marguerite and Sophie.
"I love the lines of certain periods of French furniture," she says. "My favorite eras are Louis XVI, Directoire and French Restoration. I really appreciate the quality of the craftsmanship, which is almost impossible to do today, at least to that extent."
A French thread weaves through the work of Morgan's San Antonio–based firm, M Interiors. Of course, French decor is hardly an anomaly in the Lone Star State, where the studio does the majority of its projects. But many Texan designers favor more ornate, gilded periods, such as Baroque and Rococo. And they may mix these pieces with antiqued Venetian mirrors and highly polished wood surfaces or sprinkle them liberally among modern furnishings in materials like Lucite. This approach achieves a certain glamour, Morgan admits: "It looks great on Instagram. It's light and bright. But it can also be a bit formulaic to me. There aren't enough antiques there for my own taste. What separates our interiors is the kind of layering we do with pieces."
The emphasis on less embellished, more neoclassical genres of French design imparts a certain substantiality and groundedness to Morgan's interiors; they feel real and accessible. Antiques of these periods, she believes, "are like workhorses. They always work, always look beautiful. Those pieces help places remain classic. And they pair well with modern sensibilities because they're comfortable. Louis XVI bergères and fauteuils are comfortable because they're human scale. They don't take up a lot of space on a floor plan."
Francophile Melissa Morgan Infuses Texas Interiors with Parisian Glamour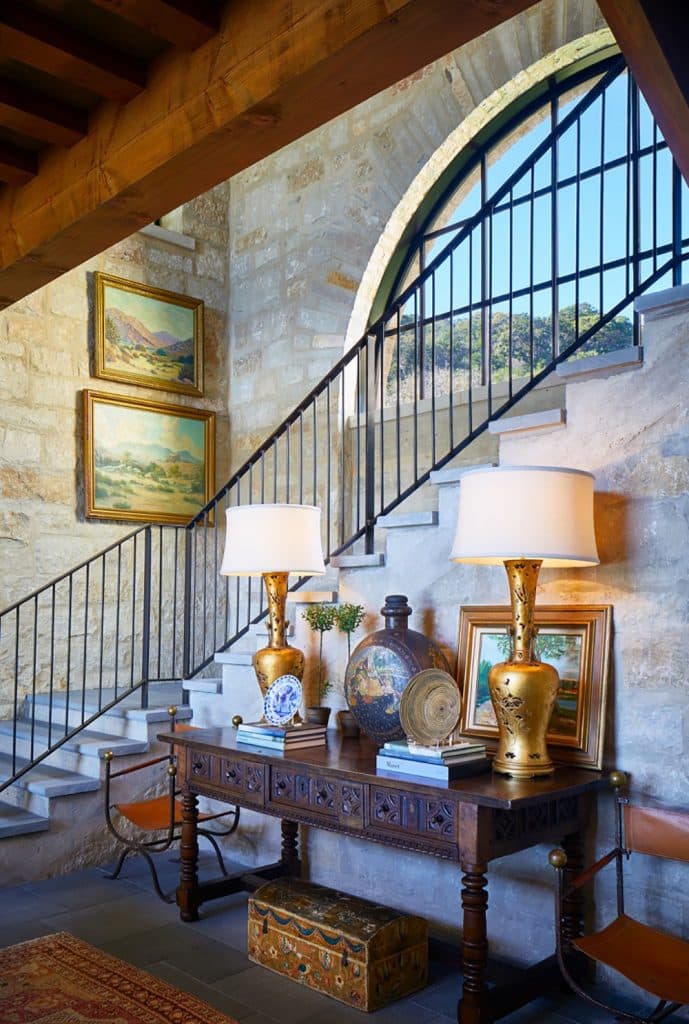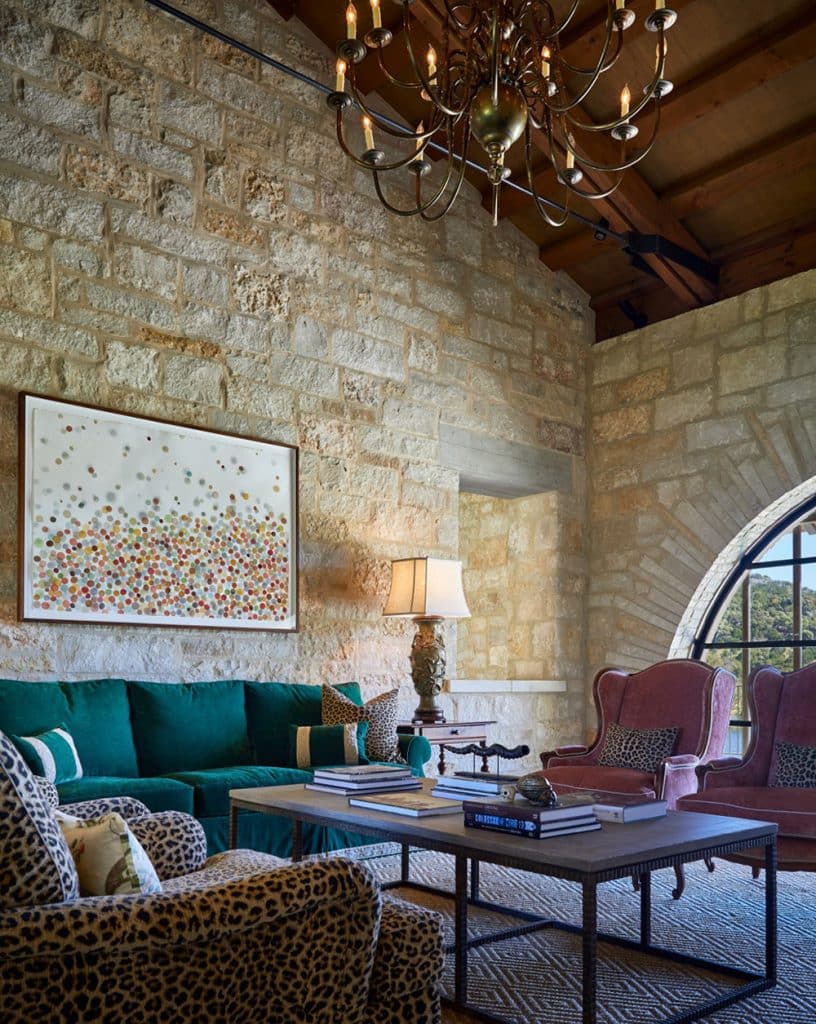 This is readily apparent in a 1940s Spanish Colonial Revival house in San Antonio, where the client, says Morgan, requested "a clean and modern look given some classic foundation with beautiful antiques that would make it feel elegant and luxe." She deployed bergères from several Louis periods throughout: In an otherwise modern, masculine-feeling bedroom, she paired a Louis XIV one with a tailored, grid-tufted headboard, and, in a more feminine bedroom, she juxtaposed a Louis XVI example with contemporary nesting tables that feature a graphic black-and-white pinwheel pattern. In a sunroom, a pair of green-velvet-upholstered bergères sit within sight of a round table whose base is faux bois, a material mimicking wood that was developed in France during the 1860s (hence its French name). Morgan appointed the dining room, which she enveloped in a silk chinoiserie wallcovering, with two consoles by the mid-century Parisian designer Pierre Vandel.
Morgan's talent for mixing traditional French antiques with more modern pieces is evident as well in a stone ranch in the hill country of Medina, Texas. Here, she furnished the children's dormitory-style bunk room with a row of white-painted French-style beds, placed a Louis XVI settee in a window niche of the master bath and formed a seating area in the master bedroom from a violet velvet chaise and champagne-hued armchairs with upholstered French frames.
For a condo in a San Antonio high-rise, Morgan created a design with a dual personality — one part Gallic, one part multicultural with French accents. The front, mostly comprising the homeowners' personal spaces arranged enfilade, is classically français: A Jules Leleu credenza lives in the master bedroom and a French bergère in the master bath; an oak-paneled library showcases the elegant marquetry of a Louis XVI desk with discreet bronze-doré ornamentation.
The rear of the apartment — which caters more to gatherings of extended family, including younger children — is modern. The furnishings, an amalgam of genres, include mid-century Murano glass light fixtures, a Maison Arbus–like credenza and a 1970s marble-topped coffee table embraced by a crescent-shaped contemporary sofa. The Gallic influence is less marked here, expressed subtly in such elements as the sofa, which "is like something Eileen Gray might have done at Villa E-1027, in Roquebrune-Cap-Martin," points out Morgan, referring to the house that Gray designed according to Le Corbusier's "Five Points of a New Architecture" and where she famously deployed her rounded-back Bibendum chair. Visiting the villa was a seminal experience for Morgan. And although it is the creation of an Irish-born designer, its spirit is quintessentially French.
Morgan's path to interior design was far from direct. She was born in the San Francisco Bay Area, the eldest of three children. Her father was in real estate; her mother was a painter. The family moved to San Antonio when she was 10, for her dad's work and because they had family in Texas.
Although Morgan liked design, she never seriously considered it as a career. At Southern Methodist University, she declared a double major in political science and French (her Francophilia clearly already established), with a minor in art history. After earning her bachelor's degree, in 1991, she enrolled in law school at St. Mary's University, graduating in 1995 and taking a job at a Dallas-based law firm.
For 10 years she practiced corporate securities law. But, she recalls, "when I had my girls, I wanted a career that allowed more flexibility. So, I stopped."
Morgan began doing small-scale design projects for friends and, in 2004, created M Interiors. "I didn't know anything, but I didn't want to apply for a job somewhere," she says. "I was fortunate to have friends who worked for big design firms in New York who answered all my questions — from sourcing to invoicing."
Morgan now employs two other designers. She has no grand expansion plans. "I want to take on only projects I want," she explains. "The interview process goes both ways for me. These relationships last a very long time, so you really have to make sure you get along."
Nor does Morgan want to be pigeonholed as a "French" designer. There are certain projects, she observes, for which the style is simply not appropriate. For instance, at a guest house she designed in Fredericksburg, Texas — which was founded by German émigrés in the mid-19th century — "French would look too weird and forced," she says. "Even a simple French country chair would look too fancy."
Instead, she furnished it with bedsteads constructed of dark-stained saplings and made generous use of subtle plaids ("Plaid reads a little country, but not with a K, if you know what I mean," she quips). "We are definitely not the decorator for everyone," she notes. 
Melissa Morgan's Quick Picks