Successful decorative arts dealers are not only embracing change in the digital era but are the very change agents leading the charge. Meet visionary dealer Ben Macklowe, president of the Macklowe Gallery and a passionate proselytizer for the beauty of Art Nouveau curves. He's the mastermind behind the gallery's move from Madison Avenue, where his parents founded it some 46 years ago, to a more spacious, salon-like space on the corner of Park Avenue and 57th Street, which he calls "the crossroads of New York City."
"People say it's crazy to expand retail space in the digital era," Macklowe explains, "but we thought that if we have this much business from people who walk through our doors with what was really a ten-foot-wide window on Madison Avenue, what's going to happen when we have one hundred and thirty feet of wraparound frontage?"
The new Park Avenue gallery is a gorgeous Gesamtkunstwerk where a who's who of fin de siècle design talent — Louis Majorelle, Louis Comfort Tiffany and Eugène Gaillard among them — has breathing space to dazzle and delight. "People who shop here want to discover things they don't already know," says Macklowe. "I don't want people to feel like they've seen everything already when they walk into our store. I want them to meander and be excited." He points to a pair of curvaceous chairs by a less familiar maker, Joan Busquets. "Busquets was a Barcelona Modernisme designer, and these exact pair of Spanish Art Nouveau armchairs were used by Gaudí at the Güell Palace. These are objects of art that happen to be seating, and that's where Art Nouveau excels."
Even before design devotees step inside, the whiplash curves of the Victor Horta–like door hardware signal the kind of attention to detail and craftsmanship that awaits within. Macklowe nabbed a pair of 1920s decorative handles from a 1stdibs dealer in France and had them recast, supersized, in brass for the main doors (they are available as a custom order in both the new and the original dimensions).
Under a luminous silver-leaf ceiling and recessed square lighting that allude to the geometry of the Wiener Werkstätte, the gallery also offers the kind of jewelry that would have turned the head of Gustav Klimt's radiant golden girl, Adele Bloch-Bauer. A swarm of meticulously crafted wasp pins and dragonfly brooches by René Lalique fascinates. But there's also a seriously seductive trove of estate jewelry that spans from English Georgian memento mori rings fit for a Goth to a bold diamond-and-rock-crystal bombé ring by the go-to jeweler of the swinging '70s, David Webb. "With jewelry, the overriding aesthetic is that it has to make the person more beautiful when she has it on," says Macklowe. "That seems obvious, but there's so much jewelry that's not flattering to the wearer. It's either geology or out of scale."
No wonder Macklowe Gallery attracts design lovers as varied as Whoopi Goldberg, Barbra Streisand, South Park cocreator Trey Parker and Blacklist actor James Spader, along with decorators Peter Marino, Juan Montoya, Bill Sofield, Amy Lau and Micah Heimlich, of unHeim. Macklowe has also helped expand the collections of the Metropolitan Museum of Art, the Dallas Museum of Art, Hamburg Museum of Art and the Art Gallery of South Australia, among other institutions. "I'm most proud of helping Dallas acquire the Carl Otto Czeschka silver vitrine, because it was the most important object made during the entire period of the Vienna Secession," he says. The astonishing gem-encrusted cabinet, made of solid silver in 1908 and standing about five and a half feet tall, is a tour de force of workmanship. The DMA's then-curator, Kevin Tucker (now chief curator at Atlanta's High Museum), described it as a masterpiece — "like a Gustav Klimt painting realized in silver, which is no accident because Czeschka was friends with Klimt."
Relocating and expanding the gallery reflects a boldness that is the very essence of Art Nouveau, the short-lived decorative style that shaped everything from Metro stations to fireplace mantels. It was never meant for the fainthearted. Who but a daring woman would drape René Lalique's glowing dragonfly around her neck or arrange flowers in Lucien Gaillard's outrageously beautiful beetle-encrusted copper vase. "I love the madness that Art Nouveau indulges in," Macklowe says with a laugh. "To me, that's what makes it so much fun."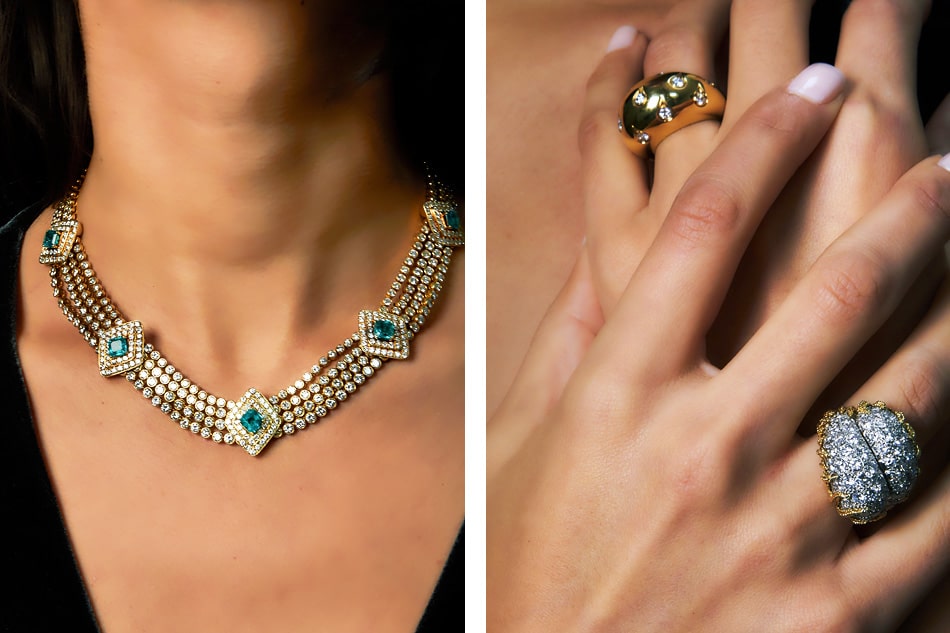 A French major, Macklowe began his professional life as a Baltimore school teacher before his parents — Lloyd and Barbara Macklowe, a former school teacher herself — lured him back into the fold. Instead of lecturing to a class of fidgety students, Macklowe fils is often asked to inform and entertain nattily dressed design devotees at auction houses, museums and universities. In fact, the new gallery has a space dedicated to accommodating groups of art lovers eager to learn more. "We may have a movie night featuring films from the twenties," says Macklowe. But he's also YouTube friendly, engaging a younger audience online.
"The Plaza area has turned into a nexus of art and antiques galleries," says Macklowe, whose neighbors include the Heritage and Phillips auction houses and the gallery-packed Fuller building. This proximity to gallerists who deal in blue-chip art is no small sales point. Two designers recently purchased Tiffany table lamps, one to shed light on a George Nakashima sideboard in front of a colorful Kenneth Noland painting, the other to illuminate his client's Rothko, choosing an example decorated with dazzling blue dragonflies. A champion of unexpected juxtapositions, Macklowe says, "I find Tiffany lamps really play well with other younger children. What's important when you sell historical pieces is that you bring them into a contemporary context that makes sense to people today."
Visit Macklowe Gallery on 1stdibs
---
TALKING POINTS
Ben Macklowe shares his thoughts on a few choice pieces.