Recalling her childhood in the Masuria region of Poland, the Manhattan interior designer Magdalena Keck says, "There was not a lot of excess. Things were carefully chosen, because there wasn't a lot we could afford, and anyway, there wasn't a lot available on the market.
"Things we had, we cherished," she continues. "And when we wanted to bring beauty into our house, we didn't go to a fancy florist, because there were no fancy florists. We picked some flowers on the side of the road or went into the woods and came home with some branches."
Keck moved to New York in 1993, as a young woman, and she now runs a successful interior design firm, marshaling several employees and what she calls "a small army" of artisans and consultants. But her childhood has stayed with her. She still avoids excess and still cherishes every item. And when she wants to beautify a room, she still looks to the woods — although these days she may do so by purchasing a piece of furniture by George Nakashima.
In fact, there is a Nakashima chair in Keck's Flatiron District office waiting to be shipped to Hudson Woods (a small development upstate where Keck is designing the interiors of two new houses). "You sit down, and it's perfectly molded to your body," Keck says of the chair, with its silky surface. "It's like somebody traced the shape around you."
Keck, who started her firm in 2003, marvels at her journey: "How do you go from branches in the Polish woods to Nakashima?"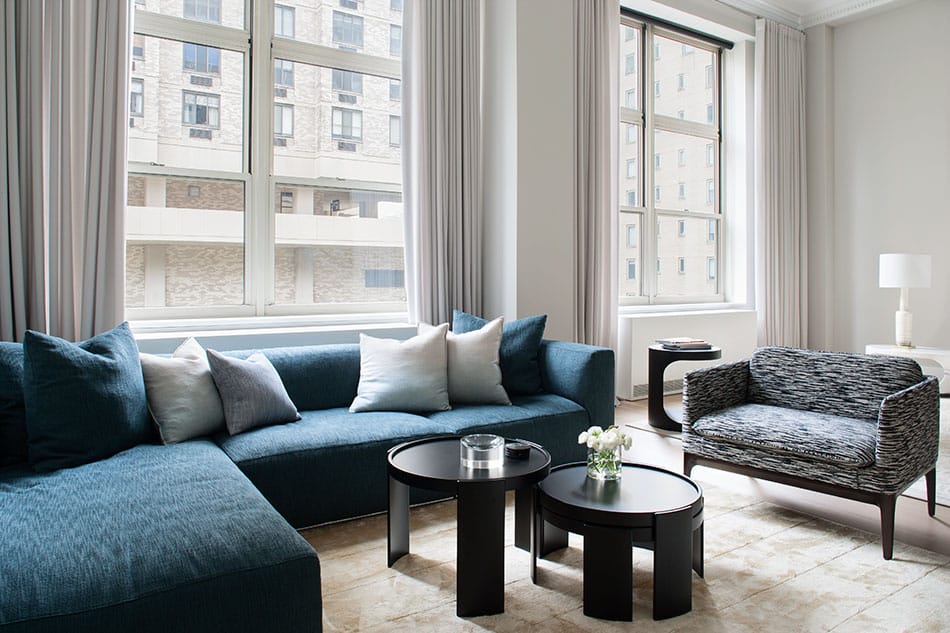 One way is to have a niche, and Keck's appears to be creating pieds-à-terre for well-heeled clients. Pied–à–Terre was even the title of her book, published last year, which profiled a dozen second (or third or fourth) homes by Magdalena Keck Interior Design. Many of Keck's clients, she explains, are foreigners with toeholds in New York.
The reason she appeals to that set, she suspects, is that pieds-à-terre aren't filled with lots of possessions, resulting in a spareness that matches her aesthetic. Being in one of her homes, she says, "is almost like going to a really good hotel and booking a nice suite that has just the things you need."
Even when Keck does a primary residence, she avoids "millions of things," she says, preferring to pick a few special objects and give them breathing room. The migrants Keck designs for aren't huddled masses, and there are no huddled masses of furniture in their apartments. When she needs a lamp, for instance, she finds one with sculptural qualities and "presents it as a beautiful object in the space." That is true for a classic Arco floor lamp by Achille Castiglioni (for Flos) in one Manhattan loft and a pair of chrome-plated steel Pill table lamps by Autoban (for De La Espada) in another.
Keck tends to paint walls white, often using a single shade for an entire apartment. (Her favorite is the aptly named Farrow & Ball All White.) Other surfaces explore a narrow range of neutrals. Back from a recent trip to Paraty, on Brazil's Costa Verde, she describes the amazing variety of greens she saw there. But would she use green on a wall, or even as an accent color? Not likely, and certainly not as a way of bringing nature indoors. "There are better ways to do that," she says, such as highlighting the grain of wood and the striations of marble. She built one client's headboard out of cedar, leaving it entirely unfinished. It doesn't just look and feel great — it even smells great, Keck reports, adding, "I connect with the genuine aspect of things."
Keck starts a job by getting to know her clients, some of whom have flown to New York for a few days just to meet with her. "I listen to people, and I try to understand them. I don't have a questionnaire. It's intuitive, like making a new friend."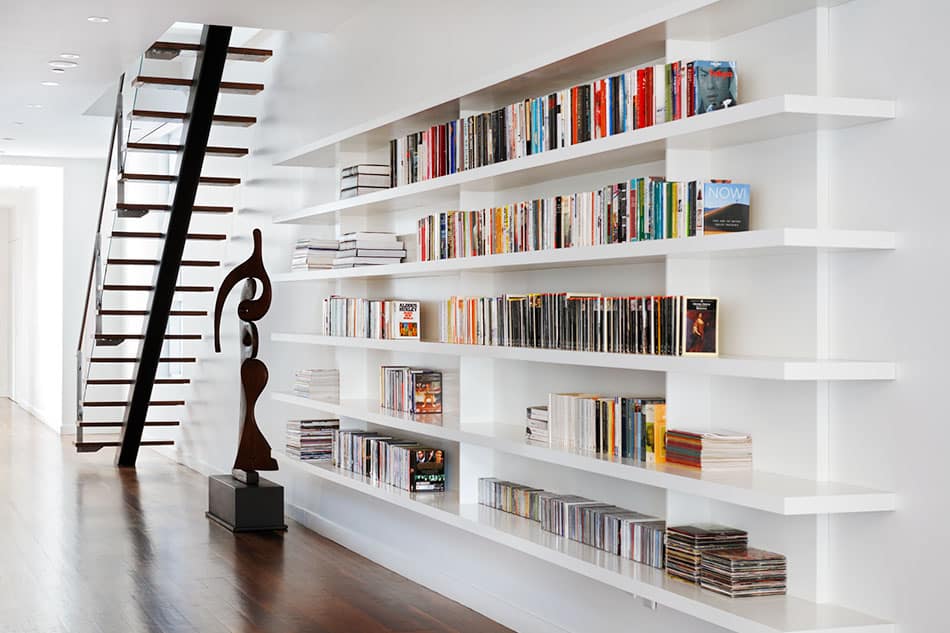 She takes her cues from their personalities, but also from their real estate. One communications executive bought a Chinatown loft with a row of more than a dozen large windows and walls of exposed brick. The fact that the client "connected to the space emotionally" told her a lot about him, Keck says. The repetition of the windows led her to explore repetition in items like a trio of nesting tables by Baxter & Liebchen and a long, low compartmentalized bookcase. Except for a rug inspired by Chinese Art Deco, she avoided color and pattern, because she felt the brick walls were busy enough.
What Keck's interiors lack in color, they make up for in texture. For a Park Avenue living room, she chose a monochrome version of William Yeoward's fern-patterned Freya rug (from the Rug Company) and walnut coffee tables with a pronounced grain, part of Minotti's Smith line. "There are tactile experiences everywhere," she says.
Her work also contains surprises. A penthouse on the Bowery with double-height glass walls is so suffused with light that she painted the master bedroom black. But don't think the apartment is somber. A photo by Thomas Jackson of a potted plant seeming to fly through the Financial District embodies Keck's upbeat perspective on city life.
Like many designers, Keck sometimes buys art with or for her clients. But she also leaves walls blank, to give the clients time to build collections, a process that "shouldn't be rushed," she says. "With other designers, there's a big hurry to cover every surface and get the place photographed. I don't do that."
Keck's low-key manner appeals to people from around the world. Asked what surprises her most about her professional life, she responds, "I guess how trusting people are. You meet new clients who are strangers, and a connection forms. And then they hand a big part of their lives over to you. They trust you to make the right choices for them."