I always feel like I live like a student," jokes Mallery Roberts Morgan. Glancing around her Beverly Hills home, one sees little evidence of that, save for a MacBook — the loyal accomplice to 21st-century hustling.
In the living room, a voluptuous sofa from the 1970s channels Vladimir Kagan in a wistful mood. A portrait by Claire Tabouret leans on the mantle, while an oft-occupied vintage Christian Liaigre Polo desk snags the best view of life on the leafy street outside.
A journalist, author, interior designer, tastemaker and guardian to a plucky Parson Russell Terrier named Romy, Roberts Morgan is happily eclectic. She practices her own brand of creative fluidity, which encourages cross-disciplinary overlap. "I think of my work as the alchemy of writing and design," she says.
For nearly two decades, Roberts Morgan has been crafting soulful, sophisticated interiors. She's fashioned townhouses in London and Paris, the Mexican villa of a polo-playing millionaire and the 7,000-square-foot Los Angeles home of a glamorous family — all for smart, culturally curious, art-savvy clients who want well-appointed spaces without cookie-cutter effects.
Dressed in ankle-cut jeans and a button-down shirt, Roberts Morgan kicks off her leopard-print Belgians and settles onto the sofa. She's soigné but comfortable, like L.A. itself, where things unfold naturally and people aren't fact-checking your bio. "If there's anything I hate, it's snobbism," she says. "It serves no purpose." Her ideals are cooler, freer, more bohemian.
Roberts Morgan's mostly residential projects embody a quality that vexes Instagram's algorithm: individuality. "The through line of my design work is that it's very curated, very personal," she says. "I always tell my clients that in forty years' time, when their kids are selling their furniture, it's not going to a garage sale or estate sale. It'll go to Sotheby's or Christie's. Not because it's the fanciest or most expensive but because every piece we bring into the house holds a little piece of the history of design. Everything has resonance. Nothing is disposable."
Her mastery in achieving that timeless yet personalized resonance is displayed in Sierra Towers, the famed L.A. high-rise where Cher and Elton John have resided. Capturing the vitality of her client, a young Italian design executive who wanted a taste of the Los Angeles dream, Roberts Morgan focused on a few good, meaningful mid-century modern classics. She selected a creamy linen sisal flat-weave to lighten the space and mask the sins of an outdated floor. By mixing Charles and Ray Eames, Arne Jacobsen, Ludwig Mies van der Rohe and Eero Saarinen with local California makers like Lawson-Fenning and artist JoAnn Patterson, Roberts Morgan summoned an enticing Los Angeles aura: barefoot nonchalance cut with a soupçon of "I can't believe I'm here" giddiness.
Interiors by Mallery Roberts Morgan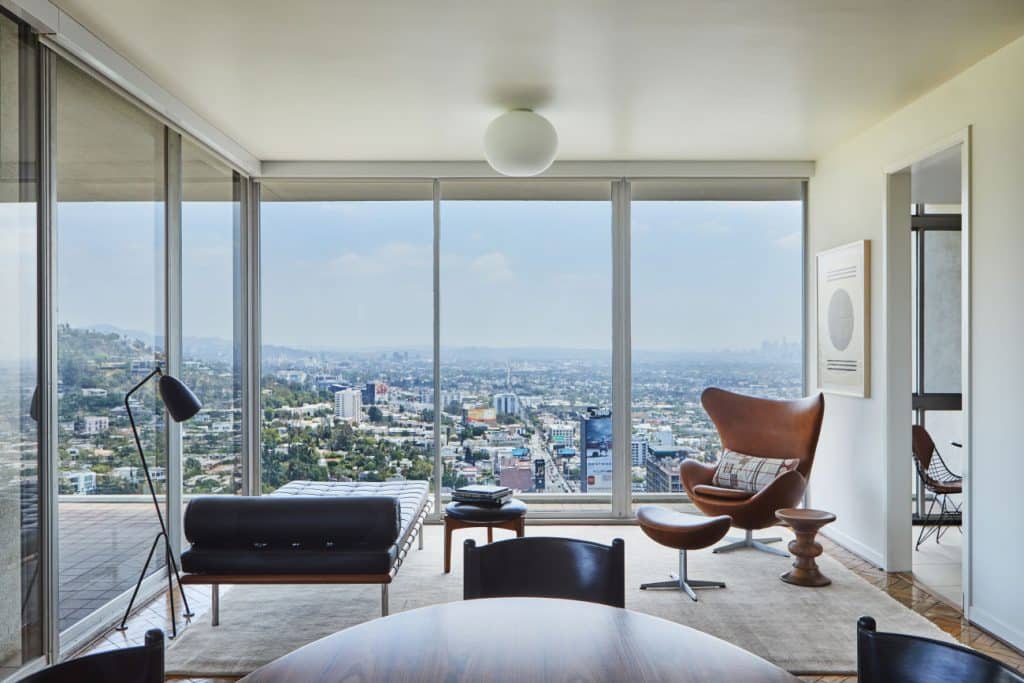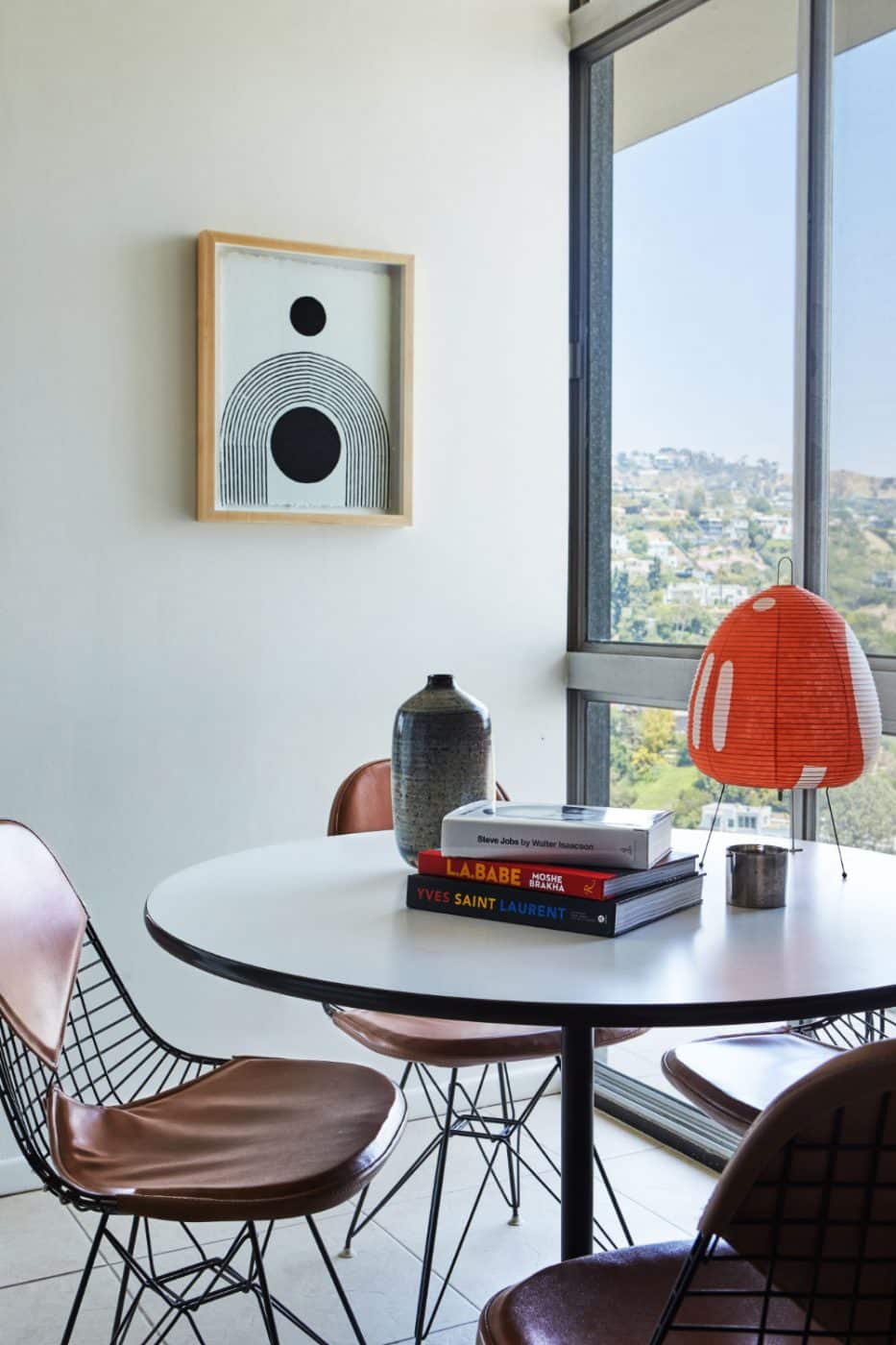 Her intuitive sense of what a space needs has been shaped by her experience. Like those other captivating women Carolina Herrera and Diane von Furstenberg, Roberts Morgan learned her craft not through the formal rigors of school or an apprenticeship with a screaming genius but by living a fascinating life.
Raised in Arizona and Connecticut, she attended Miss Porter's school in the latter state. Everything changed when, on a full scholarship to Cornell, she spent a semester in Paris. "I was a culture vulture from a very young age," Roberts Morgan recalls. "I just romanticized art, Paris and café society." At the end of the term, she decided to stay in the French capital. Her parents weren't thrilled, but the allure of the city and a dreamy French artist boyfriend proved irresistible to the enchanted 19-year-old.
Her timing was excellent. This was the supermodel 1990s, when a handful of fashion goddesses kept the public riveted, and she landed a job in the studio of legendary fashion photographer Paolo Roversi.
A dashing British novelist named Simon Lane wooed and won her, and she spent the next five years traveling with him to extraordinary places. In the late '90s, she returned to Paris, where she met Paris Vogue editor Joan Juliet Buck and began assisting her. Fashion was exciting, but after two years, Roberts Morgan became more intrigued with design and lifestyle. "I've always been fascinated with how people live, the worlds they create around themselves," she explains.
She found a mentor in Ilse Crawford, then editor of Elle Decoration, and dove headfirst into design editorial, eventually becoming a regular contributor to the New York Times, whose Currents section she penned for nearly seven years.
Roberts Morgan's design practice started with a phone call from the Paris-based designer India Mahdavi, whom she had featured in the Times. A couple had come to Mahdavi with a project she felt did not require the type of overhaul her office specialized in; rather, they needed someone with excellent taste who could offer them educated design guidance. She sent them to Roberts Morgan. That was 18 years ago.
In 2008, Roberts Morgan relocated to Los Angeles to be closer to her family. The move set her on a path of discovery, chronicling the city's emerging design and art scenes and championing creatives like Adam Silverman, Claire Tabouret and David Wiseman.
Enthusiasm for L.A. makers is evident in her interiors and will likely be expressed in her latest project, a boutique hotel collaboration in West Hollywood. "It's continual research, exploring new tastes and trends and discovering new talent," she says of her process.
The same holds true for her work as contributing editor for Sarah Harrelson's LaLa Magazine and contributor to outlets like Introspective. Through her frequent collaborations, Roberts Morgan promotes a rich creative flow: curating special collections for clients with noted New York creative director Michael Reynolds, co-authoring a book on design impresario Richard Shapiro with her friend and Architectural Digest west coast editor Mayer Rus, partnering with architect Matt Peterson to renovate an iconic mid-century Hollywood house designed by Robert Byrd.
In many of her projects, art is a jumping-off point. A Jean-Philippe Delhomme illustration of Andy Warhol and Jean-Michel Basquiat dining at Indochine was inspiration for her most Internet-famous project: Maisie Café, a vegan restaurant in Paris beloved by the fashion crowd. The vibrant interiors — bodacious palm murals by French artist Vincent Scali, mint green booths, chairs by the Bouroullec brothers — caused a sensation in 2016. "It's Parisian chic meets L.A. sunshine," Roberts Morgan says of the look, the love child of two distinct worlds that, like the designer herself, has proved a stellar success.
---
Mallery Roberts Morgan's Quick Picks on 1stdibs