Jacques Bec and Artur Miranda, the pair behind the Portuguese design firm Oitoemponto, like to have fun. "My parents were really, really amusing," recalls Miranda. "They were always having parties and everyone would constantly be laughing. I have that in the blood."
The first time I met Bec and Miranda was at a dinner in Porto in the mid-'90s, and they were, indeed, having fun. When it came time for dessert, they put down their spoons, jumped up on the tables and started to dance. Their zest for life has not waned since. In person, they are witty, lighthearted and constantly in a good mood. They also have a passion for luxury goods, whether it be monogrammed Goyard suitcases or Bec's 1971 Silver Shadow Rolls-Royce in turquoise and midnight blue. (The car is designated his and not theirs due to the fact that Bec is the only one of the pair with a license. "He's my private chauffeur," quips Miranda.)
Their fresh and frivolous approach to life does not, however, prevent them from producing serious work. In Portugal, they very much stand in a league of their own. Their commissions to date have included sumptuous villas on the Algarve, a 4,800-square-foot one-bedroom apartment in Lisbon and the Quinto do Pessegueiro winery in the Douro region, whose façade is covered with green glass in reference to its bottles. Bec and Miranda have also worked on boutiques in New York, Paris and London for the LVMH-owned menswear brand Berluti. "It's very rare to find anyone like them," says the label's artistic director Alessandro Sartori. "They are able to translate a message like no one else." Their most impressive project, however, is a residential complex some 30 miles outside the Angolan capital, Luanda, which includes a 27,000-square-foot main house, a 16,000-square-foot discotheque, a private casino decorated with Hermès wallpaper and some 20 guest rooms, not to mention 30 Porsche bikes and space for dinners of up to 300 guests.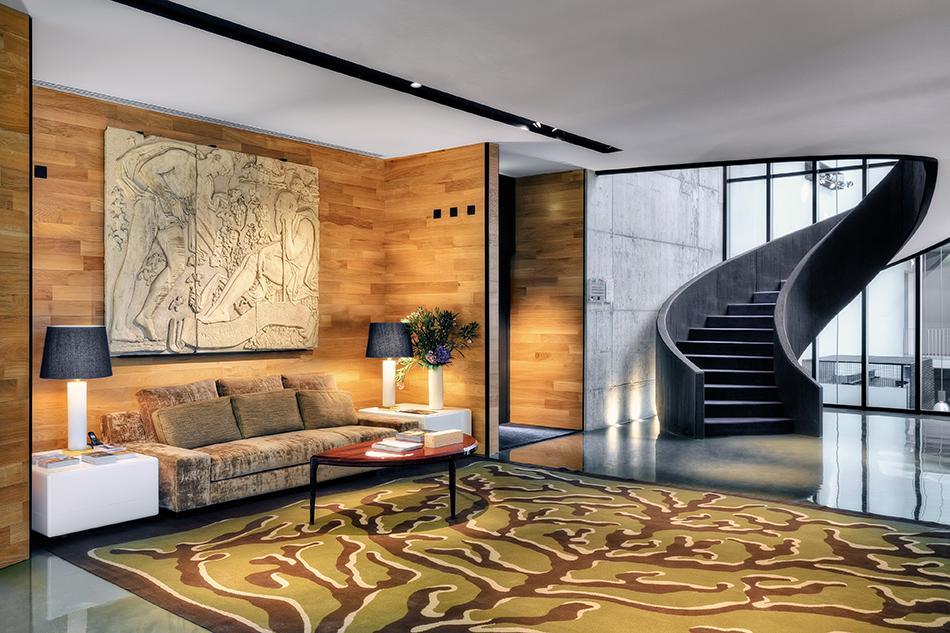 The couple, who are married, first met in the Parisian nightclub Le Queen in 1993, and were immediately struck by certain sartorial similarities. "Everyone else was practically naked," recalls Miranda. "We were the only two wearing jackets." Bec, 53, was born in Paris. His mother was a head seamstress with both Schiaparelli and Balmain. His grandfather, an engineer, invented a revolutionary method for printing indexes and counted several luxury goods houses among his clients. "As a kid, I was always surrounded by Vuitton and Hermès boxes," recalls Bec. He initially studied interior design at the Ecole Supérieure d'Arts Graphiques Penninghen, in Paris, where his teachers included the acclaimed French postwar designer Alain Richard, but he began his career working in the Paris creative studio of Japanese watchmaker Seiko. "It was interesting to work on such small objects," he says, "because you're obliged to be very concise."
The 54-year-old Miranda also came to interiors via a rather roundabout route. While his mother was extremely liberal (he claims she was the first woman in Portugal to wear trousers), his father insisted on him pursuing a "proper" career. "I was born drawing houses and building them with Legos," says the Porto native. "I always wanted to be an architect, but my dad was against it."
Instead, he studied law for three years before being allowed to enroll as a fashion student at Porto's Árvore art school. Soon after graduation, he moved to Stockholm and lived there for seven years, three of which he spent as creative director for the Swedish fashion chain Gul & Blå. On his return to Porto, he segued into designing showrooms and boutiques for the agent of fashion brands like Dolce & Gabbana, Moschino and Armani, but got his big break when asked to revamp a nightclub called Cais 447. "It was a hangar I painted entirely in Yves Klein blue," he recounts. "I created the most glamorous place possible." A Chesterfield sofa covered in gold damask stood on a podium in the middle of the dance floor, while the doorman sat on a swing.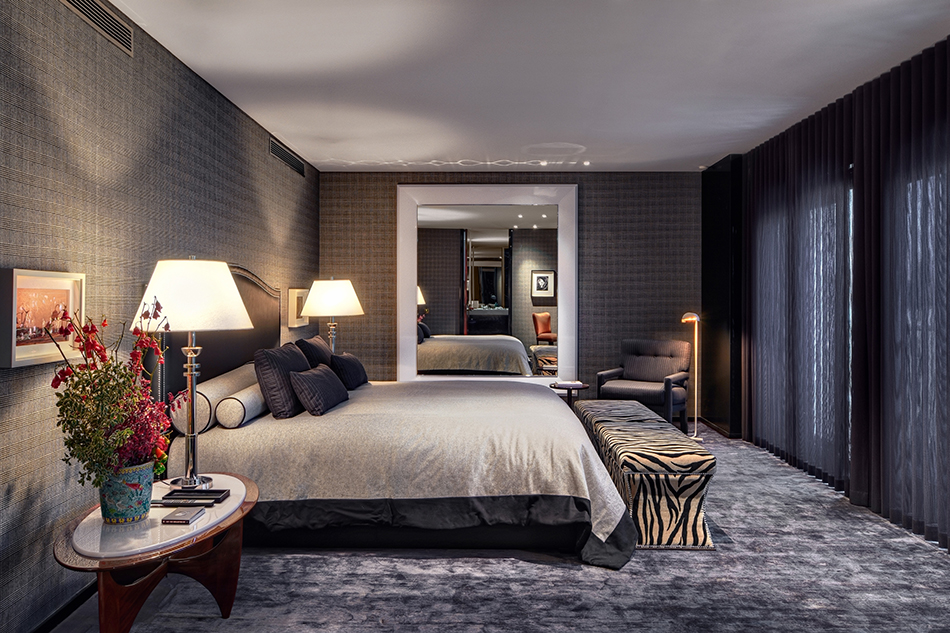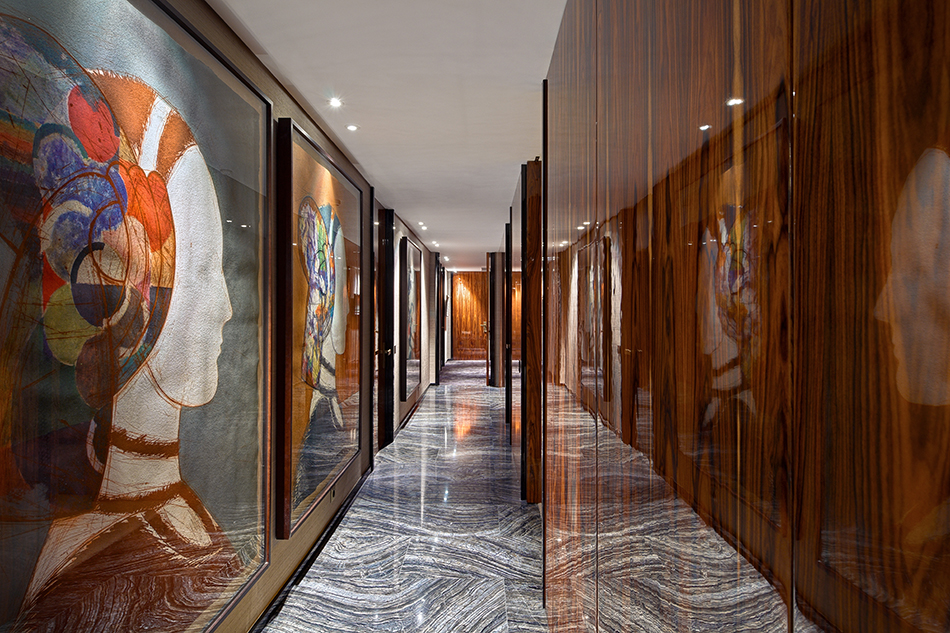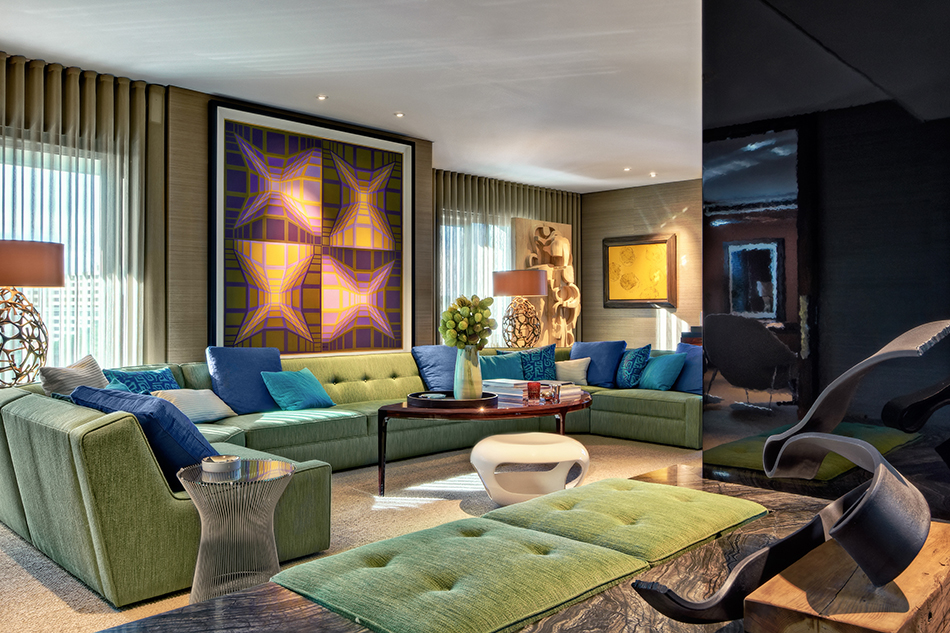 It was in 1992 that he created Oitoemponto, which literally means, "Eight on the dot." "I was born on February eighth and the number's always been lucky for me," he explains. Eight months after their initial meeting, Bec moved to Porto to join him, and, for a number of years, they would host dinners at 8 p.m. on the 8th of every month for eight people.
Their style has always been marked by a high dose of glamour. According to their close friend, the furniture and jewelry designer Hervé Van der Straeten, "The universes they create evoke the timeless decors of the James Bond films and the pared-down, joyful modernity of the sixties." Among Miranda's aesthetic influences are the films of George Cukor and Alfred Hitchcock, the sets for Stanley Kubrick's 2001: A Space Odyssey and Barbarella. "She's my favorite heroine," he says of Jane Fonda's 1968 science-fiction icon. "She arrives in the middle of nowhere, looking marvelous, even when there's no one to admire her." He's also a huge fan of American design from the 1940s and '50s by the likes of Paul Laszlo and T.H.Robsjohn-Gibbings: "Their furniture is both comfortable and photogenic."
Bec's tastes are a little more traditional — think classical French furniture and Kubrick again, but this time his period drama, Barry Lyndon, set in the 18th century. They do, however, share a love of 20th-century Scandinavian design and the work of American architect Paul Rudolph. "His perception of space was revolutionary," says Bec. Their own schemes feature an abundance of lacquer, shiny metals, richly veined stones and marble, generously proportioned seating and more than a touch of Billy Haines–style Hollywood chic.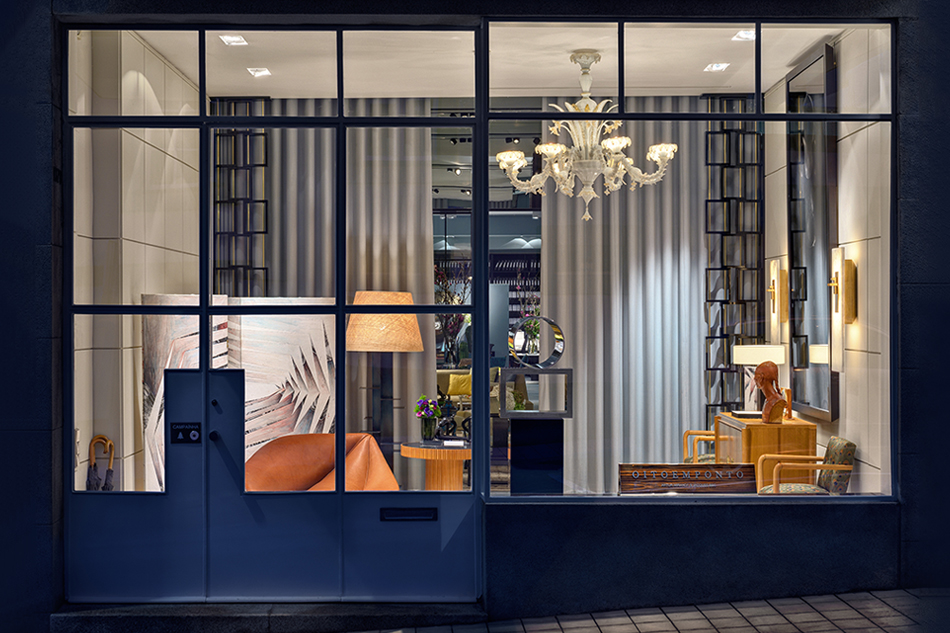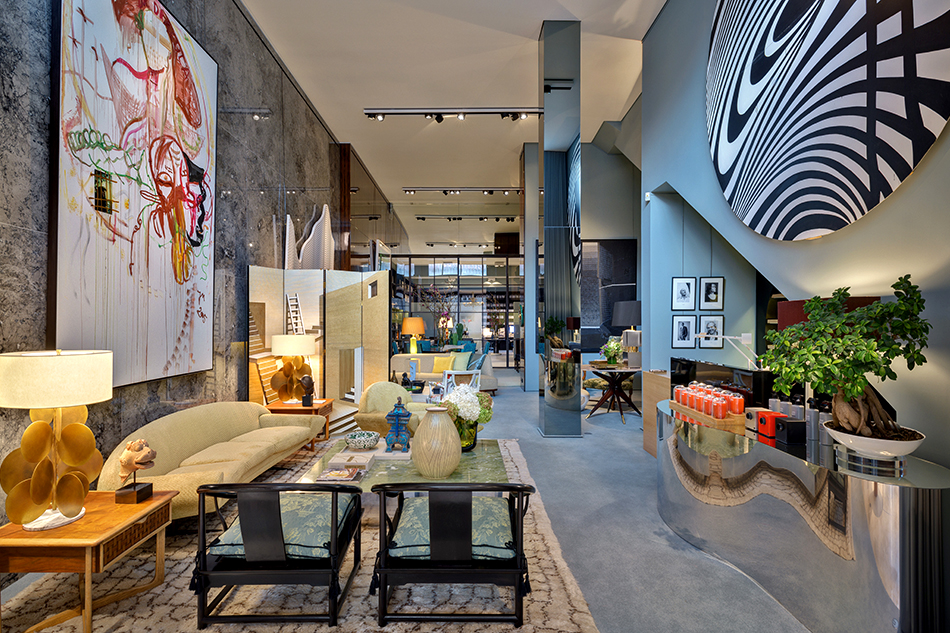 In 2008, they decided to turn their hand to architecture, too, and now employ four qualified architects in their office. "It was a quite logical step," affirms Miranda. "The circulation and internal working of a house is what interest us the most," adds Bec. "It's the core of our work. Often, architects begin with the exterior, whereas we do the opposite. We start with the interiors and the form of the building is derived from them." Last year also saw the launch of their debut furniture collection, NOSSABOSSANOVA, inspired by mid-century Brazilian architecture. Highlights include the Copacabana mirror whose surface is decorated with irregular forms in rosewood, gold leaf and metal, and the Burle credenza, whose façade features tightly rhythmic geometries.
Since 2002, they have also sold vintage pieces through their showroom in a former shirt factory in Porto and are planning to open a new boutique in the Four Seasons Hotel Ritz in Lisbon this fall. They were also among the first Portuguese dealers to sign up to 1stdibs when the site launched in Portugal and Spain in spring 2014. "We buy things all the time," admits Miranda. "You can't imagine just how much we have in stock." Miranda is particularly passionate about table lamps, of which he estimates they have some 500. His favorites are a Lucite pair that came out of the Bel Air Hotel and which he claims to have once spotted in a James Bond film. "I've been crazy about lamps since I was six," he says. "For me, there's something magical about them, and I've never lost that fascination."
He concludes with a phrase that could also serve to describe the careers of this dynamic duo. "They're really just so glamorous."
---
TALKING POINTS
Jacques Bec and Artur Miranda share their thoughts on a few choice pieces from their Oitoemponto 1stdibs storefront.