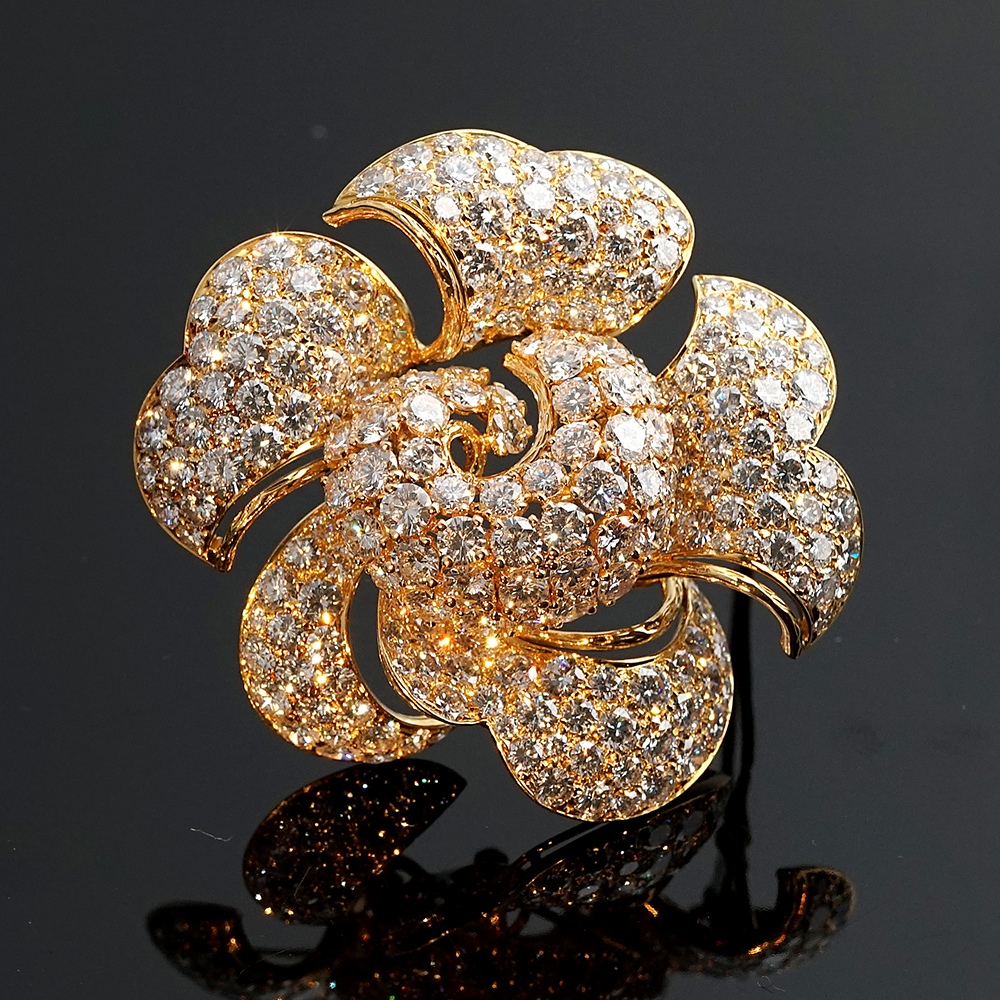 July 18, 2021In the world of luxury jewelry, there are well-known talismans of the trade: the Cartier Love bracelet, the quintessential anniversary gift; the Van Cleef & Arpels Alhambra necklace, a vintage staple for the modern woman; the Elsa Peretti for Tiffany & Co. Bone cuff, an icon of American design.
These bread-and-butter pieces are easy-to-spot status symbols. But when it comes to couture high jewelry, the circle of influence tightens significantly — and the pieces to collect become even rarer than a classic car or a limited-edition multiple-complication watch.
High jewelry today is made not just by the top jewelry and watch makers, such as Cartier, Van Cleef & Arpels, Piaget and Bulgari. Fashion houses like Chanel, Louis Vuitton, Hermès and Gucci have their own lines of fine and high jewelry, mixing important gemstones and precious metals with signature design motifs — and, yes, even logos. Both fashion and jewelry houses showcase these collections in Paris in July, during the city's haute-couture fashion week, and couture-level jewelry has become such a valuable operation that they now also present to their most loyal customers at one-of-a-kind events, from private galas to exotic trips around the world.
The secondary market is just as booming. That's where Opulent Jewelers comes in. After working a series of traditional retail jewelry jobs, founder and CEO Jonathan Yedwabnik started his business in 2000 with the intention of concentrating on one-on-one customer service, a move that quickly led him to the estate- and designer-jewelry market.
At first, Yedwabnik carried mainly tried-and-true pieces like the Love bracelets. But the Pennsylvania-based jeweler later found a more-niche clientele, a group of collectors fluent in the language of high jewelry, around whose tastes he has since organized his collection. From distinctive Chanel statement jewelry to Graff sparklers composed of rare, custom-cut gems, Yedwabnik zeroes in on exceptional pieces, which can date back to the 1950s but often come from the '90s, a decade now recognized in the industry for exceptional manufacturing and design.
Opulent still carries Love bracelets, but they're likely to be rarer versions, sharing shelf space in Yedwabnik's Buck's County showroom with Louis Vuitton gold monogram logo bracelets or a vintage Hermès gold stirrup bracelet — more nuanced status pieces.
Introspective sat down with Yedwabnik to learn more about this intersection of fashion and couture-level jewelry.
You offer all the major jewelry brands, but your collection also features high jewelry from such fashion houses as Chanel and Louis Vuitton. Why did you decide to bring them into the mix?
I work pretty much with only designer jewelry, because of the quality. And if the brand is established, it's easier for people to recognize. I still deal primarily with Cartier and Van Cleef, as the quality is there.
I travel all over the world and work with very influential people, and they get bored of the same pieces. It's like having a wedding dress that you can't wear again. They want to trade, they want to get out of the pieces that they have. We constantly have new pieces coming in. That's how we've acquired some of these really special, one-of-a-kind high-jewelry items.
Are there trends in high jewelry? How do you navigate them for your clients?
I think I just have a good eye. I buy what is interesting to me; I don't follow fashion or work with that side of the brands. We stick to the high-jewelry end of things. Once I started to dive more into the estate and designer-brand jewelry market, I knew I'd found my calling. The research and history is just as beautiful as the item itself, and it makes it that much more special.
How has business changed during the pandemic?
We do virtual appointments. We help clients to pick out jewelry. We help them put jewelry with an outfit, for example. We also do curation classes.
The past year has been insanely busy — it's been our busiest year. Everybody is stuck at home, and they're shopping online. People are just interested in acquiring, and I've never seen anything like it.
What is one of your most memorable pieces?
There's a suite from Van Cleef & Arpels with tanzanites. It's a one-of-a-kind set, and I think it even had to go through the CEO to be commissioned. We have all of the original sketches from the brand. It's really special because of the stones.
What can clients expect once they purchase a piece from you?
A lot of high jewelry comes with custom packaging. Pieces will come in their own special boxes, usually with an insert molded to the jewel so that it fits securely and is safe during shipping. We go above and beyond that packaging to make sure that nothing ever happens in transit.
There are a lot of one-of-a-kind boxes. Chanel has some wild packaging, and Graff has beautiful handmade leather boxes with suede inside.
We also take extra caution, especially with the higher-end jewels, to send pieces to the manufacturer for authentication [prior to listing].
Why do your clients seek out high jewelry?
They come looking for these pieces because they're investments. If you're into Chanel bags, you know that the prices keep going up. It's the same thing with fine jewelry. Also, the rarer the piece, the closer the circle of people who appreciate the value. They want these special pieces because they want the exclusivity of wearing something that is one of a kind.
Are there any pieces that you love almost too much to sell?
The Graff pieces. They're just incredible. The photos and videos don't even do them justice. Once you see them in person, there are no words to describe them. Graff only uses the best diamonds, hence the high prices. It's the quality, the craftsmanship — the jewels are light and airy. They're comfortable to wear, as are pieces by Van Cleef & Arpels. They aren't heavy, clunky or uncomfortable.
What are your clients searching for right now?
Right now, I have a client asking when I'm going to get more Chanel high jewelry, especially pieces with Camélia and Comète motifs, which are timeless and highly recognizable Chanel staples. A lot of clients typically stick with one brand — because they know the heritage and everything else about it — unless something very special comes along. I have clients texting me every day, asking if new merchandise is coming in. 
Where do you see business heading?
I don't think it's slowing down at all. The prices just keep going up and up. It's been difficult to source inventory because of the pandemic — factories were shut down. I don't think there will be that much high jewelry released this year or next year. There's a shortage on everything, and it's the same throughout the jewelry industry. Manufacturers are still catching up.
Jonathan Yedwabnik's Talking Points