Dealers Ed and Betty Koren spent many years traveling from Newburgh, New York, in the Hudson River Valley, to Palm Springs to showcase mid-century fine art and decor at the annual Modernism Show & Sale at the Palm Springs Convention Center. Last year, they relocated to their favorite desert oasis. Ultimately, they concluded that Palm Springs is the perfect location for what they do.
"It's the best place for modernism," Ed says. "Palm Springs came alive during the modernist movement in the nineteen-forties and fifties, with the homes that were built for the Rat Pack and other Hollywood stars. It became a hotbed of modernism, and it stayed that way. Everyone here wants to preserve that modernist spirit."
The Korens will hold the grand opening of their new 7,500-square-foot Palm Springs Art + Design Gallery — combining their shops Bridges Over Time and The Koren Gallery — during the city's Modernism Week. The 11-day event (February 11 through 21), which draws an international crowd of more than 60,000 to Palm Springs, has grown exponentially since it launched, in 2006, and now includes parties, architecture tours, lectures, movie screenings and an interior design showhouse. The centerpiece is the Modernism Show & Sale (February 12 through 15), bringing together more than 80 top international dealers of decorative and fine art, with a special focus on all things mid-century.
New dealers Royle and Pierre Anthony Galleries, both from Miami, will be displaying a wide array of mid-century American and European furniture, including pieces by the famed Italian designer Gabriella Crespi, whose palette is a mix of polished metals and natural materials, such as wood and bamboo. San Francisco's The Butler and the Chef, another first-time exhibitor, focuses on French design and collectibles.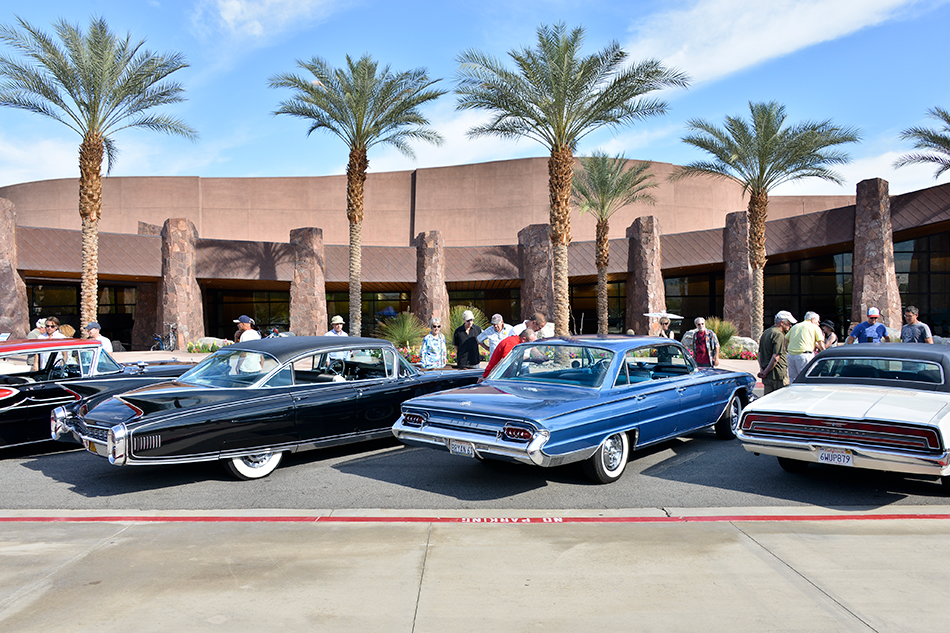 Chris Thurman, owner of Sputnik Modern, in Dallas, is looking forward to showcasing a spare leather and metal daybed by the Danish modernist Poul Kjærholm and a cabinet by the American designer Paul Evans that's a geometric puzzle of chrome and wood. "These pieces complement each other despite the contrast," he says. He'll also be displaying paintings by Eric Orr, who was associated with California's Light and Space movement in the 1960s and '70s.
West Hollywood–based Dragonette Ltd. will pay homage to Frank Sinatra's influence on Palm Springs with photographs of Ol' Blue Eyes by Sid Avery and Bob Willoughby, among others. The salon-style space, featuring mostly black-and-white photos on dramatic red walls, will be the setting for a book signing for the new monograph Sinatra: The Photographs (Abrams) by co-authors Barbara Sinatra (Frank's widow) and Andrew Howick.
This year the show has expanded to include Art Deco furnishings, contemporary lighting from the likes of Two Enlighten and recent art. "A lot of contemporary art and lighting complements mid-century design," says Rosemary Krieger, president of Dolphin Promotions, which operates the event. "Those two things marry well, and work that's coming out now is very much informed by mid-century-modern sensibilities."
Palm Springs–based interior designer Christopher Kennedy heads Modernism Week's decorator showhouse, called the Christopher Kennedy Compound because it comprises both a house and a pool. He launched it in 2014 to promote high-quality interior design and raise money for Modernism Week, a nonprofit organization dedicated to preserving mid-century modern design and architecture.
Kennedy has frequently found inspiration for the showhouse at the sale. In its first year, a Gracie wallpaper screen that he discovered at Palm Springs' Porter & Plunk "set the tone for the entire house — 1940s vintage glamour," he recalls. This year's display is staged in a ranch house that was constructed in the 1980s but nods to mid-century style with its boxy, minimalist design. The property is located on the fairway of the Indian Canyons Golf Resort, a favorite with such mid-century Hollywood linksmen as Sinatra, Walt Disney and Bob Hope. The rooms will be done by 15 prominent designers, including Julia Buckingham, Michael Berman, Kelli Ellis and Michel Smith Boyd. "The design industry is really taking note of Modernism Week now," Kennedy notes.
Although its overall vibe is distinctly mid-century, the house features stylistic and technological updates "for how we live today," Kennedy says. Patrick Dragonette, an interior designer and owner of Dragonette Ltd., is decorating the den in a soothing palette of creams, tans and soft blues, with a Billy Haines sofa and Grosfeld House chairs partially made of Lucite. "Everyone needs a place to hang out and relax," says Dragonette, whose own place to hang out and relax is a vacation house in nearby Palm Desert.
For Kennedy, Palm Springs is a magical elixir of high-style combined with a certain breeziness: "I love looking at old photos of movie stars when they're in Palm Springs, because they were on vacation, living their lives authentically. Something I strive for in my work is combining glamour and beauty with realness."