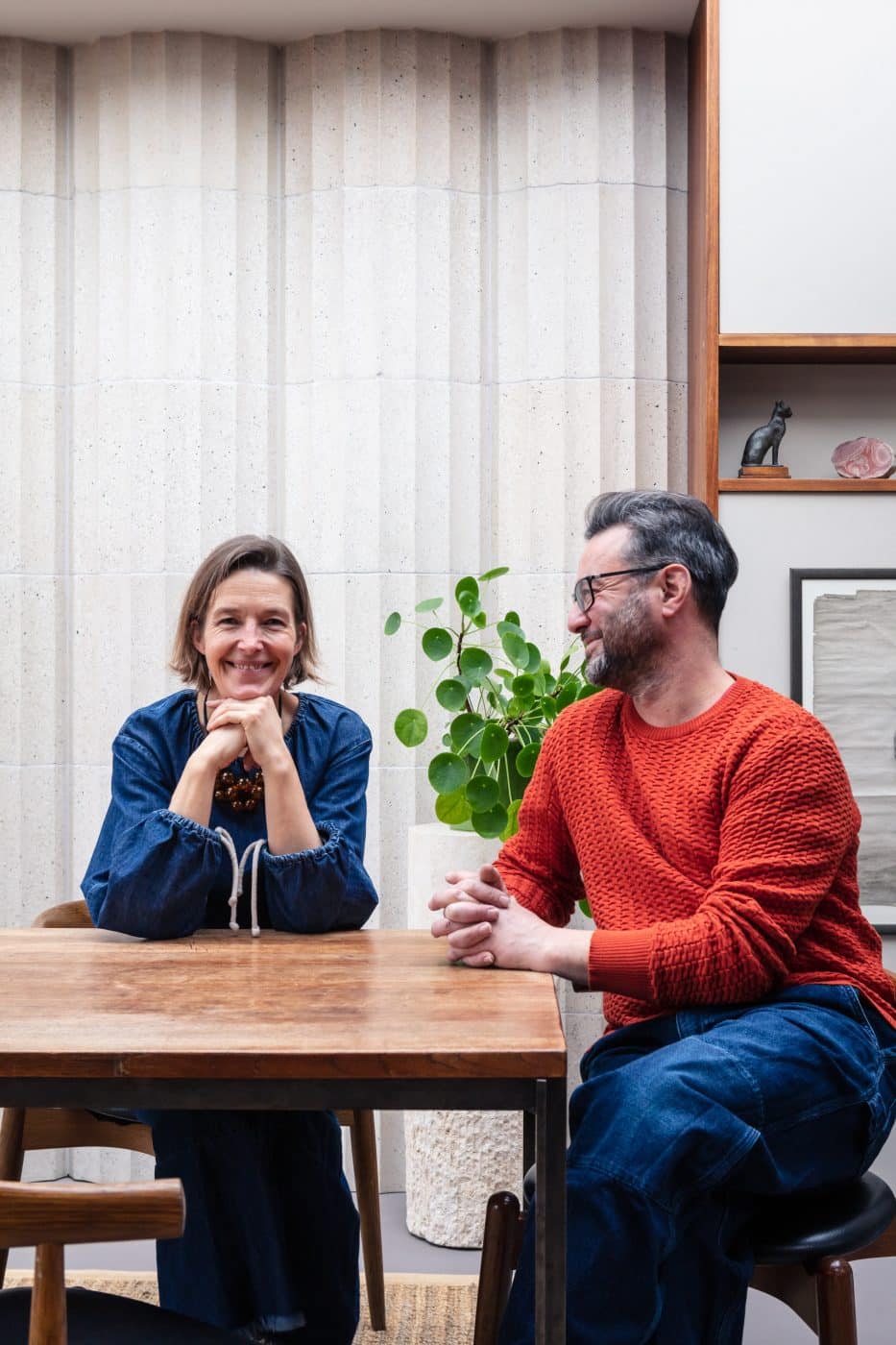 December 12, 2021"Elevating the unwanted" is how Maria Speake describes the philosophy of Retrouvius, her London-based interior-design business, famed for rescuing and repurposing architectural details, furniture and objects from derelict buildings and other sources.
The firm, which Speake cofounded with Adam Hills, her now husband, more than 30 years ago when they were architecture students at the Glasgow School of Art, creates imaginative, emotional interiors using the rescued items, often transformed in unexpected ways. As the company's name — a combination of the French word retrouvé, meaning "found" or "regained," and the name of the Roman architect Vitruvius — implies, it gives these decorative elements a second life. 
"What I love," says Speake, "is the process of trying to save things that other people don't necessarily want and making them into something interesting or unusual." She has done just that, for instance incorporating Art Deco–style terrazzo columns from a disused Liverpool department store into her own home and transmuting the red leather covers of Victorian-era art portfolios acquired in bulk from the British Library into a wall treatment.
Although Retrouvius is now in high demand, in the beginning, employing salvaged items as decor wasn't always an easy sell, Speake recalls. "But I would say to a client, 'Oh, yes, this teak has come from Queen Charlotte's Hospital, and it was originally the outside of a balcony, and now it's this amazing cantilever dining table!' And that was quite interesting, because I started realizing how they were drawn to the story and the narrative of the material and where it came from."
Speake, who runs the design arm of the business while Hills takes care of the salvage side, took time to speak with Introspective about architecture, art and seeing the beauty in discarded treasures.
Where do you find inspiration?
I could pick up a bit of leather or an old bent nail and go off on a journey. But a massive amount of my inspiration will come from the clients. I think I've been quite lucky with them. I like listening to what they have to say.
As a designer, I feel like I'm a conduit for other people's [visions of their] homes. I just try to work out who and what they are and make that come out.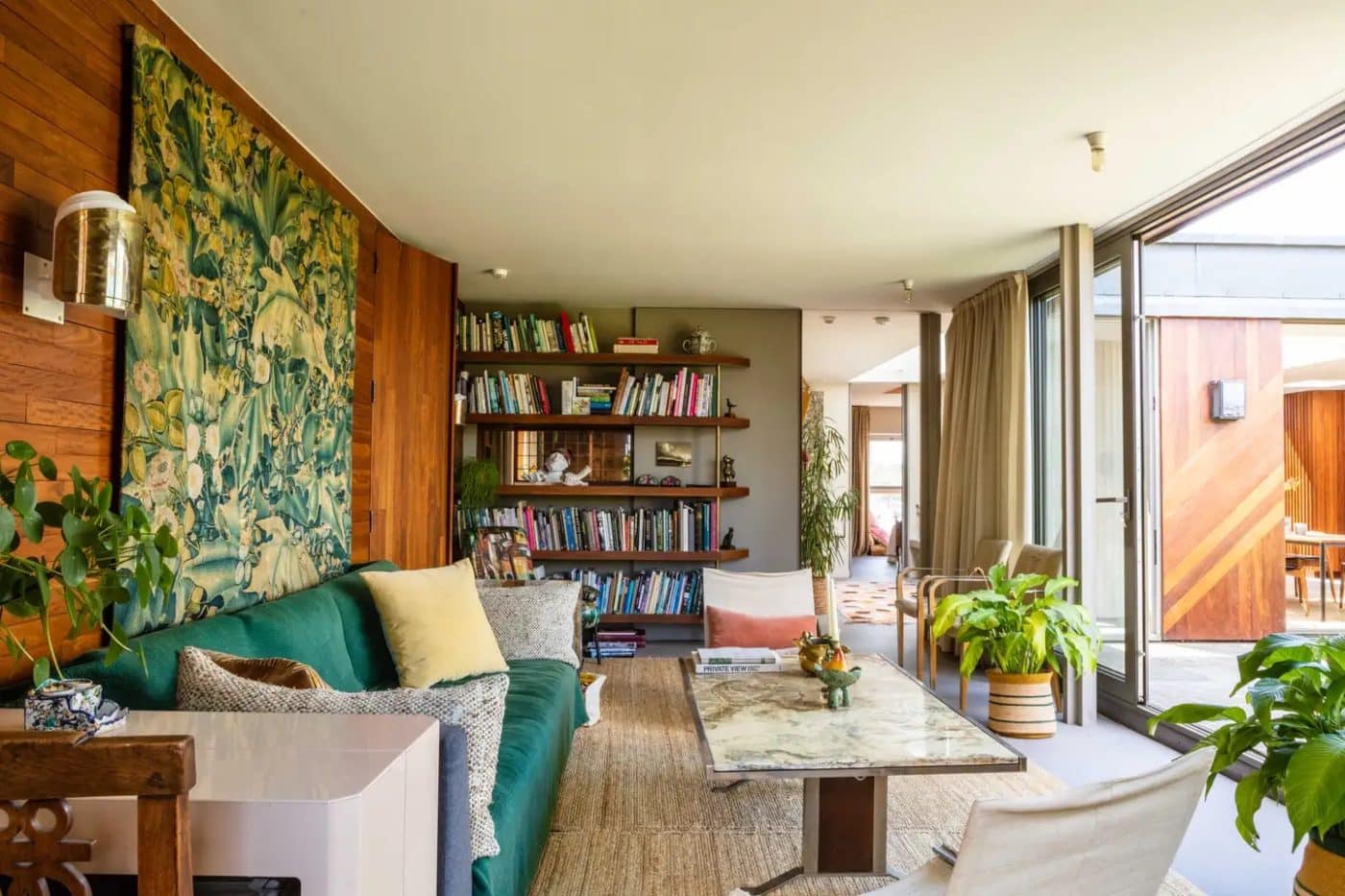 Who is your favorite furniture designer?
Carlo Mollino is one. I really admire his ability to rethink the design process, rethink materials and take in influences from lots of different places. Mollino designed cars and all sorts of other things and somehow made such beautiful, structural, sculptural pieces.
A current furniture designer I love is a fellow "reuser" Martino Gamper. He's someone who's always been very good at reinterpreting materials. He did a fantastic exhibition quite a few years ago called "100 Chairs in 100 Days," and every chair was made from found chairs that he got from dumpsters or from junk shops. He basically remade all these incredible chairs. They're like the most fantastic three-dimensional visual sketches for future generations of chairs.
Who is your favorite artist?
One is the Danish artist Vilhelm Hammershøi. His paintings are very, very calm, very architectural. They're all about the light — it's just light observed within architectural spaces. Sometimes there's a person, frequently with their back to you. Some people find his paintings a bit sad, but I find them utterly beautiful because they are about calmness.
Going back to my Glasgow School of Art days, the artist Jenny Saville was there when I was. Her art is incredibly powerful. It really explores what it means to be a woman, female identity, how we're observed, et cetera. Her earliest works explored the sense of flesh, and they are incredible. When you look at her paintings, if you go in close, they're the most incredible kind of abstract thing. And then you step back, and they're the most astonishing portraits — huge, massive! She's really properly good and rigorous, and it's her calling.
What are your favorite design periods and styles?
I'd say I prefer medieval and vernacular architecture rather than neoclassical. I like asymmetry and slightly cruder buildings. I love buildings that really reflect where they're made, and I love the playfulness of buildings.
For example, I remember going to one building in Scandinavia, and instead of having a thatched roof, its roofing was seaweed. So, it was like this enormous, amazing Afro on top of this tiny little house. It was absolutely fantastic.
Who is your personal style icon?
I would say Vita Sackville-West mixed with Tilda Swinton crossed with Agatha Christie's Miss Marple. The first two have such confidence and a complete sense of their own minds. I'm not so sure about Miss Marple, because obviously, she's a fictional character. Maybe I just like her funny little hats and the way she represents a kind of quiet, understated Englishness.
What is your favorite historic building?
Emotionally, for me, it's the Mackintosh Building at Glasgow School of Art. It was designed by Charles Rennie Mackintosh, and there have been two horrific fires there, and now it hardly exists.
To me, that is one of the most important and unbelievably brilliant buildings that was ever made. I've got a little altar constructed from pieces of the building that includes an exploded, broken bit of stonework, as well as a fragment of limewash that originally came from the architecture studios. It's the most amazing green. I have a section of the floor from the studios — it's maple, and it's got heavenly years of encrusted paint from all these wonderful artists who've been there. And then, I've got all these wonderful nails from the floors.
My other favorite historic building, which hasn't burned down — in fact it has recently undergone a rather amazing restoration — is Kelmscott Manor. It's a beautiful house in West Oxfordshire that William Morris did. It's just a very romantic place.
If you could live anywhere in the world, where would that be?
For calmness, I need a small Greek island. But for everything else, I could be very happy almost anywhere in Italy. I wish I could say Transylvania or something more original, but I can't.
What would your dream project be?
I'm a great believer in enjoying what comes along. So many opportunities come along, and it's about what you, at that moment in time, have either the courage or the headspace for. How and with whom projects happen is sort of just luck and fortuitousness.
What do you think is the most underappreciated design idea?
How does it come apart? By that, I mean that all we concentrate on is how we put things together. How things come apart is actually how we should be thinking for the future. For example, there are a lot of issues with bonding agents that are actually often stronger than the materials themselves, so in the process of trying to remove things from buildings, they end up being destroyed.
In the past, traditional or vernacular building methods actually allowed for reuse — that was an integral part of it. You knew things came apart. Timber buildings could literally be unpegged, taken down and relocated somewhere else.
What's one thing you've done that shouldn't have worked but did?
That we started Retrouvius while still students is kind of unbelievable.