Hollywood Interiors:
Style and Design in Los Angeles

by Anthony Iannacci
August 22, 2016
We all need a fat, fancy book like Hollywood Interiors: Style and Design in Los Angeles (Monacelli Press) on our coffee tables, no matter what the season. Design writer Anthony Iannacci has curated just the right mix of Southern California styles: a white Richard Meier–designed house; a Spanish tiled-roof number; a 1940s modernist gem. The designers include the very well known — Kelly Wearstler, Trip Haenisch, Cliff Fong, Commune — and the less so.
In his introduction, Iannacci makes clear that Los Angeles (from Malibu to Silver Lake and beyond) is generally enjoying a revival as a design hub, and the images that follow certainly prove the point. There's not too much text to interfere with your enjoyment of the lush photos, all printed at grand size and on heavy stock.
---
William Krisel's Palm Springs:
The Language of Modernism

by Chris Menrad and Heidi Creighton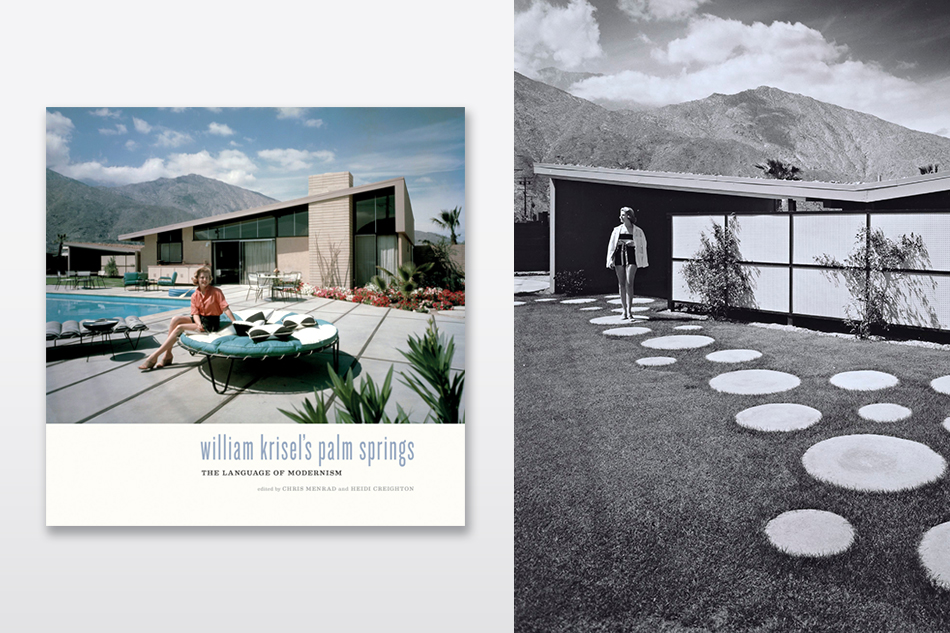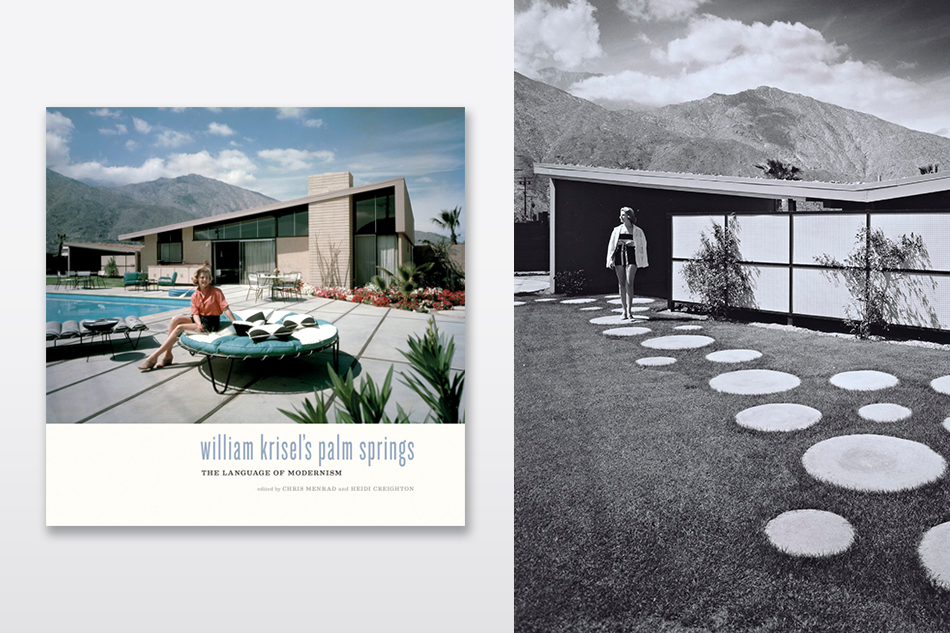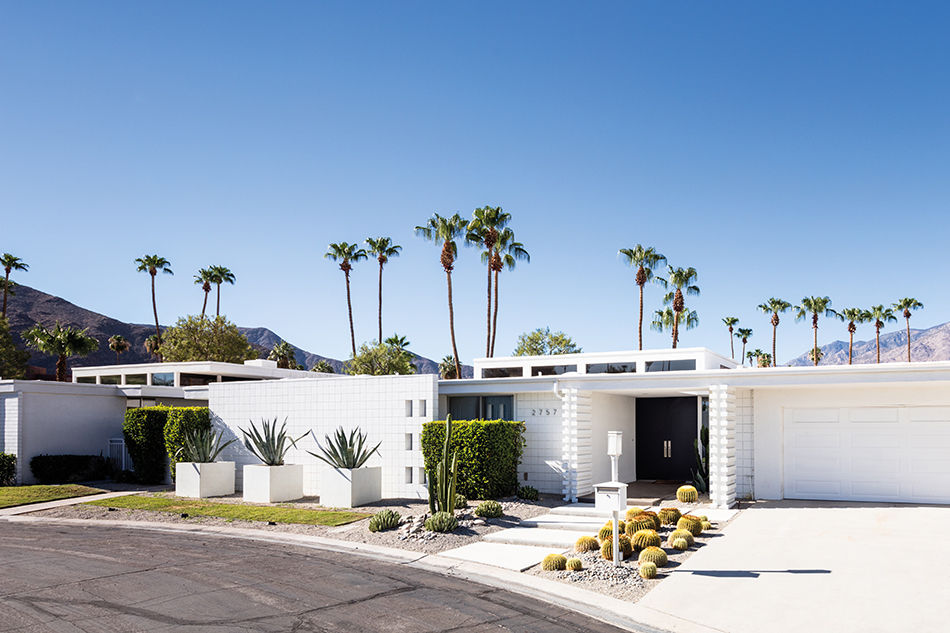 A different facet of Southern California design is on display in William Krisel's Palm Springs: The Language of Modernism (Gibbs Smith), edited by Chris Menrad and Heidi Creighton. The legendary architect was born way back in 1924 but is still alive and kicking and even contributed to the book: "Modernism is not a style," he says on its very first page, stating that it's a philosophy instead. During his decades of designing, he has brought joyous elements like clerestory windows and flaring butterfly rooflines to a number of  residences, especially tract homes.
The designer so far of some 40,000 living units, 1,500 of them in Palm Springs, Krisel deserves serious scholarly treatment, and in this book he gets it, with essays by different writers on a variety of topics (landscape architecture among them, as well as his custom work) and some individual houses. Coeditors Menrad and Creighton both own, live in and have restored Krisel-designed homes, and their appreciation for his rigorous work is evident. The pictures, many from the architect's extensive archive at the Getty Research Center, have one thing in common: They make you want to move into these homes immediately, seeking refuge from the desert sun.
---
Kaleidoscope: Living in Color & Patterns 

by Sven Ehmann and Robert Klanten
Let's face it: Europeans are simply better at creatively juxtaposing old and new and turning dazzling incongruities into workable living situations. That, at least, is one of the lessons conveyed in Kaleidoscope: Living in Color & Patterns (Gestalten), by Svenn Ehmann and Robert Klanten. The title's use of "in," versus the usual "with," is instructive The mostly European interiors on display in this large-format, brightly hued tome — homes, hotels and bars among them — are immersive in every sense of the world.
Not that the United States gets totally shorted. There is a snazzy 15 Central Park West pad, in New York City, by the firm D'Aquino Monaco, with lots of red and lots of art on the walls, and two Washington State projects: a sophisticated Seattle hotel by Nicole Hollis and a relatively understated log cabin on Vashon Island. But the overall flavor of the book is best exemplified by an Essex, England, home — by FAT Architecture and the artist Grayson Perry — that is clad head-to-toe in vibrant green and white ceramic tiles. As for the interior of the house, well, let's just say that every piece is a "statement piece," indeed. If the decor of your next design project should need a boost, drawing just one percent of your inspiration from these interiors would put some pep into it.
---
In Bloom: Creating and Living with Flowers

by Ngoc Minh Ngo
Coming out at the end of this month, In Bloom: Creating and Living with Flowers (Rizzoli) is the second book by Ngoc Minh Ngo on the topic of how aesthetically minded flower-loving individuals coexist with flora in their homes."Ngo, a self-taught photographer, has published her pictures widely in such major outlets as Martha Stewart Living, and in addition to being truly devoted to her topic, she has a wonderfully expansive conception of what it embraces.
Her images of photographer Oberto Gili and his Italian retreat in Piedmont, for instance, include several showing his garden's lovely bounty, plus others capturing Gili's own large photographs of flowers. We also see Livia Cetti, who lives in the Bronx — a borough too often overlooked by design books — with the stunning paper flowers she makes. These ersatz blooms, which Cetti creates through her studio, the Green Vase, hold the eye as long as the real ones do. London artist Rachel Dein creates haunting plaster casts of flowers that enable us to see their amazing forms without the distraction of color. For those who want shots of verdant plantings, there are lush views of the Long Island and Brooklyn homes of landscape architect Miranda Brooks and her husband, architect Bastien Halard. (Brooks was recently featured in T magazine with her scheme for Vogue editor Anna Wintour's garden.) With her resolutely nonliteral approach, Ngo takes her subject well beyond mere beauty and into the sublime.