July 4, 2021If there were such a thing as a blue-chip watch collector, Todd Levin would be just that. Levin, who procures top Richters and Rembrandts for clients as the founder of Levin Art Group, has also amassed incredible personal art holdings, including works by Basquiat, Picasso and Joan Mitchell. He has, however, shifted his private collecting away from the art market to the watch market, which, he says, has become more professionalized in the past decade.
"Watches have now caught up to the fine-art and design worlds," he says, referring to the collectible segment's breadth and global reach. "It's a new asset class."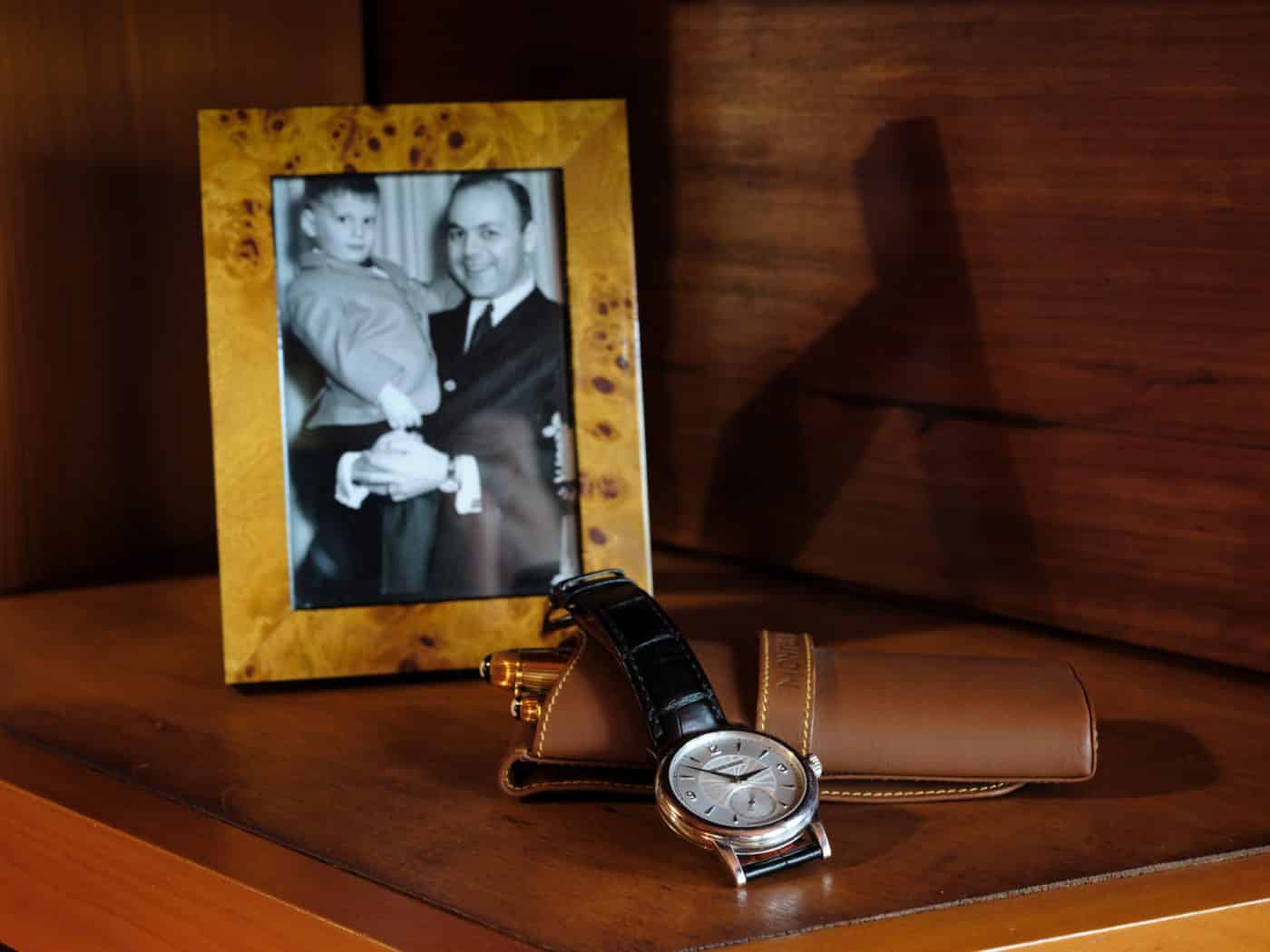 Levin bought his first luxury watch, a Philippe Dufour Simplicity, three years ago. He'd become intrigued by a set of books on watchmaking he gave his late father, a casual collector, and decided to dig in. That he did: first into the books and then into the watch market, using the same scholarly approach he employs when researching Mark Rothko colorfield paintings and Greco-Roman antiquities for clients.
An architecture buff as well as an art and watch aficionado, Levin owns, and spends most of his week in, Frank Lloyd Wright's Stuart Richardson House (1941), in Glen Ridge, New Jersey, which is still filled with the furniture Wright designed for the home.
Introspective recently visited him there and discussed how his passion for supreme artistry informs his very intentional watch collecting.
You started collecting watches just three years ago and mentioned that until recently, the watch market was "the Wild West." What do you mean by that?
It's still a relatively new market. Up until about ten years ago, one could find anything one desired, with most rarities still potentially available. Not now. So many more people globally have entered the market.
In addition, the watch market was very opaque, but major brands and auction houses began to make market information more available to collectors and consumers. Conservation standards and true connoisseurship now exist. There are even catalogues raisonnés for Rolex and Patek Philippe.
What intrigues you about watches? Is it the aesthetics, the mechanics?
I prefer watches that are less complicated because I am a minimalist at heart. I am uncomfortable wearing watches that are too blingy or draw attention to the wearer. I also have a tendency against overly complicated dials because I find some of them illegible.
Separately, through a process of self-education, I became interested in independent watchmakers, although I have admiration for big brands such as Rolex, Patek Philippe, Audemars Piguet and Vacheron.
What are some of the differences between the bigger brands and the independent watchmakers? Is there anyone in particular who interests you?
Nowadays, Rolex drops two thousand watches a day — and there are collectors who will buy one of every style they put out — while most independent watchmakers work with a studio of five to ten people and produce between ten and forty watches annually, like the Rexhep Rexhepi collection of Akrivia.
Then there are also watchmakers like F.P. Journe, who is fundamentally an independent watchmaker but has found a way to successfully integrate the concept of independent watchmaking with a brand that can produce more watches. Journe produces around six hundred to nine hundred watches a year.
I am interested in the modern independent makers who are/were making watches by themselves, one at a time, like George Daniels did and Philippe Dufour still does. Daniels changed the face of horology in two ways: inventing the epoch-making coaxial escapement to replace the Swiss lever, which meant the watches didn't need to be serviced as frequently, and being the first to create a watch entirely by hand.
He made everything except the glass case, the leather strap and the engraving without the help of assistants or computers. I have two Daniels watches: the Millennium and the Anniversary.
Tell me more about your approach to collecting — I know you currently have only five watches, including your father's Campanola.
I don't have an organized philosophy on collecting watches. I am still relatively early on the collecting curve, and watches are very different from art in terms of history, language and market. One can continually amass art — I have a great deal of art I don't live with because I either have artworks on long-term loan at or permanently promised to museums.
With watches, however, it's not like one can loan them to a museum on a regular basis. One is either wearing a watch or it sits in a bank vault. I don't buy watches primarily for investment. I buy them to wear and study. I can't imagine owning hundreds of watches — even a dozen would be difficult to give adequate wrist time to.
I am very attached to the watches I own because each one represents a specific point of my educational arc — like learning about George Daniels's methodology. Every time one decides on a new significant financial purchase, there is a leap of discomforting faith.
What are your best sources of information, and how do you stay current with today's watch market?
I read technical and historical books on horology. Depending on the kind of watches one is interested in, there are standard texts on Rolex and Breguet, as well as on independent watchmakers and vintage and historical watches. A Collected Man and Hodinkee are my go-to websites, as they both have critical writing.
Social media is a decentralized space where collectors enjoy exchanging information. Watch collectors tend to be generous with their expertise and experience. If I DM someone with a question, they (almost!) always respond. And now there's Clubhouse, which recently had daily reports from the Watches and Wonders Geneva fair — the equivalent of what Art Basel is for art collectors. I was in a Clubhouse room with 130 other people listening to respected watch collectors and CEOs from watch manufacturers speaking in depth about new releases.
What advice would you give someone who wants to start collecting watches?
Education. Close your wallet (or your purse — we need more female collectors!). One needs to educate oneself prior to transacting. If one invests in the time to educate oneself, there is no doubt that opportunities will pass by. But I would rather an opportunity pass me by and understand this is a component of the educational process than purchase an expensive item and realize afterwards I made a costly error in judgement.
It's a big deal when you buy a watch. What is your most recent purchase, and what is the watch that got away?
The watch that got away was a Patek Philippe 2499, which is the absolute apogee of the brand. But I did recently buy a Series 2 open-dial by Roger W. Smith, who was George Daniels's apprentice. It was a financial stretch. But now that I've had it for a short time, I'm extraordinarily pleased.