While the rise in popularity of vintage Rolex watches is of no surprise to aficionados, collectors and industry experts, when it comes to contemporary luxury wristwatches, Rolex is also often the first brand that springs to mind. Not only is the company revered for its precision timekeeping and impeccable craftsmanship, but its name was designed to be memorable.
Rolex's enviable worldwide recognition can be credited in part to the genius of company founder Hans Wilsdorf. When the German-born watch dealer and his brother-in-law, Alfred Davis, set up their London enterprise, in 1905, they called it Wilsdorf & Davis, according to the traditional formula.
But Wilsdorf was determined to come up with another name that was short, would look good on a watch dial and was easy to say and remember in several languages. In 1908, he trademarked the name Rolex, and by 1920, he had moved the company to Geneva and redubbed it as Montres Rolex S.A.
But the main reasons for the brand's success are its aforementioned commitment to precision and unflagging pursuit of innovation. In 1926, the company introduced the aptly named Oyster model. With a screw-down crown and case back, both fitted with rubber gaskets, this was the first truly waterproof watch.
Five years later, Rolex upped the ante with the Oyster Perpetual. That model's patented Perpetual movement contained a rotor mechanism enabling it to self-wind. In another trendsetting move, in 1945, the brand debuted the Datejust, with a date window prominently displayed on the dial.
The company's two most iconic models are sports watches. Although the Submariner, which debuted in 1953, was developed as a dive watch, its waterproof case, solid construction and good looks made it a favorite of adventurers and urbanites alike, including James Bond, who wore it in classics like Dr. No and Goldfinger. The Daytona, the racing chronograph made famous by Paul Newman, is especially sought after by collectors. Newman's personal Daytona, which hit the auction block in 2017, sold for $17.8 million.
Find vintage Rolex watches, bracelets and more on 1stDibs.
Iconic Designs from Rolex
Explore timeless pieces that have earned their place in history.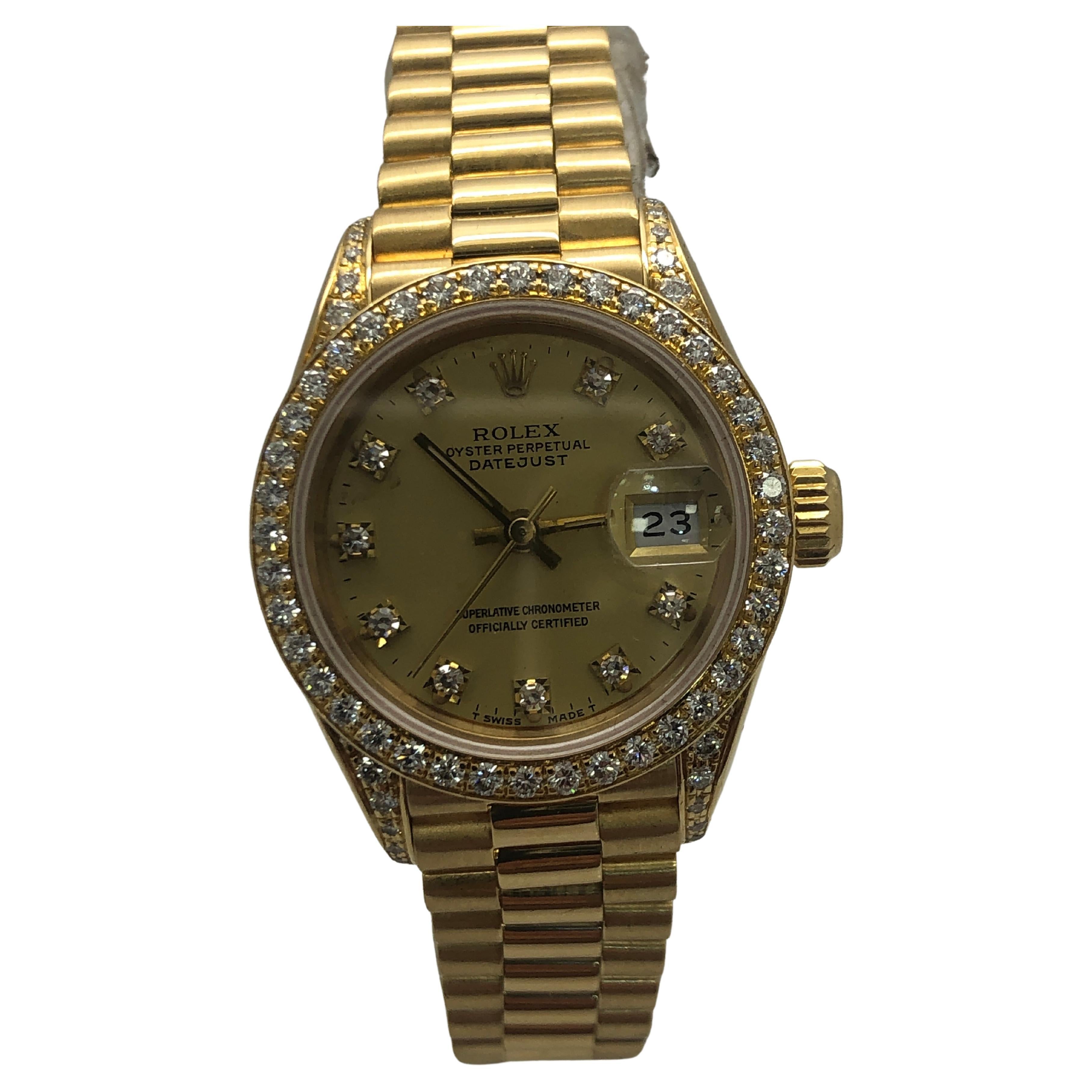 Datejust Watch
Submariner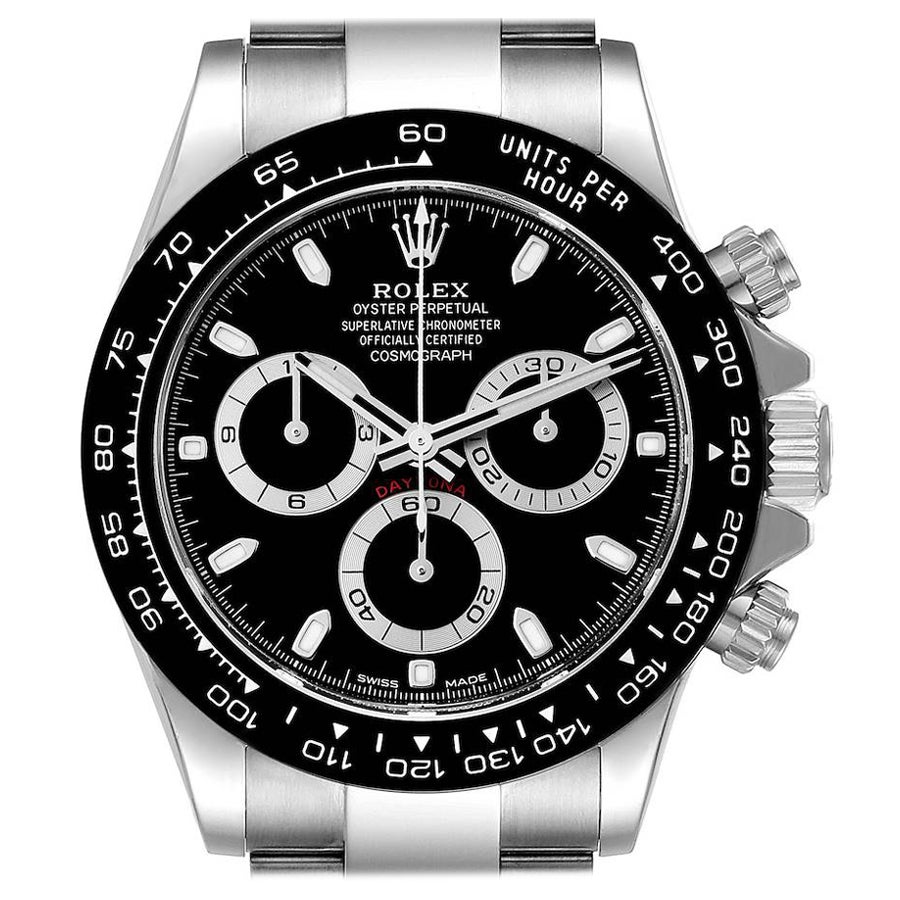 Cosmograph Daytona Watch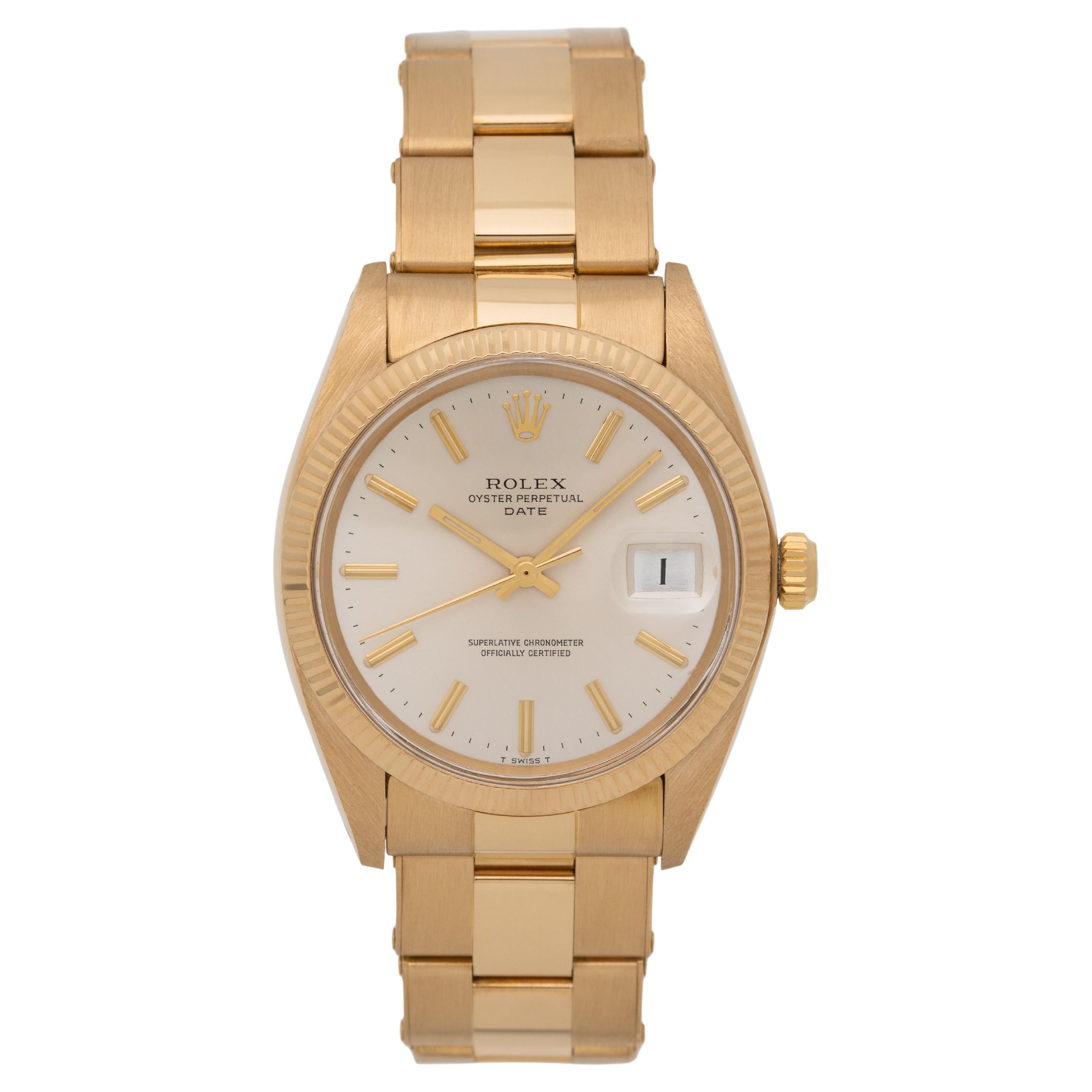 Oyster Perpetual Watch
Rolex jewelry & watches for sale on 1stDibs
Find a range of Rolex watches available on 1stDibs. These unique items were designed with extraordinary care, often using
gold
. While looking for the most stylish antique or vintage Rolex jewelry to pair with your ensemble, you'll find that Rolex
diamond
jewelry & watches can add a particularly distinctive touch to your look, from our inventory of 120. This collection contains 2,174 pieces as well as a number of other designs by this jeweler.
modern
and
art deco
are among the most popular styles of Rolex jewelry & watches available on 1stDibs. While this collection reflects work that originated over various time periods, most of these items were designed during the 20th Century. Many customers also consider jewelry & watches by
Cartier
,
Chopard
and
Jaquet Droz
if you are looking for additional options. Rolex jewelry prices can vary depending on gemstone, time period and other attributes. Price for these items starts at
$450
and tops out at
$381,921
, while pieces like these can sell for
$10,432
.
Questions About Rolex
1stDibs Expert

February 22, 2021

One of the cheapest Rolex watches is the Oyster Perpetual, which usually costs around $5,000. This model is made of oystersteel, an affordable type of steel.

1stDibs Expert

February 22, 2021

The lowest priced Rolex model is the Oyster Perpetual. This watch retails for roughly $5,000. On 1stDibs, you can can find a variety of Rolex watches for sale.

1stDibs Expert

February 22, 2021

The most expensive Rolex ever sold is the Paul Newman Daytona. This Rolex was purchased for $17.8 million in 2017. On 1stDibs, there are expensive Rolex watches but there is a wide variety available, so it should be easy to find a good fit for your tastes as well as your budget.

1stDibs Expert

February 22, 2021

While choosing a watch can depend on the wearer's style, there are a few consistent favorites. Some of the top Rolex watches for women include the Rolex Datejust, the Rolex Day-Date, and the Rolex Oyster Perpetual.

1stDibs Expert

February 22, 2021

A contemporary Rolex Yacht Master costs around $11,000. However, a vintage model can cost up to $30,000.