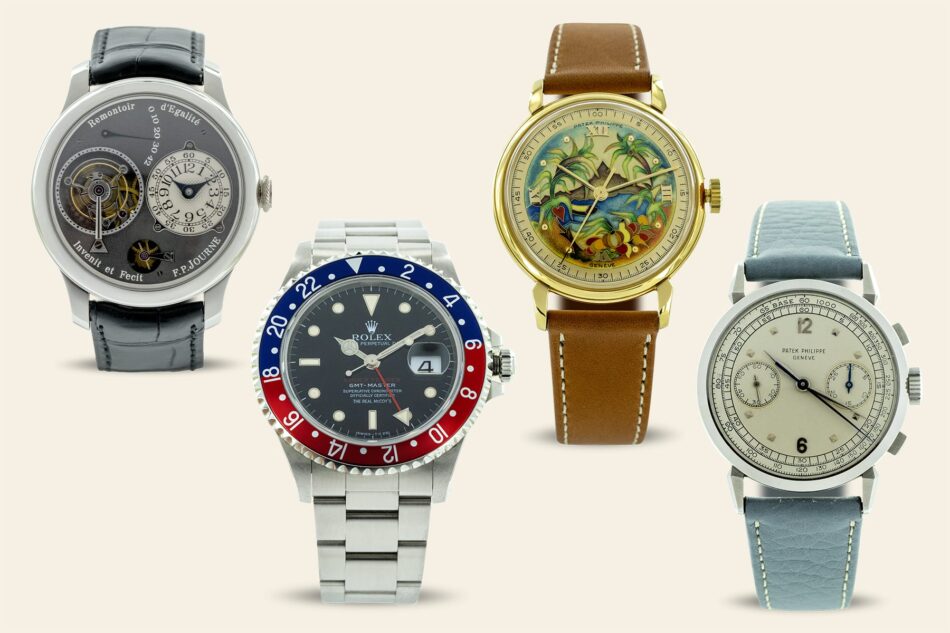 Watch collector Patrick Getreide can pinpoint exactly when his love affair with timepieces began.
"I was 12 years old at boarding school in Switzerland," he recalls. "I lived among the children of some of the world's wealthiest people, but all I had was a small, weekly pocket-money allowance. On weekends, I used to gaze at the window of a watch shop near school. There was an Omega timepiece I desperately wanted, but I couldn't afford it."
Determined, he struck a deal with the owner to pay in installments. "I think I paid 10 francs a week" — equivalent to four dollars in the mid-1960s — "but time seemed to stretch forever," he says. "Eventually, my father kindly bought it for me, because it would have taken over 10 years for me to pay it off!"
This early lesson in economics proved to be a formative experience for the entrepreneur, who now has one of the most important personal watch collections in the world, including special orders, ultra-rare limited editions, one-offs and the greatest number of Patek Philippes once owned by legendary collector Henry Graves Jr. to be held in private hands.
"My first Omega taught me that I had to achieve a level of success that would give me freedom to do the things I loved," says the French businessman and real-estate developer.
Getreide is sharing his passion with the wider public in a special showcase at London's Design Museum called "The OAK Collection." (The title's acronym stands for "one of a kind.") The exhibition, which runs from May 19 through 25 before embarking on a world tour, contains 160 of his finest watches.
"I have over 500 extremely sought-after pieces, so the selection process was very difficult," he says. "In fact, it took three months to shape the show. But these are the very best of the best."
One such knockout is the 1997 "Chuck Yeager" stainless-steel Rolex GMT-Master with a red-and-blue "Pepsi" bezel, one of only 50 produced in honor of the U.S. Air Force pilot, who made history in 1947 by flying an experimental aircraft, the Bell X-1, faster than the speed of sound.
"I purchased it as a completely new piece, and I even have two extra bezel inserts for the dial so you can change its color," says Getreide. "It's in pristine condition." That standard of excellence can be seen in every display cabinet, as none of his watches show signs of wear.
Scratches and dents may evoke a timepiece's background, enhancing its character, but Getreide says he's too much of a perfectionist to be swayed by such nostalgia.
"A few years ago, I was going to buy Winston Churchill's world time Victory pocket watch at auction in London," he recounts. "It was one of only four ever produced — these watches were made [by Agassiz and Co.] as gifts for the victorious Allied leaders in 1945. I just couldn't bring myself to bid because it was too damaged. To me, it looked like Churchill had smashed it against the wall in bad times. I know this adds value and a sense of history, but it is not what I buy. I keep my watches in superb condition."
Contrary to most collectors, however, he doesn't keep them locked away in a safe. "I wear them all," he says.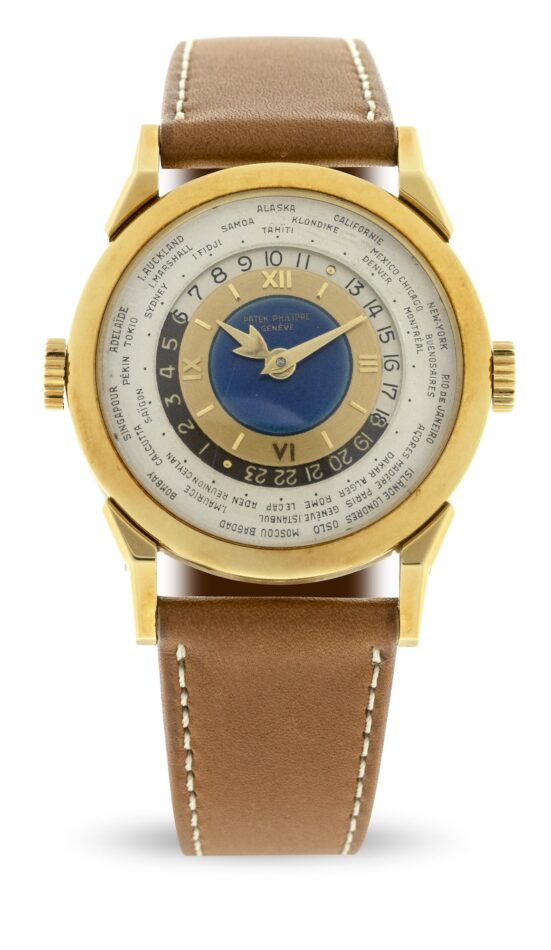 For lovers of clean, uncluttered design, one of the exhibition's top attractions will surely be the Patek Philippe yellow-gold world time reference 2523, introduced in 1953. "At the center of the dial is blue enamel, which makes it extremely sought after because only three were made," says Getreide. "The shade of the enamel is an Yves Klein blue — my favorite color. It is utter perfection."
Another marvel is his Patek Philippe reference 1518 in pink gold, a perpetual calendar chronograph made in 1948 with a Gay Frères [rice-bead-style] bracelet and monochrome pink dial. "C'est une merveille!"Getreide says enthusiastically, reverting to his native French. "To give you an idea of its worth, a similar model recently sold at auction for $9 million. That watch was part of a series of 15. Mine is one of a kind."
Getreide might be thought to have a soft spot for Patek Philippes: He has intricately hand-enameled examples, unique chronographs, perpetual calendars and Calatravas galore, including one that belonged to Andy Warhol. But his collection also includes pieces by such prestige brands as Zenith, Hublot and Breguet, as well as ones by highly respected independent watchmakers.
"F.P. Journe is a master watchmaker who can compete with the likes of Patek," Getreide notes. "His mechanisms are incredible. 'C'est le top du top,' as we say in France. His waiting list is full until 2024. Then there's Kari Voutilainen from Finland, whose watches are sublime, and the incredibly talented Rexhep Rexhepi."
Getreide is a big fan of the latter, who at only 34 is considered a watch-world wunderkind. Having apprenticed at both Patek Phillipe and F.P. Journe, the young watchmaker specializes in tourbillons (mechanisms that counteract the effects of gravity on watch movements, increasing their accuracy).
If you are wondering if Getreide owns any watches under the million or even the thousand dollar mark, the answer is a surprising yes. "Right now, one of my favorite watches is a Bristol [pilot] watch," he says. "It was 170 euros, and I think it is very nice."
And while he can't decide which is his favorite watch in the exhibition, he does know which one unlocks the most memories: a Cartier tank, bought with the winnings from a horse race 45 years ago. "It was the second watch I ever bought. The win was a complete surprise. I thought I had no chance. At 10 a.m., I stood outside the Cartier boutique eager to buy this chic timepiece, which is still so timeless. It's a very important piece to me, and it's the first watch to greet people at the exhibition."
Unusually, Getreide does not only collect vintage watches, he is also a keen buyer of new models — he currently has his eye on seven newly released Patek Phillippe models. He is, by his own admission, an aesthete who refuses to do things by halves.
"I love beautifully made things — fine watches but also pens, cars like Ferrari and Aston Martin, and art," he says. "I adore my family and my dogs, and I'm crazy for football. In a stadium, I shout. I love it! I'm lucky because if there's one thing I have, it's lots of passion." With such a tremendous collection of horological finery, there's no question of that.