Arguably, there's only one thing better than a great watch: a great vintage watch. A variety of designs are enjoying a revival, and each holds a distinct appeal for collectors and first-time buyers alike.
---
Cartier Tank Divan
The resurgence of early 2000s styles is inescapable, and timepieces are no exception to the trend. The Cartier Tank Divan was introduced in 2002 and retired in 2006, solidifying its status as a classic example of a Y2K watch.
The Divan is notable for its striking rectangular case, situated horizontally. The Roman numerals on the watch face are elongated, stretching to fit its unusual proportions.
Whether you opt for a model with a hot-pink or black crocodile strap or prefer a diamond bezel to an unembellished version, it's definitely an attention-grabbing piece of horology. In a 2021 Vogue interview, Marie-Laure Cérède, Cartier's creative director of watchmaking, shared that the Tank Divan was the first watch she bought when she joined the luxury house in 2002.
Vintage timepiece and jewelry expert Jeff Cohen of N. Green and Sons has seen an uptick in enthusiasm for the design. "I've noticed an increased interest in the Cartier Tank Divan and think it's due to a larger desire for square and rectangular watch models, led by the huge popularity of the Cartier Tank," he notes. "I believe that round faces are so expected that consumers may feel they're more suited to daytime business attire, whereas angular watch faces are less common and therefore more of a statement."
---
Tank Must de Cartier
The Tank Divan isn't the only Cartier timepiece experiencing renewed interest. In 1977, the maison released a lower-price Tank watch as part of its Must de Cartier line. The throwback style was resurrected in 2021 as the Tank Must de Cartier.
The contemporary versions of the '70s design feature stainless-steel cases and elegant, solid-color dials in burgundy, navy, hunter green and black — each perfectly coordinated with a crocodile strap in the same color. Rachel Garraghan, jewelry and watch director at British Vogue, has shared images of her green model on Instagram.
---
Piaget Polo
The Piaget Polo is another vintage watch that's beginning to reappear on social media, captured and shared by tastemakers like Dimepiece's Brynn Wallner. The Polo was created by company chairman Yves Piaget in 1979. It quickly gained popularity thanks to its luxe all-gold look and the clever design coup of continuing the bracelet's links across the dial, so that they appear to wrap around the wrist almost seamlessly.
Iterations include models with alternating "stripes" in mixed metals or with channels of diamonds between the links, creating a chic statement without compromising the timeless design.
---
Bulgari Tubogas Watches
For many, Bulgari's Tubogas watches call to mind the high-octane glamour of the 1970s and '80s. However, the sinuous Tubogas coil was used as early as the 1940s, on the house's first Serpenti timepieces.
Its engineering was directly inspired by the type of flexible metal pipe used to transport gas — called tubo del gas in Italian — patented in the 1880s and used from the 1920s on. Over the years, it has become an iconic Bulgari style, incorporated into myriad watch and jewelry designs.
On the wrist, it creates an opulent impression that suits bare arms in high summer and in colder months works with the emerging trend for styling watches over the sleeve.
Malaika Crawford, style editor at online watch magazine Hodinkee, is an unofficial ambassador for the return of Bulgari Tubogas watches. "I'm a jewelry-loving, watch-wearing, '70s-nostalgia freak, and a Tubogas checks all of these boxes," she says. "As a young woman working in the watch industry, I see the value in a timepiece that also serves as a standalone piece of design, and wearing a yellow-gold triple-wrap Serpenti makes me feel glamorous and confident."
"We have noticed an increased interest in the Bulgari Tubogas style in the last three to five years, and the value of the vintage versions has been rising constantly," confirms Wagner Eleuteri, whose family's global boutiques specialize in fine jewelry, watches and objets d'art. "I feel Bulgari Tubogas watches are considered timeless pieces because of their everyday wearability and versatility, alongside bold design. They seem suited to any occasion, for wearers of any age."
Crawford agrees, advising that they're "best worn with a T-shirt and jeans."
---
Franck Muller Cintrée Curvex
As the desire for early 2000s trends heats up, expect to see more wrists sporting pieces by Franck Muller. The celebrated Swiss watchmaker, who launched his eponymous brand in 1991, created many of the era's "it" timepieces — among them the Long Island, the Conquistador and perhaps most notably the Cintrée Curvex.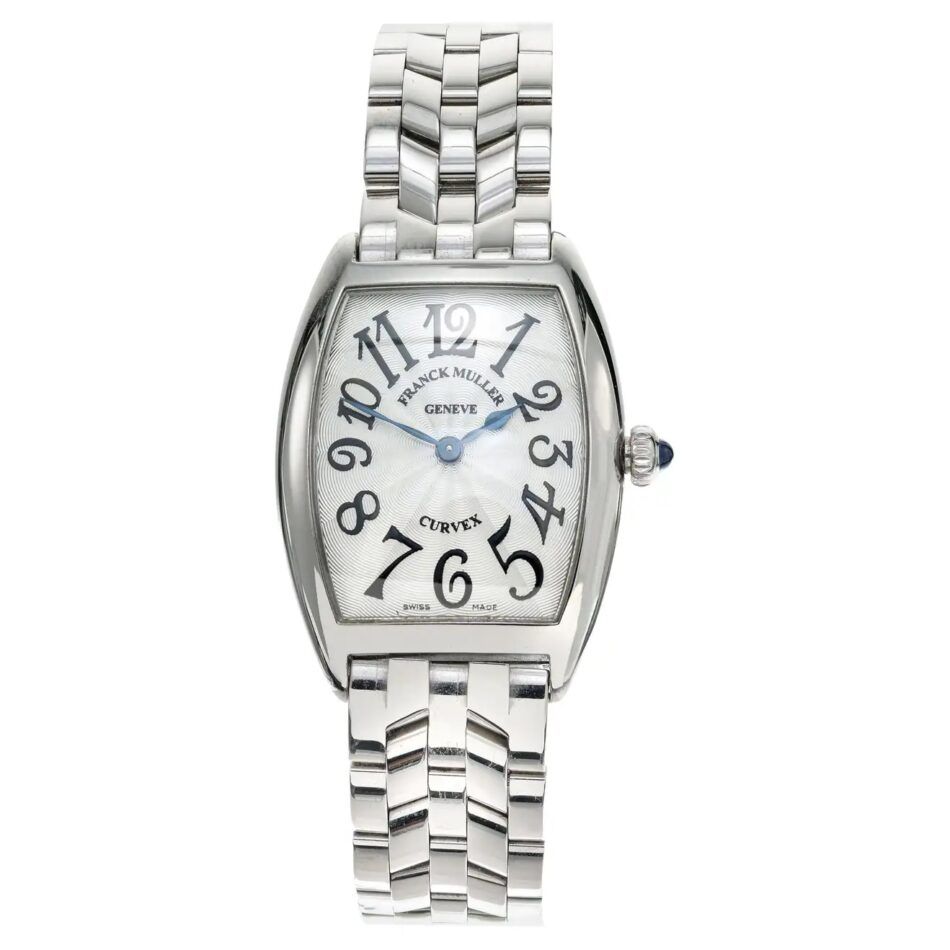 The Curvex reemerged in popular culture thanks to an horological mystery. In 2021 watch aficionados and Y2K nostalgists alike obsessed over identifying the "Bennifer Watch." Worn by Ben Affleck in a 2003 photo, it was eventually confirmed as a Franck Muller Cintrée Curvex on a Chrome Hearts bracelet, reportedly a gift from his then girlfriend, now wife, Jennifer Lopez.
The Curvex showcases the brand's signatures — a barrel-shaped, or tonneau, case and numerals rendered in a fanciful curling font. With its flair for the dramatic, it's poised for a renaissance among those who aren't afraid to embrace the unconventional.