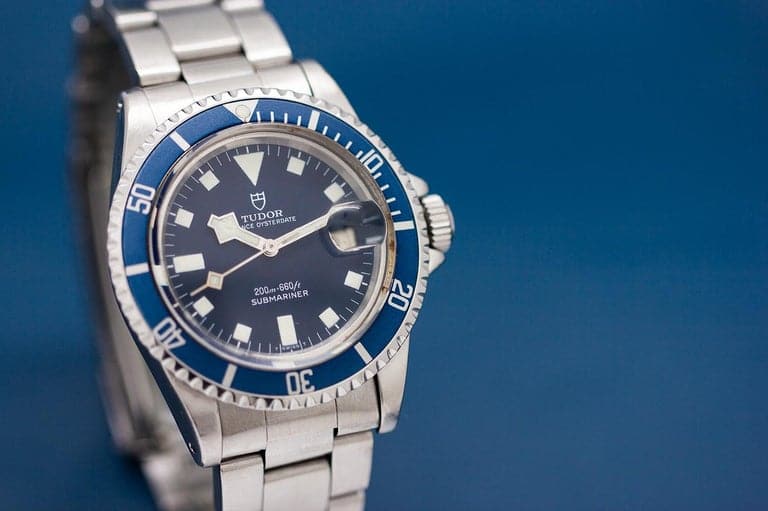 Watches are in a blue period: Dials in various shades of navy and ultramarine, often paired with matching straps, are having a moment. "Blue has always been around as an option, but now almost every brand is offering a nice blue-dial watch," says Robert Weintraub, manager of Manfredi Jewels, in Greenwich, Connecticut. "It's a trend that has been gaining in popularity over the past five years."
This year, a veritable blue wave has swept across the watch industry's two largest trade shows, the Salon International de la Haute Horlogerie (SIHH) and Baselworld, with Patek Philippe, Jaeger-LeCoultre, Audemars Piguet, Vacheron Constantin and Cartier, among others, all unveiling versions with cobalt dials.
Think you'll just let this trend pass you by? You might want to reconsider. Here's our argument for adding a blue-hued watch to your rotation.
---
It's Got Personality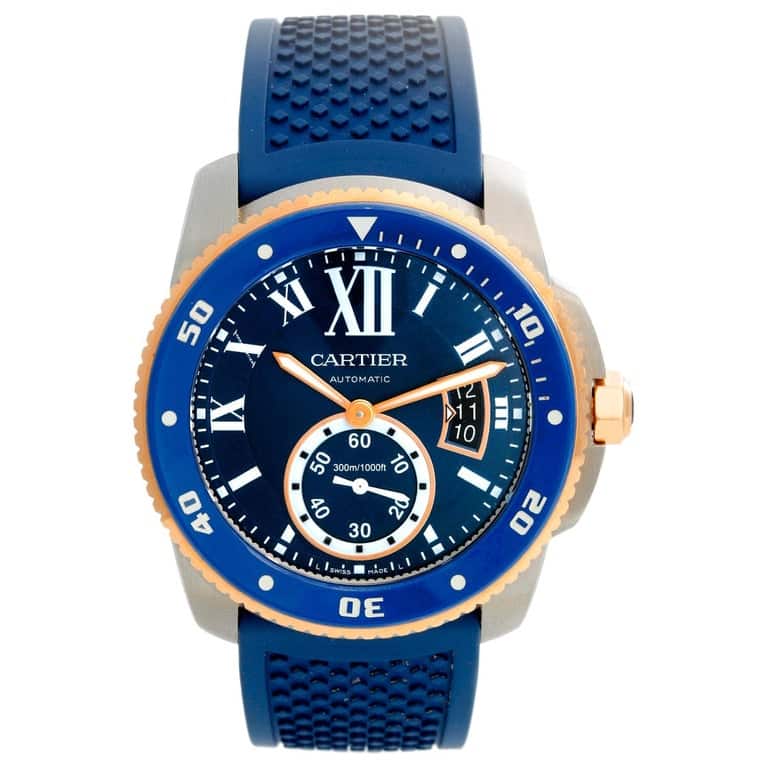 "Blue is a classic color and a nice alternative to black and white or silver," says Manfredi Jewels' Weintraub. In other words, it stands out without being over the top. Traditionally, blue conveys security and calm. But it can also read as confident and charismatic. A jolt of blue on the wrist expresses your individuality without flouting convention or straining the limits of good taste.
---
There's a Shade for Everyone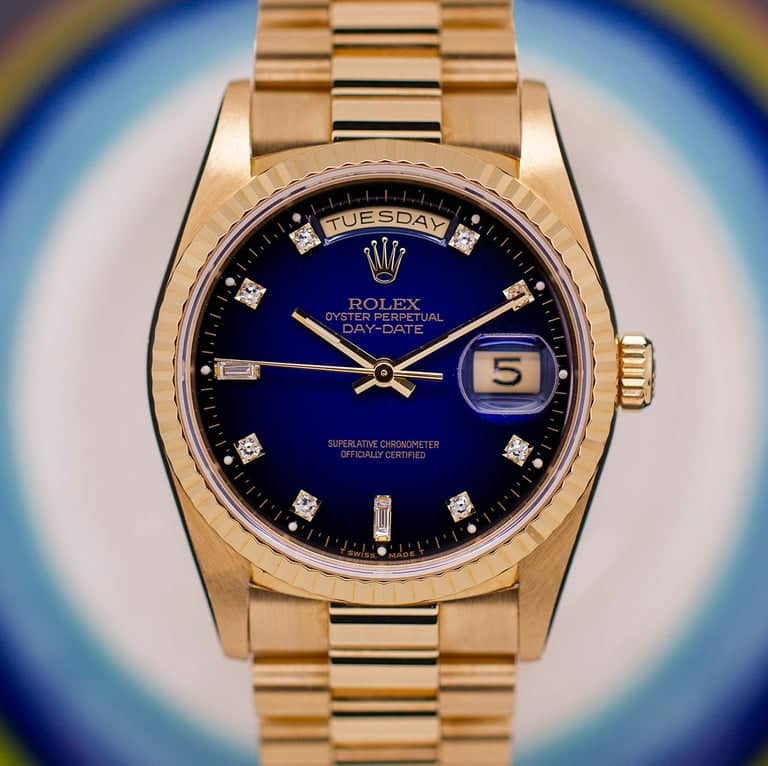 According to Weintraub, "dark blue and slightly brighter royal blue" currently dominate the market. But there are infinite shades and treatments to choose from.
"The popular blue color I would call denim," says Ken Jacobs, owner of West Hollywood's Wanna Buy a Watch?, noting that some versions are "more faded, some less, some metallic and some gradient, where the color is lighter in the center and darker toward the edges." He especially admires a Rolex Day-Date with a dégradé dial that seems almost to glow.
The spectrum of shades is even broader among vintage watches. "Rolex produced some lighter-color blue dials in the '70s, and these models are popular today in stainless-steel-case Air-Kings," says Jacobs, "and Datejusts with light blue or blue linen textured dials are quite popular as retro styles."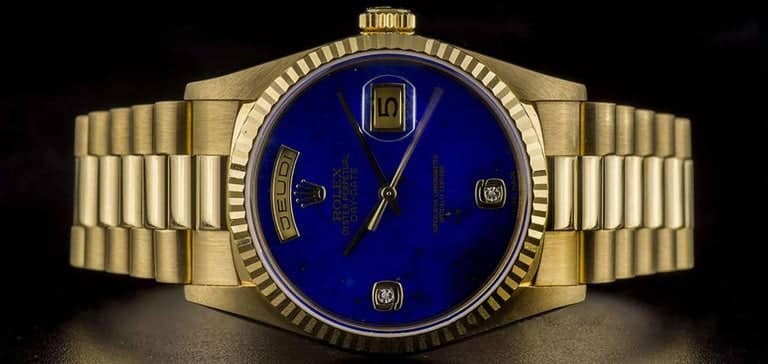 His prime recommendation? "Lapis-blue dials in the men's or ladies' Rolex President are simply stunning. A lot of lapis stone is very dull and unremarkable. But the top quality found in Rolex watches is a rich and lively blue with fine, irregular silver- or gold-colored specks and is remarkable to behold. Beware — these are scarce models, few and far between!" Ensure your Rolex President is authentic with our guide to identifying fakes.
---
It's a Fashion Hero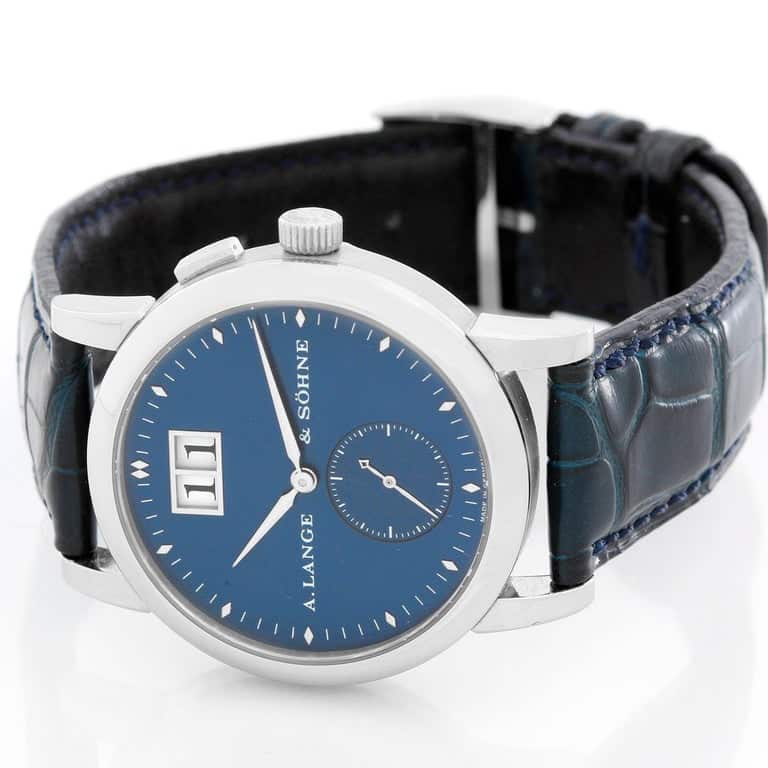 "Look around: Men's current style is blue suits and tan shoes," says Edward Faber, founder of Aaron Faber, in Manhattan, and author of American Wristwatches: Five Decades of Style and Design (Schiffer). "Blue on blue is a perfect complement."
Weintraub points out that blue faces look good not only "on steel bracelets and on matching blue straps" but also with bands that are "gray or brown, in alligator, calf, nylon or rubber." Blue's compatibility with brown is a key advantage. A black dial with brown clothes or accessories is viewed as a fashion faux pas.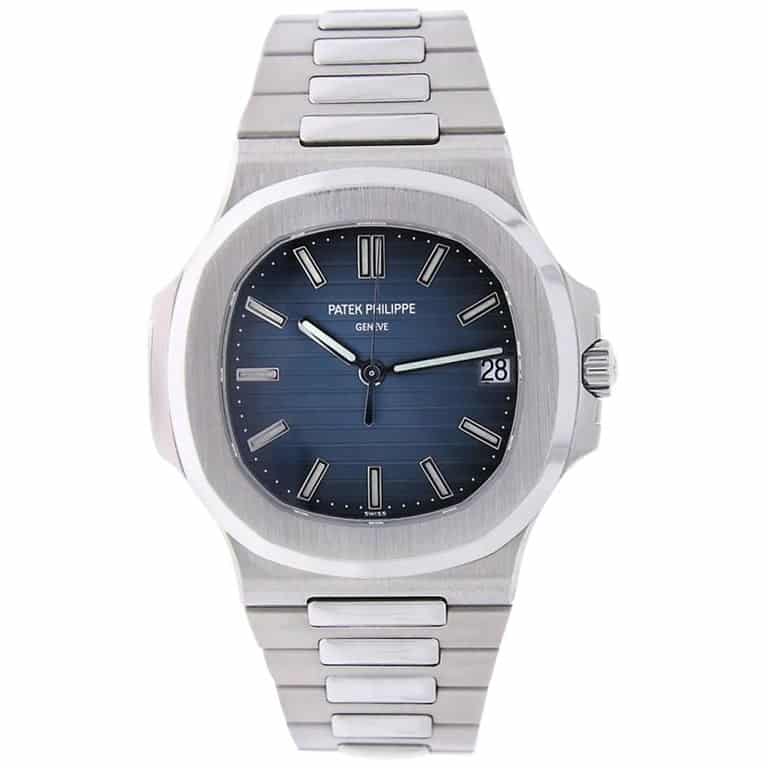 "Blue dials in steel cases are colorful and sporty, and the blue dial looks great with either jeans or a suit," enthuses Jacobs. John Cormier, the CEO of WatchFacts and the Collective, concurs, citing the Patek Philippe Nautilus 5711 as a favorite example.
"The beauty of sports models is you can wear them with business or casual," he says. Cormier cautions, however, that "for formal attire, people choose a different piece." Faber agrees. As he sees it, the trend is "a crossover between casual and business informal."
That said, blue may be expanding into formal wear as well. At this year's Oscars, Best Actor nominee Bradley Cooper matched his famously sparkling eyes with a blue-dial IWC Big Pilot, while fellow nominee Christian Bale walked the red carpet in a steely Santos de Cartier with a blue face.
People are wearing blue dials "in all situations," Weintraub insists. "Blue works with almost anything."