Even though the word "curated" continues to be co-opted by marketing — can the bathroom fixtures in a condo project really be curated? — assembling things of beauty in a meaningful way is a real skill, as anyone who has been to a great museum exhibition knows.
Tony Ingrao, the successful dealer-turned-designer who now leads a staff of 40 in all manner of interior decorating and residential architecture projects, has been mastering the art of assessing and selecting precious works for more than three decades, and these days he operates at the money-is-no-object level of the business.
You want a 55,000-square-foot mansion on the water in Sands Point made of French limestone and filled with 18th-century French antiques? Done. Ingrao recently produced such a house for a timber baron and his family on Long Island.
His clients include people you have heard of — former GE CEO Jack Welch, actresses Goldie Hawn and Kim Cattrall, real-estate baron and Related Companies founder Stephen M. Ross, hedge-fund titan Richard Perry and his designer wife, Lisa — and he seems to live as well as many of them, with homes in Manhattan, East Hampton and St. John, in the U.S. Virgin Islands. Soon, he will begin a redesign of the Gilded Age-vintage Campbell Apartment in Grand Central Terminal.
The best projects of all, however, are "the ones I can't tell you about," Ingrao confides over a lunch of Dover sole on the Upper East Side, near his office. "We're doing four apartments at 432 Park, but none can be published."
The irony draws a chuckle, a frequent expression of his light-heartedness. "My secret of success is to not take it all too seriously," adds Ingrao, who runs Ingrao Inc. with his partner, Randy Kemper.
Ingrao trained as an architect at Rhode Island School of Design and established his tastemaker reputation living in France at the start of the 1980s. On his return to the States, he set up shop in New York, dealing in the greatest achievements of artisans like the mid-17th- through mid-18th-century cabinetmaker André-Charles Boulle. In more recent years, he has been showing off his  equal mastery of the modern, Pop and contemporary idioms. He may have the charming ability to make it all seem like a lark, but his sensibility is well honed and well trained, and he puts his considerable erudition to the test in every project.
Ingrao's skills are currently on display — and more accessible than usual to the general public —in the exhibition "Blue Heaven," on view until November 3 at R & Company, in Tribeca. He curated the show, part of the gallery's annual series involving guest experts, at the behest of its owners, Zesty Meyers and Evan Snyderman. (Past guest curators have included Jim Walrod, Steven Volpe and Kelly Behun.)
Most of the 20-plus objects in "Blue Heaven" are from the gallery's warehouse. So R & Company artists like modern furniture icon Wendell Castle, glass-blowing master Jeff Zimmerman and the quirky, versatile Haas Brothers design duo are well represented. The title is an homage to Yves Klein and his beloved hue, which is referenced in the exhibition design with bursts of color.
"We've been buying from R & Company for about ten years," says Ingrao. "We wanted the show to be visually exciting but accessible for the novice. We wanted it to seem fresh." Among his favorite pieces are the Big Beaver armchair, designed by architect Frank Gehry in 1987 and made of corrugated cardboard, and Gufram's 1971 Pratone "grass chair," composed of huge green foam blades you can ensconce yourselves among, as if reclining on an overgrown lawn.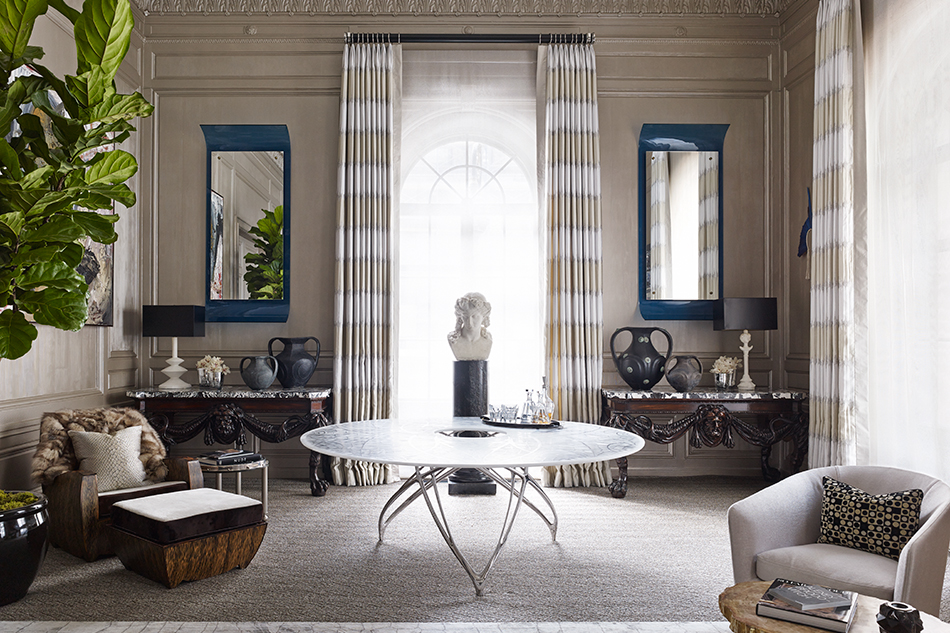 Ingrao included two pieces that aren't for sale. One is from his personal collection: a giant table, made of burlwood fitted with LEDs and topped by a piece of glass, that was created by the London firm Silver lining, with which he works  frequently on interior design projects. The other is a coffee table made of resin that has been dyed blue, with a cast-bronze live edge, from another London firm, Based Upon. (Almost everything in an Ingrao decor scheme is custom made by such places, unless it's a unique or editioned artwork.)
When he's not organizing exhibitions like this one, Ingrao and his staff are working on dozens of projects. About half involve architectural design, despite his image in the popular mind as an interiors specialist. "People can build their dream house with Tony and then have him work on the interiors," says colleague Robert Johansen, a designer at the firm who has had an up-close view of his boss's taste for several years and thinks he has a sense of its essential appeal.
"What he does best is marrying two worlds," says Johansen. "It's all about the mix, where something traditional doesn't feel dated, and something modern doesn't feel futuristic. It feels practical and real." In a 1920s Norman-style brick home in Southampton, Ingrao thought the library was too boring for its young, hip owners, so he removed the oak paneling, had their surfaces scorched using red-hot charcoal to produce a dark, rustic patina, and then reinstalled it.
The examples on the Ingrao website are categorized as Classical, Transitional or Contemporary, demonstrating his range. "We speak many different languages," says Ingrao. "Our design vocabulary is very expansive and isn't limited to one look. That bores us. We come up with custom interiors for custom people — and have fun along the way."
Ingrao can take the long view: He established his business in 1982, a very different time, when antiques were the whole ballgame, and he was eminently prepared to play. "My attraction to furniture really formed at RISD," he says of his college days. "They have amazing Chippendale pieces. Seeing that stuff, so sober and beautiful, was important for me."
Moving to France, Ingrao immersed himself in antiques at a time when Boulle was the equivalent of Zimmerman today: a hot name who could move markets. "Boulle was meant to impress," he says. "Louis XIV wanted to show off that he was the most important person in the world." In the 1980s, collectors were also concerned with a secondary name game. "It was all about provenance then," he recalls. "Did it come from the collection of someone significant?"
Ingrao learned how the great chairs, cabinets and commodes of the ancien régime changed with the advent of technology, as hand-planing was replaced by mechanical tools, and which woods shrink over time. That training gave him the ability to spot fakes. "If you see a line that's too crisp and there are no variations in color from where the wood is exposed to the air, you know something is wrong," he says.
These days, a connoisseur's knowledge of Andy Warhols comes in handier. A case in point: the 4,000-square-foot townhouse of ad mogul Donny Deutsch on the Upper East Side. "Donny is a big collector — the place is a big playpen for his art," says Ingrao. "We kept it flexible so he could move his art around." Circa 1920 chairs in the style of Émile-Jacques Ruhlmann and a white marble coffee table by IPE Cavalli occupy the double-height main living space, where Warhol portraits look down from several vantage points.
That mix of Art Deco, Pop masterpieces and contemporary furniture exemplifies Ingrao's no-rules design philosophy: You should take quality where you can get it and run with it. "When we have something extraordinary and can make a great statement with it, it can be anything," Ingrao says. "And because of that, we don't repeat ourselves."
---
SHOP THE EXHIBITION WITH TONY INGRAO