NFT
Shamus Clisset
Hacked (personal foul)
2020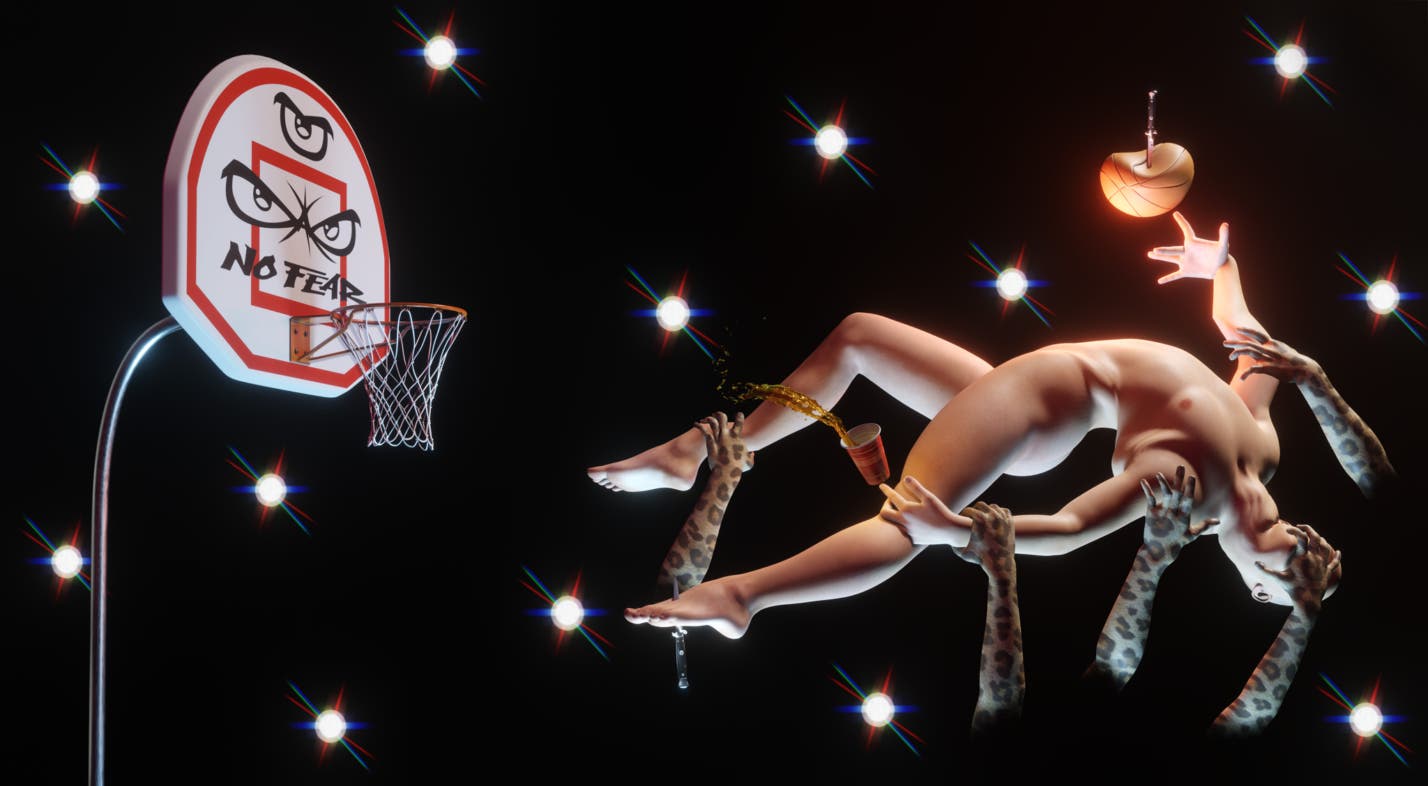 About
One of a series of "dunk" renders, transforming the format of collectable NBA superstar posters into a dreamlike, futuristic vision of a dystopian dunk contest. In this scene, our hopeful dunker has been assaulted by disembodied hands, mauling and breaking his body in various places and thwarting his dunk attempt. But as they say on the court, no blood, no foul. The collector of this NFT will be directed to an online poster-printing supplier and allowed to order a poster print for their own personal viewing, using the high-res digital file (12000 x 6609 px). This format mimics the inspiration for the series - cheaply produced, commercial collectibles which nonetheless inspired transcendent aesthetic experiences for the artist.
Token

1stDibs.1

Token ID

88

Token Metadata

Contract Address

Edition

1/1

Medium

JPEG Digital Image

Dimensions

2048 x 1128 px

View Artwork
Artwork CID
:
QmStuLRBnebqoZBAygz7FxsrGBh8dDSJJCoowzjjMHNSLo
Token Metadata CID
:
QmTSv45eaNucyqHJDm6Tko5Bfq5zEV6aXg34dw7nF4wxem
Exhibition Notes
Hacked (personal foul) is presented in "Metaglyphs," curated by Katie Peyton Hofstadter. Metaglyphs showcases artists using digital technologies to generate layers of meaning on more than one experiential plane, and includes work by Alfredo Salazar-Caro, Amy Kurzweil, Claudia Hart, LaJuné McMillian, LoVid, Carla Gannis, FakeShamus, Morehshin Allahyari, Savannah Spirit, and Swoon.
Metaglyph roughly translates to "beyond symbol" — an artwork representing the interconnected relationship between object materiality and digital existence. For as long as humans have told stories, we've been interested in objects that exist at the border between worlds. From ancient mythology to modern science fiction, our archetypal stories are filled with magical objects that serve as keys, black mirrors of culture and false identity, secret weapons with hidden powers. These NFT tokenized artworks use multiple techniques — ranging from digital simulation technology to 3D modeling to glitch — to probe the boundaries and consequences of our digital and analog desires.
The goal is not to replace reality, but to return to and enrich it. When we step through the looking glass — when we board the vessel — what will we see?
"These artworks are vessels that serve as a link between the familiar and the unknown. It's the butterfly pinned to the board, and the butterfly rising above it. Not just the shark's tooth, but its bite."
–– Katie Peyton Hofstadter
FakeShamus (Shamus Clisset) rides the multidimensional aether with his 1-million polygon sidekicks, carrying 7 million reasons to hate his life (but he stays positive (mentally, not for covid, *cough-cough*)). The energy he consumes could power the 50 least-populous states for a year and he radiates his heat like a Noctua set up. He's got 15-20 years in the game of trying to out-do all the minimalists, cubists, and MFA grads via 3D rendering, animations, and physics simulations, all baked out in slam-dunk glory and glistening silver countach. His favorite color is Void and his favorite ice cream is melted.
Shamus started out as an artist at the age of 8 when he first saw photos of the classic 80's supercar, the Lamborghini Countach. His obsession with the visual futurism of its design compelled him to draw the car thousands of times by hand. After 4 years he was a Countach drawing Master, making him the "kid who could draw" in school and prompting him to take art classes and eventually to earn a BFA in Painting. After dabbling with various software for several years after college, he gave up paint entirely for digital tools and now works exclusively with 3D media, such as Blender, ZBrush, and Unreal Engine, among others. He can still draw a Countach from memory.
Shamus Clisset is represented by Postmasters Gallery in New York and their NFT platform, postmastersblockchain.com. His current exhibition, "AlphaAF", opened on Sept 10 and is currently on view at the gallery through Oct 16, 2021.