Renaissance Man Antiques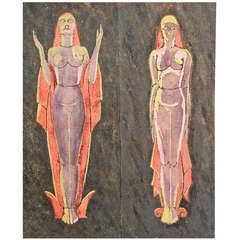 Dimensions:
H 22.5 in. W 19 in.
Dealer Location:
Philadelphia, PA
Materials & Techniques:
Watercolor
"Joy and Grief," Important Art Deco Paintings by S...
Adeline Sager
Vintage 1950s American Art Deco Paintings
Watercolor
Painted by Adeline Sager in gorgeous shades of plum, reddish pink and charcoal, this pair of watercolor-and-ink paintings won the Grumbacher Award of Merit in the Premiere Florida Inter...