Alexandre Vibert Furniture
The average cost of an antique Alexandre Vibert Furniture is $4,121. The price can vary from $1,500 and $9,500 based on the condition, age, materials and aesthetic value for a specific Alexandre Vibert Furniture.
Creel and Gow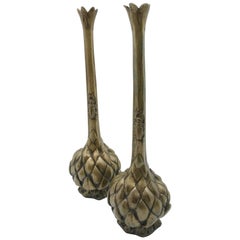 19th Century Pair of Bronze Artichoke Candleholder...
Alexandre Vibert
Antique Late 19th Century French Napoleon III Candle Holders
Bronze
Unusual pair of 19th century patinated bronze artichoke candle sticks ornamented with scarabs and signed A. Vibert Alexandre Vibert (French 1847-1909).
Ashville Fine Arts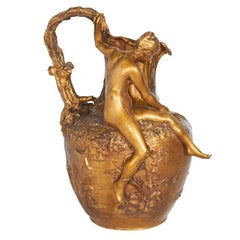 Alexandre Vibert, French Art Nouveau Figural Gilt ...
Alexandre Vibert
Antique Early 1900s French Art Nouveau Vases and Vessels
Bronze
An Art Nouveau gilt bronze lobed ewer by Alexandre Vibert (French, 1847-1909), produced within the early 20th century period, depicting a classical nude female figure on the bank of a b...
Washington Crossing Fine Art & antiques Inc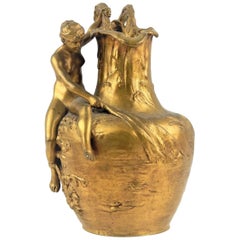 Alexandre Vibert Dore Bronze Pitcher
Alexandre Vibert
Antique 19th Century Pitchers
Bronze
Alexandre Vibert (1847-1909) original doré bronze figural pitcher. Signed by artist. Measures 7in height by 6in width.
Atena

Art Nouveau Gilt Bronze Tray by Alexandre Vibert
Alexandre Vibert
Antique Early 1900s French Art Nouveau More Furniture and Collectibles
Bronze
Rectangular tray in gilt bronze decorated with bas-relief and sculpted motifs. It features a nude woman reclining near a river in a landscape animated with birds and luxurious vegetatio...