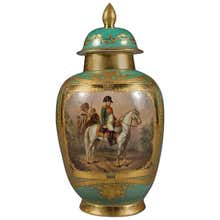 Dresden porcelain, as a term, is the subject of some confusion. In some contexts, it refers to the hard-paste ceramic wares produced by the workshops that sprang up in and around the Saxon capital in the 19th century. In others, it denotes only the output of one of these, Sächsische Porzellanmanufaktur Dresden, known in English as simply Dresden Porcelain, which was established in 1872 in the city of Freital, Saxony. Complicating matters further, early publications about porcelain often used "Dresden" and "Meissen" interchangeably. It is true that the cities of Dresden and Meissen are connected through their long, shared history of decorative arts production and, in fact, most Meissen porcelain was sold in Dresden, the artistic and cultural center of Saxony. However, Meissen is the site of the factory that produced the first European porcelain, at the turn of the 18th century, while Dresden did not come into prominence until the mid-19th century, during the high point of the Rococo revival. And while Meissen is known for manufacturing porcelain, from clay models through finished product, Dresden is celebrated for its decorating studios, of which there were several dozen in and around the city during the 19th century. Their skilled painters often used "blanks" from Meissen as their canvases. So a piece of Dresden porcelain may have been formed and fired at Meissen, painted in Dresden, and ultimately sold in one of that city's shops.
The figurines, plates and vases produced during the 19th century via this complex process remain appealing to this day, their bright hues and pastoral imagery typical of the Rococo revival, which brought scrollwork, shells, foliage, flowers and fruit back into vogue after decades of restrained Neo-Classicism and austere Gothic Revival design. Dresden figurines, which like their Meissen counterparts were inspired by the characters of the Commedia dell'Arte, have a witty, cheerful quality that has been likened to that of scenes painted by Watteau and Fragonard.
Before its near-total destruction during World War II, Dresden was home to more than 200 painting studios. The Dresden style, however is associated with wares bearing the blue crown mark (Meissen's mark is a pair of cobalt blue crossed swords), which was first registered in 1883 by Richard Klemm, Donath & Co, Oswald Lorenz, and Adolph Hamann. Prominent painters from this period include Helena Wolfsohn, Franziska Hirsch, Ambrosius Lamm — whose skill in the application of metallic or lustre paints is on lavish display in this dinner service from the 1920s — and Carl Thieme, a master in floral painting, as demonstrated by his decoration on this circa 1901 ram's head urn. Dresden painters also used a decorative technique known as "Dresden lace." This involved dipping real lace into liquid porcelain and applying it to a figure, which was then fired in a kiln. The fabric would burn away, leaving a fragile, crinoline-like shell — the type of delicate and whimsical detail that characterizes Dresden porcelain, one of Europe's great ceramic traditions.
Creator
:
Dresden Porcelain
Dresden Porcelain furniture for sale on 1stDibs
Dresden
porcelain
furniture is available for sale on 1stDibs. These distinct pieces of
porcelain
are frequently made of and are designed with extraordinary care. In our collection of Dresden
porcelain
furniture, there are many options to choose from, although
brown
editions of this piece are particularly popular. There are 40 vintage versions of these items in stock, while there is also 0 modern edition to choose from. Many original furniture by Dresden
Porcelain
were created in
Europe
during the
19th century
in the
Rococo
style. Many customers also consider furniture by
Johann Joachim Kändler
,
Nymphenburg Porcelain
and Königliche Porzellan-Manufaktur (KPM). Price ranges for Dresden
porcelain
furniture can vary depending on size, time period and other attributes. The price for these items starts at
$175
and tops out at
$36,000
, while pieces like these can sell for
$1,500
on average.
Creators Similar to Dresden Porcelain