Jules Leleu Dining Room Tables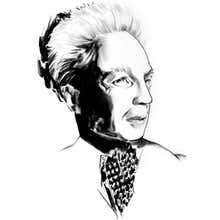 French, 1883-1961
A designer and ensemblier, Jules Leleu was one of the key authors of the Art Deco movement. While he did not win the fame of such contemporaries as Émile-Jacques Ruhlmann and Jean-Michel Frank, Leleu had a longer career and was easily their peer in the conception of trim, refined furniture forms and in the use of the opulent materials — from lacquer and ivory to sharkskin and exotic woods — that were a keynote of haute Art Deco design.
Leleu was born into a family of artisans and decorators. Their firm, Maison Leleu, had existed since the 18th century and Jules would guide it through much of the 20th. (The business lasted until 1973, headed at the end by Jules's children.) He studied architecture, served as an aviator in World War I, and after the conflict took up design full-time. Leleu presented work at the 1925 exposition in Paris that gave us the term Art Deco, and the Metropolitan Museum of Art in New York purchased a burl amboyna wood commode by Leleu directly from the show.
As the desks, dining tables and other furniture on 1stDibs show, Leleu was a stickler for precision craft and preferred to let his materials do the talking — his furniture is generally spare and sleek; its presence is established by figuring (or patterning/graining) in the wood and the occasional marquetry medallion. He had a keen eye for currents in design, and an adaptable sensibility. Maison Leleu would embrace many of the starker forms of modernism after the 1940s, as well as new materials such as artificial lacquer and plastics (then considered cutting-edge rather than cheap). Jules Leleu is a guiding light of 20th-century modernism: a man whose work represents both a devotion to traditional handiwork and an appreciation for the next wave in design.
Previously Available Items
Jules Leleu dining room tables for sale on 1stDibs
The Jules Leleu dining room tables are available on 1stDibs for sale. These distinctive objects are often made of
wood
and designed with extraordinary care. In our collection of Jules Leleu dining tables, there are many options to choose from, although
brown
editions of this piece are particularly popular. We stock 13 vintage versions of these items, while there is 0 modern edition to choose from as well. Many of the original Jules Leleu dining tables were created in
France
during the
20th century
in the
Art Deco
style. Many customers also consider dining room tables by
Jacques Adnet
,
André Arbus
and
Jean-Charles Moreux
. The prices for Jules Leleu dining room tables can vary depending on size, time period and other attributes. The price for these items starts at
$11,500
and tops out at
$65,000
, while pieces like these can sell for
$32,000
on average.