Paul Frankl Decorative Objects
The average cost of an antique Paul Frankl Decorative Objects is $4,100. The price can vary from $3,950 and $4,250 based on the condition, age, materials and aesthetic value for a specific Paul Frankl Decorative Objects.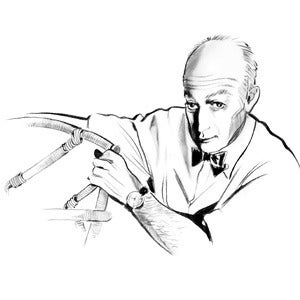 Paul T. Frankl (USA, 1886–1958)
Born in Vienna, Paul Frankl came to the United States in 1914 as part of a wave of Central European design luminaries — among them Kem Weber, Rudolph Schindler, and Richard Neutra — who were drawn by the energy and optimism of the American scene. Prolific and protean, Frankl would go on to design furnishings that are emblematic of nearly every key stylistic chord in American modernism, from the streamlined Art Deco to free-form organic shapes.

     His "Skyscraper" cabinets, introduced in 1924, are Frankl's earliest and best-known designs (and the work by which he is most often represented in institutions, such as New York's Metropolitan Museum of Art). Tall and narrow, the pieces have staggered shelves meant to mimic the setbacks of Manhattan office towers. A later visually expressive line — the "Speed" chairs and sofas, which have a raked profile suggesting motion — links Frankl to Donald Deskey, Raymond Loewy and other creators of "Streamlined Moderne" design.

     Frankl moved to Los Angeles in 1934 and luxuriated in the climate and lifestyle. His designs became lighter and simpler and found an audience among the Hollywood élite. (Katharine Hepburn, Cary Grant and Fred Astaire were clients.) Fascinated by Asian arts, Frankl produced numerous pieces — tabletops with edges that curve upward; sofas and chairs with rattan frames — inspired by Chinese and Japanese forms and materials. In the 1940s, Frankl became one of the first designers to incorporate free-form, biomorphic shapes in his work, as well as novel upholstery fabrics such as denim and nubby wool.

     Frankl biographer Christopher Long argues that the designer's easy, elegant aesthetic had an enormous influence on movie set design. As the furniture below attests, Paul Frankl's work is ready for its close-up.
Galere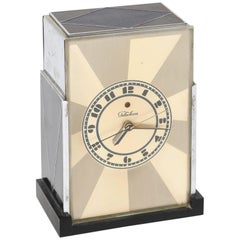 Paul Frankl Modernique Clock
Paul Frankl
Vintage 1930s American Clocks
Brass, Enamel, Glass, Chrome, Plastic
This is the rare enameled version nicknamed the fifty-dollar clock. Very few of these remain in this condition.
Connors Roth - CT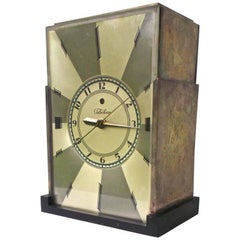 Paul Frankl Telechron American Moderne Deco Clock,...
Paul Frankl
Vintage 1920s American Machine Age Clocks
The iconic American Deco Frankl 'Skyscraper' mantel clock. Polished silver over brass with black bakelite base. This rare 'top of line' deco item retains the original bevelled glass fro...