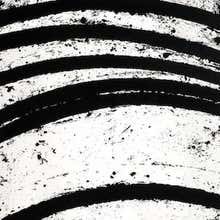 American, b. 1939
Minimalist sculptor Richard Serra, based between New York City and Cape Breton Island, Nova Scotia, may be described as the art world's father of steel. He is particularly renowned for monumental arcs, spirals and ellipses made from massive sheets of oxidized CorTen steel, which occupy large interior and exterior spaces and dwarf visitors who wander through them, like abstract mazes. The most famous of these works is his "Torqued Ellipse" series, begun in 1966 and inspired by a Baroque 17th-century Roman church.
These site-specific sculptures, whose parts are manufactured in Germany, can be found from King City, Ontario, and the Netherlands, to the Storm King Art Center and Dia: Beacon, both in Upstate New York.
Before turning to steel, Serra produced abstract sculptures from nontraditional materials — fiberglass, rubber or molten lead — which he splashed or threw in their liquid states against the walls of studios or exhibition spaces, recording their shapes and angles. He also worked in video and performance art, producing a number of films that address the manufacture and use of his signature material: steel.
Since 1971, Serra has produced large-scale drawings that relate to or are inspired by completed sculptures. Made with ink, charcoal, lithographic crayon or paintstick on handmade paper or linen, such works as Trajectory #4 or Double Rift II clearly reflect the forms and feeling of his signature steel sculptures.
Previously Available Items
Richard Serra art for sale on 1stDibs
1stDibs offers a wide variety of authentic Richard Serra art for sale. You can also search for art by Richard Serra in etching, offset print and more by medium. Much of this artist's original work was created during the 21st Century and
Contemporary
, and is mostly associated with the
Contemporary
style. Not every interior allows for large Richard Serra art, so small editions measuring 16.5 inches across are available. Customers interested in this artist might also find the work of
Max Bill
,
Joel Shapiro
and
Robert Mangold
. On 1stDibs, the price for these items starts at
$1,000
and tops out at
$70,000
, while the average work can sell for
$10,000
.